Pearl of York

<![if !vml]>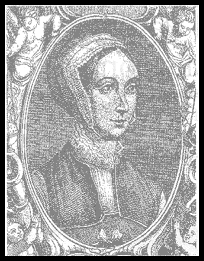 <![endif]>
English Martyr
Saint Margaret Clitherow
Dr. Malcolm Brennan
During the short reign of the boy king of England, Edward VI, Thomas Cranmer initiated massive changes in the forms of worship, and therefore in doctrine. As Archbishop of Canterbury he changed the language of the services from Latin into English. He ordered that altars were to be removed and replaced with tables (for altars are for sacrifice, tables are for meals), and at the tables the ministers were to face their congregations. He denounced graven images, and there were great public burnings of statues and crucifixes. He promoted standing instead of kneeling for communion, and communicating under both species (but curiously he refused to follow reformers on the Continent in allowing laymen to distribute communion). He taught that Confirmation, Penance, Matrimony, Holy Orders, and Extreme Unction were not really sacraments, and he authorized marriage for the clergy.
Employing ambiguity as his principal technique for getting the changes accepted, he re-wrote the rites for these sacraments and other ceremonies in such a way as, at first, to open them up to Calvinist and Lutheran interpretations while not excluding a Catholic interpretation; eventually, however, the Catholic interpretation was excluded. The innovations were introduced over a period of years, and while many were reversed during the brief reign of Queen Mary, they were enforced with severe sanctions during the long reign of Elizabeth I.
How did Englishmen react to these pastoral reforms? For the most part, they disapproved of these changes by Cranmer and his small band of intellectuals-men who, by the way, had very little pastoral experience. Although disapproval was almost universal, the manner in which people showed their disapproval was a crucial matter. Since generalizations are difficult to make in situations like this, let us look at some individual forms of resistance.
Here is a reformer's report to his bishop on the attitudes of many in the Diocese of Bath and Wells:
So (right reverend Father) in these our days we have many, and especially of the clergy, [who] . . . draw nigh with tongue and pen unto us, but their hearts are at Rome. A number of them have gospel talk, but yet a Romish faith; an English face, but Spanish hearts. For they think now that if they subscribe, observe the [new] order of service and wear a silk gown, a square cap, a cope and a surplice. . . they are good Protestants: yet all this while they run hugger mugger, a-whispering in corners, saying to simple people, "Believe not this new doctrine. It is naught; it will not endure. Although I use [the new] order among them outwardly, my heart and profession is against them, agreeing with the mother Church of Rome. "No, no," they say, "we do not preach, not yet teach openly. We read their new devised homilies for a colour, to satisfy the time for a season."
This practice of outward conformity but inward resistance seems to have been a particular temptation of the clergy: 'After all, if I object too much, they will put someone worse in my place.'
By contrast, some folk of York were a good bit more candid, even at the cost of heavy fines, and worse, as revealed in an official report of the reformers in that city:
Elizabeth Wilkinson, wife of William Wilkinson, milner, sayeth she cometh not to the church, because there is neither priest, altar nor sacrifice.
Katherine Wildon, wife of John Wildon, tailor, sayeth she cometh not to the church, because there is neither altar nor sacrifice.
Margaret Taylor, wife of Thomas Taylor, tailor, sayeth she cometh not to the church, because there is not a priest there as there ought to be.
Elizabeth Porter, widow, sayeth she cometh not to the church, because the service there is not as it ought to be, not as it hath been heretofore.
Isabel Addenall, widow, sayeth she cometh not to the church, because her conscience will not serve her.
Richard Bafferton, baker, who was lately presented for not coming to the church, is gone forth from this city, to what place we know not.
Gregory Wilkinson, feltmaker, sayeth he cometh not to the church, because his conscience will not serve him to do so, for he will remain in the faith that he was baptized in.
Jane West, single woman, servant to George Hall, draper, sayeth she cometh not to the church, for she thinketh it is not the right church, and that if she should come there it would damn her soul.
Janet Strickett, widow, sayeth she cometh not to the church, because her conscience will not serve her, for the bread and wine is not consecrate, as it hath been in time past.
Margaret Clitherow, wife of John Clitherow, butcher, cometh not to the church, for what cause we cannot learn, for she is now great with child and could not come before us.
There are hundreds like this about whom we know little but their names and their faith, and there are no doubt thousands more whose names are recorded only in heaven.
The commission's report must have been unsatisfactory to the authorities in the case of Mrs. Clitherow, for a later note in the margin read, "in prison." She was twenty years old at the time.
Margaret was a daughter of Thomas Middleton, who was a prosperous chandler and sheriff of York, and so a solid part of the Protestant establishment. At about the age of fifteen she had married John Clitherow, a prominent butcher, and took up her duties of keeping house and tending the butcher shop that was part of it, as was customary.
While John went along with the new religion, some of his relatives were staunch recusants, that is Catholics who refused to obey laws which were in violation of their faith, such as the citizens listed above. Through these in-laws Margaret discovered the true Church and embraced the true faith.
Margaret and John had three children, the last born during one of her several imprisonments. Also while in prison she taught herself to read in order to provide her children a sound education in the faith. Later she hired a tutor to teach them and some of the neighborhood children. Still later she sent her eldest son to the school established by English Catholic exiles in Douai, France. In the meantime she had taken up the practice of harboring priests for an occasional Mass and other consolations. Her husband ignored her dangerous conduct and proceeded to make his way in the world.
But in 1586 John Clitherow was summoned to explain why his son was abroad, and during the hearing, his house was searched. A Flemish boy in the neighborhood directed the searchers, and they discovered vestments and other articles for Mass. Margaret was again imprisoned, for this was a grave crime, and she was interrogated at length by a number of civic and ecclesiastical officials. Like many of the martyrs, she was charged with the civil offense of treason, yet she was told often that the charge would be dropped if she would practice the new religion.
Although St. Margaret Clitherow was a forthright and outspoken woman, she very prudently refused to enter a plea: "Having made no offense, I need no trial. " The advantage of this was that her husband and children, and the Flemish boy, would not be required to testify about her. The penalty for refusing to plead to a serious charge was peine forte et dure, and accordingly Judge Clinch finally passed sentence:
You shall return to the place from whence you came, and in the lower part of the prison be stripped naked, laid down on your back to the ground, and so much weight laid upon you as you are able to bear, and thus you shall continue three days; the third day you shall have a sharp stone put under your back, and your hands and feet shall be tied to posts that, more weight being laid upon you, you may be pressed to death.
She accepted the sentence with composure (in fact, her cheer was such that she was accused of having a 'merry devil'), except the part about being stripped, and she spent a portion of her few remaining days in making a simple shift for her martyrdom—surely one of the strangest notes in the history of fashion design.
Despite the deviousness or muddle-headedness of those who urged her for one reason or another to save herself, Saint Margaret clearly and repeatedly identified what was happening to her: "I die not desperately nor procure mine own death: for not being found guilty of such crimes as were laid against me, and yet condemned, I could but rejoice-my cause also being God's quarrel. I die for the love of my Lord Jesu." As for her children and husband, she had loved and cared for them as she ought:
And for this cause I am willing to offer them freely to God that sent them me, rather than I will yield one jot from my faith. I confess death fearful, and flesh is frail; yet I mind God's assistance, to spend my blood in this faith, as willingly as ever I put my paps to my children's mouths; neither desire I to have my death deferred.
On March 25, 1586, the sentence was carried out. A stone the size of a man's fist was placed under her back, her arms were stretched out and tied with cords which she provided, and while she was not permitted to wear her shift, she was allowed to be partially covered with it. A door was placed upon her and stones piled on by some beggars hired for the purpose. Her last words were, "Jesu! Jesu! have mercy on me! "When her chest was crushed, the ribs protruded, and she was left in the press for another six hours. An early biographer reports that:
Mrs. Clitherow 's body was buried beside a dunghill in the town where it lay full six weeks without putrefaction, at which time it was secretly taken up by Catholics and carried a long journey to a place where it rested six days, unbowelled before necessary preservatives could be got, all which time it still remained without corruption or evil savour, and after was laid up as a worthy treasure, till God free us from this persecution.
Saint Margaret Clitherow, 'the pearl of York,' was canonized by Pope Paul VI in 1970.
This article was taken from The Angelus magazine (issued June 1978, Volume 1, Number 6).
<![if !vml]>

<![endif]>
About Us | Open Letters | Make a Contribution | Directions | Contact Us | Announcements
HOME | Mass Schedule | List of Closed Parishes in the Diocese of Harrisburg
Catholic Controversies | Weekly Bulletin |
Why Move to Central Pennsylvania? | Canned Answers to Stale Objections
<![if !vml]>

<![endif]>