<![if !vml]>
<![endif]>
..... this missal is hereafter to be followed absolutely, without any scruple of conscience or fear of incurring any penalty, judgment or censure, and may freely and lawfully be used .....  Nor are superiors, administrators, canons, chaplains, and other secular priests, or religious, of whatever title designated, obliged to celebrate the Mass otherwise than as enjoined by Us.  .....  Accordingly, no one whatsoever is permitted to infringe or rashly contravene this notice of Our permission, statute, ordinance, command, precept, grant, direction, will, decree and prohibition. Should any person venture to do so, let him understand he will incur the wrath of Almighty God and of the Blessed Apostles Peter and Paul.
Pope St. Pius V, Papal Bull, QUO PRIMUM,
Tridentine Codification of the "received and approved" traditional Roman Rite of the Mass.
Sunday within the Octave of the Sacred Heart
[Third Sunday after Pentecost]
Within the Octave
Ss. John & Paul, Martyrs
Within the Octave of St. John the Baptist
June 26, 2022
         Today's liturgy proclaims God's mercy to men.  Like our Lord, who came "not to call the just, but sinners," the Holy Ghost who carries on Christ's work in our hearts comes to set up the kingdom of God in sinful souls.  This is the Church's teaching in breviary and missal today.
         The breviary lessons are concerned with the history of Saul.  After Heli's death the Israelites obeyed Samuel like a new Moses but when he became old they asked for a king.  There was living, at that time, in the tribe of Benjamin a man named Cis, who had a son called Saul.  No boy in Israel was his equal in appearance.  His father's asses having gone astray, Saul went to look for them and coming to Ramatha, where Samuel lived, he said to himself: "The man of God will tell me where I shall find them."  No sooner was he in Samuel's presence, than God told the latter that this was the man whom He had chosen to reign over His people.  Samuel told Saul that the asses he had lost three days ago had been found.  The next day Samuel took a horn of oil and having poured it on Saul's head, kissed him and said:  "Behold the Lord hath anointed thee to be prince over His inheritance: and thou shalt deliver His people out of the hands of their enemies that are round about them."  "Saul," says St. Gregory, "was only anointed with a little vessel of oil because he was to be rejected in the end."  For since the vessel contained but a little oil, Saul received little, and he adds elsewhere:  "In every respect Saul represents the obstinate and the proud."  St. Gregory says that Saul, who was sent by his father "to look for the asses, is a type of our Lord whom His Father sent to seek lost souls."  He goes on to say the enemies are round about as blessed Peter said: "Your adversary the devil, as a roaring lion, goeth about."  Saul was anointed to deliver his people from the enemies who were attacking them, but Christ the Anointed in the highest sense, came to deliver us from the devils who seek our destruction.  This enables us to understand the choice of the epistle and gospel of this Mass.  The gospel shows us the lost sheep and the Good Shepherd seeking it, placing it on His shoulders and returning with it to the fold.  It is one of the oldest representations in Christian iconography found in the catacombs.  The epistle explains the dangers to which men, expressed by the lost sheep, are exposed.  "Watch because your adversary the devil, as a roaring lion, goeth about seeking whom he may devour; whom resist ye, strong in faith" (Epistle).  He will shelter you from the attack of your enemies (Gradual), who is the protector of all who hope in Him (Collect), and who never forsakes them that seek Him (Offertory). Remembering Saul's fate who, at first little in his own eyes, afterwards became puffed up with pride on account of his royal dignity, disobeyed God and would not acknowledge his faults, let us "humble ourselves under the mighty hand of God" (Epistle), saying: "O my God, look upon me and have mercy…in thee I put my trust; let me be not ashamed (Introit): and since without Thee nothing is strong, nothing is holy, make us in such manner to use temporal goods, that we lose not those which are eternal (Collect).  Give us, then, an immovable constancy in the midst of temptation of every kind (Epistle).
INTROIT:
Ps. 24. Look Thou upon me, and have mercy on me, O Lord; for I am alone and poor.  See my abjection and my labor; and forgive me all my sins, O my God. 
Ps.  To Thee, my God, I put my trust; let me not be disappointed.  Glory be, etc.  Look Thou upon me, etc. 
COLLECT:
O God, the protector of all that trust in Thee, without whom nothing is strong, nothing is holy, increase and multiply upon us Thy mercy; that, Thou being our ruler and guide, we may so pass through temporal blessings that we finally lose not those which are eternal.  Through our Lord, etc.
O God who in the heart of Thy Son, wounded by our sins, dost deign mercifully to bestow upon us the infinite treasures of Thy love; grant, we pray, that we who now pay Him the devout homage of our piety, may also perform the duty of worthy satisfaction.  Through our Lord, etc.
We ask, almighty God that on this feast we may rejoice in the twofold joy of the triumph of blessed John and Paul, whom a common faith and common martyrdom made to be truly brethren.  Through our Lord, etc.
O God, who hast made this present day honorable for us by the birth of blessed John, grant to Thy people the grace of spiritual joys, and guide the souls of all the faithful into the way of eternal salvation. Through our Lord, etc.
EPISTLE:  1 Peter 5, 6-11.        
Dearly beloved, Be you humbled under the mighty hand of God, that He may exalt you in the time of visitation; casting all your care upon Him, for He hath care of you. Be sober and watch, because your adversary the devil, as a roaring lion, goeth about seeking whom he may devour. Whom resist ye, strong in faith; knowing that the same affliction befalls your brethren who are in the world. But the God of all grace, who hath called us unto the eternal glory in Christ Jesus, after you have suffered a little, will Himself perfect you, and confirm you, and establish you. To Him be glory and empire forever and ever. Amen.
EXPLANATION In this lesson St. Peter teaches that if we would be exalted we must humble ourselves under the mighty hand of God. This necessary humility shows itself in us by giving ourselves and all our cares up to the providence of God who, as St. Augustine says, provides for one as for all. We should not fail, however, to be sober and circumspect, and not think ourselves secure from the lusts of the world. The devil like a lion seeking prey, desires the ruin of our souls, tormenting us by temptations and afflictions. By confidence in God's help we can and should resist him, especially when we consider that after the trials of this life the crown of glory will be our portion for all eternity.
GRADUAL:
Ps. 54.  Cast thy care upon the Lord, and he shall sustain thee. Whilst I cried to the Lord, He hearkened to my voice against those that pressed upon me.  Alleluia, alleluia.
Ps 7.  God is a just judge, strong and patient; is He angry every day?  Alleluia.
GOSPEL:  Luke 15, 1-10.      
At that time, the publicans and sinners drew near unto Jesus to hear Him: and the Pharisees and Scribes murmured, saying: This man receiveth sinners and eateth with them. And He spoke to them this parable, saying: What man is there of you that hath a hundred sheep, and if he shall lose one of them, doth he not leave the ninety-nine in the desert, and go after that which was lost, until he find it? And when he hath found it, lay it upon his shoulders rejoicing and coming home, call together his friends and neighbors, saying to them: Rejoice with me because I have found my sheep that was lost? I say to you that even so there shall be more joy in heaven upon one sinner that doth penance, more than upon ninety-nine just who need no penance. Or what woman having ten groats, if she lose one groat doth not light a candle and sweep the house, and seek diligently until she find it? And when she hath found it, call together her friends and neighbors, saying: Rejoice with me because I have found the groat which I had lost? So I say to you, there shall be joy before the Angels of God upon one sinner doing penance.
What moved the sinners to approach Jesus?
The goodness and benevolence with which He met the penitent sinners. Do you also humbly and trustingly approach Him, and you may rest assured that, even if you are the greatest of sinners, you will receive grace and forgiveness.
What is Christ's meaning in the parable of the lost sheep and groat?
He expresses by this His desire for the salvation of the sinner, His joy and that of all heaven when a sinner is converted. Moreover, He shows the Pharisees, who in vain self-righteousness avoided all intercourse with acknowledged sinners, and who murmured at the goodness of Jesus, that the sinner, being truly unhappy, deserves our compassion rather than our anger.
Why do the angels rejoice more over one sinner who does penance than over ninety-nine just?
Because the places of the fallen angels are thus refilled; because the angels see how the good God rejoices; because they find their prayers for the conversion of sinners granted, as St. Bernard says: "The tears of the penitents are wine for the angels;" because, as St. Gregory says, "the true penitents are usually more zealous than the innocent."
ASPIRATION: I have erred like a sheep that has lost its way; but I thank Thee, O Jesus, my good Shepherd, that Thou hast so carefully sought me by Thy inspirations, admonitions and warnings, and dost now bring me back to true penance, that I may be a joy to the angels. Amen.
OFFERTORY:
Ps. 9.  Let them trust in Thee who know Thy name, O Lord; for Thou hast not forsaken them that seek Thee.  Sing ye to the Lord, who dwelleth in Sion: for He hath not forgotten the cry of the poor.
SECRET:
Look down, O Lord, on the gifts of thy suppliant Church, and grant that they may be received unto the perpetual sanctification and salvation of believers.  Through our Lord, etc.
Look, we pray, O Lord, on the heart of Thy beloved Son, whose charity no words can tell; that the gift which we offer may be pleasing to Thee and an expiation for our offenses.  Through our Lord, etc.
Graciously receive, O Lord, the oblation consecrated to Thee through the merits of Thy holy Martyrs John and Paul: and grant that it may be to us a means of perpetual succor.  Through our Lord, etc.
We heap Thy altar with gifts, O Lord, giving due honor to the birthday of him who both foretold the coming of the Saviour of the world and pointed Him out when come, our Lord Jesus Christ, Thy Son.  Who liveth and reigneth, etc.
PREFACE OF THE SACRED HEART:
It is truly meet and just, right and for our salvation, that we should at all times, and in all places, give thanks unto Thee, O holy Lord, Father almighty, everlasting God; Who didst will that Thine only-begotten Son, while hanging on the cross, should be pierced by a soldier's spear, that the Heart thus opened, a shrine of divine bounty, should pour out on us streams of mercy and grace, and that what never ceased to burn with love for us, should be a resting-place to the devout, and open as a refuge of salvation to the penitent. And therefore with Angels and Archangels, with Thrones and Dominations, and with all the hosts of the heavenly army, we sing the hymn of Thy glory, evermore saying:  Holy, Holy, Holy, etc.
COMMUNION:
Luke 15.  I say to you: There shall be joy before the angels of God upon one sinner doing penance.
POSTCOMMUNION:
May Thy holy mysteries which we have received, O Lord, give us life, may they expiate our sins, and prepare us to receive Thy everlasting mercy.  Through our Lord, etc.
We have received Thy heavenly sacrament, O Lord, as we keep the memory of Thy holy Martyrs John and Paul; grant, we pray, that the service we render Thee in time may bring us to the joys of eternity.  Through our Lord, etc.
Let Thy Church, O God, be glad at the birth of blessed John the Baptist, through whom she knew the author of her new birth, our Lord Jesus Christ, Thy Son.  Who liveth and reigneth, etc.
<![if !vml]>
<![endif]>
"Rejoice with me because I have found my sheep that was lost? I say to you that even so there shall be more joy in heaven upon one sinner that doth penance, more than upon ninety-nine just who need no penance."
I will send forth famine into the land, not a famine of bread . . .  but of hearing the word of the Lord, . . .  they shall go about seeking the word of the Lord and shall not find it. 
Amos 8:11
The faithful soul has now witnessed in the holy liturgy the close of the mysteries of our redemption.  The Holy Ghost has come down to support her during this second portion of her career, by forming and developing within her the fullness of the Christian life as taught by her divine Saviour when on earth…. The miseries of this present life are the test to which God puts His soldiers; He passes judgment upon them, and classifies them, according to the degree of courage they have shown.  Therefore is it, that we all have our share of suffering.  The combat has commenced.  God is looking on, watching how each of us comports himself.  The day is not far off, when the Judge will pass sentence on the merits of each combatant, and award to each one the recompense he has won.  Combat now; peace and rest and a crown, forever after.  
Dom Gueranger, Sunday within Octave of the Sacred Heart
The gift of knowledge has taught us what we must do and what we must avoid, in order that we may be such as Jesus, our divine Master, wishes us to be…. The Holy Ghost grants us the gift of fortitude, which, if we but faithfully use it, will enable us to master every difficulty, yea, will make it easy for us to overcome the obstacles which would impede our onward march.  There are times, when the Holy Ghost required from a Christian something beyond interior resistance to the enemies of his soul: he must make an outward protestation against error and evil, as often as position or duty demands it.  On such occasions, he must bear to become unpopular, and console himself with the words of the apostle: 'If I yet pleased men, I should not be the servant of Christ.' 
Dom Gueranger, The Liturgical Year on the Gift of Fortitude
PROPER OF THE SAINTS FOR THE WEEK OF JUNE 26th:
26

Sun

Sunday within Octave of the Sacred Heart

[3rd Sunday after Pentecost]

Within the Octave

Ss. John & Paul, Martyrs

Within the Octave of St. John the Baptist

sd

W

Mass 9:00 AM & Noon; Members Ss. Peter & Paul; Rosary of Reparation 8:30 AM; Confessions 8:00 AM

27

Mon

Within Octave of the Sacred Heart

Within the Octave of St. John the Baptist

BVM of Perpetual Help

sd

W

Mass 8:30 AM; Rosary of Reparation before Mass

28

Tue

St. Irenaeus, BpM

Within Octave of the Sacred Heart

Within the Octave of St. John the Baptist

Vigil of Ss. Peter & Paul

d

R

Mass 8:30 AM; Rosary of Reparation before Mass

29

Wed

Ss. Peter & Paul, App

Within Octave of the Sacred Heart

Within the Octave of St. John the Baptist

d1cl

R

Mass 8:30 AM; Rosary of Reparation before Mass

30

Thu

Commemoration St. Paul, Ap

St. Peter, Ap

Within the Octave of St. John the Baptist

Eucharistic Heart of Jesus

dm

W

Mass 8:30 AM; Rosary of Reparation before Mass

1

Fri

Precious Blood of Our Lord Jesus Christ

Octave Day of the Sacred Heart

FIRST FRIDAY

d1cl

R

A

Mass 8:30 AM; Rosary of Reparation before Mass; Holy Hour & Benediction of Reparation

2

Sat

Visitation of the BVM

Octave Day of St. John Baptist

Ss. Processus & Martinian, Mm

FRIST SATURDAY

d1cl

W

Mass 9:00 AM; Confessions 8:30 AM; Holy Hour & Benediction  with Rosary of Reparation

3

Sun

4th Sunday after Pentecost

St. Leo II, PC

Within the Octave of Ss. Peter & Paul

sd

G

Mass 9:00 AM & Noon; Members Ss. Peter & Paul; Rosary of Reparation 8:30 AM; Confessions 8:00 AM
"The Evangelist," says St. Augustine, "made use of a word which has a special import, when he said: the soldier opened Jesus' Side with a spear.  He did not say struck the Side, or wounded the Side, or anything else like that; but he said he opened Jesus' Side.  He opened it; for that Side was like the door of life; and when it was opened, the Sacraments (the Mysteries) of the Church came through it…. This was predicted by that door which Noe was commanded to make in the side of the Ark, through which were to go those living creatures which were not to be destroyed by the deluge; and all these things were a figure of the Church.
Dom Gueranger, The Liturgical Year on the Sacred Heart of Jesus
"I often ask myself how it came that pictures of hell did not lead me to fear these pains as they deserve.  Now I feel a killing pain at the sight of the multitudes who are lost.  This vision was one of the greatest graces the Lord has given me.  From it arise also these vehement desires to be useful to souls.  Yes, I say it with all truth: to deliver one soul from these terrible torments, I would gladly, it seems to me, endure death a thousand times." 
St. Teresa of Avila
Julian the Apostate was most anxious to count them amongst his confidants; with this view, he made use of every entreaty; nor does it appear that he even made the renouncing of Jesus Christ a condition.  Well then, it may be retorted, why not yield to the imperial whim?  Could they not do so without wounding their conscience? Surely too much stiffness would be calculated to ill-dispose the prince, perhaps even fatally: whereas to listen to him would very likely have a soothing effect upon him; and might even bring him round to relax somewhat of those administrative trammels unfortunately imposed upon the Church by his prejudiced government.  For aught one knew, the possible conversion of his soul, the return of so many of the misled who had followed him in his fall, might be the result!  Should not such things as these deserve some consideration?  Should they not impose, as a duty, some gentle handling? Such reasoning as this would doubtless appear to some people as wise policy.  Such preoccupation for the apostate's salvation could easily have had nothing in it but what was inspired by zeal for the Church and for souls; and indeed the most exacting casuist could not find it a crime for John and Paul to dwell in a court where nothing was demanded of them contrary to the divine precepts.  Nevertheless the two brothers resolved otherwise; to the course of soothing and reserve-making, they preferred that of the frank expression of their sentiments, and this boldness infuriated the tyrant and brought about their death.  The Church has judged their case, and she considers they did well; hence, it is unlikely that the former path would have led them to a like degree of sanctity in God's sight.  
Dom Gueranger, The Liturgical Year, Ss. John and Paul, Martyrs
O Jesus, a soldier opened Your side with his lance, so that, through the gaping wound, we might know the charity of Your Heart, which loved us unto death, and that we might enter into Your unutterable love through the same channel by which it came to us. Approach, then, O my soul, the Heart of Christ, that magnanimous Heart, that hidden Heart, that Heart which thinks of all things and knows all things; that loving Heart, all on fire with love. Make me understand, O Lord, that the door of Your Heart was forced open by the vehemence of Your love. Allow me to enter into the secret of that love which was hidden from all eternity, but is now revealed by the wound in Your Heart. 
St. Bernardine of Siena
The first suffering which the damned endure is that they are deprived of seeing Me.  This suffering is so great that, if it were possible, they would choose to endure fire and torments, if they could in the meantime enjoy My vision, rather than to be delivered from other sufferings without being able to see Me. This pain is increased by a second, that of the worm of conscience, which torments them without cessation. Thirdly, the view of the demon redoubles their sufferings, because, seeing him in all his ugliness, they see what they themselves are, and thus see clearly that they themselves have merited these chastisements.  The fourth torment which the damned endure is that of fire, a fire which burns but does not consume.  Further, so great is the hate which possesses them that they cannot will anything good.  Continually they blaspheme Me.  They can no longer merit.  Those who die in hate, guilty of mortal sin, enter a state which lasts forever.  
Our Lord speaking to St. Catherine of Siena
ON DRUNKENNESS
Be sober and watch (I Peter, 5, 8).
Sobriety is the mother of vigilance; intemperance is the mother of sloth and of numberless other vices which cast many souls into the jaws of the devil who, like a hungry lion, goes about day and night seeking for prey. Woe, therefore, to those who because of their drunkenness live, as it were, in constant night and in the perpetual sleep of sin! How will they feel when, suddenly awakened by death, they find themselves before the judgment seat of God burdened with innumerable sins of which they were unconscious, or of which they wished not to know they were guilty? Who can number the sins committed in a state of intoxication, sins for which the drunkard cares nothing, for which he has no contrition, and has not confessed, because the light of reason is extinguished, his life is a senseless stupor, and he is therefore unconscious of his thoughts, words and actions.
But will the divine Judge find no sin in such persons? Will He permit the shameful deeds committed while intoxicated, the curses, blasphemies, sneers, detractions, outrages, and scandals to remain unpunished? He who demands an account of every idle word, will He demand no account of the time 'so badly spent, of the money so uselessly squandered, families neglected, church service unattended, education of children omitted, and the other great sins committed? They will indeed excuse themselves, pleading that these sins were committed involuntarily, or as a joke, when they were intoxicated; that their intoxication was excusable, as they were not able to stand muck; but will God be content with such excuses? Will they not add to their damnation? That they took more than they could bear of the intoxicating drink, deprived themselves of the use of reason, and thus voluntarily caused all the sins they committed while in that state, is what will be punished.
What then can they expect? Nothing less than the fate of the rich man spoken of in the gospel, who on account of his debaucheries was buried in hell; where during all eternity his parched tongue was not cooled by one drop of water (Luke 16, 22). Yes, this will be the place of those unconverted drunkards of whom St. Paul says that they will not possess the kingdom of God (I Cor. 6,10). How rare and how difficult is the conversion of a drunkard, because with him as with the unchaste this habit becomes a second nature, and because he generally abuses the remedies: the holy Sacraments of Penance and the Altar.
This should certainly deter any one from the vice of drunkenness; but those who are not thus withheld, may consider the indecency, the disgrace, and the injury of this vice, for it ruins the body as well as the soul.
Is it not disgraceful that man endowed with reason, and created for heaven, should drown that reason in excessive drink, degrading his mind, his intellectual spirit, the image of God, rendering it like the brute animals, and even lower than the beasts. "Are not the drunkards far worse than the animals?" says St. Chrysostom. Yes, not only on account of their drunkenness, but far more so because of the shameful position of their body, their manners, their speech, their behavior. How disgracefully naked lay Noah, although he was intoxicated not through his own fault, exposed in his tent to the ridicule of the impudent Chain (Gen. 9, 21)! Even the heathen Spartans considered the vice of drunkenness so disgraceful that they were in the habit of intoxicating a slave, and bringing him before their children that they might be disgusted with such a state.
Finally, that which should deter everybody from this vice is its injuriousness. It ruins the body as well as the soul. By surfeiting many have perished (Ecclus. 37, 34), and it has ruined the health of many more. Who hath woe? whose father hath woe? who hath contentions? who fall into pits, who hath wounds without cause? who hath redness of eyes? Surely they that pass their time in wine, and study to drink off their cups (Prov. 23, 29-30)? Daily observation confirms this truth of Scripture, and the miserable old age, accompanied by innumerable weaknesses and frailties of one addicted to drink is a sufficient testimony of the injuriousness of this vice.
O my soul, you will always find in the Blessed Sacrament, under whatever aspect you consider it, great consolation and delight, and once you have begun to relish it, there will be no trials, persecutions, and difficulties which you cannot easily endure. 
St. Teresa of Jesus, Way of Perfection
MERCIFUL LOVE

                     

SUNDAY WITHIN THE OCTAVE OF THE SACRED HEART
PRESENCE OF GOD ‑ O Jesus, reveal to me the infinite treasures of mercy contained in Your Heart.
MEDITATION:
    I. Today's liturgy is a warm invitation to confidence in the merciful love of Jesus. Even from the beginning of the Mass, the Church has us pray thus: "Look toward me and have pity on me, O Lord, for I am desolate and unhappy. See my misery and my sadness, and pardon all my sins" (Introit) ; then in the Collect we add: "O God... pour out upon us Your mercy," and a little later we are exhorted: "Cast your care upon the Lord, and He will support you" (Gradual). . But how can we justify all this confidence in God, since we are always poor sinners? The Gospel (Lk 15,1‑10) explains the grounds for this justification by relating two parables used by Jesus Himself to teach us that we can never have too much confidence in His infinite mercy: the story of the lost sheep and the account of the missing drachma. First He shows us the good shepherd who goes in search of the lost sheep; it is a picture of Jesus coming down from heaven to search for poor human beings lost in the dark caves of sin. In order to find them, rescue them, and bring them back to the sheepfold, He does not hesitate to undergo the greatest sufferings and even death. "And when he hath found it.. . [he lays] it upon his shoulders, rejoicing: and coming home, [he calls] together his friends and neighbors, saying to them: 'Rejoice with me for I have found my sheep that was lost.'" This is the story of the love of Jesus for all mankind and especially for every individual soul. The story has a beautiful symbolism in the tender figure of the good shepherd, to which Jesus likened Himself. We might say that the image of the good shepherd -which was so greatly loved in the early days of the Church‑ is the equivalent of that of the Sacred Heart; both are living, concrete expressions of the merciful love of Jesus, and they urge us to go to Him with complete confidence.
    2. "I say to you, that even so there will be joy in heaven over one sinner who repents, more than over ninety‑nine  just who have no need of repentance." Here we have the underlying idea of all three parables about mercy ‑the lost sheep, the missing drachma, and the prodigal son‑ each expressing this thought in a different way. This insistent repetition tells us how earnestly Jesus would inculcate the profound lesson of His infinite mercy, a mercy which is the exact opposite of the hard, scornful attitude of the Pharisees who murmured, saying, "He [Jesus] receives sinners and eats with them." The three parables are the Master's answer to their mean and treacherous insinuations.
    It is not easy for finite creatures with a limited spiritual outlook to understand this ineffable mystery completely; not only is it difficult to understand in respect to others, but it presents a problem even in what concerns ourselves. However, Jesus said and repeated: "There will be joy in heaven over one sinner who repents, more than over ninety-nine just" thus giving us to understand what great glory a soul gives to God when, after many falls, it comes back to Him, repentant and confident. The message of this parable applies not only to great sinners, those converted from serious sin, but also to those who turn from venial sins, who humble themselves and rise again after faults committed through weakness or lack of reflection. This is our everyday story: how many times we resolve to overcome our impatience, our quick temper, our sensitiveness, and how many times we fall again! But the Heart of Jesus "thrills with joy when, humbly acknowledging our fault, we come to fling ourselves into His arms, imploring forgiveness; then, He loves us even more tenderly than before we fell" (T.C.J. L‑C).
    The liturgy repeats in the Communion hymn the last verse of the Gospel: "I say to you, there shall be joy before the angels of God over one sinner doing penance." Let us ask Jesus, when He comes to us in Holy Communion, to help us penetrate the secrets of His infinite, merciful love.
COLLOQUY:
    "In whom, Lord, can Your mercies shine forth as in me, who with my evil deeds have thus obscured the great favors which You had begun to show me? Alas, my Creator! If I would make an excuse, I have none, and no one is to blame but I. For had I cooperated even a little with Your love which You had begun to show me, I would not have been able to love aught but Yourself Lord. . . but as I have not deserved this . . .  may Your mercy be availing for me.
    "Yet even from me some good has been brought forth by Your infinite goodness, and, the greater have been my sins, the more has the great blessing of Your mercies shone forth in me. How many reasons have I for singing of them forever! I beseech You, my God, that it may be so: may I sing of them, and that without end, since You have deigned to work such exceeding great mercies in me that they amaze those who behold them, while as for me, I am drawn out of myself continually, that I may be the better able to sing Your praise. For so long as I am in myself, my Lord, and without You, I can do nothing but be cut off like the flowers in this garden, and this miserable earth will become a dunghill again as before. Permit it not, Lord. Let it not be Your will that a soul which You have purchased with so many trials should be lost, when You have so often redeemed it anew and have snatched it from the teeth of the horrible dragon" (T. J. Life, 4‑14)
    "O Jesus, I know that Your Heart is more grieved by the thousand little imperfections of Your friends than by the faults, even grave, which Your enemies commit. Yet, it seems to me, that it is only when those who are Your own are habitually guilty of thoughtlessness and neglect to seek Your pardon, that You can say: 'These wounds which you see in the midst of My hands I have received in the house of those who love Me.' But Your Heart thrills with joy when You have to deal with all those who truly love, and who after each little fault come to fling themselves into Your arms, imploring forgiveness. You say to Your angels what the prodigal's father said to his servants: 'Put a ring upon his finger, and let us rejoice.' O Jesus, how little known is the merciful love of Your Heart!" (cf. T.C.J. L‑C).
<![if !vml]>
<![endif]>
Prayer to Our Lady of Perpetual Help
O Mother of Perpetual Help, grant that I may ever invoke thy most powerful name, which is the safeguard of the living and the salvation of the dying. O Purest Mary, O Sweetest Mary, let thy name henceforth be ever on my lips. Delay not, O Blessed Lady, to help me whenever I call on thee, for, in all my needs, in all my temptations I shall never cease to call on thee, ever repeating thy sacred name, Mary, Mary.
O what consolation, what sweetness, what confidence, what emotion fill my soul when I pronounce thy sacred name, or even only think of thee. I thank God for having given thee, for my good, so sweet, so powerful, so lovely a name. But I will not be content with merely pronouncing thy name: let my love for thee prompt me ever to hail thee, Mother of Perpetual Help.
Luther was the apostle of the very opposite of what the Sacred Heart reveals.  Instead of the merciful God, as known and loved in the previous ages, Luther would have the world believe Him to be the direct author of sin and damnation, who creates the sinner for crime and eternal torments, and for the mere purpose of showing that He could do anything, even injustice!  Calvin followed; he took up the blasphemous doctrines of the German apostate, and riveted the protestant principles by his own gloomy and merciless logic.  By these two men, the tail of the dragon dragged the third part of the stars of heaven.
Dom Gueranger, The Liturgical Year on the Sacred Heart of Jesus
Right of the Faithful to Appeal Directly to the Judgment of the Pope
      "The holy Roman Church holds the highest and complete primacy and spiritual power over the universal Catholic Church which she truly and humbly recognizes herself to have received with fullness of power from the Lord Himself in Blessed Peter, the chief or head of the Apostles whose successor is the Roman Pontiff.  And just as to defend the truth of Faith she is held before all other things, so if any questions shall arise regarding faith they ought to be defined by her judgment.  And to her anyone burdened with affairs pertaining to the ecclesiastical world can appeal; and in all cases looking forward to an ecclesiastical examination, recourse can be had to her judgment." 
Second Council of Lyons, Denz. 466
      "And since the Roman Pontiff is at the head of the universal Church by the divine right of apostolic primacy, We teach and declare also that he is the supreme judge of the faithful, and that in all cases pertaining to ecclesiastical examination recourse can be had to his judgment."
First Vatican Council, Denz. 1830
O Florinus, this teaching is not that transmitted to us by the ancients, the disciples of the apostles.

 

I used to behold thee at the side of Polycarp; though shining at court thou didst none the less seek to be pleasing unto him.

 

I was then but a child, yet the things that happened at that time are more vivid in my recollection than those of yesterday; for indeed childhood's memories form, as it were, a part of the very soul; they grow with her.

 

I could point out the very spot where sat blessed Polycarp while he conversed with us; I could describe exactly his bearing, his address, his manner of life, his every feature, and the discourses he made to the crows.

 

Thou rememberest how he used to tell us of his intercourse with John (the Apostle) and the rest of those that had seen the Lord, and with what a faithful memory he repeated their words; what he had learnt from them respecting our Lord, his miracles, his doctrine, all these things Polycarp transmitted to us, as having himself received them from the very men that had beheld with their eyes the Word of life; all of what he told us was conformable to the Scriptures.

 

What a grace from God were these conversations of his!

 

I used to listen so eagerly, noting everything down, not on parchment, but on my very heart; and now, by the grace of God, I still live on it all.

 

Hence, I can attest before God, if the blessed apostolic old man had heard discourses such as thine he would have stopped his ears, saying, as was his wont: "O God most good, to what sort of times hast thou reserved us!"

 

Then would he have got up quickly, and would have fled from that place of blasphemy.

 
St. Irenaeus, Bishop and Martyr, in a letter written to win Florinus from heresy to the true Faith
"Never forget Him Who died for love of you. You will only love Him in so far as you know how to suffer in silence, preferring Him to creatures and eternity to time." 
St. Margaret Mary Alacoque
It is terrible dangerous to put off conversion!
"First, in order to profit by our last hour, we must foresee it. Everything conspires to hide this moment when it arrives: the sinner's own illusions, his negligence, the lack of sincerity on the part of those who surround him. Secondly, to profit by this last hour, if he foresees it, he must wish to be converted. But it is greatly to be feared that the sinner does not wish this. The tyranny of habit gives to his last acts a character of irresolution. Calculated delays have weakened his faith, have blinded him to his own state. Hence even the last hour does not move him, and he dies impenitent. Thirdly, to profit by this last hour, even if he wishes for conversion, the conversion must be sincere, and for this the soul needs efficacious grace. Yet the delaying sinner counts rather on his own will than on grace. If he does count on grace, he does so with a cowardly look toward the mercy of God. Will he thus reach a true regret for the offense done against God, to a genuine and generous act of repentance? The sinner who delays may forget what penitence is, and runs great risk of dying in his sin. Hence the conclusion: Seize the grace of repentance now, lest you lack it then when you must have it to decide your eternity."
Father Jacques-Marie-Louis Monsabre, O.P.
The loss of faith being the most radical and the deepest of all causes of estrangement from God, it is not surprising to observe the horror which heresy inspired in those day, when union with God was the one treasure longed for by all conditions and ages of life.  The name Irenaeus signifies peace; … Nevertheless, Irenaeus himself relates with regard to his master Polycarp, how, when being asked by the heretic Marcion if he knew him, he replied: 'I know thee to be the first-born of Satan.'  He also tells us that St. John, hearing that Cerinthus was in the same public edifice into which he had just entered, fled precipitately, for fear, as he said, that because of this enemy of truth the wall of the building would crumble down upon them all: 'so great,' remarks the bishop of Lyons, 'was the fear the apostles and their disciples had of communicating, even by word, with any one of those who altered truth.' 
Dom Gueranger, The Liturgical Year, Feast of St. Irenaeus, Bishop, Martyr, Father of the Church
The tribute of death was unknown to Levi; this dower of blood was never exacted of Aaron by Jehovah: for who is it that would die for a slave?  The Synagogue was no bride!  Love is the sign which distinguishes this age of the new dispensation from the law of servitude.  Powerless, sunk in cringing fear, the Jewish priest could but sprinkle with the blood of victims substituted for himself the horns of the figurative altar.  At once both Priest and Victim, Jesus expects more of those whom he calls to a participation in the scared prerogative which makes him Pontiff for ever according to the order of Melchisesech.  "I will not now call you servants: for the servant knoweth not what his lord doth." Thus saith he to these men whom he raised above angels at the Last Supper; "but I have called you friends, because all things whatsoever I have heard of my Father, I have made known to you.  As the Father hath loved me, I also have loved you.  Abide in my love." 
Dom Gueranger, The Liturgical Year, Feast of Ss. Peter and Paul
Feast of the Precious Blood of Our Lord Jesus Christ
Seven Offerings of the Precious Blood
<![if !supportLists]>· <![endif]>Eternal Father, I offer You the merits of the Most Precious Blood of Jesus, Your Beloved Son and my Redeemer, for the propagation and exaltation of my dear Mother the Holy Church, for the safety and prosperity of her visible Head, the Holy Roman Pontiff, for the cardinals, bishops and pastors of souls and for all the ministers of the sanctuary.
Glory be to the Father, etc.; Blessed and praised forevermore be Jesus Who hath saved us by His Precious Blood!
<![if !supportLists]>· <![endif]>Eternal Father, I offer You the merits of the Most Precious Blood of Jesus, Your Beloved Son and my Redeemer, for the peace and concord of nations, for the conversion of the enemies of our holy Faith, and for the happiness of all Christian people.
Glory be... Blessed and praised...
<![if !supportLists]>· <![endif]>Eternal Father, I offer You the merits of the Most Precious Blood of Jesus, Your Beloved Son and my Redeemer, for the repentance of unbelievers, the extirpation of all heresies and the conversion of sinners.
Glory be... Blessed and praised...
<![if !supportLists]>· <![endif]>Eternal Father, I offer You the merits of the Most Precious Blood of Jesus, Your Beloved Son and my Redeemer, for all my relations, friends and enemies, for the poor, the sick, and those in tribulation, and for all those for whom You will that I should pray, or know that I ought to pray.
Glory be... Blessed and praised...
<![if !supportLists]>· <![endif]>Eternal Father, I offer You the merits of the Most Precious Blood of Jesus, Your Beloved Son and my Redeemer, for all those who shall this day pass to another life that You may preserve them from the pains of Hell and admit them the more readily to the possession of Your Glory.
Glory be... Blessed and praised...
<![if !supportLists]>· <![endif]>Eternal Father, I offer You the merits of the Most Precious Blood of Jesus, Your Beloved Son and my Redeemer, for all those who are lovers of this Treasure of His Blood, and for all those who join with me in adoring and honoring It, and for all those who try to spread devotion to It.
Glory be... Blessed and praised...
<![if !supportLists]>· <![endif]>Eternal Father, I offer You the merits of the Most Precious Blood of Jesus, Your Beloved Son and my Redeemer, for all my wants, spiritual and temporal, for the holy souls in Purgatory and particularly for those who in their lifetime were most devoted to this Price of our Redemption and to the sorrows and pains of our dear Mother, Mary most holy.
Glory be... Blessed and praised...
Blessed and exalted be the Blood of Jesus, now and always, and through all eternity! Amen
"Come, Father, let us go preach the faith to the pagans."
I was deeply satisfied at having thus proclaimed the gospel to these barbarians.  Without budging from the spot, I stood waiting for them.  One of the Indians in my escort entered my hut and begged me to leave.  He returned a second and third time, saying, "Father, for the love of God, let us go; they are going to tear you to pieces!"  Flinging his arms around my neck, he persuaded me by his pleas to leave.  In him I seemed to see not an Indian but an angel from heaven.  Hardly had we left when we began to feel the arrows they were shooting at us.  Seven of my Indian escort fell at my side, shot to death.  For me this was to die seven deaths of my own.  But my own good fortune did not direct a single arrow towards me so that I could accompany in death those who had accompanied me in life – not just physically but also in the resolve to help me proclaim the gospel.  Indeed, with this resolve they had prepared themselves the day before by confession and Communion as if for death.  With Christian fervor they had said to me: "Come, Father, let us go preach the faith to the pagans.  We shall give our lives for Jesus Christ in your aid and in the defense of the faith that you preach." 
Rev. Antonio Ruiz De Montoya, S.J., The Spiritual Conquest
Let us turn back and re-climb the mountain of holiness. Holiness, as St. Thomas shows, has two essential characteristics, the absence of all stain of soilure and sin, and a firm union with God. Holiness is perfect in heaven, but it begins on earth. It manifests itself concretely in three fashions, upon which we would here insist. We have three great duties toward God: we must know Him, we must love Him, and we must serve Him. Thus we obtain eternal life. Now there are souls which have especially the mission of loving God and of making Him loved. These are souls of strong will, who receive from God the grace of a burning love. There are others whose mission is to make God known. In such souls the intellect is manifestly the dominating character, and these souls receive above all the graces of enlightenment. And there are souls whose chief mission is to serve God by fidelity in daily duty. This class contains the majority of good Christians. These three forms of sanctity seem to be represented in the three privileged apostles, Peter, John, and James. 
Fr. Garrigou-Lagrange, Life Everlasting
The people of Tudor England were, by and large, no Spartans, no saints, but by the same token they were no reformers.  They knew themselves to be mercenary, worldly, weak, and they looked to religion to pardon these vices, not to reform them.  When the crisis of Reformation came they mostly behaved as mercenary, worldly, and weak men and women will, grumbling, obstructing, but in the end taking the line of least resistance, like Bishop Stokesley lamenting his own helplessness in the face of advancing heresy and wishing that he had had the courage to stand against it with his brother the Bishop of Rochester, St. John Fisher. 
Eamon Duffy, The Stripping of the Altars
Henry VIII, founder of the Church of England, was a chip off the old block!
"This would be a very evil thing – one never before seen, the mere mention of which offends the ears. We would not for anything in the world that it should take place. Therefore, if anything be said to you about it, speak of it as a thing not to be endured. You must likewise say very decidedly that on no account would we allow it, or ever hear it mentioned, in order that by these means the King of England may lose all hope of bring it to pass."
Queen Isabel of Spain, addressing her ambassador to England upon hearing the suggestion from 45 year old Henry VII of England that he would like to marry the 17 year old Catherine of Aragon, the recently widowed wife of his eldest son, after which he offered his second son, Henry.
If men are "obligated" to a "right faith" then "Religious Liberty" is lie!
That by Divine Law Men are obliged to a Right Faith
As sight by the bodily eye is the principle of the bodily passion of love, so the beginning of spiritual love must be the intellectual vision of some object of the same. But the vision of that spiritual object of understanding, which is God, cannot be had at present by us except through faith, because God exceeds our natural reason, especially if we consider Him in that regard under which our happiness consists in enjoying Him.
a.) The divine law directs man to be entirely subject to God. But as man's will is subjected to God by loving Him, so his understanding is subjected to Him by believing Him,—but not by believing anything false, because no falsehood can be proposed to man by God, who is the truth: hence he who believes anything false does not believe God.
b.) Whoever holds an erroneous view about a thing, touching the essence of the thing, does not know the thing. Thus if any one were to fix on the notion of irrational animal, and take that to be man, he would not know man. The case would be otherwise, if he was mistaken only about some of the accidents of man. But in the case of compound beings, though he who errs about any of the essentials of a thing does not know the thing, absolutely speaking, still he knows it in a sort of a way: thus he who thinks man to be an irrational animal knows him generically: but in the case of simple beings this cannot be,—any error shuts out entirely all knowledge of the thing. But God is to the utmost degree simple. Therefore whoever errs about God does not know God. Thus he who believes God to be corporeal has no sort of knowledge of God, but apprehends something else instead of God. Now as a thing is known, so is it loved and desired. He then who errs concerning God, can neither love Him nor desire Him as his last end. Since then the divine law aims at bringing men to love and desire God, that same law must bind men to have a right faith concerning God. Hence it is said: Without faith it is impossible to please God (Heb. xi, 6); and at the head of all other precepts of the law there is prescribed a right faith in God: Hear, O Israel: the Lord thy God is one Lord (Deut. vi. 4).
St. Thomas Aquinas, Of God and His Creatures
"The most important thing is to commend lovingly and with much devotion the soul of the Queen (Isabel) our lady, to God. Her life was always Catholic and holy, and prompt in all things in His holy service. Because of this we should believe that she is in holy glory, and beyond the cares of this harsh and weary world." 
Christopher Columbus, returning from his fourth and last voyage where he discovered the American continent, upon learning that Queen Isabel the Catholic had died
"I will do what I can to set forward God's Catholic service."
    Among his chief friends and supporters was the saintly Margaret Clitherowe, who, at the risk of her life sheltered him in her own house in the Shambles at York, and provided him with all that was necessary fulfilling his sacred office.
    In 1585 the cruel and sanguinary law was passed by which it was made high treason for any Englishman, made priest by the authority of Rome since the first year of Elizabeth, to return into the kingdom or remain there; and felony for any person to harbour or relieve any such priest. By these statutes it was only necessary to prove that a man was a Catholic priest, in order to condemn him to the most cruel and shameful death; and many were the victims who were sacrificed under these unjust laws. When these laws came into force a priest, (perhaps Mr. Ingleby himself) who had frequently said Holy Mass in Mrs. Clitherowe's house, came to warn her of the risk she was running in relieving priests. But she, being filled with the desire for martyrdom was greatly rejoiced at the news, and said, "By God's grace all priest shall be more welcome to me than ever they were, and I will do what I can to set forward God's Catholic service."
    On March 10, 1586, in the beginning of Lent, the sheriffs of York came to search her house. They whipped a little boy until he showed them the priest's chamber, and the hiding-place where she concealed the church vestments, Catholic books and other treasures, These they carried off, but they could not find Mr. Ingleby
    Margaret Clitherowe was committed to prison, and on the Annunciation, March 25, 1586 (which was also Good Friday), she suffered a most cruel and barbarous martyrdom, being pressed to death in the Tollbooth on Ousebridge, at York, for having harboured Mr. Francis Ingleby and another priest, Mr. John Mush.
    They stripped her and laid her on the ground, hands (outstretched in the form of a cross) to two stakes. They then put upon her a door, and on that heaped stones to the weight of five or six hundredweight. She was a quarter of an hour in dying, and in the very pangs of death she cried: " Jesu, Jesu, help me. Blessed Jesu, I suffer this for Thy sake," and so in terrible agony she yielded up her blessed soul to God. One of her hands is kept as a relic at St.  Mary's Convent, York, to this day. 
Dom Bede Camm, O.S.B., B.A., Forgotten Shrines
Prophecy of St. Francis of Assisi
"Act bravely, my brethren; take courage and trust in the Lord. The time is fast approaching in which there will be great trials and afflictions; perplexities and dissensions, both spiritual and temporal, will abound; the charity of many will grow cold, and the malice of the wicked will increase. The devils will have unusual power; the immaculate purity of our Order, and of others, will be so much obscured that there will be very few Christians who obey the true Supreme Pontiff and the Roman Church with loyal ears and perfect charity.
"At the time of this tribulation a man, not canonically elected, will be raised to the Pontificate, who, by his cunning, will endeavour to draw many into error and death. Then scandals will be multiplied, our Order will be divided, and many others will be entirely destroyed, because they will consent to error instead of opposing it.
"There will be such diversity of opinions and schisms among the people, the religious and the clergy, that, except those days were shortened, according to the words of the Gospel, even the elect would be led into error, were they not specially guided, amid such great confusion, by the immense mercy of God….
"Those who persevere in their fervor and adhere to virtue with love and zeal for the truth, will suffer injuries and persecutions as rebels and schismatics; for their persecutors, urged on by the evil spirits, will say they are rendering a great service to God by destroying such pestilent men from the face of the earth…
"Some preachers will keep silent about the truth, and others will trample it under foot and deny it. Sanctity of life will be held in derision even by those who outwardly profess it, for in those days Our Lord Jesus Christ will send them, not a true Pastor, but a destroyer."
St. Francis of Assisi, Works of the Seraphic Father St. Francis of Assisi, published in 1882 by the London-based Catholic publishing house R. Washbourne, 1882, pp. 248-250.
The Four Sins that "Cry to Heaven for Vengeance" are protected acts under U.S. Law
No society can exist unless the laws are respected to a certain degree.  The safest way to make laws respected is to make them respectable.  When law and morality contradict each other, the citizen has the cruel alternative of either losing his moral sense or losing his respect for the law.  These two evils are of equal consequence, and it would be difficult for a person to choose between them.
The nature of law is to maintain justice.  This is so much the case that, in the minds of the people, law and justice are the same thing.  There is in all of us a strong disposition to believe that anything lawful is also legitimate.  This belief is so widespread that many persons have erroneously held that things are "just" because the law makes them so.  Thus, in order to make plunder appear just and sacred to many consciences, it is only necessary for law to decree and sanction it.  Slavery, restrictions, and monopoly find defenders not only among those who profit from them but also among those who suffer from them. 
Frederic Bastiat, The Law
If what he has to say is, "foolish or perhaps a heresy" then he should try his best to not think out loud!
[…..] And it comes to my mind to say something that may be foolish or perhaps a heresy, I don't know. […..]
Pope Francis, message to John 17 (Ecumenical) Movement, May 23, 2015
Catholic Official Teaching on Homosexual Unions
<![if !supportLists]>1. <![endif]>The Church teaches that respect for homosexual persons cannot lead in any way to approval of homosexual behaviour or to legal recognition of homosexual unions.
<![if !supportLists]>2. <![endif]>The common good requires that laws recognize, promote and protect marriage as the basis of the family, the primary unit of society.
<![if !supportLists]>3. <![endif]>Legal recognition of homosexual unions or placing them on the same level as marriage would mean not only the approval of deviant behaviour, with the consequence of making it a model in present-day society, but would also obscure basic values which belong to the common inheritance of humanity.
Cardinal Joseph Ratzinger, Congregation for the Doctrine of the Faith, CONSIDERATIONS REGARDING PROPOSALS TO GIVE LEGAL RECOGNITION TO UNIONS BETWEEN HOMOSEXUAL PERSONS, 2003
Modernism vs. Neo-Modernism: What is the Difference?
    The overarching principle of post-conciliar theology is not modernism, properly speaking. Let us get our terms straight.
Modernism is the idea that there are no eternal truths, that truth is the correspondence of the mind with one's lifestyle (adaequatio intellectus et vitae), and that, therefore, old dogmas must be abandoned and new beliefs must arise that meet 'the needs of modern man'. This is a radical denial of the traditional and common sense notion of truth: the correspondence of the mind with reality (adaequatio intellectus et rei), which is the basis of the immutability of Catholic dogma.
    No, the post-conciliar theological principle is neo-modernism, and the theology that is based on it is known as the nouvelle theologie. It is the idea that old dogmas or beliefs must be retained, yet not the traditional 'formulas': dogmas must be expressed and interpreted in a new way in every age so as to meet the 'needs of modern man'. This is still a denial of the traditional and common sense notion of truth as adaequatio intellectus et rei (insofar as it is still an attempt to make the terminology that expresses the faith correspond with our modern lifestyle) and consequently of the immutability of Catholic dogma, yet it is not as radical as modernism. It is more subtle and much more deceptive than modernism because it claims that the faith must be retained; it is only the 'formulas' of faith that must be abandoned--they use the term 'formula' to distinguish the supposedly mutable words of our creeds, dogmas, etc. from their admittedly immutable meanings. Therefore, neo-modernism can effectively slip under the radar of most pre-conciliar condemnations (except Humani Generis, which condemns it directly) insofar as its practitioners claim that their new and unintelligible theological terminology really expresses the same faith of all times. In other words, neo-modernism is supposed to be 'dynamic orthodoxy': supposedly orthodox in meaning, yet always changing in expression to adapt to modern life (cf. Franciscan University of Steubenville's mission statement).
    Take extra ecclesiam nulla salus as a clear example of a dogma that has received a brutal neo-modernist re-interpretation: they claim that the old 'formula' that "there is no salvation outside the Church" must be abandoned; rather it is more meaningful to modern man to say that salvation is not in, but through, the Church; people who are not in the Church may still be saved through the Church; thus, to them the dogma that "there is no salvation outside the Church" means that there is salvation outside the Church. Hence see Ven. Pope Pius XII condemning those "reduce to a meaningless formula the necessity of belonging to the true Church in order to gain eternal salvation." (Humani generis 27).
    Yet this mentality of reinterpreting everything anew in order to 'meet the needs of the times' is generally tends to be found in different degrees among different post-conciliar sources:
    It tends to be (1) rampant in men like De Lubac, Von Balthasar, Congar, etc.: it is the ultimate goal of their writings, teachings, and activities as churchmen. To achieve this end, they employ the technique of 'resourcement', the neo-modernist strategy of fishing for the few dubious, questionable, or idiosyncratic teachings of some Fathers of the Church and other authoritative writers, and gather them into a massive, heterodox theological argument against the traditional understanding of the faith (which they like to relativize by giving it names such as "Counter-Reformation" Theology, "Tridentine" Theology, or "Scholastic" Theology, instead of just admitting that it is Catholic Theology plain and simple). This technique accomplishes three things that go hand-in-hand: (a) offers a refutation of traditional Catholicism, (b) defends an interpretation that meets the needs of modern times, and (c) gives it a semblance of being traditional, because it appears to be based in the Fathers et al. This type of argument is used, for example, by Von Balthasar in his nearly heretical book, Dare We Hope that All Men be Saved? to 'prove', not that Hell does not exist (that is a dogma), but that it is empty. But this technique and its neo-modernistic underpinnings is not only practiced in almost all of these men's writings; it is also defended in theory by many of them, particularly in Von Balthasar's daring little book, Razing the Bastions, where he demonstrates that "Tridentine" theology must be rejected in our times because it is 'boring'.
    It also tends to be (2) present in a more moderate way in the non-binding statements by post-conciliar popes, since they themselves were deeply involved in the developing of the nouvelle theologie. Just to give one of a million possible examples, see Pope Benedict's evolutionistic re-interpretation of the Resurrection of Our Lord. Nothing here obviously contradicts the dogma of the Resurrection (it may be interpreted as a simple analogy, even if a bad one, and nothing more), but it is a novelty that can be easily understood as claiming that the Resurrection is part of the natural development of nature (thus giving credence to some of the nouvelle theologie's pet doctrines, such as De Lubac's heterodox notion of the supernatural and De Chardin's pantheistic evolutionism). This happens almost on a daily basis in what comes out of the Vatican, not to mention what comes from local bishops.
    And finally, neo-modernism tends to be present (3) mostly implicitly or behind-the-scenes in the Council, the Catechism, etc., even though it seldom comes out more explicitly. Things are done at this level under the pretext of 'aggiornamento', a euphemism for neo-modernism. That is usually all the justification provided since at this authoritative level, there is no need to justify things theologically. Hence, Vatican II and the Catechism are not outright neo-modernistic. Rather, they (like most of post-conciliar doctrine) tend in that direction and/or are inspired by that mentality. In other words, most of the time these documents do not explicitly teach neo-modernist errors (the kind of errors you hear explicitly from neo-modernist theologians and priests). Rather, they are full of dangerous ambiguities: statements that in a technical sense could be interpreted as being in harmony with the traditional faith, but that, in their natural, non-forced, interpretation are heterodox. One clear example of this is Dignitatis humanae, par. 2; entire monographs have been written in order to prove that, despite appearances, this document does not contradict previous teaching. Maybe in fact it ultimately does not, but it is obvious that the prima facie meaning does; otherwise there would be no need to write so many volumes to prove it.
    It must be noted that these are general tendencies, and that in some documents (cf. Gaudium et Spes) and every now and then in papal and episcopal statements neo-modernist principles come out more explicitly.
    For a more detailed philosophical and theological critique of neo-modernism, and how it is nothing but a re-hashing of modernism, see Garrigou-Lagrange's Where is the New Theology Leading Us? and his The Structure of the Encyclical Humani Generis.
Francisco J. Romero Carrasquillo, Ph.D., Professor of Theology and Philosophy
Feast of the Visitation of the Blessed Virgin Mary
    The angel Gabriel had announced to Mary that God would soon give a son to Elizabeth.  The Virgin at once betook herself to Hebron, where her cousin resided.  The Feast of the Visitation was established by Urban VI, 6 April 1389 (Decree published by Boniface IX, 9 Nov., 1389) to invoke the intercession of the Blessed Virgin Mary for the purpose of restoring peace to the Church during the Western Schism, which rent the seamless garment of Christ.  It was celebrated on the day following the Octave Day of the Nativity of St. John the Baptist, July 2nd for a specific reason.   The Octave Day of the Nativity of St. John is the anniversary of his circumcision on which day St. Zachary's tongue was loosened and his canticle pronounced ending with these words, "the Orient from on high hath visited us: To enlighten them that sit in darkness, and in the shadow of death: to direct our feet into the way of peace."  It was this "peace" brought through the Virgin Mary that the Church sought.  It was also on July 2nd that Blessed Pius IX returned to Rome in 1849 after his forced exile during the Masonic revolutions in Europe, again restoring peace to the Church.  In thanksgiving, Blessed Pius IX raised the dignity of the feast to a double of the second class.  Our Lady, the true Ark of the Covenant, bearing within her the Emmanuel, the living testimony of a true reconciliation, of an alliance more sublime between earth and heaven, is the source of all true peace. 
    In the 1962 Missal the ranking of the Visitation was downgraded so that the Mass would never be offered in place of the Mass of an ordinary Sunday.  Further, the octave of St. John the Baptist, one of the many octaves suppressed by Fr. Annibale Bugnini and his liturgical commission was also suppressed.  Without the octave of St. John, it made no theological sense to have the Visitation to be celebrated on July 2nd.  The Novus Ordo liturgists therefore translated the feast to May 31st ignoring the purpose of its traditional establishment.  Since then, there has been no peace for the Church.    
"Vatican II was a pastoral council by its teachings, that is, its doctrines.  In a word, Vatican II was pastoral by being doctrinal."
Fr. John O'Malley, Jesuit "historian and theologian," author of What Happened at Vatican II, speaking at Caritas International Conference, "Vatican II, Remembering the Future: Ecumenical, Interfaith and Secular Perspectives on the Council's Impact and Promise." The event was co-hosted by Georgetown, Marymount University in Arlington, Va., and the Washington National Cathedral.
COMMENT: This is a remarkable admission of the necessary relationship between Catholic doctrine and Catholic practice.  It is a Truth of our Faith that has been constantly denied by the Modernists since Vatican II because, if this Truth had been admitted, no one would have accepted the Council's novel teachings which were imposed by a corruption of practice.  Ss. Peter & Paul Roman Catholic Mission has affirmed that every Catholic possesses a right to the immemorial traditions of our Church because we have a duty imposed by God to profess our faith openly and publicly which these traditions perfectly signify.  And thus, these immemorial traditions constitute necessary attributes of the Faith because without them, the Faith cannot be known or communicated to others.  And now, those who have foolishly adopted the novel practices dictatorially imposed after Vatican II are to understand that they in fact do signify a new doctrine, that "Vatican II was pastoral by being doctrinal." The Modernists want the new doctrines to be professed that the new practices signify.  No Catholic is bound by any novel doctrine, therefore, no Catholic is bound by any novel practice which signifies these new doctrines. The only reason that Fr. O'Malley is now admitting this Catholic truth is to impose formally the novel doctrines which the Novus Ordo practice signifies. 
"Certainly there is to be development and on the largest scale. Who can be so grudging to men, so full of hate for God, as to try to prevent it? But it must truly be development of the faith, not alteration of the faith. Development means that each thing expands to be itself, while alteration means that a thing is changed from one thing into another. The understanding, knowledge and wisdom of one and all, of individuals as well as of the whole Church, ought then to make great and vigorous progress with the passing of the ages and the centuries, but only along its own line of development, that is, with the same doctrine, the same meaning and the same import."
St. Vincent of Lèrins
COMMENT: Change can be either accidental (a "development" according to St. Vincent) or substantial (an "alteration" according to St. Vincent). A boy growing to manhood constitutes a series of accidental changes. A boy changing into a dog constitutes a substantial change and this only happens in Hollywood fantasy. A sinner becoming a saint is an accidental change and this is an accidental change that the Neo-modernist heretics refuse to make. They instead want the Church to substantially change into an institution that will accommodate their love and complacency in sin. Pope Francis, for example, says that the morality of capital punishment has evolved to the point that it is now known to be intrinsically evil in that it is 'opposed to the dignity of man and contrary to the spirit of the gospel.' Capital punishment changing from a morally permissible to intrinsically evil act constitutes a substantial change and therefore impossible as a legitimate development. There are many reasons why Neo-modernists, like Pope Francis and his conciliarists predecessors, deny the reality of substance but this is an important one. Trying to enroll St. Vincent of Lèrins in their defense is not a misunderstanding but just another lie.
Pope Francis thinks the miracle of Transubstantiation is a "Magic trick"!
Surprisingly, the account of the multiplication of the loaves does not mention the multiplication itself. On the contrary, the words that stand out are: "break", "give" and "distribute" (cf. Lk 9:16). In effect, the emphasis is not on the multiplication but the act of sharing. This is important. Jesus does not perform a magic trick; he does not change five loaves into five thousand and then to announce: "There! Distribute them!" No. Jesus first prays, then blesses the five loaves and begins to break them, trusting in the Father. And those five loaves never run out. This is no magic trick; it is an act of trust in God and his providence.
Pope Francis the Destroyer, Homily on Corpus Christi, 6-23-2019
The Native American Savages were no more "savage" than the native Celtic savages before St. Patrick, the native Gallic savages before St. Martin, the native German savages before St. Boniface, etc., etc., etc.
On the most solemn occasions the Pawnees add a bloody sacrifice to the oblation of the calumet; and according to what they pretend to have learned from the bird and the Star, the sacrifice most agreeable to the Great Spirit is that of an enemy immolated in the most cruel manner. It is impossible to listen without horror to the recital of the circumstances that attended the sacrifice of a young female, of the Scioux tribe, in the course of the year 1837. It was about seed time, and they thus sought to obtain a plentiful harvest. I shall here give the substance of the detailed account, which I have given of it in a former letter. This young girl, was only aged fifteen; after having been well treated and fed for six months, under pretence that a feast would be prepared for her at the opening of the summer season, felt rejoiced when she saw the last days of winter roll by. The day fixed upon for the feast having dawned, she passed through all the preparatory ceremonies, and was then arrayed in her finest attire, after which she was placed in a circle of warriors, who seemed to escort her for the purpose of showing her deference. Besides their wonted arms, each one of these warriors had two pieces of wood, which he had received at the hands of the maiden. The latter had on the preceding day carried three posts, which she had helped to fell in the neighboring forest: but supposing that she was walking to a triumph, and her mind being filled with the most pleasing ideas, the victim advanced towards the place of her sacrifice with those mingled feelings of joy and timidity, which, under similar circumstances, are naturally excited in the bosom of a girl of her age.
During their march, which was rather long, the silence was interrupted only by religious songs and invocations to the Master of life, so that whatever affected the senses, tended to keep up the deceitful delusion under which she had been till that moment. But as soon as she had reached the place of sacrifice, where nothing was seen but fires, torches, and instruments of torture, the delusion began to vanish and her eyes were opened to the fate that awaited her. How great must have been the surprise, and soon after the terror which she felt, when she found it no longer possible to doubt of their intentions? Who could describe her poignant anguish? She burst into tears; she raised loud cries to heaven — she begged, entreated, conjured her executioners to have pity on her youth, her innocence, her parents, but all in vain: neither tears, nor cries, nor the promises of a trader who happened to be present, softened the hearts of these monsters. She was tied with ropes to the trunk and branches of two trees, and the most sensitive parts of her body were burnt with torches made of the wood which she had with her own hands distributed to the warriors.— When her sufferings lasted long enough to weary the fanatical fury of her ferocious tormentors, the great chief shot an arrow into her heart; and in an instant this arrow was followed by a thousand others, which, after having been violently turned and twisted in the wounds, were torn from them in such a manner that her whole body presented but one shapeless mass of mangled flesh, from which the blood streamed on all sides. When the blood had ceased to flow, the greater sacrificator approached the expiring victim, and to crown so many atrocious acts, tore out her heart with his own hands, and after uttering the most frightful imprecations against the Scioux nation, devoured the bleeding flesh, amid the acclamations of his whole tribe. The mangled remains were then left to be preyed upon by wild beasts, and when the blood had been sprinkled on the seed, to render it fertile, all retired to their cabins, cheered with the hope of obtaining a copious harvest.
Such horrid cruelties could not but draw down the wrath of heaven upon their nation. And in fact, as soon as the report of the sacrifice reached the Scioux, they burned with the desire to avenge their honor, and swore to a man that they would not rest satisfied till they should have killed as many Pawnees as the young victim had bones in her fingers and joints in her body. More than a hundred Pawnees have at length fallen beneath their tomahawks, and their fury was afterwards more increased by the massacre of their wives and children, of which I have spoken before.
At the sight of so much cruelty, who could mistake the agency of the enemy of mankind, and who would refuse to exert himself for the purpose of bringing these benighted nations to the knowledge of the true Mediator, and of the only true sacrifice, without which, it is impossible to appease the divine justice.
Rev. and dear Father, yours,
Rev. P. J. De Smet, S.J., Letter to Jesuit Superiors, Banks of the Platte River, June 2, 1841
"This is magisterium: the Council is the magisterium of the Church. Either you are with the Church and therefore you follow the Council, and if you do not follow the Council or you interpret it in your own way, as you wish, you are not with the Church. We must be demanding and strict on this point. The Council should not be negotiated in order to have more of these... No, the Council is as it is. And this problem that we are experiencing, of selectivity with respect to the Council, has been repeated throughout history with other Councils." 
Pope Francis, 1-30-2021
"I dare say that the Council has revolutionized to some extent the status of theology – the believer's way of doing and thinking."
Pope Francis, 9-2-2015
"With the Council, the Church entered a new phase of her history."
Pope Francis, Misericordiae Vultus, 4-11-2015
COMMENT: It is true that Councils in the past have been "experiencing selectivity." Such as the Council of Trent and its dogmatic definitions regarding the doctrine of Justification which Pope Francis has repeatedly "selectively" rejects while professing his belief in the condemned propositions of the arch-heretic Luther. Those who are "selective" on any Catholic dogma are by definition, heretics. The word heresy means 'to choose,' in other words, to be "selective" of Catholic dogma. Vatican II was a "pastoral council" that defined no doctrine and remained purely on the level of the magisterium of churchmen grounded upon their grace of state. No Catholic is required to assent to any teaching whenever that 'teachings' in any way possibly contradicts revealed truth. The Magisterium of the Church is a different matter. It is the infallible teaching of the Church grounded upon its divine attributes of Authority and Infallibility which is incapable of error and to which every Catholic conscience is bound to assent on pain of heresy. Any Council that "revolutionized" a "believer's way of doing and thinking" is not Catholic by definition for the task of the Church is to protect, defend and propagate God's revealed truth and not to "revolutionize" it. A "believer" can only be "revolutionized" by revolting against the revealed truth. To claim that the "(Vatican II) Council is the magisterium of the Church" is an indirect profession of apostasy, for whatever "Church" that this is the "magisterium" for, is not the Catholic Church founded by Jesus Christ. Vatican II does represent a "new phase" in the history of the Church. Every "phase of (the Church's) history" is defined by the current errors of that age propagated by her enemies and the Church's response to those errors in the defense of truth with dogmatic councils. Vatican II is not a response to any error but is rather the error itself propagated by her enemies. Traditional Catholicism is the response to the modern errors! 
My heart was utterly filled with pain, all the more because it was of a most fine and delicate nature; the pain went from my Heart into my nerves, from my nerves back to my Heart: it kept on increasing so that my death-agony was prolonged while I was thus immersed in suffering, I opened my eyes and saw my dearest Mother overcome by a sea of anguish and tears, which pained me more than my own sufferings; I also saw my friends overwhelmed with sorrow. With this torture my Heart was actually rent by the force and fury of the pain; and then it was that my soul went forth from my body…… There are few persons who can imagine with what pain I remained fastened to the wood of the Cross, my Heart being broken and shattered by its violence: quando Cor meum crepuit.
Jesus Christ addressing St. Bridget of Sweden, quoted by St. John Eudes, The Sacred Heart of Jesus
Thy divine Heart was rent and broken in Thy dying, by the excess of Thy love of me. This made Thee suffer such violent tortures for love of me that Thy adorable Heart was broken by the force of the pain; so that I may say that Thou didst die of pain and love for me. This can be repeated by each one of us with equal truth.
St. Gertrude the Great, her address to our Lord Jesus Christ, quoted by St. John Eudes, The Sacred Heart of Jesus
Positive and scholastic theology cannot be too highly praised.  As it is the special work of the positive Doctors to excite the affections and to lead men to love and serve God with all their might; so it is rather the object of the scholastic Doctors, to define and explain more exactly, in conformity  with the wants of our times, what is necessary for salvation, the better to attack and to expose the errors and fallacies of the enemies of the Church.  The saying of Luther is well known: "Get rid of Thomas, and I will rid you of the Church."
St. Ignatius Loyola, founder of the Society of Jesus
"Put ye on therefore, as the elect of God, holy, and beloved, the bowels of mercy, benignity, humility, modesty, patience: Bearing with one another, and forgiving one another, if any have a complaint against another: even as the Lord hath forgiven you, so do you also. But above all these things have charity, which is the bond of perfection." 
St. Paul, Col. 3: 12-13
"The pluralism and the diversity of religions, color, sex, race and language are willed by God in His wisdom, through which He created human beings..... An insincere stance of openness to the other, as well as a corporatist attitude, which reserves salvation exclusively to one's own creed, is destructive of the same creed. In the parable of the Good Samaritan, Jesus explained this to the inquiring lawyer. Love lived in any religion pleases God. 'Through an exchange of gifts, the Spirit can lead us ever more fully into truth and goodness.'" 
Pope Francis approved Abu Dhabi document
COMMENT: "For all the gods of the Gentiles are devils" (Ps. 96:5).  Pope Francis is affirming that the worship of idols is "willed by God in His wisdom."  This is blasphemy but not a surprising blasphemy from Francis the Blasphemer.  What Pope Francis calls a "corporatist attitude, which reserves salvation exclusively to one's own creed" is the denial of a revealed truth of God that has been dogmatically defined by the Catholic Church on three separate occasions.  It is a dogma that there is "no salvation outside the Catholic Church."  The denial of this dogma is heresy by definition and anyone holding this heresy cannot be saved.  Furthermore, membership in the Catholic Church also dogmatically requires profession of the true faith and reception of the sacrament of Baptism. 
In the parable of the Good Samaritan, Jesus may very well have had in mind a specific Samaritan man who received him as the Messiah through the calling by the Samaritan Woman at the Well.  Be that as it may, are good works alone sufficient for salvation?  Those that affirm this are Pelagian heretics which is a favorite calumny that Francis mindlessly smears Catholics faithful to tradition.  But unlike Francis, who accuses traditional Catholics of Pelagianism without a shred of evidence, our accusations are supported with the bile that flows routinely from Francis' mouth.  The recognition of Logos, "which enlighteneth every man that cometh into this world" (John 1:9), leads to the regulation of life according to the natural law and is an essential prerequisite to receiving the truth of the Gospel and the sacrament of Baptism, but of itself, it with all the good works in the world, insufficient for salvation.  Jesus' conversation with the Samaritan Woman itself destroys this heretical claim of Francis.  According to Francis, the Samaritan Woman could have been saved in her idolatrous and adulterous state.
What every faithful Catholic must know is that the faith is the necessary and sufficient cause of and the sign of unity in the Catholic Church.  The pope is only secondarily and accidentally the cause and sign of unity in the Catholic Church.  When the pope falls from the faith he is to be opposed to his face as St. Paul did to St. Peter (Galatians 2:11).  Those who make the pope their proximate rule of faith will follow Francis in his heresy and eventual apostasy.  Those who keep dogma as their proximate rule of faith will save their souls. 
"It pleased God that in order to the rescuing of man from the power of the Devil, the Devil should be conquered, not by might, but by righteousness.… What, then, is the righteousness by which the Devil was conquered? What, except the righteousness of Christ? In this redemption the blood of Christ was given, as it were, as a price for us, by accepting which the Devil was not enriched, but bound, that we might be loosed from his bonds."
St. Augustine, quoted by Fr. Joseph Pohle, Dogmatic Theology, vol. 5
<![if !vml]>
<![endif]>
"And you shall be hated by all men for my name's sake: but he that shall persevere unto the end, he shall be saved" (Matt. 10:22).
Remember in your charity:
Remember the welfare of our expectant mothers: Vanessa LoStrocco,
The Vargas' request our prayers for the spiritual welfare of their son, Nicholas,
Monica Bandlow petitions prayers for Kathy Simons, Regina Quinn, James Mulgrew and Ruth Beaucheane,
Fr. Waters requests prayers for the spiritual and physical welfare of Frank McKee,
For the welfare of Lazarus Handley, his mother, Julia, and his brother, Raphael, with Down's Syndrome, is the petition of Monica Bandlow,
Nancy Bennett and Julia McDonald, for the recovery of their health,
Kathy Elias, who is gravely ill in hospital with heart problems,
Richard Giles, his conversion for a holy death,
Gabriel Schiltz, the daughter of Thomas Schiltz, for the recovery of her health and spiritual strength,
For the spiritual welfare of Mark Roberts, a Catholic faithful to tradition,
Monica Bandlow requests our prayers for the health and welfare of John Kopczynski,
Philip Thees asks our prayers for the recovery of Bridget McGuigan, recent hand injury,
Joe Sentmanet request prayers for Scott Nettles, who is gravely ill and in need of conversion,
Michael Brigg requests our prayers for the health of John Romeo,
The health and welfare of Gene Peters who underwent recent cardiac surgery,
Conversion of Anton Schwartzmueller, is the paryer request of his children,
Stacy Fernandez requests are prayers for the heath of Terry Patterson, Steven Becerra, and Roberto Valez,
Christine Kozin, for her health and spiritual welfare,
Teresa Gonyea, for her conversion and health, is the petition of her grandmother, Patricia McLaughlin,
Nolan Moran, a three year old diagnosed with brain tumor, and his family,
For the health of Sonia Kolinsky,
Jackie Dougherty asks our prayers for her brother who is gravely ill, John Lee,
Rose Bradley asks our prayers for the health and spiritual welfare of her granddaughter, Meg Bradley,
Timothy & Crisara, a couple from Maryland have requested our prayers for their spiritual welfare,
Roger & Mandy Owen Family, for their welfare is the request of Monica Bandlow,
Celine Pilegaard, the seven year old daughter of Cynthia Pilegaard, for her recovery from burn injuries,
Rafaela de Saravia, for her health and welfare,
Mary Mufide,  requests our prayers for her family,
Abbe Damien Dutertre, traditional Catholic priest arrested by Montreal police while offering Mass,
Francis (Frank) X.  McLaughlin, for the recovery of his health from a serious work injury,
Nicholas Pell, for his health and spiritual welfare is the petition of Camilla Meizer,
Mary Kaye Petr, her health and welfare is petitioned by Camilla Meizer,
The welfare of Excellency Archbishop Carlo Maria Viganò,
The welfare of Rev. Fr. Martin Skierka, who produces the traditional Ordo in the U.S.,
For the health and welfare of Katie Wess, John Gentry, Vincent Bands, Todd Chairs, Susan Healy and James O'Gentry is the petition of Camilia,
Marieann Reuter, recovery of her health, Kathy Kepner, for her health, Shane Cox, for his health, requests of Philip Thees,
Thomas Thees, recently hospitalized,
Thomas A. Nelson, long time faithful traditional Catholic the founder and former owner of TAN Books & Publishing, suffered a recent stroke,
The Joseph Cox Family, their spiritual welfare,
The Thomas Dube Family, for their conversion and spiritual welfare,
Luis Rafael Zelaya, the brother of Claudia Drew, who is seriously ill,       
For the health of Kim Cochran, the daughter-in-law of Joseph and Brenda Cochran, the wife of their son Joshua,
Louie Verrecchio, Catholic apologist, who has a health problem,
John Minidis, Jr. family, for help in their spiritual trial,
 John and Joann DeMarco, for their health and spiritual welfare,
Regina (Manidis) Miller, her spiritual welfare and health,   
Melissa Elena Levitt, her conversion, and welfare of her children,
For the grace of a holy death, Nancy Marie Claycomb,
The health and spiritual welfare of Tom Grow, Amanda Gardner, and Alex Estrada,
Conversion of Annette Murowski, and her son Jimmy,
Brent Keith from Indiana has petitioned our prayers for the Keith Family,
The welfare of the Schmedes Family, and the Mike and Mariana Donohue Family,
The spiritual welfare Robert Holmes Family,
For the spiritual and temporal welfare of Irwin Kwiat,
Fr. Waters asks our prayers for Elvira Donaghy, who is recovering from a stroke,
Kimberly Ann, the daughter of John and Joann DeMarco, for her health and spiritual welfare,
Mufide Rende, a traditional Catholic from India has asked our prayers for her welfare and he family members, living and deceased,
Mary and Bill Glatz, the welfare of their family,
Barbara Harmon, who is ill, and still cares for her ailing parents,
Jason Green, a father of ten children who has been seriously injured,
For the health and welfare of Robert Kolinsky and his family, and the Sorace family,
Fr. Waters asks our prayers for the health and spiritual welfare of Brian Abramowitz,
Thomas Schiltz family, in grateful appreciation for their contribution to the beauty of our chapel,
Welfare of Bishop Richard Williamson, for strength and courage in the greater battles to come,
John Rhoad, for his health and spiritual welfare,
Kathy Boyle, requests our prayers for her welfare,
Joyce Laughman and Robert Twist, for their conversions,
Michael J. Brigg & his family, who have helped with the needs of the Mission,
Nancy Deegan, her welfare and conversion to the Catholic Church,
Francis Paul Diaz, who was baptized at Ss. Peter & Paul, asks our prayers for his spiritual welfare,
The conversion of Rene McFarland, Lori Kerr, Cary Shipman and family, David Bash, Crystal and family, Larry Reinhart, Costanzo Family, Kathy Scullen, Marilyn Bryant, Vicki Trahern and Time Roe are the petitions of Gene Peters,
For the conversion of Ben & Tina Boettcher family, Karin Fraessdorf, Eckhard Ebert, and Fahnauer family,
Fr. Waters requests our prayers for Br. Rene, SSPX who has been ill, and for Fr. Thomas Blute, 
For the health and welfare of Kathryn Lederhos, the aunt of David Drew,
For the welfare of Fr. Paul DaDamio and Fr. William T. Welsh,
The Drew's ask our prayers for the welfare of Joe & Tracy Sentmanat family, Keith & Robert Drew, Christy Koziol & her children, Fred Nesbit and Michael Nesbit families, and Gene Peters Family, the John Manidis Family, the Sal Messinio Family, Michael Proctor Family,
Ryan Boyle grandmother, Jane Boyle, who is failing health,
Mel Gibson and his family, please remember in our prayers,
Rev. Timothy A. Hopkins requested our prayers for the welfare of  his Fr Jean-Luc Lafitte,
Ebert's request our prayers for the Andreas & Jenna Ortner Family,
Joyce Paglia has asked prayers for George Richard Moore Sr. & his children, and her brother, George Panell,
For the welfare of Anthony & Joyce Paglia, who are responsible for the beautiful statuary in our chapel,
Philip Thees asks our prayers for his family, for McLaughlin Family, the welfare of Dan & Polly Weand, the conversion of Sophia Herman, Tony Rosky, the welfare Nancy Erdeck, the wife of the late Deacon Erdeck, John Calasanctis, Tony Rosky, James Parvenski and  Kathleen Gorry.
Pray for the Repose of the Souls:
Thomas Thees,  the brother of Philip, died June 19,
Juanita Mohler, a friend of Camella Meiser, died June 14,
Michelle Donofrio McDowell, the cousin of Monica Bandlow, died March 5, and Patricia Fabyanic, the Prefect of Our Lady's Sodality, March 8,
Hernan Ortiz, the brother of Fr. Juan Carlos Ortiz, died February 3,
Mary Ann Boyle, the mother of a second order Dominican nun, a first order Dominican priest, and a SSPX priest, died January 24, 
John DeMarco, who attended this Mission in the past, died January23,
Charles O'Brien, the father of Marlene Cox, died December 30,
Kathleen Donelly, died December 29 at 91 years of age, ran the CorMariae website,
Monica Bandlow requests our prayers for the health and welfare of John Kinney, died December 21,
Matthew O'Hare, most faithful Catholic, died at age 40 on November 30,
Rev. Patrick J. Perez, a Catholic priest faithful to tradition, pastor Our Lady Help of Christians, Garden Grove, CA, November 19,
Elizabeth Benedek, died December 14, requested by her niece, Agnes Vollkommer,
Dolores Smith and Richard Costello,  faithful Catholics, died November,
Frank D'Agustino,a friend of Philp Thees, died November 8,
Fr. Dominique Bourmaud, of the SSPX, Prior of St. Vincent in Kansas City, died September 4,
Pablo Daniel Silva,  the brother of Elizabeth Vargas, died August 18,
Rose Bradley,  a member of Ss. Peter & Paul, died July 14,
Patricia Ellias, died June 1, recently returned to the Church died with the sacraments and wearing the brown scapular,
Joan Devlin, the sister-in-law of Rose Bradley, died May 18,
William Muligan, died April 29, two days after receiving the last sacraments,
Robert Petti, died March 19, the day after receiving the last sacraments,
Mark McDonald, the father of Kyle, who died December 26,
Perla Otero, died December 2020, Leyla Otero, January 2021, cousins of Claudia Drew,
Mehmet Rende, died December 12, who was the father of Mary Mufide,
Joseph Gravish, died November 26, 100 year old WWII veteran and daily communicant,
Jerome McAdams, the father of, died November 30,
Rev. James O'Hara, died November 8, requested by Alex Estrada,
Elizabeth Batko, the sacristan at St. John the Baptist in Pottstown for over 40 years, died on First Saturday November 7 wearing the brown scapular,
Fr. Anthony Cekada, a traditional Catholic priest, died September 11,
William Cox, the father of Joseph Cox, who died September 3,
James Larson, Catholic apologists, author of War Against Being publication, died July 6, 2020, 
Hutton Gibson, died May 12,
Sr. Regina Cordis, Immaculate Heart of Mary religious for sixty-five years, died May 12,
Victoria Zelaya, the sister-in-law of Claudia Drew, died March 20,
Ricardo DeSilva, died November 16, our prayers requested by his brother, Henry DeSilva,
Roland H. Allard, a friend of the Drew's, died September 28,
Stephen Cagorski and  John Bogda, who both died wearing the brown scapular,
Cecilia LeBow, a most faithful Catholic,
Rose Cuono, died Oct 23,
Sandra Peters, the wife of Gene Peters, who died June 10 receiving the sacraments and wearing our Lady's scapular,
Rev. Francis Slupski, a priest who kept the Catholic faith and its immemorial traditions, died May 14,
Martha Mochan, the sister of Philip Thees, died April 8,
George Kirsch, our good friend and supporter of this Mission, died February 15,
For Fr. Paul J. Theisz, died October 17, is the petition of Fr. Waters,
Fr. Mecurio Fregapane, died Jan 12, was not a traditional priest but always charitable,
Fr. Casimir Peterson, a priest who often offered the Mass in our chapel and provided us with sound advice, died December 4,
Fr. Constantine Bellasarius, a faithful and always charitable Eastern Rite Catholic Melkite priest, who left the Roman rite, died November 27,
Christian Villegas, a motor vehicle accident, his brother, Michael, requests our prayers,
John Vennari, the former editor of Catholic Family News, and for his family's welfare,
Mary Butler, the aunt of Fr. Samuel Waters, died October 17,
Joseph DeMarco, the nephew of John DeMarco, died October 3,
John Fergale, died September 25 after receiving the traditional sacramental rites of the Church wearing the brown scapular,
John Gabor, the brother of Donna Marbach, died September 9,
Fr. Eugene Dougherty, a faithful priest, fittingly died on the Nativity of the BVM after receiving the traditional Catholic sacraments,
Phyllis Schlafly, died September 5,
Helen Mackewicz, died August 14,
Mark A. Wonderlin, who died August 2,
Fr. Carl Cebollero, a faithful priest to tradition who was a friend of Fr. Waters and Fr. DeMaio,
Jessica Cortes, a young mother of ten who died June 12,
Frances Toriello, a life-long Catholic faithful to tradition, died June3, the feast of the Sacred Heart, and her husband Dan, died in 1985, 
John McLaughlin, a friend of the Drew's, died May 22,
Angela Montesano, who died April 30, and her husband, Salvatore,  who died in July 3, 2013,
Charles Schultz, died April 5, left behind nine children and many grandchildren, all traditional Catholics,
Esperanza Lopez de Callejas, the aunt of Claudia Drew, died March 15,
Fr. Edgardo Suelo, a faithful priest defending our traditions who was working with Fr. Francois Chazal in the Philippines, died February 19,
Conde McGinley, a long time laborer for the traditional faith, died February 12, at 96 years,
The Drew family requests your prayers for Ida Fernandez and Rita Kelley, parishioners at St. Jude,
Fr. Stephen Somerville, a traditional priest who repented from his work with the Novus Ordo English translation, died December 12,
Fr. Arturo DeMaio, a priest that helped this Mission with the sacraments and his invaluable advice, died December 2,
J. Paul Carswell, died October 15, 2015,
Solange Hertz, a great defender of our Catholic faith, died October 3, the First Saturday of the month,
Paula P. Haigh, died October 22, a great defender of our Catholic faith in philosophy and natural science,
Gabriella Whalin, the mother of Gabriella Schiltz, who died August 25,
Mary Catherine Sick, 14 year old from a large traditional Catholic family, died August 25,
Fr. Paul Trinchard, a traditional Catholic priest, died August 25,
Stephen J. Melnick, Jr., died on August 21, a long-time faithful traditional Catholic husband and father, from Philadelphia,
Patricia Estrada, died July 29, her son Alex petitions our prayers for her soul,
Fr. Nicholas Gruner, a devoted priest & faithful defender of Blessed Virgin Mary and her Fatima message, died April 29,
Sarah E. Shindle, the grandmother of Richard Shindle, died April 26,
Madeline Vennari, the mother of John Vennari, died December 19,
Salvador Baca Callejas, the uncle of Claudia Drew, died December 13,
Robert Gomez, who died in a motor vehicle accident November 29,
Catherine Dunn, died September 15,
Anthony Fraser, the son of Hamish Fraser, died August 28,
Jeannette Rhoad, the grandmother of Devin Rhoad, who died August 24,
John Thees, the uncle of Philip Thees, died August 9,
Sarah Harkins, 32 year-old mother of four children, died July 28,
Msgr. Donald Adams, who offered the Indult Mass, died April 1996,
Anita Lopez, the aunt of Claudia Drew,
Fr. Kenneth Walker, a young traditional priest of the FSSP who was murdered in Phoenix June 11,
Fr. Waters petitions our prayers for Gilberte Violette, the mother of Fr. Violette, who died May 6,
Pete Hays petitions our prayers for his brothers, Michael, died May 9, and James, died October 20, his sister, Rebecca,  died March17, and his mother, Lorraine Hayes who died May 4,
Philip Marbach, the father of Paul Marbach who was the coordinator at St. Jude in Philadelphia, died April 21,
Richard Slaughtery, the elderly sacristan for the SSPX chapel in Kansas City, died April 13,
Bernedette Marie Evans nee Toriello, the daughter of Daniel Toriello , died March 31, a faithful Catholic who suffered many years with MS, 
Natalie Cagorski, died march 23,
Anita Lopez de Lacayo, the aunt of Claudia Drew, who died March 21,
Mario Palmaro, Catholic lawyer, bioethicist and professor, apologist, died March 9, welfare of his widow and children,
Daniel Boyle, the uncle of Ryan Boyle, died March 4,
Jeanne DeRuyscher, who died on January 25,
Arthur Harmon, died January 18,
Fr. Waters petitions our prayers for the soul of Jeanne DeRuyscher, who died January 17,
Joseph Proctor, died January 10,
Susan Scott, a devote traditional Catholic who made the vestments for our Infant of Prague statue, died January 8,
Brother Leonard Mary, M.I.C.M., (Fred Farrell), an early supporter and friend of Fr. Leonard Feeney, died November 23,
John Fergale, requests our prayers for his sister Connie, who died December 19,
Jim Capaldi, died December 15,
Brinton Creager, the son of Elizabeth Carpenter, died December 10, 
Christopher Lussos, age 27, the father of one child with an expecting wife, died November 15,
Jarett Ebeyer, 16 year old who died in his sleep, November 17, at the request of the Kolinsky's,
Catherine Nienaber, the mother of nine children, the youngest three years of age, killed in MVA after Mass, 10-29,
Nancy Aldera, the sister of Frances Toriello, died October 11, 2013 at 105 years of age,
Mary Rita Schiltz, the mother of Thomas Schiltz, who died August 27,
William H. (Teddy) Kennedy, Catholic author of Lucifer's Lodge, died August 14, age 49, cause of death unknown,
Alfred Mercier, the father of David Mercier, who died August 12,
The Robert Kolinsky asks our prayers for his friend, George Curilla, who died August 23,
John Cuono, who had attended Mass at our Mission in the past, died August 11,
Raymond Peterson, died July 28, and Paul Peterson, died February 19, the brothers of Fr. Casimir Peterson,
Margaret Brillhart, who died July 20,
Msgr. Joseph J. McDonnell, a priest from the diocese of Des Moines, who died June 8,
Patrick Henry Omlor, who wrote Questioning The Validity of the Masses using the New, All English Canon, and for a series of newsletters which were published as The Robber Church, died May 2, the feast of St Athanasius,  
Bishop Joseph McFadden, died unexpectedly May 2,
Timothy Foley, the brother-in-law of Michelle Marbach Folley, who died in April,
William Sanders, the uncle of Don Rhoad, who died April 2,
Gene Peters ask our prayers for the repose of the soul of Mark Polaschek, who died March 22,
Eduardo Gomez Lopez, the uncle of Claudia Drew, February 28,
Cecelia Thees, died February 24,
Elizabeth Marie Gerads, a nineteen year old, the oldest of twelve children, who died February 6, 
Michael Schwartz, the co-author with Fr. Enrique Rueda of "Gays, Aids, and You," died February 3,
Stanley W. Moore, passed away in December 16, and Gerard (Jerry) R. Pitman, who died January 19, who attended this Mission in the past, 
Louis Fragale, who died December 25,
Fr. Luigi Villa, Th.D. author of Vatican II About Face! detailing the heresies of Vatican II, died November 18 at the age of 95,
Rev. Michael Jarecki, a faithful traditional Catholic priest who died October 22,and Rev. Hector Bolduc, who died September 10,
Jennie Salaneck, died September 19 at 95 years of age, a devout and faithful Catholic all her life,
Dorothy Sabo, who died September 26,
Cynthia (Cindy) Montesano Reinhert, the mother of nine children, four who are still at home, died August 19,
Stanley Spahalski, who died October 20, and his wife, Regina Spahalski, who died June 24, and for the soul of Francis Lester, her son,
Julia Atkinson, who died April 30,
Antonio P. Garcia, who died January 6, 2012 and the welfare of his teenage children, Andriana and Quentin,
Helen Crane, the aunt of David Drew who died February 27,
Fr. Timothy A. Hopkins, of the National Shrine of St. Philomena, in Miami, November 2,
Frank Smith, who died February 7, and the welfare of his wife, Delores,
Eduardo Cepeda, who died January 26,
Larry Young, the 47 year old father of twelve who died December 10 and the welfare of his wife Katherine and their family,
Sister Mary Bernadette, M.I.C.M., a founding member of the Slaves of the Immaculate Heart of Mary, died December 16,
Joeseph Elias, who died on September 28,
William, the brother of Fr. Waters, who died September 7,
Donald Tonelli, died August 1,
Rev. Fr. Gregory Hesse, of Austria, a great defender of Catholic Truth, died January 25, 2006,
Emma Colasanti, who died May 29,
Mary Dullesse, who died April 12, a Catholic convert who died wearing our Lady's scapular,
Ruth Jantsch, the grandmother of Andre Ebert, who died April 7, Derrick and Denise Palengat, his godparents,
Philip D. Barr, died March 5, and the welfare of his family, 
Judith Irene Kenealy, the mother of Joyce Paglia, who died February 23, and her son, George Richard Moore, who died May 14, 
For Joe Sobran who died September 30,
Fr. Hector Bolduc, a great and faithful priest, died, September 10, 2012,
John Vennari asks our prayers for Dr. Raphael Waters who died August 26,
Stanley Bodalsky, the father of Mary Ann Boyle who died June 25,
Mary Isabel Kilfoyle Humphreys, a former York resident and friend of the Drew's, who died June 6,
Rev. John Campion, who offered the traditional Mass for us every first Friday until forbidden to do so by Bishop Dattilo, died May 1,
Joseph Montagne, who died May 5,
For Margaret Vagedes, the aunt of Charles Zepeda, who died January 6,
Fr. Michael Shear, a Byzantine rite Catholic priest, died August 17, 2006,
Fr. James Francis Wathen, died November 7, 2006, author of The Great Sacrilege and Who Shall Ascend?, a great defender of dogma and liturgical purity,
Fr. Enrique Rueda, who died December 14, 2009, to whom our Mission is indebted,
Fr. Peterson asks to remember, Leonard Edward Peterson, his cousin, Wanda, Angelica Franquelli,  and the six priests ordained with him.
Philip Thees petitions our prayers for Beverly Romanick, Deacon Michael Erdeck, Henry J. Phillips, Grace Prestano, Connie DiMaggio, Elizabeth Thorhas, Elizabeth Thees, Theresa Feraker, Hellen Pestrock, and James & Rose Gomata, and Kathleen Heinbach,
Fr. Didier Bonneterre, the author of The Liturgical Movement, and Fr. John Peek, both were traditional priests,
Brother Francis, MICM, the superior of the Slaves of the Immaculate Heart of Mary in Richmond, NH, who died September 5,
Rodolfo Zelaya Montealegre, the father of Claudia Drew, who died May 24,
Rev. Francis Clifford, a devout and humble traditional priest, who died on March 7,
Benjamin Sorace, the uncle of Sonja Kolinsky
PREVIOUS BULLETIN POSTS BELOW THAT REMAIN TIMELY:
When Pope Francis teaches that Catholics living in a state of adultery can under certain circumstances receive Holy Communion without repenting of Sin, he overturns the First Principle of Catholic Moral Theology and thus destroys all Morality permitting any and every kind of sin.
St. Thomas lists the following as principles or sources of morality: 1) the moral object, that is, that to which the action tends of its very nature primarily and necessarily; 2) the circumstances of the act; 3) the purpose of the act.
FIRST PRINCIPLE: The primary and essential morality of a human act is derived from the object considered in its moral aspect.
The primary and essential morality of a human act is that which acts as the invariable basis of any additional morality. Now it is the moral object which provides such a foundation. This will be clear from an example. The moral object of adultery is the transgression of another's marriage rights. This moral object remains the invariable basis of the moral character of the act, no matter what further circumstances or motives accompany the act. It cannot be objected that in human acts the first consideration should be given to the motive rather than to the object of the act. For this motive is either the objective purpose of the act itself which is identical with the moral object, or the subjective purpose (the end of the agent) which presupposes moral goodness or evil in the object.
Rev. Dominic Prummer, O.P., Handbook of Moral Theology
How Far Modern Judaism is identified with Freemasonry
Although the Jewish role in Freemasonry is for many reasons difficult to deal with, some acquaintance with that aspect of the subject is essential for an intelligent grasp of the whole. It is a common belief among Catholics and others that Freemasonry is somehow or other closely associated with modern Judaism. Our present purpose is to discuss how far such a belief is well-founded, and what is the nature of the relations between the two. We may say at once that the available evidence points at least to the following general conclusions: 1) That much of the external trappings of Freemasonry, such as its ritual, its terminology, its legends, etc., are of Jewish origin; 2) that the philosophy or religion of esoteric Freemasonry (that is of the inner circles and controlling power) is practically identical with the doctrines of the Jewish Cabala, which is the religion of philosophy of a certain section of the Jews; 3) that a certain group, probably very few in number, but of immense influence and power, are leading Freemasons; and 4) that a somewhat larger group of very influential Jews pursue the same ends as Freemasons, and use similar means, and are at least in close alliance with them. 
Rev. E. Cahill, S.J., Freemasonry and the anti-Christian Movement, 1930. 
"Every judgment of conscience, be it right or wrong, be it about things evil in themselves or morally indifferent, is obligatory, in such wise that he who acts against his conscience always sins."
St. Thomas Aquinas
Behold, then, the whole of Christian perfection: - love and sacrifice.  Who cannot, with God's grace, fulfill this twofold condition? Is it, indeed, so difficult to love Him Who is infinitely lovable and infinitely loving? The love that He asks of us is nothing extraordinary; it is the devotedness of love - the gift of oneself - consisting chiefly in conformity to the divine will. To want to love is to love. To keep the commandments for God's sake is to love. To pray is to love. To fulfill our duties of state in view of pleasing God, this is likewise to love. Nay more, to recreate ourselves, to take our means with the like intention is to love. To serve our neighbor for God's sake is to love. Nothing then is easier, God's grace helping, than the constant exercise of divine love and through this, steady advance toward perfection.
As for sacrifice, doubtless it seems hard. But we are not asked to love it for its own sake. It is enough if we love it for God's sake, or, in other words if we realize that here on earth one cannot love God without renouncing whatever is an obstacle to His love. Then sacrifice becomes first tolerable and soon even lovable. Does not a mother passing long, sleepless nights at the bedside of her son joyously undergo fatigue when she entertains the hope and, more especially, when she has the certainty of thereby saving his life? Now, when we accept for the sake of God the sacrifices He demands, we have not only the hope, but the certainty itself, of pleasing Him, of giving His glory and of working out the salvation of our own souls. In this, have we not for our encouragement the example and the help of the God-Man? Has He not suffered as much as and even more than we ourselves suffer, for the glory of His Father and the salvation of our souls. Shall we, His disciples, incorporated into Him in Baptism, nourished with His Body and Blood, shall we hesitate when we are to suffer together with Him, for His love and for His intentions? Is it not true that in the Cross there is gain, especially for loving heats? "In the Cross" says the author of the Imitation, "is salvation; in the Cross is life; in the Cross is protection from enemies. In the Cross is infusion of heavenly sweetness." We shall conclude with the words of St. Augustine: "There are no labors too great for loving heats. In fact, one finds pleasure therein, as we observe in the case of the fisherman fishing, the hunter at the chase, the merchant at the mart. For where there is love, there is no labor, or if there be labor, it is a labor of love." Let us then hasten toward perfection by this path of love and  sacrifice. 
Rev. Adolphe Tanquerey, The Spiritual Life
"More lace, but where are we? Sixty years after the Council! A little updating also in liturgical art, liturgical fashion! Yes, sometimes bringing some grandmother's lace goes, but sometimes. It's to pay homage to grandma, isn't it?"
Pope Francis, mocking Sicilian bishops and priest in public meeting, June 9, 2022
Islamophobia?
In the 14th century, Clement V bemoaned that in Christian lands one hears "the public invocation of the sacrilegious name of Mahomet"; in the 15th century, Callixtus III denounced Islam as a "diabolical sect." Pius II warned against Muhammad as a "false prophet," and Pope Eugene condemned "the abominable sect of Mahomet"; in the 16th century Pope Leo X portrayed the Muslims as replacing the light of salvation with "totally unyielding blindness"; and in the 18th century, Pope Benedict XIV castigated Christians who indirectly promote "the errors of Mohammed" when they take Muslim names in order to avoid taxation and other penalties by Muslim authorities.
And there was harsh criticism of Islam in past centuries by saints such as Thomas Aquinas, or John of Damascus, who called Islam "diabolical."
"Evil"? "Diabolical"? Overly harsh allegations? Many of us know good individual Muslims. But can the religion they belong to be evil? [.....]
Pope Francis said, "Faced with disconcerting episodes of violent fundamentalism, our respect for true followers of Islam should lead us to avoid hateful generalizations, for authentic Islam and the proper reading of the Koran are opposed to every form of violence."
 [.....] But in view of the hateful attitude toward other religions shown throughout Islamic scriptures, as well as the massive numbers of murders and church-burnings and persecutions we've seen for decades now, was such praise simply wishful thinking? Condemnations of obvious features of Islam are almost non-existent in today's Church. [.....]
And as to "the religion of peace," it's time to take into account the traditional Muslim interpretation of "peace." The world is divided into two "houses" – the House of Peace (Dar Al-Salaam) and the House of War (Dar Al-Harb). Only Muslims are within that first "house." 
Howard Kainz, Emeritus Professor at Marquette University
"Be bold and break with half measures and compromises; with mixing and matching teachings and compromising principles. If you continue to believe that you can 'come to an arrangement' with Heaven, that the rights of God are not so pressing, that some words of the Gospel and of the Church can be chosen and others not; if you believe that the Faith is nothing but a cupboard in which certain ingredients are stored and occasionally used to appease the conscience, and that it should not enter into the particulars of everyday life; if you do not want to take the Faith in its truth and the Gospel in its bareness, if you are not willing to be a Christian in all places and situations, to be nothing other than a Christian, integral and absolute, without calculated interests, you will, in fact, not understand this book — put it down…..  Be one, walking on your only path toward your only destination, without wandering either to the left or to the right. Are you resolved to be a Christian? To be one completely? To be one exclusively? Come, I will tell you what it means to be a Christian and how to become one."
Dom François de Sales Pollien, Carthusian prior and spiritual director, prologue to Lived Christianity
                  y
"Why, I ask, O damnable sodomites, do you seek after the height of ecclesiastical dignity with such burning ambition?"
St. Peter Damian, Doctor of the Church
"Restorationism has come to gag the Council. The number of groups of 'restorers' – for example, in the United States there are many – is significant. An Argentine bishop told me that he had been asked to administer a diocese that had fallen into the hands of these 'restorers." They has never accepted the Council. There are ideas, behaviors that arise from a restorationism that basically did not accept the Council. The problem is precisely this: in some contexts, the Council has not yet been accepted. It is also true that it takes a century for a Council to take root. We still have 40 years to make it take root, then! [To doubt the Council is] in the final analysis, to doubt the Holy Spirit himself who guides the Church."
Pope Francis the Incredulous, interview from May 19, 2022 published in La Civiltà Cattolica on June 14
COMMENT: Gee, only 40 more years of mindless babble? That is hard to believe. Who would have thought that mindless babble could be sustained for 60 years? Yet there is no shortage of mindless clerical babblers. What is disturbing is this persistent effort to blame God for the destruction of the Church since the end of Vatican II. God, as every mindful person knows, was not invited to Vatican II. It was from the beginning to the end a purely human endeavor, a work of the personal non-infallible magisterium of clerics grounded upon their grace of state. To attribute this sinful, heretical Council of the DoubleSpeak to God may be one of those 'sins that will not be forgiven in this world or the next.' Making the accusation of "restorationism" is actually an open admission of corruption. Restore is derived from the Latin restaurare meaning to renew, to rebuild. Once the punishment promised at Fatima has cleared the traitors from Rome, the Restorationists will have their work cut out for them to do what Restorationists do, that is, to "renew, rebuild," but fear not, 'with God, all things are possible.' 
Is this the end of Pope Francis?
The cruel pontiff is lining up a successor
<![if !vml]>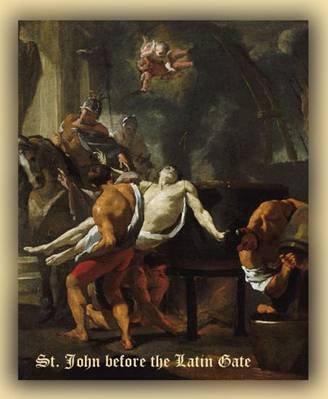 <![endif]>UnHerd | England | Damian Thompson | June 9, 2022
For well over a year, a nasty rumour has been floating through the Vatican that Pope Francis is terminally ill with cancer. I was told it was true by an Italian prelate in an apartment just a stone's throw from the hostel where the 85-year-old pontiff is now pushed around in a wheelchair. A diplomatic source discussed it ruefully over an espresso in the Borgo Pio. A well-connected American traditionalist Catholic texted that it was "definitely true!" — the exclamation mark suggesting that he wasn't too distressed.
<![if !vml]>
<![endif]>Then, on Sunday morning, the Associated Press reported that "Italian and Catholic media have been rife with unsourced speculation that Francis might be planning to follow in Benedict's footsteps" by resigning, "given his increased mobility problems".
The reason for the speculation? The Pope has announced that in August he's visiting the Italian city of Aquila, where he will pray at the tomb of Pope Celestine V, a hermit who resigned the papacy in 1294 after only five months. Benedict XVI also prayed at the tomb in 2009 — and in 2013 he became the first pope since Celestine to resign.
Moreover, Francis will travel to Aquila in the middle of a consistory at which he will create 16 cardinals who can vote in the next conclave, thus ensuring that 60% of the electors have been picked by him. This is called "stacking the deck" so that the next successor of St Peter is in your own image. Most popes do it, but very few with the partisan determination of Francis since he took office nine years ago. Also, he's holding the consistory three months ahead of schedule.
The cancer story and the Aquila one aren't mutually exclusive. If Francis is as ill as the rumour-mongers suggest — and I've heard gruesomely detailed descriptions of spreading tumours — then the August consistory and visit to Celestine's tomb mean he can stage a dramatic exit immediately after his last opportunity to pack the college of cardinals.
The one thing the two rumours have in common is that no one has produced a shred of evidence to back them up. On Tuesday the Washington Post quoted a senior Vatican official "speaking on the condition of anonymity to discuss a sensitive issue" — i.e. Francis's health. He said: "His situation isn't brilliant, but it's not enough to impose a resignation."
However, in the same article Massimo Faggioli, a professor of theology at Villanova University, Philadelphia, said that: "What is clear is that his pontificate has entered his declining final stage… He is aware that he is approaching the end of his pontificate."
That's interesting, because Faggioli is an uber-loyalist. He's one of the founding members of "Team Francis", a group of journalists and other commentators whose near-deification of this pope wouldn't be out of place in North Korea. Faggioli has made a career out of his laudatory analysis of Francis; many Catholics on Twitter tease him for it, at which point (and I speak from experience) he immediately blocks them.
"Declining final stage"? Francis doesn't look like he's dying: he's just a fat man in a wheelchair. There's nothing wrong with his faculties. He continues to charm visitors and, when it comes to internal church politics, he's more vindictive than ever. (Giving a red hat to Archbishop Robert McElroy of San Diego, a hardline liberal who favours giving Communion to pro-abortion politicians, was a masterstroke of revenge against Francis's least favourite people in the world: American conservative bishops.)
Perhaps "declining final stage" is just the sound of a worried Faggioli jumping ship while he still has time. As a Vatican diplomat puts it: "Common sense tells us that Pope Francis is nearer the end than the beginning of his time in office. Those people who talk about him as if he's this great reformer who's going to live for ever just look ridiculous. The new pope, whether he's liberal or conservative, won't be interested in their flattery."
Team Francis aren't popular in Rome these days. The best kept secret of this pontificate, at least so far as the general public in concerned, is that Jorge Bergoglio is not, and never has been, a nice man. He made so many enemies in Argentina that he hasn't dared set foot in his native country since being elected pope. He was involved in some jaw-dropping scandals there, most shockingly his attempt to protect his child abuser ally Fr Julio Grassi from justice. He's lucky that the Vatican press corps is too afraid of him to investigate them properly.
Francis has a streak of cruelty in him, and recently he's done little to hide it. Last year his authoritarian attempt to crush regular celebrations of the traditional Latin Mass offended hundreds of bishops who don't like that style of worship but dislike the Argentinian pontiff even more. They have quietly ignored the ruling, much to the fury of the papal liturgy chief, a painfully self-important Yorkshireman called Arthur Roche who will be made a cardinal in August.
But liturgical matters won't loom large at the next conclave, whenever it is. Sexual morality will. Francis has spent nearly a decade casting doubt on the wisdom of Catholic teaching on divorce and homosexuality ­— but without making any formal changes to the rules. Never before will a conclave have been forced to debate such fundamental questions. And, up to a point, it will be operating in the dark. Francis has a policy of not summoning the cardinals to meet as a single body, which means many of them haven't even met each other and don't know who thinks what.
It's likely, however, that the most contentious topic will be homosexuality, and this is where the labels "liberal" and "conservative" are misleading. Left-wing cardinals from the developing world, of whom Francis has created plenty, may countenance a more relaxed attitude towards divorced-and-remarried Catholics, but the thought of homosexuality turns their stomachs.
That may push them towards a moderate conservative such as Cardinal Péter Erdő of Hungary, a charming and self-effacing scholar who, when called upon to preside over a synod of bishops at the Vatican in 2014, suddenly looked and sounded like a pope. It certainly rules out Cardinal Jean-Claude Hollerich of Luxembourg, president of the European Conference of Bishops and a Jesuit thinker of far greater distinction than Pope Francis, who wants the Church to recognise gay relationships.
At the moment, however, all eyes are on Cardinal Matteo Zuppi, the rake-thin bicycling Archbishop of Bologna, 66, who is gay-friendly while unobtrusively sticking to the line that homosexual acts are sinful. That could be enough to satisfy the African cardinals. Zuppi's political credentials are likely to help him: he's associated with the centre-Left Sant'Egidio movement, which is obsessed with pulling strings — no bad thing during a conclave. He's also nice to traditionalists: as a bishop he asked them to teach him how to celebrate the old Mass, and he hasn't clamped down on it in his diocese.
But the smart money, as in most conclaves, will be on "none of the above". Except on rare occasions, the number of ballots means the white smoke is followed by a murmur of surprise. But I'll make one prediction. Bishops all over the world are sick of being bullied by the Vatican. The new pope won't be a Francis II either in name or in his approach to governing the Church. When this pope goes, that mould will be broken, and there probably isn't a single cardinal who wants to piece it together again.
<![if !vml]>
<![endif]>Why Vatican II popes deny the reality of Substance!
"Certainly there is to be development and on the largest scale. Who can be so grudging to men, so full of hate for God, as to try to prevent it? But it must truly be development of the faith, not alteration of the faith. Development means that each thing expands to be itself, while alteration means that a thing is changed from one thing into another. The understanding, knowledge and wisdom of one and all, of individuals as well as of the whole Church, ought then to make great and vigorous progress with the passing of the ages and the centuries, but only along its own line of development, that is, with the same doctrine, the same meaning and the same import."
St. Vincent of Lèrins
COMMENT: Change can be either accidental (a "development" according to St. Vincent) or substantial (an "alteration" according to St. Vincent). A boy growing to manhood constitutes a series of accidental changes. A boy changing into a dog constitutes a substantial change and this only happens in Hollywood fantasy. A sinner becoming a saint is an accidental change and this is an accidental change that the Neo-modernist heretics refuse to make. They instead want the Church to substantially change into an institution that will accommodate their love and complacency in sin. Pope Francis, for example, says that the morality of capital punishment has evolved to the point that it is now known to be intrinsically evil in that it is 'opposed to the dignity of man and contrary to the spirit of the gospel.' Capital punishment changing from a morally permissible to intrinsically evil act constitutes a substantial change and therefore impossible as a legitimate development. There are many reasons why Neo-modernists, like Pope Francis and his conciliarists predecessors, deny the reality of substance but this is an important one. Trying to enroll St. Vincent of Lèrins in their defense is not a misunderstanding but just another lie.
"Jesus does not condemn them for having denied and abandoned him during his passion, but instead grants them the spirit of forgiveness. The Spirit is the first gift of the risen Lord, and is given above all for the forgiveness of sins. Here we see the beginning of the Church, the glue that holds us together, the cement that binds the bricks of the house: forgiveness. Because forgiveness is gift to the highest degree; it is the greatest love of all. It preserves unity despite everything, prevents collapse, and consolidates and strengthens. Forgiveness sets our hearts free and enables us to start afresh. Forgiveness gives hope; without forgiveness, the Church is not built up." 
Pope Francis, excerpt for Pentecost address
COMMENT:  The "first gift of the risen Lord" is Faith in His divine resurrection. Faith is the cause and sign of Unity in the Church.  In Pope Francis' address on 'unity in diversity and diversity in unity' he does not once mention the word "faith." "Without faith it is impossible to please God." It is Faith that is "the glue that holds us together, the cement that binds the bricks of the house."
Faith is preliminary to and necessary for the forgiveness of any sin. The virtue of Wisdom is the knowledge of the most important truths in their proper order.  Pope Francis never places Catholic truths in their proper order of reference which in the end corrupts truth. Why? Because Faith is an obstacle to the unity with Pope Francis.
"[Catholic] fundamentalists, have a nostalgia for returning to the ashes.... Tradition is the guarantee of the future and not the container of the ashes,.... Tradition is like roots [of a tree], which give us nutrition to grow,... You will not become like the roots. You will flower, grow, give fruit. And the seeds become roots for other people..... The tradition of the church is always in movement.... The tradition does not safeguard the ashes"
Pope Francis the Destroyer, another high altitude, hypoxic babble on a flight to Rome.
COMMENT: Marion Maréchal-Le Pen, the grand-daughter of the French National Front founder, Jean-Marie Le Pen, applied a quotation of Gustav Mahler in a new context, "Tradition is not the worship of ashes but the preservation of fire." Tradition is not the "root" of the tree, it is the tree itself, and trees are not "always in movement." They are in fact 'rooted' and stable.
Tradition is firstly as a noun refers to content of divine revelation. This content is incarnate in our immemorial Catholic traditions which are the perfect images of the Catholic faith. These images are the means by which the faith is known and communicated to others. The Neo-iconoclasts destroy these images as the means to destroy the faith itself. For Francis, Tradition is obstacle that must be overcome if he is to overthrow the Catholic faith. He therefore considers how tradition has always been understood by the Church as "ashes."
The verb form of tradition refers to the actual handing-on of the content of divine revelation to the next generation of Catholics. As St. Paul said, "For I have received of the Lord that which also I delivered unto you, that the Lord Jesus, the same night in which he was betrayed, took bread" (I Cor. 11:23). What St. Paul "delivered" is exactly the same as what he first "received," and this is called Tradition.
"Have in mind therefore in what manner thou hast received and heard: and observe, and do penance. If then thou shalt not watch, I will come to thee as a thief, and thou shalt not know at what hour I will come to thee" (Apoc. 3:3). This is the warning to the Church in Sardis. What was their sin? They had not kept the traditions they received and therefore St. John writes, "And to the angel of the church of Sardis, write: These things saith he, that hath the seven spirits of God, and the seven stars: I know thy works, that thou hast the name of being alive: and thou art dead. Be watchful and strengthen the things that remain, which are ready to die. For I find not thy works full before my God" (Apoc. 3:1-2). The Catholics of Sardis were not faithful to what they had "received."  When the faith is corrupted by corrupting its images, the corruption of morals necessarily follows, therefore, their "works" were "dead," that is, they had fallen from the grace of God.
By the light of Francis, tradition received is not what is passed on. What is passed on is different and no longer shares an identity between father and son with every generation. Francis is a Neo-modernist Neo-iconoclast. Those that follow him will lose their souls because "without faith, it is impossible to please God" (Heb. 11:6). And without the images of the faith it is impossible to have the faith.
Therefore, faithful Catholics today, unlike those of Sardis, must "watch" lest their traditions be trampled into ashes by Francis the Destroyer.
This is why the key phrase for responding is one which the Church constantly uses, as I do: it is 'responsible parenthood'. How does this work? With dialogue. Each person with his or her pastor has to try to exercise this responsible parenthood. The example I mentioned just now, about the woman who was expecting her eight child and already had seven caesarean births: this is a form of irresponsibility.
[Some might say:] 'No, I trust in God'. 'But, look, God gives you the means, be responsible.' Some people believe that -- pardon my language – in order to be good Catholics, we should be like rabbits. No. Responsible parenthood.
Pope Francis, Homosexual Lobby CEO
Modernists and Neo-Modernists are willfully blind to Essence, that is, they are in the end the most heatless of all!
"Here is my secret. It is very simple. It is only with the heart that one can see rightly; What is essential is invisible to the eye."
Antoine de Saint Exupéry, The Little Prince
And though the last lights off the black West went
Oh, morning, at the brown brink eastward, springs –
Because the Holy Ghost ever the bent
World broods with warm breast and with ah! Bright wings.
Rev. Gerard Manley Hopkins
Abp. Viganò: Pope Francis has chosen his new cardinals for their 'corruptibility'
Until this sect of corrupters and fornicators is thrown out of the temple, we will not be able to hope that civil society will be any better than those who ought to be edifying it rather than scandalizing it.
June 3, 2022– If we could ask Saint Gregory the Great, Saint Pius V, Blessed Pius IX, Saint Pius X, and Venerable Pius <![if !vml]>
<![endif]>XII what was the basis of their assessments in deciding on which Prelates to bestow the sacred scarlet of the cardinalate, we would hear from each of them, without exception, that the main requirement for becoming princes of the Holy Roman Church is holiness of life, excellence in particular virtues, erudition in the ecclesiastical disciplines, wisdom in the exercise of authority, and faithfulness to the Apostolic See and the Vicar of Christ.
Many of the Cardinals created by these popes went on to become popes themselves; others distinguished themselves for their contribution to the government of the Church; still others merited to be elevated to the glory of the altars and to be proclaimed Doctors of the Church, like Saint Charles Borromeo and Saint Robert Bellarmine.
Likewise, if we could ask the cardinals created by Saint Gregory the Great, Saint Pius V, Blessed Pius IX, Saint Pius X, and Venerable Pius XII how they considered the dignity to which they had been elevated, they would have responded, without exception, that they felt themselves to be unworthy of the role they held and confident that they would receive the assistance of the Grace of state.
All of these, from the most famous to the least known, considered it essential for their own sanctification to give proof of absolute fidelity to the immutable Magisterium of the Church, heroic witness to the Faith by the preaching of the Gospel and the defense of revealed truth, and filial obedience to the See of Peter, the Vicar of Christ and the successor of the prince of the Apostles.
Anyone who would today pose these questions to the one who is seated on the throne and to those whom he has elevated to the cardinalate would discover with great scandal that the appointment of cardinals is considered to be the same as any prestigious appointment in a civil institution, and that it is not the virtues required for the office of cardinal that lead to the choice of this or that candidate, but rather his level of corruptibility, his blackmailability, and his adherence to this or that political current.
And the same, indeed perhaps worse, would happen if one were to presume that, just as in the things of God the Lord's ministers must be examples of holiness, so also in the things of Caesar those who govern are guided by the virtues of government and moved by the common good.
The cardinals appointed by the Bergoglian church are perfectly consistent with that deep church of which they are an expression, just as the ministers and functionaries of state are chosen and appointed by the deep state. And if this happens, it is because the crisis of authority which we have been witnessing in the world for centuries and in the Church for sixty years has now metastasized.
Honest and incorruptible leaders demand and obtain convinced and faithful collaborators, because their consent and collaboration derive from the sharing of a good purpose – one's own sanctification as well as that of others – using morally good instruments to achieve it. Analogously, corrupt and treacherous leaders require subordinates who are no less corrupt and disposed to betrayal, because their consent and their collaboration derive from complicity in crime, the blackmail of the hitman and the one who hires him, and from the lack of any moral hesitation in following orders.
But loyalty in doing evil, let us not forget, is always only for a time, and hanging over it there is the sword of Damocles of the boss remaining in power and of the absence of a more attractive or more profitable alternative for those who serve him.
Conversely, loyalty in doing good – which is rooted in God who is charity and truth – does not know any second thoughts, and is ready even to sacrifice life – usque ad effusionem sanguinis – for that spiritual or temporal authority that is the vicar of the Authority of Our Lord, who is both King and High Priest. This is the martyrium symbolized by the cardinal's robes. This will also be the condemnation of those who profane it, believing themselves to be protected by the Leonine walls.
It is therefore not surprising that an authority that is based on blackmail surrounds itself with people who are vulnerable to blackmail, nor that a power exercised on behalf of a subversive lobby wants to guarantee continuity with the line that has been undertaken, preventing the next conclave from electing a Pope rather than a vaccine vendor or a New World Order propagandist.
I wonder, however, which of their eminences who dot the foul-mouthed press with their colorful nicknames and the burden of financial and sexual scandals would be ready to give their lives – I do not say for their boss in Santa Marta, who would of course himself take good care not to give his life for his courtiers – but for Our Lord, assuming that they have not replaced him in the meantime with the Pachamama.
It seems to me that this is the crux of the matter. Peter, do you love me more than these? (Jn 21:15-17). I do not dare to think how Bergoglio would respond; instead, I know what these characters, who have been awarded the cardinalate just as Caligula conferred the laticlavius [the rank of senator] on his horse Incitatus in order to show his contempt for the Roman Senate: I do not know him (Lk 22:54-62).
It is the primary task of Catholics – both lay people and clergy – to implore the Master of the vineyard to come and do justice to the wild boars who are devastating it. Until this sect of corrupters and fornicators is thrown out of the temple, we will not be able to hope that civil society will be any better than those who ought to be edifying it rather than scandalizing it.
+ Carlo Maria Viganò, Archbishop
Pope Francis/Bergoglio receives award from the B'nai B'rith
In the photo, we see the CEO of B'nai B'rith International Daniel S. Mariaschin giving Pope Bergoglio a gold chalice with Jewish inscriptions and symbols. This was a symbolic award to thank Francis for his constant support for this Jewish Masonic organization. <![if !vml]>

<![endif]>
This took place during a meeting in the Papal Library when Francis received a delegation of 27 members of that organization on May 30, 2022.
Commenting on the encounter, Mariachin told the Jerusalem Post: "From his years as Cardinal in Buenos Aires until today, Pope Francis has expressed a special interest in furthering Jewish-Catholic relations." He continued, "Our audience with him gave us an opportunity to demonstrate our appreciation for this support, to confirm our shared aspirations for peace and mutual respect."
In a formal speech, the president of the Jewish organization Seth Riklin asked for papal support for the Abraham Accords, which is a Jewish initiative to make Arabs recognize the State of Israel. This was an implicit request for the Holy See to exercise its influence over the Middle East Arab countries to accept Israel. This is what B'nai B'rith calls its work for fraternity and peace.
In his speech, Francis praised B'nai B'rith for its "tireless commitment to humanitarian causes." He added: "If the duty to care for others is incumbent upon every member of our human family, it applies even more to those of us who are Jews and Christians."
We see that, after Vatican II and its Nostra aetate Declaration, the conciliar Popes have set aside any doctrinal discussion with the Jews about the divinity of Our Lord Jesus Christ and are conducting a policy based on a supposed love and common collaboration to solve social problems. On the other hand, the Jews did not change one comma of their false beliefs.
What could be the final end of this policy
except a Judaization of the entire Church?
Tradition In Action
<![if !vml]>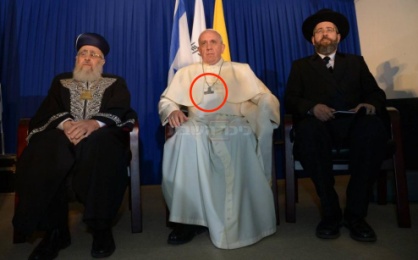 <![endif]>
"More lace, but where are we? Sixty years after the Council! A little updating also in liturgical art, liturgical fashion! Yes, sometimes bringing some grandmother's lace goes, but sometimes. It's to pay homage to grandma, isn't it?"
Pope Francis, mocking Sicilian bishops and priest in public meeting for wearing laced vestments, June 9, 2022
Pope Francis cancels trip to Congo and South Sudan over health issues
AP | June 10, 2022
<![if !vml]>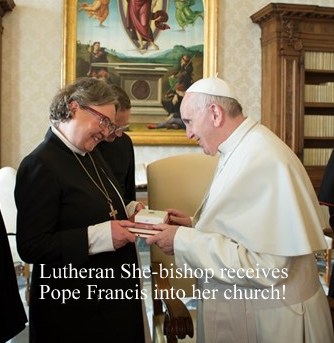 <![endif]>Pope Francis canceled a planned July trip to Africa on doctors' orders because of ongoing knee problems, the Vatican said Friday, raising further questions about the health and mobility problems of the 85-year-old pontiff.
The Vatican said the July 2-7 trip to Congo and South Sudan would be rescheduled "to a later date to be determined."
<![if !vml]>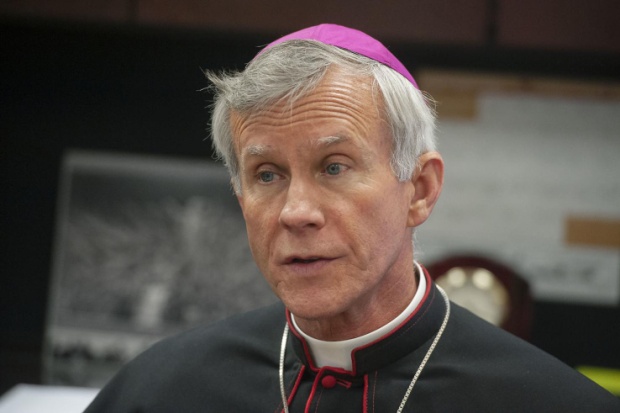 <![endif]>"At the request of his doctors, and in order not to jeopardize the results of the therapy that he is undergoing for his knee, the Holy Father has been forced to postpone, with regret, his Apostolic Journey to the Democratic Republic of Congo and to South Sudan," the Vatican said in a statement.
Francis has used a wheelchair for about a month due to strained ligaments in his right knee that have made walking and standing difficult and painful. He also has received injections, kept the knee as immobile as possible and walked with a cane or the help of an aide, when necessary. […..]
The pope has told friends he doesn't want to undergo knee surgery, reportedly because of his reaction to anesthesia when he had 33 centimeters (13 inches) of his large intestine removed in July 2021.
Speculation has swirled about the future of the pontificate because of Francis' knee problems, his decision to create 16 new voting-age cardinals, and his plans to pay homage in August to a 13th century pope who resigned, Celestine V.
But Francis has given no indication he wants or plans to resign. Vatican watchers say a papal resignation now would be unthinkable given that Francis' predecessor, Emeritus Pope Benedict XVI, 95, is still alive.
COMMENT: Rumor has it that Pope Francis injured his knee while kicking Conservative Indult Catholics in the head after his goons knocked them to the ground. His physicians have advised, it is reported by unconfirmed sources, that he should let the goons do the kicking from here on out. 
Did one of the main Vatican II documents distort the Words of Our Lord in the Gospel?
Those who wish to apply a 'hermeneutic of continuity' to Vatican II, or who deny that there can be any opposition or rupture between the documents of that council and Catholic tradition, or who claim that the assertion that the authentic teachings of Vatican II formally contradict the tradition of the Church is false, might consider the following passage from the council's pastoral constitution Gaudium et Spes:
                            Gaudium et Spes 24: 'Quapropter dilectio Dei et proximi primum et maximum mandatum est.'
For non-Latinists, this claim (it is a complete sentence in the conciliar document) can be translated as follows: 'For love of God and of neighbour is the first and greatest commandment'. No Latin is needed to realize that this is a flat contradiction of the teaching of Christ. There is a deliberate allusion in Gaudium et Spes 24 to the wording of the divine teaching it is contradicting, as can be seen from looking at the Vulgate text of that teaching:
Matthew 22:35-39: "Et interrogavit eum unus ex eis legis doctor, temptans eum; 'Magister, quod est mandatum magnum in lege? Ait illi Iesus: 'diliges Dominum Deum tuum ex toto corde tuo, et in tota anima tua, et in tota mente tua. Hoc est maximum et primum mandatum. Secundum autem simile est huic: diliges proximum tuum, sicut teipsum.'"
This text from Gaudium et Spes suffices to prove that the teachings of the Second Vatican Council are not without error, and that fidelity to Christ's teaching requires that parts of it be rejected. It is also a fruitful starting point for reflection and investigation into the ideology and motivations of the progressive leadership of that council, and into the degree to which the Council Fathers as a whole accepted their responsibility for preserving the divine deposit of faith. (This text was pointed out to me by a Catholic professor of theology who must remain anonymous.)  
Dr. John Lamont, posted by Rorate Caeli
Prophecy and our times!
An unhappy time is coming of revolt and dissension in the Church. Oh my children, do not let yourselves be led astray by innovations. Rally and hold fast. Stay on the same road, the same footpaths as your pious fathers trod. Preserve and maintain what they have taught you. It will be enough if you resist the attacks, the tempests, the hurricanes that will arise with such violence.
The Church will be punished because the majority of her members, high and low, will become so perverted. The Church will sink deeper and deeper until she will at last seem to be extinguished, and the succession of Peter and the Apostles to have expired. But, after this, she will be victoriously exalted in the sight of all doubters. 
St. Nicholas of Flu, 15th Century
During the fifth period, we saw only calamities and devastation; oppression of Catholics by tyrants and heretics; execution of Kings, and conspiracies to set up republics . . . Are we not to fear, during this period, that the Mohammedans will come again, working out their sinister schemes against the Latin Church? . . . During this period men will abuse the freedom of conscience conceded to them . . . there will be laxity in divine and human precepts. Discipline will suffer. The holy canons will be completely disregarded, and the clergy will not respect the laws of the Church. Everyone will be carried away and led to believe and to do what he fancies, according to the manner of the flesh. . . But, by the hand of God Almighty, there occurs so wondrous a change during the sixth period that no one can humanly visualize it.
The sixth period of the Church will begin with the powerful Monarch and the holy Pontiff . . . and it will last until the revelation of Antichrist. In this period, God will console His Holy Church for the affliction and great tribulation she has endured during the fifth period. All nations will become Catholic. Vocations will be abundant as never before, and all men will seek only the Kingdom of God and His justice. Men will live in peace, and this will be granted because people will make their peace with God. They will live under the protection of the Great Monarch and his successors.
All nations will come to worship God in the true Catholic and Roman faith. There will be many Saints and Doctors on earth. Peace will reign over the whole earth because God will bind Satan for a number of years until the days of the Son of Perdition. No one will be able to pervert the Word of God since, during the sixth period, there will be an Ecumenical Council which will be the greatest of all councils. By the grace of God, by the power of the Great Monarch, by the authority of the Holy Pontiff, and by the union of all the most devout princes, atheism and every heresy will be banished from the earth. The Council will define the true sense of Holy Scripture, and this will be believed and accepted by everyone.
Venerable Bartholomew Holzhauser, holy priest of the seventeenth century
In the twentieth century there will be a time of great corruption of customs, and this devotion will be the safeguard of this land during the times to come when it will no longer be a colony, but a free and libertine republic. Let us weep, pray, and do penance so that this time will not be of long duration.
The secular clergy will leave much to be desired because priests will become careless in their sacred duties. Lacking the divine compass, they will stray from the road traced by God for the priestly ministry, and they will become attached to wealth and riches, which they will unduly strive to obtain. How the Church will suffer during this dark night! Lacking a Prelate and Father to guide them with paternal love, gentleness, strength, wisdom and prudence, many priests will lose their spirit, placing their souls in great danger. This will mark the arrival of My hour.
Therefore, clamor insistently without tiring and weep with bitter tears in the privacy of your heart, imploring the Celestial Father that, for love of the Eucharistic Heart of my Most Holy Son and His Precious Blood shed with such generosity and the profound bitterness and sufferings of His cruel Passion and Death, He might take pity on His ministers and bring to an end those Ominous times, sending to this Church the Prelate who will restore the spirit of its priests. . . [When all seems lost, it will be] the happy beginning of the complete restoration. This will mark the arrival of my hour, when I, in a marvelous way, will dethrone the proud and cursed Satan, trampling him under my feet and fettering him in the infernal abyss.
Blessed Virgin Mary, Our Lady of Good Success, to Venerable Marianne de Jesus Torres (1563-1635)
It was revealed to me that through the intercession of the Mother of God all heresies will disappear. The victory over heresies has been reserved by Christ for his Blessed Mother… The power of Mary in the latter days will be very conspicuous. Mary will extend the reign of Christ over the heathens and the Mohammedans, and it will be a time of great joy when Mary is enthroned as Mistress and Queen of hearts. 
Venerable Maria of Agreda, seventeenth century
Jewish neo-con policy has produced another Jewish neo-con disaster for U.S. Currently 165 of 195 nations of the world, including India and China with 35% of the world's population, have refused to join the U.S. in sanctioning Russia, leaving the U.S., not Russia, relatively isolated in the world. While the dollar falls, the ruble has soared since the beginning of conflict. Nuclear war may be necessary for saving face!
"We endeavor to prevent any hostile power from dominating a region whose resources would, under consolidated control, be sufficient to generate global power. We must maintain the mechanism for deterring potential competitors from even aspiring to a larger regional or global power."
Wolfowitz Doctrine, articulated in 1992 by Paul Wolfowitz, then Under Secretary of Defense, guiding principle for Neo-con foreign policy strategy for world domination in a "unipolar" world. This is what is meant by Francis Fukuyama's 1992 book, The End of History and the Last Man, celebrating "the end-point of mankind's ideological evolution and the universalization of Western liberal democracy as the final form of human government."
Maybe a nuclear war would not make any difference!
200 Million People: Europe Will Lose 26% of Its Population
EN.News | May 11, 2022
<![if !vml]>
<![endif]>Over the next 80 years, Central Europe is expected to lose 54% of its population, while Eastern Europe is expected to lose 34%, LeSalonBeige.fr writes,
• Bulgaria -63%
• Ukraine -61%
• Poland -60%
• Spain -51%
• Italy -50%
No European country has a replacement fertility rate of 2.1 that would stabilise its population. The average rate is 1.61.
Pope Francis: Guarding 'dead traditions' is dangerous for the Church's life
CatholicNewsAgency | Vatican City, Jun 1, 2022 | Courtney Mares
Pope Francis on Wednesday criticized people who "call themselves guardians of traditions, but of dead traditions," saying that failing to move forward is dangerous for the Church today.
Speaking to the organizers of a conference on education on June 1, the pope said that it was vital to make progress by "drawing from the roots."
He said that "there is the fashion — in every age, but in this age in the Church's life I consider it dangerous — that back,' not going up or down, but backward."
"This 'back-stepping' makes us a sect; it makes you 'closed' and cuts off your horizons. Those people call themselves guardians of traditions, but of dead traditions."
Pope Francis underlined that "the true Catholic Christian and human tradition … grows, progresses."
"Education, for its part, is always rooted in the past, but it does not stop there: it is directed towards 'forward-looking initiatives,' where the old and the new converge to create a new humanism," he said.
The pope underlined that true tradition is "what that fifth-century theologian described as a constant growth: throughout history, tradition grows, progresses: ut annis consolidetur, dilatetur tempore, sublimetur aetate."
The pope was referring to St. Vincent of Lerins, who wrote about the development of Church teaching, saying that it "is solidified over the years, extended with time, and refined with age."
Pope Francis has invoked this quotation numerous times since his election in 2013, including in a letter on Amoris laetitia in 2018. [……]
COMMENT:
Pope Francis/Bergoglio, addressing an international conference on education, entertained his favorite psychological fixation insulting Catholics faithful to Tradition. The attack was not just an aside. He used the mythological heroic character Aeneas from Virgil's Aeneid for his overall contextual theme for successful education and contrasted this against Catholics faithful to Tradition as the example of qualities that beget educational failure. Aside from the vacuity of a Jesuit looking to pagan mythology as a theme for sound education, it is interesting to witness his compulsive fixation on this subject Catholic Tradition which is only understandable when the true nature of the conflict is clearly identified.
Pope Francis/Bergoglio says we must "move forward" and if we fail to "move forward" we are "dangerous for the Church today." Oh, "dangerous" in what way? "Move forward" to what end? Why he answers, "move forward" in a Hegelian dialectic between a "Catholic Christian" and "human tradition" to "progress" to a "new humanism." Gee? Isn't this the same progressive ideology that gave us the French Masonic Revolution and was even abandoned by the secular world in the aftermath of World War I? This is just another anti-Catholic ideology.
Pope Francis understands that the fight is to destroy the Catholic faith and thus it is central to his pontificate. He hates Catholic tradition because Catholic tradition is the perfect image of the revealed truth of God which he rejects. He calls these "dead traditions" not because they are dead but because he wishes them so. He calls them "human" traditions because he denies the divine faith that they image; He denies that the immemorial traditions are the work of God, yet, arrogantly and blasphemously affirms that the Novus Ordo is the work of the Holy Ghost.
Faithful Catholics, as said before, in fact are not opposed to change but are rather 'progressivists' desiring the most radical kind of change possible. The change they desire is the progressive conversion from sin to a perfect unity with God as His children through grace and charity; the change of a sinner into a saint. The immemorial traditions are the means by which this change is effected for Catholics today as it has been for faithful Catholics throughout the history of the Church.
Pope Francis hates the revealed truth of God and hates the idea of conversion from sin to unity with God. He wants the traditions overthrown and replaced with new images of the Novus Ordo Church of the New Advent that perfectly imgae his complacency in sin and his vice of sloth. His quoting St. Vincent Lerins is actually embarrassing. It would be just as absurd if a Catholic apologist used Karl Marx's materialism to defend the Incarnation. Gustave Mahler's quotation is actually, 'Tradition is not the worship of ashes but the preservation of fire.' It is Francis ideology that is the cold worship of ashes for his "new humanism" is the worship of man.
Every best gift, and every perfect gift, is from above, coming down from the Father of lights, with whom there is no change, nor shadow of alteration. James 1:17
For amen I say unto you, till heaven and earth pass, one jot, or one tittle shall not pass of the law, till all be fulfilled.  Matt 5:18
Paradoxically precisely because one remains [in the Church], precisely if one is faithful, one changes.  One does not remain faithful, like the traditionalists or the fundamentalists, to the letter.  Fidelity is always a change, a blossoming, a growth.  The Lord brings about a change in those who are faithful to Him. 
Cardinal Bergoglio, interview with Stefani Falasca, 2007
More distantly, this view comes from the German transcendental philosophies that value becoming more than being and therefore value perennial doubt more than certainty and seeking more than finding..... The mistake in this position lies in regarding as humble an attitude that is really an intense form of pride. What is someone really preferring when he prefers searching for the truth to truth itself?  He is preferring his own subjective movement and the activity of the Ego more than the good that his powers of acting are given him to attain.  In short the Object is being valued less than the subject and an anthropocentric view is being adopted that is irreconcilable with religion, which seeks the creature's subjection to the Creator and teaches that in being thus subjected the creature finds its own satisfaction and perfection.  The false view that values searching more than the truth is really a form of indifferentism.
Romano Amerio, Iota Unum, The Virtue of Faith
COMMENT:
It is not a question of changelessness but rather of what must necessarily change and what must remain the same. For the faithful Catholic there is always a change in that he grows in Charity and Grace by cooperating with the baptismal infused virtues and gifts of the Holy Ghost gaining greater knowledge of his own his sinfulness, his unworthiness, and his nothingness (as Cardinal Manning would say) and thus perfecting his unity with Truth, with God. The means for growing in holiness, especially with the sacraments, remains the same from generation to generation. 
For a Modernist, like the progressive Pope Francis/Bergoglio, he refuses to change by growing in holiness and instead wants the Church to change her immemorial traditions to conform to his sinfulness and his pride, to confirm him in his vicious acts. 
The most evident proof for this is seen in both their quality and quantity of vocations for "by their fruit you shall know them." The Novus Ordo Church, the Church of the New Advent, the Church of the New Evangelization, is effectively barren and the fruit that it does bare is itself fruitless. Why doesn't this truth make an impression? Well, it does and that is why the Modernist must always drive a wedge between the Truth of God and the Mercy of God.
Bishop Refuses Roman Ordinations, Monastery Finds Solution
EN.NEWS | May 15, 2022 - The English-speaking monastery Saint Benoit in Brignoles, France, organised in April at a discrete location outside France "unauthorised" Roman Rite ordinations celebrated by a "senior prelate in unimpeded communion with the Holy See."
The prelate ordained founding Prior Alcuin Reid who has been a deacon for several years to the priesthood and another monk to the diaconate. Saint Benoit in Brignoles is only a diocesan association of the faithful.
The Australian born prior is a liturgical scholar. His 2005 book The Organic Development of the Liturgy carries a preface by Cardinal Ratzinger.
The monastery depended not always successfully on diocesan priests for the celebration of Mass. Three visitators recommended to ordain a monk, recently in December.
However, Fréjus-Toulon Bishop Dominique Rey, a good man, was unwilling to proceed with the ordinations. What Rey called "prudence" the monastery calls fear of repercussions increased by a recent apostolic visitation of the diocesan seminary. In January, Rey confirmed that he wouldn't proceed with ordinations.
The monastery justified the ordinations with the Church's extraordinary situation. Rey has "suspended" those ordained.
COMMENT: This has to be disturbing news for Pope Francis who does not want to see traditional Catholics breaking away from centralized control.
Pope Francis Kisses Hand of, and concelebrates Novus Ordo with, Notorious Homosexual Activist Priest - some sample quotations from this degenerate:
Today the Church's attitude to homosexuals is strict, inhuman and has caused much suffering by claiming that homosexuality is sin. Some church people say, "It is acceptable to be gay, but they must not have any relationships, they cannot love each other"! The maximum is hypocrisy. This is like talking to a plant, and saying, 'you cannot bloom, you may not bear fruit.' (sic)
Don Michele De Paolis, Interview with LGBT group Bethel of Genoa, Italy.
<![if !vml]>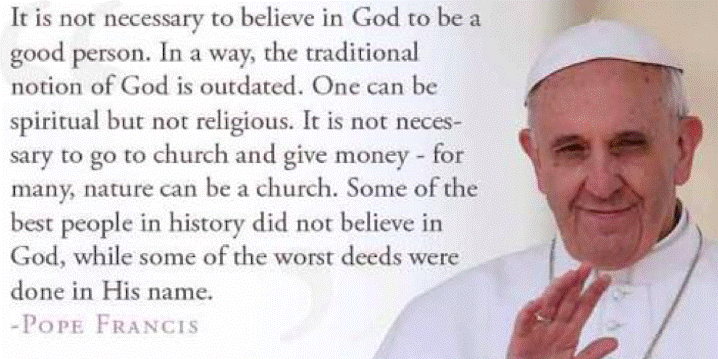 <![endif]>In the holy Church of God, not everyone is suffering from homophobia. Those who want to make you "heterosexuals," as it is called, would be force you to act contrary to nature and to make you unhappy psychopaths. We need to put into our heads that God our "Father wants us, his children, to be happy, by making fruitful the gifts that He has placed us in our "nature"! [.....] You have the right to go looking for a partner. And be quite unconcerned: where agape is, is God. Live your love with joy. And with our mother Church we must have patience. Her attitude to homosexuals will change. In this sense numerous initiatives have already been engaged."
Don Michele De Paolis, Addressing gathering of homosexual activists
"We must liberate our thinking from a risk: fundamentalism, that is, to take literally what the Bible says. The new obedience to the gospel is free, responsible and conscious. Instead of wasting energy in endless religious polemics, it aims to a new Christian spirituality of joyful acceptance of yourself forming gratitude to God, knowing that homosexual love is His gift, which is not less than the heterosexual."
Don Michele De Paolis, Essay
<![if !vml]>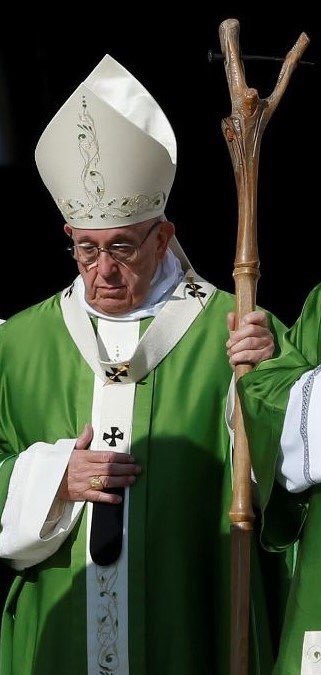 <![endif]>
"In like manner, the ceremonies of the Old Law prefigured Christ as having yet to be born and to suffer; whereas our Sacraments signify Him as already born and having suffered.  Consequently, just as it would be a mortal sin now for anyone, in making a profession of faith, to say that Christ is yet to be born, which the fathers of old said devoutly and truthfully; so too, it would be a mortal sin now to observe those ceremonies which the fathers of old accomplished with devotion and fidelity.  Such is the teaching of St. Augustine." 
St. Thomas Aquinas
The Kingdom of God is not the work of man and does not emerge by a natural law of progress from the course of human history. It makes a violent interruption into history and confounds the work of man, like the stone hewn from the mountain without human agency which crushes the image of the four world empires into dust.
Christopher Dawson, Dynamics of World History
Human beings are created to praise, reverence, and serve God our Lord, and by means of this to save their souls.  The other things on the face of the earth are created for human beings, to help them in working toward the end for which they are created.  From this it follows that I should use these things to the extent that they help me toward my end, and rid myself of them to the extent that they hinder me.  To do this, I must make myself indifferent to all created things, in regard to everything which is left to my freedom of will and is not forbidden.  Consequently, on my own part I ought not to seek health rather than sickness, wealth rather than poverty, honor rather than dishonor, long life rather than a short one, and son in all matters.  I ought to desire and elect only the thing which is more conducive to the end for which I am created. 
St. Ignatius of Loyola, Principle and Foundation of the Spiritual Exercises
Cardinal Zen arrested by Communist Chinese Government May 12, 2022 on "security" violations.
Amazing! Martyrdom is a barrier to ecumenical unity!
If you have a Church that considers martyrs, that sets them off against the others, this in itself contains the pebbles of a rocky road to disunity. Sure I appreciated [Cardinal Joseph Zen's] concerns and sufferings… You have to be proud of the Church that suffers, but also worried that a Church that suffers allows that suffering to be a barrier to the common union to which the Lord has called us.
Cardinal Theodore McCarrick the Homosexual Pervert, criticizing Cardinal Zen and the faithful Catholics of China for resisting a forced unity with the Catholic Patriotic Association (CPA) founded by the communist government.
"O God, come to my assistance; O Lord, make haste to help me."
Not without reason has this verse been selected out of the whole body of Scripture. For it takes up all the emotions that can be applied to human nature and with great correctness and accuracy it adjusts itself to every condition and every attack. It contains an invocation of God in the face of any crisis, the humility of a devout confession, the watchfulness of concern and of constant fear, a consciousness of one's own frailty, the assurance being heard, and confidence in a protection that is always present and at hand, for whoever calls unceasingly on his protector is sure that he is always present. It contains a burning love and charity, an awareness of traps, and a fear of enemies. Seeing oneself surrounded by these day and night, one confesses that one cannot be set free without the help of one's defender. This verse is an unassailable wall, an impenetrable breastplate, and a very strong shield for those who labour under the attack of demons.
St. John Cassian, The Conferences, Commentary Psalm 69
Worth Reading Again from Previous Year:
Open Letter by "Papal favorite" calling for End of Summorum Pontificum
OPEN LETTER on the "State of Liturgical Exception" | Andrea Grillo, April 29, 2020
To all theologians, scholars, and students of theology:
The great liturgical tradition, which has always accompanied and supported the Church in her history of grace and sin, hears the groaning of individuals and nations in this pandemic crisis, which brings suffering and affliction to those who are sick, and fear, isolation and loneliness to everyone else. The ordinary rhythm of the Lenten and Paschal journey is altered and subverted, in solidarity with our common suffering. We would never have thought, however, that a small but not marginal suffering would also come at the same time through the exercise of ecclesial authority and through the decrees Quo magis e Cum sanctissima, which the Congregation for the Doctrine of the Faith published on 25 March 2020.
It is no surprise that This Congregation should devote its attention to the liturgy. But special and singular is the fact that it modifies the ordines, introduces prefaces and formularies for feasts, and modifies calendars and criteria of precedence. And it does this on a 1962 missal. How is this possible? The Congregation, as is known, in this case moves in the space of an exceptional authority, which dates back 13 years, in accordance with motu proprio Summorum pontificum. But since time is greater than space, what is possible on the regulatory level is not always appropriate. Therefore, it is crucial to engage in critical reflection on the logic of this development.
Time, in fact, has unveiled to us the paradox of a competence on the liturgy being taken away from the Bishops and the Congregation of Worship: this was arranged, in Summorum pontificum, with an intention of solemn pacification and generous reconciliation, but soon it changed into a serious division, a widespread conflict, and became the symbol of a "liturgical rejection" of the Second Vatican Council. The greatest distortion of the initial intentions of the motu proprio can be seen today in those diocesan seminaries where it is expected that the future ministers will be trained at the same time in two different rites: the conciliar rite and the one that denies it. All this reached its most surreal point the day before yesterday, when the two Decrees were released. They mark the culmination of a distortion which is no longer tolerable, and which can be summed up as follows:
<![if !supportLists]>· <![endif]>the Congregation for the Doctrine of the Faith acts as a substitute in exercising competences conferred by the Second Vatican Council on Bishops and the Congregation for Divine Worship;
<![if !supportLists]>· <![endif]>it undertakes to elaborate "liturgical variants" of the ordines without having the historical, textual, philological and pastoral competences;
<![if !supportLists]>· <![endif]>it seems to ignore, precisely on the dogmatic level, a grave conflict between the lex orandi and the lex credendi, since it is inevitable that a dual, conflictual ritual form will lead to a significant division in the faith;
<![if !supportLists]>· <![endif]>it seems to underestimate the disruptive effect this "exception" will have on the ecclesial level, by immunizing a part of the community from the "school of prayer" that the Second Vatican Council and the liturgical reform have providentially given to the common ecclesial journey.
A "state of exception" is also happening today on the civil level, in its harsh necessity, and this fact allows us greater ecclesial foresight. To return to an ecclesial normality, we must overcome the state of liturgical exception established 13 years ago in another world, with other conditions and with other hopes, by Summorum pontificum. It no longer makes sense to deprive diocesan bishops of their liturgical powers; neither does it make sense to have an Ecclesia Dei Commission (which has in fact already been suppressed), or a Section of the Congregation for the Doctrine of the Faith which take away authority from diocesan Bishops and the Congregation of Divine Worship; it no longer makes sense to enact decrees to "reform" a rite that is closed in the historical past, inert and crystallized, lifeless and without vigor. There can be no resuscitation for it. The double regime is over; the noble intention of SP has waned; the Lefebvrians have raised the barhigher and higher and then run away, insulting the Second Vatican Council and the present pope along with all three of his predecessors. Continuing to nourish a "state of liturgical exception" – one that was born to unite, but does nothing but divide – only leads to the shattering, privatization, and distortion of the worship of the Church. On the basis of these considerations, we resolve together to request that the Congregation for the Doctrine of the Faith immediately withdraw the two decrees of 25/03/2020 and restore all powers concerning the liturgy to the diocesan Bishops and the Congregation for Divine Worship. Obviously, we ask this without prejudice to the powers that this Congregation retains in doctrinal matters.
So let us leave the "state of liturgical exception". If not now, when?
With best wishes to all colleagues and students, besieged but not conquered in life, during these bitter yet still generous times.
COMMENT:
"Time is greater than space" – The ideological lynchpin of Pope Francis the Great Equivocator
This liturgical OPEN LETTER structures its argument around the phrase: Time is Greater Than Space." This slogan of Pope Francis, "Time is greater than space" (TGTS), appeared in his first two encyclicals, Lumen Fidei and Laudato Si'. It surfaced again in the apostolic exhortations, Evangelii Gaudium and Amoris Laetitia.
From Lumen Fidei:
"Let us refuse to be robbed of hope, or to allow our hope to be dimmed by facile answers and solutions which block our progress, 'fragmenting' time and changing it into space. Time is always much greater than space. Space hardens processes, whereas time propels towards the future and encourages us to go forward in hope."
Evangelii Gaudium is more revealing as to the cryptic meaning of this phrase:
222. A constant tension exists between fullness and limitation. Fullness evokes the desire for complete possession, while limitation is a wall set before us. Broadly speaking, "time" has to do with fullness as an expression of the horizon which constantly opens before us, while each individual moment has to do with limitation as an expression of enclosure. People live poised between each individual moment and the greater, brighter horizon of the utopian future as the final cause which draws us to itself. Here we see a first principle for progress in building a people: time is greater than space.
223. This principle enables us to work slowly but surely, without being obsessed with immediate results. It helps us patiently to endure difficult and adverse situations, or inevitable changes in our plans. It invites us to accept the tension between fullness and limitation, and to give a priority to time. One of the faults which we occasionally observe in sociopolitical activity is that spaces and power are preferred to time and processes. Giving priority to space means madly attempting to keep everything together in the present, trying to possess all the spaces of power and of self-assertion; it is to crystallize processes and presume to hold them back. Giving priority to time means being concerned about initiating processes rather than possessing spaces. Time governs spaces, illumines them and makes them links in a constantly expanding chain, with no possibility of return. What we need, then, is to give priority to actions which generate new processes in society and engage other persons and groups who can develop them to the point where they bear fruit in significant historical events. Without anxiety, but with clear convictions and tenacity.
St. Pius X said in Pascendi that Evolution is the fundamental principle of the heresy of Modernism. This error is practically applied when Modernists embrace Becoming and reject Being. This neologism of Francis, TGTS, is just a repacking of this old philosophical error of Modernism. Francis is trying to sound clever by putting a little make-up and bow-tie on the pig. But the pig remains a pig because that is his Being. Fr. Réginald Marie Garrigou-Lagrange, O.P. explained this error in his great essay, Where is the New Theology Leading Us?, that was published in the Angelicum in 1946.
It should be remembered that on December 1, 1924, the Holy Office condemned 12 propositions taken from the philosophy of action, among which was number 5, or the new definition of truth: "Truth is not found in any particular act of the intellect wherein conformity with the object would be had, as the Scholastics say, but rather truth is always in a state of becoming, and consists in a progressive alignment of the understanding with life, indeed a certain perpetual process, by which the intellect strives to develop and explain that which experience presents or action requires: by which principle, moreover, as in all progression, nothing is ever determined or fixed." The last of these condemned propositions is: "Even after Faith has been received, man ought not to rest in the dogmas of religion, and hold fast to them fixedly and immovably, but always solicitous to remain moving ahead toward a deeper truth and even evolving into new notions, and even correcting that which he believes." 
Many, who did not heed these warnings, have now reverted to these errors.
……
It revisits modernism. Because it accepted the proposition which was intrinsic to modernism: that of substituting, as if it were illusory, the traditional definition of truth: aequatio rei et intellectus (the adequation of intellect and reality), for the subjective definition: adequatio realis mentis et vitae (the adequation of intellect and life). That was more explicitly stated in the already cited proposition, which emerged from the philosophy of action, and was condemned by the Holy Office, December 1, 1924: "Truth is not found in any particular act of the intellect wherein conformity with the object would be had, as the Scholastics say, but rather truth is always in a state of becoming, and consists in a progressive alignment of the understanding with life, indeed a certain perpetual process, by which the intellect strives to develop and explain that which experience presents or action requires: by which principle, moreover, as in all progression, nothing is ever determined or fixed" (v. Monitore ecclesiastico, 1925. t. I; p. 194.)
The truth is no longer the conformity (of judgment) to the intuitive reality and its immutable laws but the conformity of judgment to the exigencies of action, and of human life which continues to evolve. The philosophy of being or ontology is substituted by the philosophy of action which defines truth as no longer a function of being but of action.
Thus is modernism reprised: "Truth is no more immutable than man himself, inasmuch as it is evolved with him, in him and through him. As well, Pius X said of the modernists, "they pervert the eternal concept of truth."
……
The traditional definition truth is no longer for them the conformity of judgment to intuitive being and the immutable laws of non-contradiction, of causality, etc. For them, the truth is no longer that which is but that which is becoming — and is constantly and always changing.
For the Modernist heretic, Pope Francis, "Time is greater than space," "Time" means the process of becoming through evolution and "Space" is the limitation of static being. A library could be filled with analyzing the implications of this error but suffice for the present there are two obvious to everyone: Firstly, the very definition of heresy is the rejection of DOGMA. For the faithful Catholic, DOGMA is NECESSARILY the proximate rule of faith. This is directly rejected by the Modernists. They replace Dogma with the person of the pope as the proximate rule of faith and he is free to corrupt the revealed truth in whatever manner he pleases. The second obvious error is that they deny the philosophical meaning of substance. They follow modern reductionist Scientism that resurrected the Greek philosopher Democritus' (460-370 B.C.) theory that the fundamental nature of all that existed is "atoms and the void." Since all reality is just the recombination of atoms and the void between them, then there cannot be such thing as a fixed substance in which accidents adhere. Consequently, we have Benedict/Ratzinger denying substance and making the accident of relationship the fundamental ground of all reality. It is therefore not surprising when he denies the Dogma of Transubstantiation. And what becomes of the Dogma that the Father and the Son are Consubstantial? Francis follows in the same manner and never kneels before the Blessed Sacrament. No argument can touch these blighted minds, if you call something that never thinks a "mind." It matters not what wreckage and ruin that has followed since Vatican II because the being of the wreckage cannot overcome their ideological fantasy of becoming as Pope Francis looks to his "brighter horizon of the utopian future… for progress in building a people."
The truth is just the opposite, 'Space is Greater than Time.' God revealed His name to Moses, "I AM." Jesus applied this name to Himself. God is perfect BEING; He is perfect ACT: "Every best gift, and every perfect gift, is from above, coming down from the Father of lights, with whom there is no change, nor shadow of alteration" (James 1:17). Ultimately time will end in a changeless eternity where the faithful will be with God in a space prepared by Him for each one of us. "In my Father's house there are many mansions. If not, I would have told you: because I go to prepare a place for you. And if I shall go, and prepare a place for you, I will come again, and will take you to myself; that where I am, you also may be" (John 14:2-3).
Andrea Grillo gives as a reason for the suppression of the Latin Mass granted to the Indult crowd:
<![if !supportLists]>· <![endif]>it seems to ignore, precisely on the dogmatic level, a grave conflict between the lex orandi and the lex credendi, since it is inevitable that a dual, conflictual ritual form will lead to a significant division in the faith;
He to believes with Francis that TGTS. Latin Mass Catholics are stuck in space while the Catholic Church is moving in time to a new "dogmatic level" that will inevitably "lead to a significant division in the faith."
The two rites he says represent a "grave conflict between the lex orandi and the lex credenda." Are we to congratulate Grillo for this insight?Cardinal Alfredo Ottaviani, Prefect of the Congregation for the Doctrine for the Faith with his Interventionin in 1969 said the same thing! This is a truth that faithful Catholics have known for more than 50 years! Yet Indultists publicly deny this truth professing that both the Novus Ordo and the traditional Latin rite express an identity of "lex orandi /lex credendi." This is the price they have paid for their Indult; a mind that turns its back on the first principle of the understanding cannot even be called a "mind"!
Ss. Peter & Paul Roman Catholic Mission's purpose is to make a public profession of the Catholic faith before our local ordinary and Rome. Foundational to this purpose is that DOGMA IS divine revelation infallibly defined by the Magisterium of the Church, which is irreformable both in its truth (form) and its terminology employed (matter), IS the "formal object of divine and Catholic faith" and constitutes the proximate rule of faith for all the faithful. Furthermore, our immemorial ecclesiastical traditions are necessary attributes of the faith by which alone the faith can be known and communicated to others. Since God has imposed a duty upon His faithful to profess their faith and worship Him in the public forum, every Catholic possesses the inalienable right to our immemorial traditions by which alone these duties can be fulfilled. Those who have accepted the Latin Mass by virtue of Indult and/or grant of legal privilege want a non-confrontational modus vivendi with Modernist heretics. This has never worked in the past and it will not work now. Being neither 'cold nor hot', they please no one and will soon learn that having traded their birth right for bowl of pottage there is nothing left to eat.
PREVIOUS BULLETIN POSTS THAT ARE NOT OUTDATED
<![if !vml]>
<![endif]>