SS. Peter and Paul Roman Catholic Mission
P.O. Box 7352, York, PA, 17408
717-792-2789
SaintsPeterandPaulRCM.com
SaintsPeterandPaulRCM@comcast.net
To Restore and Defend Our Ecclesiastical Traditions of the Latin Rite to the Diocese of Harrisburg
SS. Peter and Paul Roman Catholic Chapel
129 South Beaver Street, York PA 17401
 ..... this missal is hereafter to be followed absolutely, without any scruple of conscience or fear of incurring any penalty, judgment or censure, and may freely and lawfully be used .....  Nor are superiors, administrators, canons, chaplains, and other secular priests, or religious, of whatever title designated, obliged to celebrate the Mass otherwise than as enjoined by Us.  .....  Accordingly, no one whatsoever is permitted to infringe or rashly contravene this notice of Our permission, statute, ordinance, command, precept, grant, direction, will, decree and prohibition. Should any person venture to do so, let him understand he will incur the wrath of Almighty God and of the Blessed Apostles Peter and Paul.
Pope St. Pius V, Papal Bull, QUO PRIMUM,
Tridentine Codification of the traditional Roman Rite of the Mass.
<![if !vml]>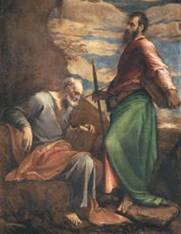 <![endif]>
Twenty-second Sunday after Pentecost
St. Andrew Avellino, Confessor
St. Tryphon & Companions, Martyrs
November 10, 2019
    As we have seen, the breviary lessons throughout October are taken from the Book of Machabees.
Judas Machabeus had heard very great things of the power of Rome, of far-off countries brought to subjection and many kings compelled to pay yearly tribute; and on the other hand, of the willingness of the Roman people to accede to requests made to them, and of their readiness to swear friendship with any nation that approached them for the purpose.  Judas, therefore, decided to take the step of sending messengers to Rome itself, to seek the friendship and alliance of its people.  This request was received favorably by the senate, who later twice renewed the treaty of peace, first with Jonathan and then with Simon, who had succeeded their brother Judas Machabeus as a ruler.  Soon however, the little kingdom was torn by civil war, brothers in hostile camps disputing the power between them.  One of these thought fit to summon the Romans to his assistance; the invitation was accepted, and in 63 B. C. Pompey took Jerusalem.
    It must be remembered that Rome never gave back what it had taken by force of arms.  Palestine became and remained a Roman colony, the Senate appointing Herod, king of the Jews.  This ruler, by way of pleasing the Jews richly rebuilt and enlarged the Temple at Jerusalem, and it was into this third Temple that our divine Lord made His triumphal entry later on.
    From the moment of this conquest the Chosen People had to pay tribute to Rome, a fact which is alluded to in today's Gospel.  This incident marks one of the last days of our Lord's life, and it was an occasion when the Master, in an answer full of heavenly wisdom, put to confusion His enemies, who from then on, were more than ever bent upon His destruction.
    The necessity of paying tribute to Caesar was all the more odious to the Jews, since it went quite contrary to their instinct for universal supremacy, the promise of which Israel believed it had received.  It followed that anyone who maintained the duty of payment had public opinion against him, while those who held the opposite view incurred the anger of the Roman authority in possession, and of those among the Jews who approved it and who formed the party of the Herodians.  When therefore, the Pharisees thought to drive our Lord on to one or the other of the horns of this dilemma, it was in order to embroil Him either with the people or with the Roman power; on one count or the other they thought they could secure His arrest.
    The better to attain their end, they sent Him a deputation of Jews consisting of members of both parties, of "their disciples with the Herodians," as St. Matthew puts it.  To get an answer to their question, these men began by telling our Lord that they knew that He "taught the way of God in truth" without "regarding the person of men."  And then they laid their snare before Him.  "Is it lawful to give tribute to Caesar or not?"  But Jesus, knowing the malice that was in them, answers: "Why do ye tempt me, ye hypocrites?"  And then, evading their attack with the greatest skill, He bade them show Him "the coin of the tribute" to force them, as He always did on these occasions, to answer their own question.
    For when the Jews had offered Him "a penny" of this money, He asks them: "Whose image and inscription is this?"  "They say to Him: Caesar's."  As a matter of fact, before the tribute could be paid it was a necessary preliminary to change the money of the country for coins bearing the image of the emperor; and since a coin is only of value in the country of the monarch whose image it bears, by this very exchange the Jews acknowledged that they were under Caesar's rule, and that they intended to pay tribute to him.  "Render therefore to Caesar," says our Lord, "the things that are Caesar's," and then suddenly becoming the Judge of His hearers, He adds: "And to God the things that are God's," which means that since the soul of a man belongs to God who made it in His image, all the faculties ought to return to Him, in the sense of paying the tribute of their worship and service.
    "We," says St. Augustine, "are the coins of God stamped with His image, and God demands the return of His coins as Caesar did the return of his," And St. Jerome adds: "Let us give to Caesar the money which bears his inscription, since we cannot do otherwise, but let us give ourselves freely and of our own accord to God, for what our soul bears it the glorious imprint of the face of God and not the more or less majestic head of an emperor."  Bossuet says: "This image will one day pass again through the hands and before the eyes of Jesus Christ, and some day He will look at us and say: 'Whose image and inscription is this?'  And the very depth of our being will answer: 'God's.'  "It is for Him that we were made and we must bear His stamp upon us.  It had to be restored in baptism of which it is the effect and character.  But what has become of the divine features which we ought to bear?  Christian soul, may God's image be in your reason!  But this you have drowned in drunkenness; you have sunk it in the love of pleasure; you have surrendered it to ambition; you have made it the slave of gold, which is a form of idolatry; you have sacrificed it to your appetites of which you have made a god; you have made of it an idol of vain glory, and instead of praising and blessing God day and night, it is itself constantly praised and admired."
    And the divine Redeemer will say: "Amen, Amen, I know you not: you are not my work, no longer do I see in you what I put there.  You have chosen to form yourself in your own way: you are the work of pleasure and ambition: you are the work of the devil, whose works you have done, and whom, by taking him as you model, you have made your father.  Go with him who knows you, and whose promptings you have followed; go to fire eternal which has been prepared for him.  O just Judge!  And where shall I be found?  Shall I acknowledge myself, when my Creator has disowned me?"
    It is in this sense that we must interpret this Sunday's Gospel, one of the last of the ecclesiastical year and in which the Church reminds us of the end of the world.  Thus the Epistle twice speaks of the coming of Christ as nigh at hand.  St. Paul prays that "He who hath begun a good work in you, will perfect it unto the day of Christ Jesus," since the grace of final perseverance comes from Him alone.  Again the apostle asks that our "charity may more and more abound in knowledge and in all understanding"; that we "may approve the better things"; that we "may be sincere and without offense unto the day of Christ" (Epistle).  For in this dread moment: If the Lord "shall observe iniquities…. Who shall endure it?" (Introit).
    But the Lord is the "helper and protector" of them that hope in Him (Alleluia), for there is propitiation with the God of Israel (Introit, Secret).  And we shall ourselves experience this mercy if we are merciful to our neighbour.  "How good and how pleasant a thing it is for brethren to dwell together in unity," says the Gradual.  Especially must we be found in prayer in the hour of danger, for if we cry to the Lord, He will hear us (Communion).
    The prayer, in the highest degree social and fraternal, to which almighty God is especially attentive is the prayer of His bride the Church.  He hears and answers her, like Assuerus the king, when as the Offertory reminds us, Esther his wife approached him that he might save God's people from death."
INTROIT:
Ps. 129:  If Thou wilt mark iniquities, O Lord; Lord, who shall stand it?  For with Thee is merciful forgiveness, O God of Israel.
Ps. Out of the depths I have cried to Thee, O Lord: Lord, hear my voice.  Glory be, etc.  If Thou wilt mark etc.
COLLECT:
O God, our refuge and strength, who art the author of all goodness, hear, we pray, the devout prayers of Thy Church, and grant that what we faithfully ask we may effectually obtain.  Through our Lord, etc.
O God, who didst inspire thy blessed Confessor Andrew with a firm purpose to grow and increase daily in all virtue, and didst wondrously dispose him to walk in thy ways: grant us, by his merits and intercession, to be partakers of the grace that thou didst bestow upon him; that we may ever earnestly seek after all things that are perfect, and attain with gladness to the heights of thy heavenly glory.  Through our Lord, etc.
Grant, O Lord, we pray thee: that, as by the prayers of thy blessed Martyrs, Tryphon, Respicius, and Nympha, we do feel the effectual succour of thy protection; so we may at all times devoutly observe their festival. Through our Lord, etc.
EPISTLE: Philipp. 1, 6-11
 Brethren, We are confident in the Lord Jesus, that he who hath begun a good work in you will perfect it unto the day of Christ Jesus. As it is meet for me to think this for you all, for that I have you in my heart, and that in my bands, and in the defense and confirmation of the gospel, you are all partakers of my joy. For God is my witness, how I long after you all in the bowels of Jesus Christ. And this I pray, that your charity may more and more abound in knowledge and in all understanding: that you may approve the better things; that you may be sincere and without offence unto the day of Christ, filled with the fruit of justice, through Jesus Christ, unto the glory and praise of God.
EXPLANATION This epistle was written by St. Paul at Rome, where he was imprisoned for the faith, to the inhabitants of Philippi in Macedonia whom he had converted to the true faith. He congratulates them that they so willingly received and conscientiously obeyed the gospel which he had preached to them, and he says, he trusts in God to complete the good work which He has commenced, and to give them perseverance until the day of Christ, that is, until death.
GRADUAL:
Ps. 132:  Behold how good and how pleasant it is for brethren to dwell together in unity.  It is like the precious ointment on the head, that ran down upon the beard, the beard of Aaron.  Alleluia, alleluia. 
Ps 113.  They that fear the Lord, let them hope in Him:  He is their helper and protector.  Alleluia.  
GOSPEL:  Matt. 22, 15-21
At that time, the Pharisees went and consulted among themselves how to ensnare Jesus in his speech. And they send to him their disciples, with the Herodians, saying: Master, we know that thou art a true speaker, and teachest the way of God in truth, neither carest thou for any man, for thou dost not regard the person of men: tell us, therefore, what dost thou think? Is it lawful to give tribute to Caesar or not? But Jesus knowing their wickedness, said: Why do you tempt me, ye hypocrites? Show me the coin of the tribute. And they offered him a penny. And Jesus saith to them: Whose image and inscription is this? They say to him: Caesar's. Then he saith to them: Render therefore to Caesar the things that are Caesar's, and to God the things that are God's.
Why did the Pharisees try to ensnare Jesus in His speech?
In order to find some reason to accuse Him before the emperor, or to make Him hated by the Jews; for had He denied tribute to Caesar, they would have accused Him before the emperor as guilty of high treason; had He, on the contrary made it obligatory to pay tribute, then they would have denounced Him as a destroyer of the liberty of the people, who considered themselves a free nation owing allegiance only to God. Like the Pharisees are all those who, under the appearance of friendship, only cause vexation and misfortune to their neighbor.
Who are really hypocrites?
Those who in order to cheat their neighbor, appear outwardly pious and holy, whilst inward they are full of malice; those who have honey on the tongue, but gall in the heart, and sting like scorpions, when we least expect it. Because there are so many vices connected with hypocrisy (Matt. 23), therefore Christ has denounced no sin more emphatically than this one. Hypocrites are brethren of Cain, Joab, and Judas, of whom the first killed his brother, the second his cousin and the third betrayed his divine Master with a kiss. Such false men are cursed by God (Mal. 1, 14). I hate a mouth with a double tongue (Prov. 8, 13). "The devil silently possesses the hearts of hypocrites and quietly sleeps in them, whilst he gives them no peace," says St. Gregory; and St. Jerome writes: "Pretended holiness is double malice." Better is an open enemy, before whom we can be on our guard, than a hypocritical friend of whom we have no suspicion, because we look upon him as a friend. Beware, therefore, my dear Christian, of the vice of hypocrisy, which is so hateful to God; endeavor always to be sincere with God, thyself and thy neighbor, and to walk in-true humility before God, then mayest thou carry His image within thee.
PRAYER Help me, O Lord, for the number of the saints is decreasing and truth is becoming rare among men. They speak vain things each with his neighbor: their lips are deceitful, and they speak with double hearts. Let the Lord destroy all those who say: We will magnify our tongue; our lips are our own; who is Lord over us? O Lord, deliver my soul from wicked lips and deceitful tongues give me grace to preserve Thy image in my soul, by piety and virtue. Direct my heart to justice and keep it from avarice, that I may give to each his own.
OFFERTORY:
Esther 14.  Remember me, O Lord, Thou who rulest above all power, and give a well-ordered speech in my mouth, that my words may be pleasing in the sight of the prince.
SECRET:
Grant, O merciful God, that this saving oblation may unceasingly deliver us from the liabilities of our wrong-doing and preserve us from all adversities.  Through our Lord, etc.
In memory of thy Saints, O Lord, we offer thee the sacrifice of praise, by which we trust to be freed from both present and future evils.  Through our Lord, etc.
Be appeased, we beseech thee, O Lord, by the gifts now offered, and by the intercession of thy holy Martyrs Tryphon, Respicius and Nympha, defend us from all dangers.  Through our Lord, etc.
COMMUNION:
Ps. 16.  I have cried, for Thou, O God, hast heard me: O, incline Thine ear to me, and hear my words
POSTCOMMUNION:
We have received, O Lord, the gifts of this sacred mystery, humbly imploring Thee that what Thou hast bidden us do in memory of Thee may avail for the assistance of our weakness.  Who liveth and reigneth, etc.
We who are refreshed by heavenly meat and drink, humbly entreat thee, O our God, that we may be defended by the prayers of him in whose memory we have received them.  Through our Lord, etc.
May this Communion, O Lord, cleanse us from guilt: and through the intercession of thy holy Martyrs Tryphon, Respicius and Nympha, may it make us sharers in the heavenly healing.  Through our Lord, etc.
<![if !vml]>
<![endif]>
Then he saith to them: Render therefore to Caesar the things that are Caesar's, and to God the things that are God's.
PROPER OF THE SAINTS FOR THE WEEK OF NOVEMBER 10th:
10

Sun

22nd Sunday after Pentecost

St. Andrew Avellino, C

St. Tryphon & Comp. Mm

sd

G

Mass 9:00 AM, Confessions 8:00 AM, Rosary of Reparation 8:30 AM; Members of Ss. P & P

11

Mon

St. Martin of Tours, BpC

St. Mennas, M

d

W

Mass 8:30 AM; Rosary of Reparation before Mass

12

Tue

St. Martin I, PM

sd

R

Mass 8:30 AM; Rosary of Reparation before Mass

13

Wed

St. Didacus, C

sd

W

Mass 8:30 AM; Rosary of Reparation before Mass

14

Thu

St. Josaphat, BpM

d

R

Mass 8:30 AM; Rosary of Reparation before Mass

15

Fri

St. Albert the Great, BpCD

d

W

A

Mass 8:30 AM; Rosary of Reparation before Mass

16

Sat

St. Gerturde, Abbess, V

d

W

Mass 9:00 AM; Confessions & Rosary of Reparation  8:30 AM

17

Sun

23rd Sunday after Pentecost

St. Gregory Thaumaturgus, BpC

d1cl

W

Mass 9:00 AM, Confessions 8:00 AM, Rosary of Reparation 8:30 AM; Members of Ss. P & P
Now, how is charity to be perfected in them?  It must abound, more and more, in knowledge and in all understanding of salvation, that is, in faith.  It is faith that constitutes the basis of all supernatural virtue.  A restricted, a diminished, faith could never support a large and high-minded charity.  Those men, therefore, are deceiving themselves whose love for revealed truth does not keep pace with their charity!  Such Christianity as that believes as little as it may; it has nervous dread of new definitions; and out of respect for error, it cleverly and continually narrows the supernatural horizon.  Charity, they say, is the queen of virtues; it makes them take everything easily, even lies against truth; to give the same rights to error as to truth is, in their estimation, the highest point of Christian civilization grounded on love!  They quite forget that the first object of charity, God who is substantial Truth, has no greater enemy than a lie; they cannot understand how it is that a Christian does not do a work of love by putting on the same footing the Object beloved and His mortal enemy!  The apostles had very different ideas; in order to make charity grow in the world, they gave it a rich sowing of truth… But now, with the connivance of those whose Baptism made them, too, children of light, error has regained its pretended rights.  As a natural consequence, the charity of an immense number has grown cold in proportion; darkness is again thickening over the world, as though it were in the chill of its last agony.
Dom Gueranger, The Liturgical Year, Twenty-second Sunday after Pentecost
It is related of St. Andrew Avellino, that ten thousand devils came to tempt him at his death. The conflict that he had in his agony with the powers of hell was so terrible that all the good religious who assisted him trembled. They saw the saint's face swelled to such a degree from agitation, that it became quite black, every limb trembled and was contorted; his eyes shed a torrent of tears, his head shook violently; all gave evidence of the terrible assault he was enduring on the part of his infernal foes. All wept with compassion, and redoubled their prayers, and at the same time trembled with fear on seeing a saint die thus. They were, however, consoled at seeing, that often, as if seeking for help, the saint turned his eyes towards a devout picture of Mary; for they remembered that during life he had often said that at death Mary would be his refuge. At length God was pleased to put an end to the contest by granting him a glorious victory; for the contortions of his body ceased, his face resumed its original size and color, and the saint, with his eyes tranquilly fixed on the picture, made a devout inclination to Mary (who it is believed then appeared to him), as if in the act of thanking her, and with a heavenly smile on his countenance tranquilly breathed forth his blessed soul into the arms of Mary. At the same moment, a Capuchiness, who was in her agony, turning to the nuns who surrounded her, said, "Recite a Hail Mary; for a saint has just expired."
St. Alphonsus de Ligouri, The Glories of Mary, On the Death of St. Andrew Avellino
On the last day of his life St. Andrew rose, in spite of his sufferings, to say Mass. He was in his eighty-ninth year, and so weak that he could scarcely reach the altar; yet none liked to thwart the purpose of the holy old man. He began the 'Judica," and fell forward in a fit of apoplexy. Laid on a straw mattress he foamed at the mouth, and his whole frame was convulsed in agony, while the fiend in visible form advanced to seize his soul. Then, as his brethren prayed and wept, the voice of Mary was heard, bidding the Saint's guardian angel send the tempter back to hell. The fiend slunk back in despair. A calm and holy smile settled on the features of the dying Siant as, with a grateful salutation to the image of Mary, he breathed forth his soul to God. 
Rev. Henry Bowden, Lives of Saints
The apostolate should always be exercised in a saintly manner, with such purity of intention, such interior union with God, such generous forgetfulness and abnegation of self, and with so great a love for souls that the apostolate flows from the interior spirit which informs it and at the same time nourishes and renews this same spirit.  Pope Pius XII, Primo Feliciter
"It follows that ignorance has the nature of mortal sin on account of either a preceding negligence, or the consequent result; and, for this reason, ignorance is reckoned one of the general causes of sin.  All sin proceeds from ignorance." 
St. Thomas Aquinas
Church Fathe on today's Gospel
There are three ways in which it is possible for one not to teach the truth. First, on the side of the teacher, who may either not know, or not love the truth; guarding against this, they say, "We know that Thou art true."
Secondly, on the side of God, there are some who, putting aside all fear of Him, do not utter honestly the truth which they know respecting Him; to exclude this they say, "And teachest the way of God in truth."
Thirdly, on the side of our neighbour, when through fear or affection any one withholds the truth; to exclude this they say, "And carest for no man," for Thou regardest not the person of man. 
Anonymous Church Father, commentary on Matthew 22:16
INSTRUCTION ON THE FOLLY OF HUMAN RESPECT
Thou art a true speaker ' neither carest thou or any man, for thou dost not regard the person of men (Matt. 22, 16).
In this Christians ought especially to follow the Saviour, and not permit themselves to be deterred from piety, and the practice of virtue by fear or human respect. What matters it, what people think and say of us, if we only please God? He alone can truly benefit or injure us; therefore he alone is to be feared, as Christ says: Fear ye not them that kill the body, and are not able to kill the soul: but rather fear him that can destroy both soul and body in hell (Matt. 10, 28).
How foolishly, therefore, do those act who through fear of displeasing certain people, are afraid to serve God and practice piety; who even go so far as to commit sin; who in order to be pleasing to others, oppress innocent, poor and forsaken people; who adopt the latest and most scandalous fashions and customs; those who eat meat on days of abstinence, or give it to others; those who sing sinful songs, or what is still worse, do not hesitate to ridicule sacred things to give others occasion to laugh, or in order to be considered strong-minded. Implore God daily and sincerely, that He may take from you this vain fear of men and give you instead the fear of the Lord, which is the beginning of wisdom.
INSTRUCTION ON THE VALUE AND DIGNITY OF THE SOUL
Whose image is this? (Matt. 22, 20)
Thus we should often ask ourselves with respect to our soul, particularly when we are tempted to stain and ruin it by sin, Whose image is this? We should then say to ourselves, "Is it not the likeness of God, a likeness painted with the blood of Jesus, an image for which the Saviour gave His life? Should I defile and deform this by sin and voluptuousness? God forbid!" For in truth, what among all created things, except the angels, is more beautiful and more precious than a human soul, which is in the state of grace? "Could we," says St. Catherine of Sienna, "behold with our corporal eyes a soul in the state of grace, we would see with astonishment that it surpasses in splendor all flowers, all stars, the whole world, and there is probably no one who would not wish to die for such beauty." It is a dwelling of the Blessed Trinity! Christ did not give His life for all the goods and treasures of this earth, but for the human soul. And yet many estimate their soul at such little value that they sell it for a momentary pleasure, for a present not worth a penny! For shame! The body we estimate so highly that we take all pains to decorate it and keep it alive, and the soul the image and likeness of God, we take no pains to keep in the state of grace, and adorn with virtues! What folly!
Some say they are not bound by the doctrine, explained in Our Encyclical Letter [Mystici Corporis] of a few years ago, and based on the Sources of Revelation, which teaches that the Mystical Body of Christ and the Roman Catholic Church are one and the same thing. Some reduce to a meaningless formula the necessity of belonging to the true Church in order to gain eternal salvation. Others finally belittle the reasonable character of the credibility of Christian faith.
These and like errors, it is clear, have crept in among certain of Our sons who are deceived by imprudent zeal for souls or by false science. To them We are compelled with grief to repeat once again truths already well known, and to point out with solicitude clear errors and dangers of error. 
Pope Pius XII, Humani Generis
TWENTY‑SECOND SUNDAY AFTER PENTECOST                OUR DUTIES
PRESENCE OF GOD ‑ Teach me, O Lord, to fulfill all my duties in homage to Your sovereign Majesty.
MEDITATION:
    I.  The teachings contained in the Mass of this Sunday can be synthesized in the well-known statement of Jesus, which we read in the Gospel (Mt 22:15‑21) of this day.  "Render. . . to Caesar the things that are Caesar's, and to God, the things that are God's"; in other words, fulfill with exactness your duties toward God and toward your neighbor, by giving to each one his due. The Epistle (Phil 1:6‑11) presents St. Paul to us as a model of charity toward those whom God has confided to his care. "I have you in my heart," writes the Apostle to the Philippians, "for that in my bands and in the defense and confirmation of the Gospel, you all are partakers of my joy."  St. Paul is keenly aware of his spiritual paternity toward the souls he has begotten in Christ; even from a distance, he feels responsible for their success, is preoccupied with their perseverance in good, sustains them with his fatherly affection and wise counsels: "Being confident of this very thing, that He, who hath begun a good work in you, will perfect it unto the day, of Christ Jesus." He does not want them to be frightened because he is far away from them: he is nothing but a poor instrument, God alone is the true guide of souls, and He will complete the work begun. As for him, they may be certain that he does not cease to love them: "For God is my witness how I long after you all in the heart of Jesus Christ."
    St. John Chrysostom asserts that the heart of Paul is the heart of Christ because of the great love for souls which makes him so like the Redeemer; thus should it be possible to say of the heart of every apostle. When God has put us in contact with a soul and has asked us to occupy ourselves with it, we can no longer be disinterested; this soul is henceforth bound to ours, we should feel responsible for it, and bound to help it even to the end.
    After having spoken to us of the solicitude we should have for those confided to our care, the Epistle reminds us also of charity toward our neighbor in general: "That your charity may more and more abound in knowledge and in all understanding: that you may approve the better things." He speaks of a charity increasingly delicate in its understanding of the souls of others, adapting itself with an ever more refined tact to the mind, the demands, the tastes of others; a charity which must urge us, as St. Paul says, to "approve"‑ and therefore, to do ‑"the better things," in order that we "may be sincere and without offence unto the day of Christ."
    2.  The Gospel outlines, clearly and distinctly, the position of the Christian toward civil authority. The insidious question: "Is it lawful to give tribute to Caesar, or not?" gives Jesus the occasion to solve the problem of the relation between religious and civil duties. He asks for a coin and says: "Whose image and inscription is this? They say to Him : Caesar's. Then He saith to them: Render, therefore, to Caesar the things that are Caesar's, and to God the things that are God's."
    There is no opposition between the rights of political power and the rights of God, since "there would be no power unless it were given from above" (cf. Jn. 19:11): political authority, legitimately constituted, comes from God and must be respected as a reflection of the divine authority. This is precisely the reason why every Christian is bound to fulfill all the duties of a good citizen, and, consequently, must obey political authority, unless its orders are opposed to the law of God; for, in this case, it would no longer represent divine authority and then, as St. Peter says, "We ought to obey God rather than men" (Acts 5:29).
    We must not believe that because we are vowed to the apostolate or dedicated to religious works, we are, by this fact, dispensed from civic duties; on the contrary, even in this domain Catholics should be in the front rank. Emperors, kings, statesmen, soldiers, whom the Church honors as saints, tell us that sanctity is possible everywhere and for everyone, that it can be realized by those who dedicate themselves to the service of the State, because even here it is a question of serving God in His creatures.
    By telling us to render to Caesar what is Caesar's, Jesus teaches us to give to the State all that falls under its juris­diction, that is, everything that concerns temporal order and the public good. But Jesus does not stop there, He says more "Give to God what is God's." If the coin which bears the image of Caesar should be restored to Caesar, with much greater reason should our soul, which bears the image of God, be restored to God. To say that we must give our soul to God, is to say that we owe Him everything, because, as a matter of fact, we have received everything from Him. In this sense, to fulfill our duties toward our neighbor, toward our equals or our inferiors, toward our ecclesias­tical or civil superiors, is to fulfill our duty toward God; it is to restore to Him everything He has given us, by submitting our freedom to His law, by putting our will in the service of His will.
COLLOQUY:
    "O my God, since I am Yours for so many reasons, and have so many obligations to serve You, permit no longer that sin, or Satan, or the world, usurp, even in the slightest degree, that which is entirely Yours. But, if it please You, take complete and absolute possession of my being and of my life. Here I am, O my God, I give myself entirely to You, protesting to You that I do not wish to exist but for You, and that I do not want to think, or say, or do, or suffer anything but for Your love, today, tomorrow, and always" (St. John Eudes).
    "O my Lord Jesus, You gave Yourself to me and You ask only for my heart. But, O my Lord, what is this poor heart of mine when You are all? If my heart were worth a more than those of all the children of men combined, and all the love of the angels, and if its capacity were so great, that it could contain more than all the empyreal heaven, I would consecrate it wholly to You. It would be a very poor gift, and even almost nothing, to so great a Lord. But, how much more shall I not give You, and wholly repose in You, this little spark of a heart which I find in myself! Because this is for me a very great thing, that You should deign to keep my heart. Would it not be folly if I should consecrate it henceforth to some creature, when my God wills it for Himself? I do not want it to remain any longer in me, but to repose entirely in You, who have created it to praise You. It is better that I place my heart in eternal Joy, in divine majesty and in immense goodness, rather than in my frailty; that I place it in Your deity, rather than in my iniquity" (St. Bonaventure).
Three thousand six hundred and sixty churches dedicated to St. Martin in France alone, and well nigh as many in the rest of the world, bear witness to the immense popularity of the great thaumaturgus.  In the country, on the mountains, and in the depth of the forests; trees, rocks, and fountains, objects of superstitious worship to our pagan ancestors, received, and in many places still retain, the name of him who snatched them from the dominion of the powers of darkness to restore them to the true God.  Martin's mission was to complete the destruction of paganism, which had been driven from the towns by the martyrs but remained up to his time master of the vast territories removed from the influence of the cities.  It was Satan who said to St. Martin, 'I will beset thy path at every turn', and he kept his word.  He has kept his word to this very day; century after century, he has been working ruin around the glorious tomb which once attracted the whole world to Tours; in the sixteenth, he delivered to the flames, by the hands of the Huguenots, the venerable remains of the protector of France. 
Dom Gueranger, The Liturgical Year, St. Martin de Tours
But Poland left in a state of humiliating inferiority the clergy and people of the Graeco-Slavonic rite, who had taken shelter in her bosom; her politicians never could be true Catholics on an equality with their Latin brethren.  Soon, however, the Latin Poles were engaged in deadly combat with the Muscovites, and we know how the former were vanquished.  Historians lay down the causes of Poland's defeat; but they usually forget the principal one, which rendered it irremediable, that is the almost total destruction of the Union of Brzesc (Brest), the forced return to schism of the immense majority of the Ruthenians whom St. Josaphat had brought into the Catholic Church.  The consummation of this execrable work contributed more than political circumstances or military triumphs, to establish Russia's victory.  Poland, reduced to nine million Latins could no longer struggle against her former rival now become her stern ruler. 
Dom Gueranger, The Liturgical Year, Feast of St. Josaphat
    St. Josaphat, a native of Wladimir, in Vokhynia, and belonging to a noble family of Kuncewitcz, embraced monastic life in the Order of St. Basil the Great.  He always kept fresh the flower of chastity, which he had from his youth consecrated to Mary.  Commissioned in spite of his early age to govern the monastery of Bytene, he became shortly afterwards archmandrite of Vilna and lastly very much against  his wish archbishop of Polotzk, of the Ruthenian rite. 
    The apostolic zeal of the youthful Archbishop excited against him the hatred of hell.  Attacked at Vitebsk by the schismatic and heretical Orthodox, he was cruelly put to death in 1623, and obtained from God the conversion of his murderers.
"It is a sin to believe there is salvation outside the Catholic Church!"
Blessed Pope Pius IX
Let us pray through the intercession of St. Josaphat that the blood he willingly shed for the conversion of the Orthodox may bring about their return to the holy Catholic Church outside of which there is no salvation. 
St. Josaphat, Bishop and Martyr
Just as much as anyone hopes to receive from thee, so much will he surely obtain.  Besides this, whatever thou shalt promise anyone in My Name, that I shall certainly grant him… If anyone should praise and thank Me for the graces lavished upon thee, and ask for a favor, I will, in that love with which I have pre-elected thee from eternity, assuredly grant the plea, provided it is for the eternal welfare of the suppliant. 
Our Lord to St. Gertrude
The greater and more persistent your confidence in God, the more abundantly you will receive all that you ask. 
St Albert the Great
I adore You, O Precious Blood of Jesus, flower of creation, fruit of virginity, ineffable instrument of the Holy Spirit, and I rejoice at the thought that You came from the drop of virginal blood on which eternal Love impressed its movement; You were assumed by the Word and deified in His person. I am overcome with emotion when I think of Your passing from the Blessed Virgin's heart into the heart of the Word, and, being vivified by the breath of the Divinity, becoming adorable because You became the Blood of God.
I adore You enclosed in the veins of Jesus, preserved in His humanity like the manna in the golden urn, the memorial of the eternal Redemption which He accomplished during the days of His earthly life. I adore You, Blood of the new, eternal Testament, flowing from the veins of Jesus in Gethsemane, from the flesh torn by scourges in the Praetorium, from His pierced hands and feet and from His opened side on Golgotha. I adore You in the Sacraments, in the Eucharist, where I know You are substantially present....
I place my trust in You, O adorable Blood, our Redemption, our regeneration. Fall, drop by drop, into the hearts that have wandered from You and soften their hardness.
O adorable Blood of Jesus, wash our stains, save us from the anger of the avenging angel. Irrigate the Church; make her fruitful with Apostles and miracle-workers, enrich her with souls that are holy, pure and radiant with divine beauty.
St. Albert the Great, A meditation on the Precious Blood of Jesus
It is by the path of love, which is charity, that God draws near to man, and man to God. But where charity is not found, God cannot dwell. If, then, we possess charity, we possess God, for "God is Charity" (1John 4:8). 
St. Albert the Great
Prayer of St. Gertrude the Great for the Poor Souls in Purgatory
"Eternal Father, I offer Thee the most Precious Blood of Jesus, with all the Masses being said all over the world this day, for the Souls in Purgatory."
Our Lord showed St. Gertrude a vast number of souls leaving Purgatory and going to Heaven as a result of this prayer, which the Saint was accustomed to say frequently during the day.
Prayers of St. Gertrude the Great
"It was revealed to St. Gertrude that reading and meditating on the Passion are far more useful and efficacious than all other spiritual exercises. As those who handle flour cannot avoid contracting some whiteness, so no one, however imperfect his devotion may be, can occupy his mind with the Passion of Our Lord without receiving some benefit therefrom. And, however cold and lukewarm our devotion, Our Lord will look upon us with greater long-suffering and mercy if we never omit the memory of His Passion." 
St. Gertrude the Great, Tan Books
First Prayer: O Lord Jesus Christ, the eternal sweetness and jubilee of those who love Thee, remember all the presentiment of grief Thou didst endure from the moment of Thy conception, and especially at Thy entrance into Thy Passion, when Thou didst say: "My soul is sorrowful even unto death"; and when, by reason of Thy overwhelming dread and anguish and grief, Thou didst sweat, as it were, drops of Blood trickling down upon the ground. Remember all the bitterness of Thy sorrow when Thou wast seized upon by the Jews, accused by false witnesses, condemned by Thy three judges, buffeted and smitten, spit upon, scourged, and crowned with thorns. O sweetest Jesus, I implore Thee, by all the sorrows and insults Thou didst endure, have mercy on me, a sinner. Amen.
Second Prayer: O Jesus, paradise of the delights of God, remember now all the dread and sorrow Thou didst endure when Pilate pronounced on Thee sentence of death; when the godless soldiers laid the heavy Cross on Thy Shoulders, and fastened Thee thereon with rude and blunted nails, cruelly stretching Thy sacred Limbs so that all Thy Bones could be numbered; I beseech Thee, vouchsafe to pronounce a merciful sentence on me in the day of judgment, and deliver me from all punishment. Amen.
Third Prayer: O Jesus, Heavenly Physician, remember now the languor and the pain Thou didst endure when lifted upon the Cross, when all Thy Bones were out of joint, so that no sorrow was like to Thy sorrow, because, from the sole of Thy Foot to the top of Thy Head, there was no soundness in Thee; when, notwithstanding, Thou didst put away the feeling of all Thine own griefs, and pray to Thy Father for Thine enemies, saying: "Father, forgive them; for they know not what they do." By this, Thy charity and Thy mercy, grant that the dignity and worth of Thy Passion may be the entire remission of all my sins. Amen.
Fourth Prayer: O Jesus, mirror of the eternal splendor, remember now that sadness which filled Thy Heart when Thou didst behold in the mirror of Thy Divinity the reprobation of the wicked and the multitude of the lost; and by the depth of the compassion Thou didst show to the robber on the cross, saying: "This day thou shalt be with Me in paradise," I beseech Thee, O compassionate Jesus, show me Thy mercy in the hour of my death. Amen.
Fifth Prayer: O Jesus, King most beloved, remember now the mournful desolation of Thy Heart, when Thou, forsaken by all, wert mocked as Thou didst hang on the Cross; when Thou didst find none to comfort Thee but Thy beloved Mother, who stood by Thy Cross to the last, and whom Thou didst commend to Thy disciple, saying: "Woman, behold thy son," and to the disciple: "Behold thy Mother." I beseech Thee, O compassionate Jesus, by that sword of anguish which then pierced her heart, do Thou condole with me and console me in all my tribulations. Amen.
Sixth Prayer: O Jesus, inexhaustible fountain of pity, remember now that bitterness which Thou didst endure when, Thy strength being exhausted and Thy sacred Body dried up, Thou didst feel that burning thirst, and hadst not one drop of water to cool Thy parched Tongue, but only vinegar upon hyssop; I beseech Thee that Thou wouldst extinguish in me the thirst of carnal concupiscence and worldy delights. Amen.
Seventh Prayer: O Jesus, mighty King, remember now that when Thou wast plunged into the bitter waters of Thy Passion until they closed over Thy Head, Thou wast forsaken and didst cry out with a loud voice, saying: "My God, My God, why hast Thou forsaken Me?" By this Thine anguish and dereliction, I beseech Thee, forsake me not in my last agony. Amen.
Eighth Prayer: O Jesus, strong Lion of the tribe of Juda, remember now the sorrow and the woe Thou didst endure, when all the forces of Thy Heart and of Thy Flesh failed Thee utterly, and Thou didst bow Thy Head and cry: "It is consummated." By this Thine anguish and Thy woe, have mercy on me at the end of my life, when my soul shall be troubled, and my spirit disquieted within me. Amen.
Ninth Prayer: O Jesus, splendor of the Father's glory and figure of His substance, remember now that earnest commendation with which Thou didst commend Thy Spirit to the Father, saying: "Father, into Thy Hands I commend My Spirit!" and when, Thy most sacred Body being torn and Thy Heart broken, and all the bowels of Thy compassion laid bare for our Redemption, Thou didst give up Thy Spirit; I beseech Thee, the Life of all that live, to submit to death, that Thou wouldst mortify and kill in my soul whatever is displeasing to Thee. Amen.
Tenth Prayer: O Jesus, true and fruitful Vine, remember now the lavish, the excessive profusion wherewith Thou didst shed Thy Precious Blood, when on the Cross Thou didst tread the winepress alone, and wast crushed as a cluster of ripe grapes; when Thou didst give us water and Blood from Thy pierced Side, so that not one drop remained in Thy Heart. Then wast Thou hung up as a bundle of myrrh, and Thy tender Flesh grew pale, and Thy moisture was all dried up within Thee, and the marrow of Thy bones consumed. By this Thy most bitter Passion, and by the shedding of Thy most Precious Blood, I beseech Thee, O most loving Jesus, wash my soul at the hour of my death with the water which flowed from Thy Sacred Side, and adorn it with comeliness in the Precious Blood of Thy sweetest Heart, and render it acceptable in Thy Sight in the fragrant odor of Thy Divine Love. Amen.
Oblation:  Accept, O compassionate Jesus, this my prayer with that exceeding love wherewith Thou didst endure a bitter Death, and didst offer it, together with all the fruit of Thy most sacred Humanity, to God the Father on the day of Thine ascension; and by the depth of those Wounds which scarred Thy flesh and pierced Thy Hands and Feet and Heart, I beseech Thee, raise me up, who am steeped and sunk in sin, and render me well-pleasing to Thee in all things. Amen.
I come to You, O most loving Jesus, whom I have loved, sought, and always desired.  I come because of Your sweetness, Your pity, Your charity.  I come with all my heart, all my soul, all my strength.  I follow You because You have called me.  Do not reject me, but treat me with forbearance, in accordance with Your great mercy. 
St. Gertrude the Great
Prayer of St. Gertrude to the Blessed Virgin Mary
Most chaste Virgin Mary, by the spotless purity with which you prepared for the Son of God a dwelling of delight in your virginal womb, I beg of you to intercede for me that I may be cleansed from every stain. Most humble Virgin Mary, by that most profound humility by which you deserved to be raised high above all the choirs of angels and saints, I beg of you to intercede for me that all my sins may be expiated. Most amiable Mary, by that indescribable love that united you so closely and inseparably to God, I beg of you to intercede for me that I may obtain an abundance of all merits. Amen. 
St. Gertrude the Great, 1256-1301
St. Martin, who occupied the Roman See from 649 to 655, incurred the enmity of the Byzantine court by his energetic opposition to the Monothelite heresy, which had obtained a strong hold in the East. The Exarch Olympius went so far as to endeavour to procure the assassination of the Pope as he stood at the altar in the church of St. Mary Major; but the would-be murderer was miraculously struck blind, and his master refused to have any further hand in the matter.  His successor had no such scruples; he secured the person of Martin by a stratagem, and conveyed him on board a vessel bound for Constantinople. After a three months' voyage, the island of Naxos was reached, where the Pope was kept in confinement for a year, and finally, in 654, brought in chains to the imperial city. Stripped of his pontifical garments, he was dragged naked through the streets by an iron collar fastened to his neck, an executioner preceding him with drawn sword, to show that he was condemned to die. No words of complaint escaped his lips. 'I hope,' he said, 'that God, when He shall have taken me out of this world, will bring my persecutors to repentance.' His sentence was  commuted to banishment to the Tauric Chersonese, where he lingered on for four months in sickness and starvation, till God released him by death on the 12th November, 655. 
Rev. Henry Bowden, Lives of Saints
To be open to the truth of real things and to live by perceived truth: these constitute the essence of the moral person.  Only one who sees and affirms this objective reality is also able to recognize how deeply the ruin penetrates that an unchaste heart allows to happen within itself. 
Josef Pieper, Brief Reader on the Virtues of the Human Heart
The Hermeneutics of Continuity/Discontinuity
and other "highly reductive ideological views"
Bishop Guido Marini, Pope Benedict's Master of Ceremonies, said that there is no difference in the traditional Church before Vatican II (1962-1965) and after. He stated: "Terms like 'preconciliar' and 'postconciliar,' belong to an outdated language, and if they are used with the intention of indicating a discontinuity in the Church's journey, I maintain that they are mistaken and typical of highly reductive ideological views."  
Cardinal Kasper teaches:
… today we no longer understand ecumenism in the sense of a return, by which the others would 'be converted' and return to being Catholics. This was expressly abandoned by Vatican II.
Cardinal Walter Kasper, Prefect of Vatican Council for Promoting Christian Unity, Feb. 26, 2001
The Church Infallibly Teaches:
… the union of Christians can only be promoted by promoting the return to the one true Church of Christ of those who are separated from it.
Pope Pius XI, Mortalium Animos
The Holy Roman Church firmly believes, professes and preaches that all those who are outside the Catholic Church, not only pagans but also Jews or heretics and schismatics, cannot share in eternal life and will go into the everlasting fire which was prepared for the devil and his angels, unless they are joined to the Church before the end of their lives….
Pope Eugene IV, Council of Florence, Cantate Domino
Cardinal Kasper teaches:
The old theory of substitution (of the New Covenant for the Old) is gone since the Second Vatican Council… Therefore, the Church believes that Judaism, that is, the faithful response of the Jewish people to God's irrevocable covenant, is salvific for them, because God is faithful to his promises. 
Cardinal Walter Kasper, Prefect of Vatican Council for Promoting Christian Unity, May 1, 2001
The Church Infallibly Teaches:
<![if !vml]>
<![endif]>The Holy Roman Church firmly believes, professes and teaches that the matter pertaining to the law of the Old Testament, of the Mosaic Law, which are divided into ceremonies, sacred rites, sacrifices, and sacraments, because they were established to signify something in the future, although they were suited to divine worship at that time, after our Lord's coming had been signified by them, ceased, and the sacraments of the New Testament began; and that whoever, even after the passion, placed hope in these matters of the law and submitted himself to them as necessary for salvation, as if faith in Christ could not save without them, sinned mortally. Yet it does not deny that after the passion of Christ up to the promulgation of the Gospel they could have been observed until they were believed to be in no way necessary for salvation; but after the promulgation of the Gospel it asserts that they cannot be observed without the loss of eternal salvation. All, therefore, who after that time (the promulgation of the Gospel) observe circumcision and the Sabbath and the other requirements of the law, it declares alien to the Christian faith and not in the least fit to participate in eternal salvation, unless someday they recover from these errors.
Pope Eugene IV, Council of Florence, Cantate Domino
The Church of Christ, therefore, is one and the same for ever; those who leave it depart from the will and command of Christ, the Lord - leaving the path of salvation they enter on that of perdition. "Whosoever is separated from the Church is united to an adulteress. He has cut himself off from the promises of the Church, and he who leaves the Church of Christ cannot arrive at the rewards of Christ....He who observes not this unity observes not the law of God, holds not the faith of the Father and the Son, clings not to life and salvation" (S. Cyprianus, De Cath. Eccl. Unitate, n. 6)…..
    The Church, founded on these principles and mindful of her office, has done nothing with greater zeal and endeavour than she has displayed in guarding the integrity of the faith. Hence she regarded as rebels and expelled from the ranks of her children all who held beliefs on any point of doctrine different from her own. The Arians, the Montanists, the Novatians, the Quartodecimans, the Eutychians, did not certainly reject all Catholic doctrine: they abandoned only a certain portion of it. Still who does not know that they were declared heretics and banished from the bosom of the Church? In like manner were condemned all authors of heretical tenets who followed them in subsequent ages. "There can be nothing more dangerous than those heretics who admit nearly the whole cycle of doctrine, and yet by one word, as with a drop of poison, infect the real and simple faith taught by our Lord and handed down by Apostolic tradition" (Auctor Tract. de Fide Orthodoxa contra Arianos).
    The practice of the Church has always been the same, as is shown by the unanimous teaching of the Fathers, who were wont to hold as outside Catholic communion, and alien to the Church, whoever would recede in the least degree from any point of doctrine proposed by her authoritative Magisterium. Epiphanius, Augustine, Theodore:, drew up a long list of the heresies of their times. St. Augustine notes that other heresies may spring up, to a single one of which, should any one give his assent, he is by the very fact cut off from Catholic unity. "No one who merely disbelieves in all (these heresies) can for that reason regard himself as a Catholic or call himself one. For there may be or may arise some other heresies, which are not set out in this work of ours, and, if any one holds to one single one of these he is not a Catholic" (S. Augustinus, De Haeresibus, n. 88)….  
Pope Leo XIII, Satis Cognitum
Knowest thou what it is to love Me in truth?  It is to realize that everything which is not pleasing to Me is a lie.
Our Lord, Jesus Christ to St. Teresa of Avila
If the Son of God will have all men to be saved, how is it that so many suffer the torments of Hell?  I answer in one word: They wish it.  He sends preachers of His Gospel to all parts of the world to proclaim: "He who believes, and is baptized, shall be saved."  And if any are unwilling to enter on this way, they perish by their own fault and not by the lack of will on the part of the Redeemer.  For an hour the perfidious Jews exulted over Christ in His sufferings; Judas for an hour enjoyed the price of his avarice; for an hour Pilate gloried that he had regained the friendship of Herod and not lost the friendship of Caesar.  But for nearly two thousand years they have all been suffering the torments of Hell; and their cries of despair will be heard forever and ever. 
St. Robert Bellarmine
What could be more barbarous than the killing of an unborn child, by the choice of its mother, through the agency of a doctor and with the blessing of the state? 
Joseph Sobran
The Church is One, Holy, Catholic Apostolic, and Roman : unique, the Chair founded on Peter.  Outside her fold is to be found nether the true faith nor eternal salvation, for it is impossible to have God for a Father if one does not have the Church for a Mother. 
Blessed Pope Pius IX, Singulari Quidem
The belief in the existence of one God who rewards and punishes, known by natural reason, is the necessary precondition for receiving the virtue of supernatural faith.
But without faith it is impossible to please God. For he that cometh to God, must believe that he is, and is a rewarder to them that seek him. Heb. 1, 6
Of course charity itself is impossible without faith and hope. Could anyone love a man if he did not believe it was possible to be or become his friend? Or if he despaired of ever gaining his friendship? So it is with man in relation to God as He is in Himself. Man must believe it is possible to attain a perfect friendship with God in Heaven and he must hope to attain this friendship through God's power before he can love God as his supernatural destiny.
Fr. Walter Farrell, O. P. and Fr. Marin Healy, My Way of Life – The Summa Simplified for Everyone
Let us begin with regulating the understanding and the will.
The primary means is prayer, by which is sought the light of the Holy Ghost… The second is a persistent application to the serious and diligent examination of every object in order to distinguish the good from the evil. A judgment is formed which is not in accord with external appearances, the testimony of our senses, or the standards of a corrupt world, but which is conformable to the judgment of the Holy Ghost. Then we shall clearly see that what the world pursues with such eagerness and affection is mere vanity and illusion; that ambition and pleasure are dreams which, once shattered, are succeeded by sorrow and regret; that ignominy is a subject of glory, and sufferings a source of joy; that nothing can be more noble or approach the Divine nature more closely than to forgive those who injure us, and to return good for evil. We shall see clearly that it is greater to despise the world than to have it at one's command; that it is infinitely preferable to submit to the humblest of men for God's sake, than to command kings and princes; that an humble knowledge of ourselves surpasses the deepest sciences; in short, that greater praise is due to him who curbs his passion on the most trivial occasions, than to him who conquers the strongest cities, defeats entire armies, or even works miracles and raises the dead to life. 
Dom Lorenzo Scupoli, The Spiritual Combat
By their fruit you shall know them!
Attendance at Mass. - A 1958 Gallup Poll reported that three in four Catholics attended church on Sundays. A recent study by the University of Notre Dame found that only one in four now attend. Only 10 percent of lay religious teachers now accept church teaching on contraception. Fifty-three percent believe a Catholic can have an abortion and remain a good Catholic. Sixty-five percent believe that Catholics may divorce and remarry. Seventy-seven percent believe one can be a good Catholic without going to mass on Sundays. By one New York Times poll, 70 percent of all Catholics in the age group 18 to 44 believe the Eucharist is merely a "symbolic reminder" of Jesus.
Religious Orders - For religious orders in America, the end is in sight. In 1965, 3,559 young men were studying to become Jesuit priests. In 2000, the figure was 389. With the Christian Brothers, the situation is even more dire. Their number has shrunk by two-thirds, with the number of seminarians falling 99 percent. In 1965, there were 912 seminarians in the Christian Brothers. In 2000, there were only seven. The number of young men studying to become Franciscan and Redemptorist priests fell from 3,379 in 1965 to 84 in 2000. 
Catholic schools - Almost half of all Catholic high schools in the United States have closed since 1965. The student population has fallen from 700,000 to 386,000. Parochial schools suffered an even greater decline. Some 4,000 have disappeared, and the number of pupils attending has fallen below 2 million -- from 4.5 million. Though the number of U.S. Catholics has risen by 20 million since 1965, Jones' statistics show that the power of Catholic belief and devotion to the Faith are not nearly what they were. 
Patrick Buchanan comments on Kenneth Jones, Index of Leading Catholic Indicators: The Church Since Vatican II
"This profession of faith is very simple. This is what it is: to believe that there is nothing finer, deeper, more lovable, more reasonable, braver and more perfect than Jesus Christ; and, not only there is nothing, but, I tell myself with a jealous love, there cannot be anything." 
Feodor Dostoevsky
Why do most not receive the message of Our Lady of LaSalette?  Because, they are not her "people"!
It was 1846 and France was suffering social and political upheaval. Catholic churches had been abandoned and the Sacraments neglected… On the eve of the Feast of Our Lady of Sorrows, eleven-year-old Maxim Giraud and fourteen-year-old Melanie Mathieu beheld a luminous sphere, radiating like the sun, curiously unfolding before their eyes. Gradually they made out a woman seated with her face in her hands, weeping. She slowly arose and crossed her arms on her breast, her head some what inclined.
The children were drawn immediately to the lady's tears that adorned her face like perfectly cut diamonds glimmering the in the sun's rays. Her dynamic features were framed delicately in a white-satin headdress, on which rested a crown of roses, a bouquet in all shades of reds and pinks. A crucifix with pincers on one end and a hammer on the opposite end hung over her satin shawl, which was lined with more roses. The Madonna wore a long ivory dress embroidered in precious pearls and a yellow apron tied neatly to her waist. Wearing pearl slippers that peeked out from underneath her satin robe, she sheltered herself atop a bouquet of roses. "Come to me, my children," she tenderly addressed the two who stood afar, motionless. "Be not afraid. I am here to tell you something of the greatest importance." As soon as they were in touching distance of her, she began to speak with the urgency of an ending world: "If my people will not obey, I shall be compelled to lose my Son's arm. It is so heavy, so pressing that I can no longer restrain it." She told the children that her Son was especially concerned that people were not keeping holy Sunday, and that religion had lost its place in their country…. "You will make this known to all my people; you will make this known to all my people," she repeated to them.
Our Lady of LaSalette
Obedience to the will of God was, for the Jews, at all times, an impregnable rampart against all their enemies; it turned a Saul, a persecutor of the Church, into a Paul, the Apostle of the Gentiles; it turned the early Christians into martyrs, for martyrdom does not consist in suffering and dying for the Faith; it consists, rather, in the conformity of the martyr's will to the Divine will, which requires such a kind of death and not another. 
Fr. Michael Mueller, C.SS.R., Prayer, The Key to Salvation
The ultimate social goal of the homosexual movement is the transformation of key social structures and our entire culture according to the pattern dictated by the homosexual ideology, to satisfy the individual needs of the homosexuals themselves – chiefly their sexual needs, but also the corporate needs of their organizations.  Although not publicized widely, and normally unacknowledged, the foundation for a political and juridical system in which homosexuality is accepted as an alternative and legitimate lifestyle, and in which homosexual acts are not merely tolerated but positively accepted, requires the structural transformation of society and a profound alteration in the consciousness of its members…There is no question that one of the top priorities of the homosexual movement is to force a "redefinition" of the American family away from the traditional husband-wife-children model to a more "functional" definition based on the notion of economic unit or any other basis that does not require heterosexuality as its foundation.  The notion that a family must involve persons of both sexes is profoundly inimical to the homosexual movement.  By their own definition, heterosexual relations are beyond their reach; thus the traditional family as a normative institution for human relations is unacceptable.
Rev. Enrique Rueda, The Homosexual Network
Looming ahead is the Great Apostasy predicted by St. Paul to the Thessalonians when the Antichrist, "the man of sin" (2 Thess. 2: 3), will engage mankind in wholesale flight from God and reality.  From him can be expected perfect acquiescence to the three temptations by which the devil failed to seduce Christ in the desert.  Turning stones into bread by substituting false teaching for true doctrine, he will confirm the satanic religion by false miracles, (that is "lying wonders"), as it were casting himself down from the pinnacle of the temple to be borne up by spiritual hands.  Given "all the kingdoms of the world and all their glory" (Matt. 4: 8-9) in return for falling down and adoring Satan, Antichrist the King will establish a universal empire in the fallen angel's name.  Aping as closely as possible Christ's consummation of the law and the prophets, he will capitulate in his person the whole of the world's apostatic tradition. 
Solange Strong Hertz, Apostasy in America
Therefore it is Our duty to help men and nations who are in distress, and to eliminate all present and threatening evils [...] If ever anything deters, prevents, or delays any one of us from performing this task, what a disgraceful sin he will commit! Therefore, omit no watchfulness, diligence, care, and effort, in order to "guard the deposit" of Christ's teaching whose destruction has been planned, as you know, by a great conspiracy. 
Pope Pius VII, Diu Satis, On the Return to Gospel Principles
This message is born from our historic experience. It is as a specialist in humanity that we bring to this Organization the approval of our more recent predecessors, the entire Catholic episcopate, and our own, convinced as we are that this Organization represents the obligatory pathway for modern civilization and world peace….. No more war, never again war. Peace, it is peace that must guide the destinies of people and of all mankind.
Pope Paul VI, October 4, 1965, Address to the United Nations
"Peace" requires a New World Order political organization with "real teeth"!
In the face of the unrelenting growth of global interdependence, there is a strongly felt need for….reform of the United Nations Organization….. so that the concept of the family of nations can acquire real teeth…. for the development of all peoples in solidarity. To manage the global economy…. to bring about integral and timely disarmament, food security and peace….. for all this, there is urgent need of a true world political authority.
Pope Benedict XVI, Caritas In Veritate, July 28, 2009
Religious Liberty is the Keystone for "peace" in the New World Order Religion
Human rights, of course, must include the right to religious freedom, understood as the expression of a dimension that is at once individual and communitarian….. It is inconceivable, then, that believers should have to suppress a part of themselves – their faith – in order to be active citizens….. The full guarantee of religious liberty cannot be limited to the free exercise of worship, but has to give due consideration to the public dimension of religion, and hence to the possibility of believers playing their part in building the social order. …..
My presence at this Assembly is a sign of esteem for the United Nations, and it is intended to express the hope that the Organization will increasingly serve as a sign of unity between States and an instrument of service to the entire human family…..The United Nations remains a privileged setting in which the Church is committed to contributing her experience "of humanity", developed over the centuries among peoples of every race and culture, and placing it at the disposal of all members of the international community. This experience and activity, directed towards attaining freedom for every believer, seeks also to increase the protection given to the rights of the person. Those rights are grounded and shaped by the transcendent nature of the person, which permits men and women to pursue their journey of faith and their search for God in this world. Recognition of this dimension must be strengthened if we are to sustain humanity's hope for a better world and if we are to create the conditions for peace, development, cooperation, and guarantee of rights for future generations….. That is why the Church is happy to be associated with the activity of this distinguished Organization, charged with the responsibility of promoting peace and good will throughout the earth. Dear Friends, I thank you for this opportunity to address you today, and I promise you of the support of my prayers as you pursue your noble task.
Pope Benedict XVI, Address to the United Nations, April 18, 2008
"The Novelty of "Religious Liberty" is elevated to a "Catholic Church….. Demand"
The Catholic Church firmly advocates that due recognition be given to the public dimension of religious adherence. In an overwhelmingly pluralist society, this demand is not unimportant. Care must be taken to guarantee that others are always treated with respect. Mutual respect grows only on the basis of agreement on certain inalienable values that are proper to human nature, in particular the inviolable dignity of every single person. Such agreement does not limit the expression of individual religions; on the contrary, it allows each person to bear witness explicitly to what he believes, not avoiding comparison with others.
Pope Benedict XVI to the Muslims in Germany, 10-2011
And what good is a New World Order political power without a "Central World Bank"?
Vatican calls for "global authority" on economy and a "central world bank"
By Philip Pullella; Mon Oct 24, 2011
The Vatican called on Monday for the establishment of a "global public authority" and a "central world bank" to rule over financial institutions that have become outdated and often ineffective in dealing fairly with crises. The document from the Vatican's Justice and Peace department should please the "Occupy Wall Street" demonstrators and similar movements around the world who have protested against the economic downturn.
"Towards Reforming the International Financial and Monetary Systems in the Context of a Global Public Authority," was at times very specific, calling, for example, for taxation measures on financial transactions. "The economic and financial crisis which the world is going through calls everyone, individuals and peoples, to examine in depth the principles and the cultural and moral values at the basis of social coexistence," it said….. It called for the establishment of "a supranational authority" with worldwide scope and "universal jurisdiction" to guide economic policies and decisions.
Peace Plan of Our Lady of Fatima
1. WHAT DOES THE MESSAGE OF FATIMA REQUEST?
At Fatima Our Lady said that God wished to establish in the world devotion to the Immaculate Heart of Mary. Our Lady said that many souls would be saved from Hell and the annihilation of nations averted if, in time, devotion to Her Immaculate Heart were established principally by these two means:
A) the Consecration of Russia to the Immaculate Heart of Mary by the Pope together with the world's bishops in a solemn public ceremony,
B) the practice or receiving Holy Communion (and other specific devotions of about 1/2 hour in duration) in reparation for the sins committed against the Blessed Virgin Mary, on the first Saturdays of five consecutive months--a practice known to Catholics as "the First Saturday" devotion.
2. HAVE THESE REQUESTS OF OUR LADY OF FATIMA BEEN HONORED?
No, not entirely. A number of the Faithful practice the "First Saturday" devotion, but Russia has yet to be consecrated to the Immaculate Heart of Mary in a solemn public ceremony conducted by the Pope together with the world's Catholic bishops.
In 1982 the last Fatima seer, Lucia, when a cloistered nun living in Coimbra, Portugal, was asked if an attempted consecration by Pope John Paul II had sufficed. She replied that it did not suffice, because Russia was not mentioned and the world's bishops had not participated. Another attempted consecration in 1984 likewise did not mention Russia or involve the participation of many of the world's bishops, and Sister Lucia stated immediately afterwards that this consecration, too, had failed to meet Our Lady's requirements.
3. WHAT DOES THE MESSAGE OF FATIMA WARN?
It warns that if the requests of Our Lady of Fatima for the Consecration of Russia and the First Saturday devotion are not honored, the Church will be persecuted, there will be other major wars, the Holy Father will have much to suffer and various nations will be annihilated. Many nations will be enslaved by Russian militant atheists. Most important, many souls will be lost.
4. WHAT DOES THE MESSAGE OF FATIMA PROMISE?
The Message of Fatima promises that if the requests of Our Lady of Fatima are carried out "My Immaculate Heart will triumph. The Holy Father will Consecrate Russia to Me, which will be converted, and a period of peace will be granted to mankind."
At last, admission by Pope Francis that the purpose of ecumenical dialogue is to make Catholics Lutherans!
Many members of our communities yearn to receive the Eucharist at one table, as the concrete expression of full unity. We experience the pain of those who share their whole lives, but cannot share God's redeeming presence at the Eucharistic table. We acknowledge our joint pastoral responsibility to respond to the spiritual thirst and hunger of our people to be one in Christ. We long for this wound in the Body of Christ to be healed. This is the goal of our ecumenical endeavours, which we wish to advance, also by renewing our commitment to theological dialogue.
Pope Francis and "Bishop" Munib A Younan, President of the Lutheran World Federation, joint statement, Oct 31, 2017
"The New Evangelization" – Without a foundation of repentance, prayer, and penance, there will be no fruit, for "The Interior Life is the Soul of the Apostolate."
The purpose of the struggle against our passions, the practice of the virtues, recollection, prayer, the practice of the presence of God, and frequent reception of the Sacraments, is to foster union with God and the growth of charity.  The interior life is a secret hearth where a soul in contact with God is inflamed with His love, and precisely because it is inflamed and forged by love, it becomes a docile instrument which God can use to diffuse love into the hearts of others.  Therefore, it is very important to recall frequently this great principle: the interior life is the soul of the apostolate.  A deep interior life therefore, from it will spring a fruitful apostolate, a true sharing in Christ's work of saving souls… Where there is little or no interior life, charity and friendship with God are in danger of being extinguished; and if this interior flame be extinguished, then the apostolate will be emptied of its substance and reduced to mere external activity which may make a great noise, but will not bring forth and fruit. 
Fr. Gabriel of St. Mary Magdalen, O.C.D., Divine Intimacy
There is no difference between this example of Jewish "truth" and Novus Ordo theology and praxis?
Lying is now a "heightened version of reality" because it may be "true in a higher metaphysical sense"!?
. . . . What anti-Semites keep insisting are "fake Holocaust stories" need to be seen in a more positive light as "the truth of imagination," to quote the famous phrase of the poet John Keats. If something is perceived as true by the mind, though strictly speaking it may not have happened, and if that event is subsequently seen as a living truth in the minds of millions of other good people who have been exposed to that same heightened version of reality, then it must on no account be dismissed as a "lie" ( . . . ) All such stories are true in a higher metaphysical sense, and to deny them is a sacrilege ( . . . ) We have a sacred obligation to the six million who died under the tyranny of the evil Nazi dictator Adolf Hitler to remember the dead and dismiss with contempt all attempts to deny the Holocaust by referring to "fake Holocaust stories." I repeat: there is no such thing as a fake Holocaust story. Every Holocaust story is true, 100 per cent true, whether it happened or not. ( . . . ) In the sublime words of Elie Wiesel: "In literature, certain things are true though they didn't happen, while others are not true, even if they did happen."
Seymour Zak, defending "fake Holocaust stories" after Herman Rosenblat's holocaust story, An Angel at the Fence, was publically exposed as a pure fabrication.  Hollywood was unmoved.  The film production based upon the book proceeded as planned.
Dogma is the proximate Rule of Faith. Deny this Catholic truth and this is what follows. So now we have an infallibly infallible magisterium and a infallibly non-infallible magisterium! The pope become the revealer of truth rather than its divine appointed guardian! 
This false accusation railed against Pope Francis, claiming that he is teaching or prompting heresy in part of his Ordinary Magisterium is in effect a denial of the one of the essential truths behind the teaching authority of the Roman Pontiff, who is granted Divine assistance which prevents him from erring in matters of faith and morals, even when teaching non-infallibly.
So while there may be certain deficiencies present in the Ordinary Magisterium, the faithful are still required to submit their will and intellect to its higher prudential judgment by giving religious assent, and such deficiencies can never fall into error in matters of faith and morals through the promise of Divine assistance accorded to even these non-infallible pronouncements.
Emmett O'Regan, published by Vatican Insider
"There are two things that kill the soul, despair and perverted hope." 
St. Augustine
This is the goal of those secret sects which have come forth from the darkness to destroy and desolate both the sacred and civil commonwealth. [.....] "It is an act of great piety to expose the concealments of the impious and to defeat there the devil himself whose slaves they are" (Pope Leo the Great).  Therefore we entreat you to use every means of revealing to your faithful people the many kinds of plots, pretense, errors, deceit and contrivance which are enemies use.[....] Also exhort them unceasingly to flee from the sects and societies of the impious as from the presence of the Serpent earnestly avoiding everything which is at variance with the wholeness of the faith, religion and morality. 
Blessed Pius IX, Qui Pluribus, (Against the Secret Societies)
"The (natural) moral virtues can make a man honest and virtuous, and can regulate his actions according to reason, but they can in no way bring him into friendship with God or even give him the possibility of meriting eternal life."
Fr. Gabriel of St. Mary Magdalen, Divine Intimacy
[.....] Moreover, because the preceding errors and many others are contained in the books or writings of Martin Luther, we likewise condemn, reprobate, and reject completely the books and all the writings and sermons of the said Martin, whether in Latin or any other language, containing the said errors or any one of them; and we wish them to be regarded as utterly condemned, reprobated, and rejected. We forbid each and every one of the faithful of either sex, in virtue of holy obedience and under the above penalties to be incurred automatically, to read, assert, preach, praise, print, publish, or defend them. They will incur these penalties if they presume to uphold them in any way, personally or through another or others, directly or indirectly, tacitly or explicitly, publicly or occultly, either in their own homes or in other public or private places. Indeed immediately after the publication of this letter these works, wherever they may be, shall be sought out carefully by the ordinaries and others [ecclesiastics and regulars], and under each and every one of the above penalties shall be burned publicly and solemnly in the presence of the clerics and people. As far as Martin himself is concerned, O good God, what have we overlooked or not done? What fatherly charity have we omitted that we might call him back from such errors? [.....]
Pope Leo X, Exsurge Domine, condemnation of Martin Luther and all those who embrace his heresy.
The world is governed by very different personages to what is imagined by those who are not behind the scenes....  That mighty revolution which is at the moment preparing in Germany, and which will be, in fact, a second and greater Reformation, and of which so little is yet known in England, is developing entirely under the auspices of the Jews. [.....]
One can trace Jewish influence in the last revolutionary explosions in Europe (1848). An insurrection has taken place against traditions, religion and property, the destruction of the semitic principle, the extirpation of the Jewish religion, either under its Mosaic or Christian form, the natural equality of men and the annulment of property are proclaimed by the secret societies which form the provisional government, and men of Jewish race are found at the head of each of them. The People of God cooperate with atheists, the most ardent accumulators of property link themselves with communists. The select and chosen race walks hand in hand with the scum of the lower castes of Europe. And all this because they wish to destroy this Christianity which owes them its very name and whose tyranny they can no longer bear. 
Benjamin Disraeli, Jewish Prime Minister of Great Britain, from Vicomte Leon De Poncins, The Secret Powers behind Revolution, Freemasonry and Judaism, 1929
Therefore the sacred partnership of true marriage is constituted both by the will of God and the will of man. From God comes the very institution of marriage, the ends for which it was instituted, the laws that govern it, the blessings that flow from it; while man, through generous surrender of his own person made to another for the whole span of life, becomes, with the help and cooperation of God, the author of each particular marriage, with the duties and blessings annexed thereto from divine institution. Now when We come to explain, Venerable Brethren, what are the blessings that God has attached to true matrimony, and how great they are, there occur to Us the words of that illustrious Doctor of the Church whom We commemorated recently in Our Encyclical Ad salutem on the occasion of the fifteenth centenary of his death: "These," says St. Augustine, "are all the blessings of matrimony on account of which matrimony itself is a blessing; offspring, conjugal faith and the sacrament." And how under these three heads is contained a splendid summary of the whole doctrine of Christian marriage, the holy Doctor himself expressly declares when he said: "By conjugal faith it is provided that there should be no carnal intercourse outside the marriage bond with another man or woman; with regard to offspring, that children should be begotten of love, tenderly cared for and educated in a religious atmosphere; finally, in its sacramental aspect that the marriage bond should not be broken and that a husband or wife, if separated, should not be joined to another even for the sake of offspring. This we regard as the law of marriage by which the fruitfulness of nature is adorned and the evil of incontinence is restrained.
Pope Pius XI, Casti Connubii, On Christian Marriage
And, lastly, to sum all up in a word. As the Incarnation is God's Book of Life, the knowledge of his Sacred Heart is the interpretation and the unfolding of that Book. The whole mystery of God and of man, and the relations of God and man in grace and in glory, are all written in the Sacred Heart. They that know the Sacred Heart know God; they that love the Sacred Heart love God; and they that are made like to the Sacred Heart are made like to God. It is the compendium of the whole science of God, of the whole way of salvation, of the whole gospel of eternal life.
Cardinal Henry Edward Manning, The Sacred Heart, God's Way of Love
"I love them that love Me: and they that in the morning early watch for Me shall find Me." 
Prov. 8:17
Religious Liberty from Vatican II has its root in the Americanist Heresy
On every side the dread phantom of war holds sway: there is scarce room for another thought in the minds of men. The combatants are the greatest and wealthiest nations of the earth; what wonder, then, if, well provided with the most awful weapons modern military science has devised, they strive to destroy one another with refinements of horror. There is no limit to the measure of ruin and of slaughter; day by day the earth is drenched with newly-shed blood, and is covered with the bodies of the wounded and of the slain. Who would imagine as we see them thus filled with hatred of one another, that they are all of one common stock, all of the same nature, all members of the same human society? ....We implore those in whose hands are placed the fortunes of nations to hearken to Our voice. Surely there are other ways and means whereby violated rights can be rectified. Let them be tried honestly and with good will, and let arms meanwhile be laid aside.
Benedict XV, Ad beatissimi apostolorum, November 1, 1914
"We consider the establishment of our country's independence, the shaping of its liberties and laws, as a work of special Providence, its framers 'building better than they knew,' the Almighty's hand guiding them. We believe that our country's heroes were the instruments of the God of nations in establishing this home of freedom; to both the Almighty and to His instruments in the work we look with grateful reverence. And to maintain the inheritance of freedom which they have left us, should it ever–which God forbid—be imperiled, our Catholic citizens will be found to stand forward as one man, ready to pledge anew 'their lives, their fortunes, and their sacred honor.'"
Archbishop (soon to be Cardinal) James Gibbons, addressing the American bishops at the Third Plenary Council of Baltimore, 1884 attended by 14 archbishops and 61 bishops.
Moved to the very depths of our hearts by the stirring appeal of the President of the United States, and by the action of our national Congress, we accept whole-heartedly and unreservedly the decree of that legislative authority proclaiming this country to be in a state of war. Inspired neither by hate nor fear, but by the holy sentiments of truest patriotic fervor and zeal, we stand ready, we and all the flock committed to our keeping, to cooperate in every way possible with our President and our national government, to the end that the great and holy cause of liberty may triumph and that our beloved country may emerge from this hour of test stronger and nobler than ever. Our people, as ever, will rise as one man to serve the nation.
Pledge of U.S. Catholic Archbishops, April 18,1917; sent to President Woodrow Wilson by Cardinal James Gibbons, Archbishop of Baltimore, the leading Catholic prelate in the United States.
"The primary duty of a citizen is loyalty to country. It is exhibited by an absolute and unreserved obedience to his country's call."
Cardinal James Gibbons, Archbishop of Baltimore (1877-1921), April 1917 in support of the U.S. declaration of war against Germany and Austria-Hungary. The Balfour Declaration agreement committed the British to deliver Palestine into Jewish hands in return for the Jews bringing the United States into WWI in support of the British. Cardinal James Gibbons was the chief propagator of the heresy of Americanism which became settled Novus Ordo doctrine after Vatican II (religious liberty) primarily by the work of Fr. John Courtney Murray who greatly admired Cardinal Gibbons. Gibbons did his best to align American Catholics with Jewish interests to bring the United States into the Great War. In doing so Gibbons worked directly to undermine the peace plans of Pope Benedict XV. Pope Benedict devised a generous peace plan and contacted Cardinal Gibbons to do what he could to influence the United States government to back his offer of a negotiated peace. Gibbons did nothing of the sort. While giving lip service to the Pope's peace plan six months too late, he in fact never contacted President Wilson or any official of the government to even mention Pope Benedict's peace plan. Gibbons was too busy building the National Catholic War Council (NCWC) and supporting the call of universal military service. The purpose of the NCWC as Gibbons said in a letter to all American bishops was to form "the mental and moral preparation of our people for the war."
To Congar's credit, he at least told the truth about what he helped destroy!
"It cannot be denied that the Declaration on Religious Liberty does say materially something else than the Syllabus of 1864; it even says just about the opposite of  Propositions 15 and 77 to 79 of this document..... I collaborated on the final paragraphs which left me less satisfied.  It involved demonstrating that the theme of religious liberty was already contained in Scripture. Now, it isn't there."
Cardinal Yves Marie Joseph Congar, O.P., forbidden to teach by the Church and whose books were suppressed in the early 1950s, made a peritus at Vatican II by Novus Ordo St. John XXIII, and is considered by many to have been the most influential of all the periti. He was raised to the cardinalate by Novus Ordo St. John Paul II. He rejected the dogmatic teaching of Trent which his teacher and mentor, Fr. Marie-Dominique Chenu, O.P., derisively called "Baroque theology".
Excerpts from the Diary of Msgr. Joseph Fenton:
<![if !supportLists]>· <![endif]>"He [Cardinal Ottaviani] remarked that we were on the eve of the Council, and that no one knew who the Council's theologians were to be." (Sept. 28, 1962)
<![if !supportLists]>· <![endif]>"It is a crime that we did not take the Anti-Modernist Oath. Poor O[ttaviani] must have failed to have our own profession passed by the central commission. It contained his condemnation of [Fr. John Courtney] Murray [the Americanist heretic who structured the Council teaching on Religious Liberty]." (Oct. 9, 1962)
<![if !supportLists]>· <![endif]>"I had always thought that this council was dangerous. It was started for no sufficient reason. There was too much talk about what it was supposed to accomplish. Now I am afraid that real trouble is on the way." (Oct. 13, 1962)
<![if !supportLists]>· <![endif]>"I started to read the material on the Liturgy, and I was shocked at the bad theology. They actually have been stupid enough [to say] that the Church is 'simul humanam et divininam, visibilem et invisibilem' [at the same time human and divine, visible and invisible]. And they speak of the Church working 'quousque unum ovile fiat et unus pastor' [until there be one fold and one shepherd], as if that condition were not already achieved." (Oct. 19, 1962)
<![if !supportLists]>· <![endif]>"I do not think that any little work on our part is going to bring good to the Church. We should, I believe, face the facts. Since the death of [Pope] St. Pius X the Church has been directed by weak and liberal popes, who have flooded the hierarchy with unworthy and stupid men. This present conciliar set-up makes this all the more apparent. [Fr.] Ed Hanahoe, the only intelligent and faithful member of [Cardinal] Bea's secretariat has been left off the list of the periti. Such idiots as [Mgr. John S.] Quinn and the sneak [Fr. Frederick] McManus have been put on. [Fr. George] Tavard is there as an American, God help us. From surface appearance it would seem that the Lord Christ is abandoning His Church. The thoughts of many are being revealed. As one priest used to say, to excuse his own liberalism, which, in the bottom of his heart he knew was wrong, 'for the last few decades the tendency in Rome has been to favor the liberals.' That is the policy now. We can only do what we can to overt an ever more complete disloyalty to Christ." (Oct. 19, 1962)
<![if !supportLists]>· <![endif]>"[Fr.] Ed Hanahoe gave me two books on Modernism. In one of them I found evidence that the teaching in the first chapter of the new schema on the Church [that became the Vatican II dogmatic constitution Lumen Gentium] and the language are those of [the excommunicated Modernist Fr. George Tyrrell [who died outside the Catholic Church and was denied ecclesiastical burial]. May God preserve His Church from that chapter. If it passes, it will be a great evil. I must pray and act." (Sept. 24, 1963)
If God is nothing, everything is permitted; if God is nothing, everything is a matter of indifference. 
Feodor Dostoyevsky, The Devils (The Possessed)
As the blossom without the sun can give no fruit, so the will, without the assistance of the Holy Ghost, can produce no good works for heaven. 
St. Bonaventure
Paul VI declared Novus Ordo Saint. So just what is a "Novus Ordo Saint"?
A Novus Ordo Saint is a man-made saint. Contrasted with Catholic saints who are God-made saints. In virtue of their union with God they are sanctified, and therefore, Catholic Saints exhibit heroic virtue in their lives. God confirms their sanctity by working miracles through their intercession and thus, a cult of veneration (dulia) develops and spreads throughout the Church. The Church recognizes God's evidence that they are saints and declares this fact to the universal Church. Contrary to this, Novus Ordo Saints are man-made saints and their elevation to the title of sainthood is for the purpose of promoting the human ideology exemplified in their lives. There is no real cult of veneration (dulia) among the faithful to Novus Ordo Saints. Since God does not work true miracles through the intercession of man-made saints, only man-made miracles are required for the beatification of man-made Novus Ordo Saints. Finally, the Novus Ordo beatification process does have a promotor fidei, the so-called "devil's advocate," although his role has been change as the promotor ideologiae. The greatest difference between Catholic Saints and Novus Ordo Saints is that the former are in heaven and the latter, very well may not be.
If the damned were asked 'Why are you in hell?', they would answer: 'For having resisted the Holy Ghost.'  If the Saints were asked: 'Why are you in heaven?', they would answer: 'For having listened to the Holy Ghost.'
St. John Mary Vianney, Cure d'Ars
The necessary first act of liturgical corruption is the 'Dialogue Mass' whose end is to destroy liturgical recollection and contemplation!
In recollection and contemplation - kindred but not identical attitudes - we encounter two more basic constituents of religious life. Recollection is a condition of all truly wakeful and deep modes of living, and hence indispensable for our transformation in Christ.  Contemplation, again, is the source that feeds all life in Christ, and at the same time, the end in which that life finds its fulfillment.
Dietrich Von Hildebrand, Transformation in Christ
Pope Pachapapa does believe in "proselytism" as long as the proselyte is being converted FROM the Catholic faith and not TO it!
Conversion: of the Amazon, or of the Church?
CatholicCulture.org | October 25, 2019 — An article published last week in Civilta <![if !vml]>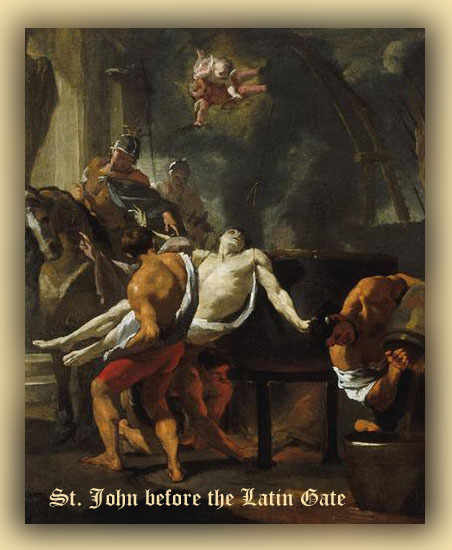 <![endif]>Cattolica — the journal edited by Father Antonio Spadaro, one the Pope's closest associates — announces: "The Synod of the Amazon is called to be an occasion for 'conversion.'" Read the whole essay carefuly (if you can plow through the blizzard of ecclesiastical jargon), and you might have the impression that the goal is the conversion of the Catholic Church, not the people of the Amazon region.
The call to conversion comes from the peripheries, Civilta tells us, and "the Church is called to listen to its voice and to assume the commitment to conversion." The Synod, we are told, can't expect to change the people of the Amazon, because "the periphery can contribute to the transformation of the center to the extent that it does not lose its identity."
So we are to transform the culture of the Church, but not of the Amazon? That is, to put it mildly, not the attitude of Catholic missionaries in previous generations. But then, one of the key figures in this Synod is a bishop who boasts that he has never baptized a member of the Amazon's indigenous tribes.
And Civilta, too, takes a novel approach to missionary work, as becomes evident a few paragraphs later in the essay:
"If God's dream is the redemption of humanity,…"
God's dream?
<![if !vml]>
<![endif]>Official Explanation of Light Show on the façade of Roman Catholic Basilicas? It apparently has not occurred to Francis that a "bridge" between "historical reality and divine transcendence" has already been perfectly accomplished in Jesus Christ and this truth is the very reason for the basilicas themselves which they perfectly symbolize!
Disturbing light shows projected on Rome's churches at close of Amazon Synod
The organizers of the light show stated: "The artistic light project recalls the perfect geometry of the architectural structure of the Pantheon and therefore of the Basilica of Santa Maria ad Martyres, transforming the oculus into a powerful light source: the light, taken as a symbol of God's revelation and of its presence in history, it emanates from the basilica as a bridge between the earth and the sky, as an element of communion between historical reality and divine transcendence." (????????)
The project had cooperation from Italy's Ministry of Culture and the Vicariate of Rome, thus ensuring Vatican approval.
LIFESITENEWS
Santa Maria sopra Minerva
The death of St. Margaret Pole, the mother of Cardinal Pole, at the hands of Henry VIII, serial wife killer and founder of the Church of England
The part which Cardinal Pole had taken in the negotiation (between Emperor Charles, Francis, King of France, and the Pope) inflamed the hatred of Henry. Judgment of treason was pronounced against him; foreign princes were solicited to deliver him up; and he was constantly beset with spies, and, as he believed, with ruffians hired to take his life. At home, to wound him in the most tender part, Henry ordered his mother, the venerable countess of Salisbury, to be arrested and examined by the earl of Southampton, and the bishop of Ely: but she behaved with such firmness of character, such apparent consciousness of innocence, as completely disconcerted her accusers. Unable to extract from her admissions sufficient matter for a criminal prosecution, Cromwell consulted the judges, whether a person accused of treason, might not be attainted without a previous trial or confession (that is to say, condemn her without giving her a hearing). They replied that it would form a dangerous precedent: that no inferior tribunal would venture on so illegal a proceeding; but that the court of parliament was supreme, and an attainder by parliament would be good in law. This was sufficient for the king, who sought not justice but revenge; and in a bill of attainder, containing the names of several individuals who had been condemned in the lower courts, were introduced those of Pole's mother the countess, of his nephew the son of lord Montague, and of Gertrude, relict of the marquees of Exeter, though none of them had confessed any crime, nor been heard in their own defense. With the fate of the young man we are net acquainted: the marchioness obtained a pardon at the expiration of six months; and it was hoped that the king would extend the same mercy to the countess. She was more than seventy years of age, the nearest to him in blood of all his relations, and the last in a direct line of the Plantagenets, a family which bad swayed the English scepter through so many generations. Henry kept her in the Tower, probably as a hostage for the behaviour of her son, or her friends, but at the end of two years, on account of some provocation in which she could have had no share, ordered her to be put to death.
In the prison and on the scaffold she maintained the dignity of her rank and descent; and when she was told to lay her head on the block, "No," she replied, "my head never committed treason: if you will have it you must take it as you can." She was held down by force; and while the executioner performed his office, exclaimed, "Blessed are they who suffer persecution for righteousness sake." Her death, or rather murder, which seemed to have no rational object, proclaimed to the world that the heart of the king was not less steeled to the feelings of relationship and humanity, than it was inaccessible to considerations of justice and honour; and proved an awful admonition to his subjects, that nothing short of unlimited obedience could shield them from the vengeance of their sovereign.
Rev. John Lingard, D.D, (1771-1851), History of England, Vol VI of VIII
AMAZON SYNOD: Why does the "New Evangelization," not just permit, but require a married clergy?
In his Encyclical Menti Nostre, Pope Pius XII declares, "The priest is... the organ of the communication and increase of life in the Mystical Body of Christ. Far from losing the gift and the office of paternity because of his celibacy, the priest increases them immeasurably, since if he does not beget children for this passing life on earth, he begets them for that of life which is heavenly and eternal." Parents of children collaborate with God on the natural level in the communication of life to new human beings, of rearing and educating them for the glory of God. The priest has an "immeasurably" higher calling to beget children of God, that is, of proselytizing human beings to faith in the truths God has revealed and obedience to the laws which He commands. The New Evangelization radically opposes proselytizing anyone therefore, the priest no longer begets children to God and turns to begetting of natural progeny. The New Evangelization is spiritually sterile. The Novus Ordo priest is a clerical gelding. He is worthless to both man and God.
CLOSING COMMENTS from the Pope Pachamama
The "beam" in his "own eye"!
"How many times do those who are prominent, like the Pharisee with respect to the tax collector, raise up walls to increase distances, making other people feel even more rejected.  Or by considering them backward and of little worth, they despise their traditions, erase their history, occupy their lands, and usurp their goods…. Worship of self carries on hypocritically with its rites and 'prayers,' forgetting the true worship of God which is always expressed in love of one's neighbor."
Pope Francis, ending sermon from the Amazonian Synod
COMMENT: How the hypocrite Francis is blind to the 'beam in his own eye.'  The arrogant pretense that he and his Novus Ordite cronies actually know anything about the "worship of God" and the "love of one's neighbor."  Catholic institutions of charity have collapsed since Vatican II because these institutions were staffed by countless vocations, men and women who gave their lives in the service of the love of their fellow man for the love of God.  Vocations have dried up and these institutions have closed their doors because without faith, there is no charity. 
Furthermore, no one, absolutely no one, has been considered of "little worth" more than Catholics faithful to our "received and approved" traditions of the Catholic Church which produced these vocations.  Faithful Catholics have had their "traditions despised," their "history erased," their churches and shrines "occupied," and their "goods usurped," by the philistines of Vatican II.   
The Mission of Ss. Peter & Paul has set out to recover and restore this despised heritage by which alone the faith can be known and communicated to others, from which alone true charity may once more abound.  May our Good God cleanse His Church from this corrupt pontificate of Francis and everything he represents.
Do you want to be sure of never resisting God? Then remember always our Lord's own words: The spirit indeed is willing, but the flesh is weak. We must watch and pray, as He bids us, that we enter not into temptation. Watch, so as not to expose ourselves or give advantage to the enemy; pray, in order that we may obtain from God the strength we need. Abiding, thus, in the salutary fear of being unfaithful to grace, God will preserve us from all evil. Or, if He permits us from time to time to realize our weakness, it will never be by a deadly fall; He will interpose His own hand between us and the blow, to prevent it from doing us harm. He will quickly raise us up again, and we shall be all the stronger afterwards. 
Rev. John Grou, S.J., Spiritual Maxims
Remember in your charity the following pray requests: 
The Thomas Dube Family, for their conversion and spiritual welfare,
Luis Rafael Zelaya, the brother of Claudia Drew, who is seriously ill,     
For the health of Kim Cochran, the daughter-in-law of Joseph and Brenda Cochran, the wife of their son Joshua,
Louie Verrecchio, Catholic apologist, who has a health problem,
John Minidis, Jr. family, for help in their spiritual trial,  
John and Joann DeMarco, for their health and spiritual welfare,
Regina (Manidis) Miller, her spiritual welfare and health,   
Melissa Elena Levitt, her health and conversion, and welfare of her children,
For the grace of a holy death, Nancy Marie Claycomb,
The health and spiritual welfare of Tom Grow, Amanda Gardner, and Alex Estrada,
Conversion of Annette Murowski, and her son Jimmy,
Brent Keith from Indiana has petitioned our prayers for the Keith Family,
The welfare of the Schmedes Family, and the Mike and Mariana Donohue Family,
The spiritual welfare Robert Holmes Family,
For the spiritual and temporal welfare of Irwin Kwiat,
Fr. Waters asks our prayers for Elvira Donahy, who is recovering from a stroke,
Kimberly Ann, the daughter of John and Joann DeMarco, for her health and spiritual welfare,
Mufide Rende, a traditional Catholic from India has asked our prayers for her welfare,
Mary and Bill Glatz, the welfare of their family,
Barbara Harmon, who is gravely ill, and still cares for her ailing parents,
Jason Green, a father of ten children who has been seriously injured,
For the health and welfare of Kolinsky and Sorace families,
Fr. Waters asks our prayers for the health and spiritual welfare of Brian Abramowitz,
Janine Mullen, for her health and help for her family,
Thomas Schiltz family, in grateful appreciation for their contribution to the beauty of our chapel,
Carlo A. De Porto, who is in failing health,
Welfare of Bishop Richard Williamson, for strength and courage in the greater battles to come,
John Rhoad, for his health and spiritual welfare,
Angelina Montesano family & Helen Snyder, for their health and spiritual welfare,
Kathy Boyle, requests our prayers for her welfare,
Michael J. Brigg & his family, who have helped with the needs of the Mission,
Nancy Deegan, her welfare and conversion to the Catholic Church,
Francis Paul Diaz, who was baptized at Ss. Peter & Paul, asks our prayers for his spiritual welfare,
The conversion of David Keithley and the welfare of the Nathaniel Miller family, are the petitions of Gene Peters,
The Drews ask your intercession for the welfare of Brendan McGuire, a young father of three, who has been diagnosed with cancer,
For the conversion of Ben & Tina Boettcher family, Karin Fraessdorf, Eckhard Ebert, and Fahnauer family,
Fr. Waters requests our prayers for Br. Rene, SSPX who has been ill, and for Fr. Thomas Blute, 
Rose Cuono, who is in failing health,
For the health and welfare of Kathryn Lederhos, the aunt of David Drew,
Fr. Peterson asks our prayers for Charles Valenti, and his wife, Julia,
For the welfare of Fr. Paul DaDamio and Fr. William T. Welsh,
The Drew's ask our prayers for the welfare of Joe & Tracy Sentmanat family, Keith & Robert Drew, Christy Koziol & her children, Fred Nesbit and Michael Nesbit families, and Gene Peters Family, the John Manidis Family, the Sal Messinio Family, Michael Proctor Family,
Ryan Boyle grandmother, Jane Boyle, who is failing health,
Mel Gibson and his family, please remember in our prayers,
Rev. Timothy A. Hopkins, prayers for his mother, the Mission of St. Philomena in Miami, and the welfare of Fr Jean-Luc Lafitte,
Ebert's request our prayers for the Andreas & Jenna Ortner Family,
Joyce Paglia has asked prayers for George Richard Moore Sr. & his children, and her brother, George Panell,
For the welfare of Anthony & Joyce Paglia, who are responsible for the beautiful statuary in our chapel,
Philip Thees asks our prayers for his family, for McLaughlin Family, the conversion of Bruce Heller, & Janet Gardner, the welfare of Dan Polly Weand, the conversion of Sophia Herman, Tony Rosky, and Carl Ropeter, the welfare Nancy Erdeck, the wife of the late Deacon Erdeck, and the welfare of Frank D'Agustino who is ill, the health of Charles Kanaskie, and the health of his brother, Thomas Thees, John Calasanctis, Stephen Cagorski, Tony Rosky, John Bogda, and Maryann Reutter.
Pray for the Repose of the Souls:
Roland H. Allard,  a friend of the Drew's, died September 28,
Sandra Peters, the wife of Gene Peters, who died June 10 receiving the sacraments and wearing our Lady's scapular,
Rev. Francis Slupski, a priest who kept the Catholic faith and its immemorial traditions, died May 14,
Martha Mochan, the sister of Philip Thees, died April 8,
George Kirsch, our good friend and supporter of this Mission, died February 15,
For Fr. Paul J. Theisz, died October 17, is the petition of Fr. Waters,
Fr. Mecurio Fregapane, died Jan 17, was not a traditional priest but always charitable,
Fr. Casimir Peterson, a priest who often offered the Mass in our chapel and provided us with sound advice, died December 4,
Fr. Constantine Bellasarius, a faithful and always charitable Eastern Rite Catholic Melkite priest, who left the Roman rite, died November 27,
Christian Villegas, a motor vehicle accident, his brother, Michael, requests our prayers,
John Vennari, the former editor of Catholic Family News, and for his family's welfare,
Mary Butler, the aunt of Fr. Samuel Waters, died October 17,
Joseph DeMarco, the nephew of John DeMarco, died October 3,
John Fergale, died September 25 after receiving the traditional sacramental rites of the Church wearing the brown scapular,
John Gabor, the brother of Donna Marbach, died September 9,
Fr. Eugene Dougherty, a faithful priest, fittingly died on the Nativity of the BVM after receiving the traditional Catholic sacraments,
Phyllis Schlafly, died September 5,
Helen Mackewicz, died August 14,
Mark A. Wonderlin, who died August 2,
Fr. Carl Cebollero, a faithful priest to tradition who was a friend of Fr. Waters and Fr. DeMaio,
Jessica Cortes, a young mother of ten who died June 12,
Frances Toriello, a life-long Catholic faithful to tradition, died June3, the feast of the Sacred Heart, and her husband Dan, died in 1985, 
John McLaughlin, a friend of the Drew's, died May 22,
Angela Montesano, who died April 30, and her husband, Salvatore,  who died in July 3, 2013,
Charles Schultz, died April 5, left behind nine children and many grandchildren, all traditional Catholics,
Esperanza Lopez de Callejas, the aunt of Claudia Drew, died March 15,
Fr. Edgardo Suelo, a faithful priest defending our traditions who was working with Fr. Francois Chazal in the Philippines, died February 19,
Conde McGinley, a long time laborer for the traditional faith, died February 12, at 96 years,
The Drew family requests your prayers for Ida Fernandez and Rita Kelley, parishioners at St. Jude,
Fr. Stephen Somerville, a traditional priest who repented from his work with the Novus Ordo English translation, died December 12,
Fr. Arturo DeMaio, a priest that helped this Mission with the sacraments and his invaluable advice, died December 2,
J. Paul Carswell, died October 15, 2015,
Solange Hertz, a great defender of our Catholic faith, died October 3, the First Saturday of the month,
Paula Haigh, died October 21, a great defender of our Catholic faith in philosophy and natural science,
Gabriella Whalin, the mother of Gabriella Schiltz, who died August 25,
Mary Catherine Sick, 14 year old from a large traditional Catholic family, died August 25,
Fr. Paul Trinchard, a traditional Catholic priest, died August 25,
Stephen J. Melnick, Jr., died on August 21, a long-time faithful traditional Catholic husband and father, from Philadelphia,
Patricia Estrada, died July 29, her son Alex petitions our prayers for her soul,
Fr. Nicholas Gruner, a devoted priest & faithful defender of Blessed Virgin Mary and her Fatima message, died April 29,
Sarah E. Shindle, the grandmother of Richard Shindle, died April 26,
Madeline Vennari, the mother of John Vennari, died December 19,
Salvador Baca Callejas, the uncle of Claudia Drew, died December 13,
Robert Gomez, who died in a motor vehicle accident November 29,
Catherine Dunn, died September 15,
Anthony Fraser, the son of Hamish Fraser, died August 28,
Jeannette Rhoad, the grandmother of Devin Rhoad, who died August 24,
John Thees, the uncle of Philip Thees, died August 9,
Sarah Harkins, 32 year-old mother of four children, died July 28,
Anita Lopez, the aunt of Claudia Drew,
Fr. Kenneth Walker, a young traditional priest of the FSSP who was murdered in Phoenix June 11,
Fr. Waters petitions our prayers for Gilberte Violette, the mother of Fr. Violette, who died May 6,
Pete Hays petitions our prayers for his brothers, Michael, died May 9, and James, died October 20, his sister, Rebecca,  died March17, and his mother, Lorraine Hayes who died May 4,
Philip Marbach, the father of Paul Marbach who was the coordinator at St. Jude in Philadelphia, died April 21,
Richard Slaughtery, the elderly sacristan for the SSPX chapel in Kansas City, died April 13,
Bernedette Marie Evans nee Toriello, the daughter of Daniel Toriello , died March 31, a faithful Catholic who suffered many years with MS, 
Natalie Cagorski, died march 23,
Anita Lopez de Lacayo, the aunt of Claudia Drew, who died March 21,
Mario Palmaro, Catholic lawyer, bioethicist and professor, apologist, died March 9, welfare of his widow and children,
Daniel Boyle, the uncle of Ryan Boyle, died March 4,
Jeanne DeRuyscher, who died on January 25,
Arthur Harmon, died January 18,
Fr. Waters petitions our prayers for the soul of Jeanne DeRuyscher, who died January 17,
Joseph Proctor, died January 10,
Susan Scott, a devote traditional Catholic who made the vestments for our Infant of Prague statue, died January 8,
Brother Leonard Mary, M.I.C.M., (Fred Farrell), an early supporter and friend of Fr. Leonard Feeney, died November 23,
John Fergale, requests our prayers for his sister Connie, who died December 19,
Jim Capaldi, died December 15,
Brinton Creager, the son of Elizabeth Carpenter, died December 10, 
Christopher Lussos, age 27, the father of one child with an expecting wife, died November 15,
Jarett Ebeyer, 16 year old who died in his sleep, November 17, at the request of the Kolinsky's,
Catherine Nienaber, the mother of nine children, the youngest three years of age, killed in MVA after Mass, 10-29,
Nancy Aldera, the sister of Frances Toriello, died October 11, 2013 at 105 years of age,
Mary Rita Schiltz, the mother of Thomas Schiltz, who died August 27,
William H. (Teddy) Kennedy, Catholic author of Lucifer's Lodge, died August 14, age 49, cause of death unknown,
Alfred Mercier, the father of David Mercier, who died August 12,
The Robert Kolinsky asks our prayers for his friend, George Curilla, who died August 23,
John Cuono, who had attended Mass at our Mission in the past, died August 11,
Raymond Peterson, died July 28, and Paul Peterson, died February 19, the brothers of Fr. Casimir Peterson,
Margaret Brillhart, who died July 20,
Msgr. Joseph J. McDonnell, a priest from the diocese of Des Moines, who died June 8,
Patrick Henry Omlor, who wrote Questioning The Validity of the Masses using the New, All English Canon, and for a series of newsletters which were published as The Robber Church, died May 2, the feast of St Athanasius,  
Bishop Joseph McFadden, died unexpectedly May 2,
Timothy Foley, the brother-in-law of Michelle Marbach Folley, who died in April,
William Sanders, the uncle of Don Rhoad, who died April 2,
Gene Peters ask our prayers for the repose of the soul of Mark Polaschek, who died March 22,
Eduardo Gomez Lopez, the uncle of Claudia Drew, February 28,
Cecelia Thees, died February 24,
Elizabeth Marie Gerads, a nineteen year old, the oldest of twelve children, who died February 6, 
Michael Schwartz, the co-author with Fr. Enrique Rueda of "Gays, Aids, and You," died February 3,
Stanley W. Moore, passed away in December 16, and Gerard (Jerry) R. Pitman, who died January 19, who attended this Mission in the past, 
Louis Fragale, who died December 25,
Fr. Luigi Villa, Th.D. author of Vatican II About Face! detailing the heresies of Vatican II, died November 18 at the age of 95,
Rev. Michael Jarecki, a faithful traditional Catholic priest who died October 22,and Rev. Hector Bolduc, who died September 10,
Jennie Salaneck, died September 19 at 95 years of age, a devout and faithful Catholic all her life,
Dorothy Sabo, who died September 26,
Cynthia (Cindy) Montesano Reinhert, the mother of nine children, four who are still at home, died August 19,
Regina Spahalsky, who died June 24, and for the soul of Francis Lester, her son,
Julia Atkinson, who died April 30,
Antonio P. Garcia, who died January 6, 2012 and the welfare of his teenage children, Andriana and Quentin,
Helen Crane, the aunt of David Drew who died February 27,
Fr. Timothy A. Hopkins, of the National Shrine of St. Philomena, in Miami, November 2,
Frank Smith, who died February 7, and the welfare of his wife, Delores,
Eduardo Cepeda, who died January 26,
Larry Young, the 47 year old father of twelve who died December 10 and the welfare of his wife Katherine and their family,
Sister Mary Bernadette, M.I.C.M., a founding member of the Slaves of the Immaculate Heart of Mary, died December 16,
Joeseph Elias, who died on September 28,
William, the brother of Fr. Waters, who died September 7,
Donald Tonelli, died August 1,
Rev. Fr. Gregory Hesse, of Austria, a great defender of Catholic Truth, died January 25, 2006,
Emma Colasanti, who died May 29,
Mary Dullesse, who died April 12, a Catholic convert who died wearing our Lady's scapular,
Ruth Jantsch, the grandmother of Andre Ebert, who died April 7, Derrick and Denise Palengat, his godparents,
Philip D. Barr, died March 5, and the welfare of his family, 
Judith Irene Kenealy, the mother of Joyce Paglia, who died February 23, and her son, George Richard Moore, who died May 14, 
For Joe Sobran who died September 30,
Fr. Hector Bolduc, a great and faithful priest, died, September 10, 2012,
John Vennari asks our prayers for Dr. Raphael Waters who died August 26,
Stanley Bodalsky, the father of Mary Ann Boyle who died June 25,
Mary Isabel Kilfoyle Humphreys, a former York resident and friend of the Drew's, who died June 6th,
Rev. John Campion, who offered the traditional Mass for us every first Friday until forbidden to do so by Bishop Dattilo, died May 1,
Joseph Montagne, who died May 5,
For Margaret Vagedes, the aunt of Charles Zepeda, who died January 6,
Fr. James Francis Wather, died November 7, 2006, author of The Great Sacrilege and Who Shall Ascend?, a great defender of dogma and liturgical purity,
Fr. Enrique Rueda, who died December 14, 2009, to whom our Mission is indebted,
Fr. Peterson asks to remember, Leonard Edward Peterson, his cousin, Wanda, Angelica Franquelli,  and the six priests ordained with him.
Philip Thees petitions our prayers for Beverly Romanick, Deacon Michael Erdeck, Henry J. Phillips, Grace Prestano, Connie DiMaggio, Elizabeth Thorhas, Elizabeth Thees, Theresa Feraker, Hellen Pestrock, and James & Rose Gomata, and Kathleen Heinbach,
Fr. Didier Bonneterre, the author of The Liturgical Movement, and Fr. John Peek, both were traditional priests,
Brother Francis, MICM, the superior of the Slaves of the Immaculate Heart of Mary in Richmond, NH, who died September 5,
Rodolfo Zelaya Montealegre, the father of Claudia Drew, who died May 24,
Rev. Francis Clifford, a devout and humble traditional priest, who died on March 7,
Benjamin Sorace, the uncle of Sonja Kolinsky.
 "Revelation manifests itself more and more each day… it's always moving." 
It is a dogma of divine and Catholic faith that Revelation was completed at the death of the last Apostle!
Ideologies are bewitching; and so Paul says: "Oh foolish Galatians, who has bewitched you?" Those who preach with ideologies: everything's right! They are bewitching: it's all clear!  But look, God's revelation isn't clear eh? God's revelation manifests itself more and more each day; it is always moving. Is it clear? Crystal clear! It is Him, but we have to find it along the way. Those who think they possess the whole truth are not just ignorant, Paul goes as far as to call them 'foolish' for letting themselves be bewitched.
Pope Francis, sermon, October 6, 2016
<![if !vml]>
<![endif]>Pope Francis open the Youth Synod with novel ferula that is most fitting for his LGBT agenda!
Stang: The stang is a straight branch with a fork or Y at one end, and is most used in ritual circle as a type of centerpiece representing the magick of the three –the trinity– in the following ways: Earth, Sea, and Sky; Body, Mind and Spirit; God, Goddess and Unity; the three faced of the God; the three faces of the Goddess; and the crossroads of life. Stangs used today are normally five to six feet in height and are often decorated with ribbons and flowers that match the seasonal ritual. The stang also relates to the legend of the World Tree, and in some ritual groups it is the pole of libation, where gifts of food and liquid are arranged or poured by the base in honor of the Gods. This is similar to the pole erected in the center of a Voodoo rite, dedicated to Damballah, called the Ponteau Mitan. The stang is normally place at the north (the seat of all power) or directly behind the altar. A few groups, often with Druidic leanings, place the stang in the center of the circle.
Definition provided by "Magickal Necessities by Witches of the Craft"
A Forked Staff: Perfect Symbol for the Synod on Youth and with its "synodal" Blah, Blah, Blah
Fatima Perspectives #1239; By Chris Ferrara
As one website observes, when the Antichrist arrives to preach his lies among men, seducing "(if it were possible) even the elect" (Mk. 13:22), his forked tongue "will have the eloquence of angels, his honeyed words will pierce to the very heart of those who hear him. His arguments and positions will be so well presented that even those who recognize him will be hard pressed to resist what he has to say."
The Antichrist will make the devil's ultimate sales pitch. For now, however, the forked tongue belongs to lesser voices, lacking all eloquence and nuance, including those who will be spouting empty demagogic slogans and emotivist rubbish at the Synod of Youth and Blah, Blah, Blah now underway in Occupied Rome.
We have heard it all before at the last phony Synod, which was merely a disguise for what Francis wanted from the beginning and shamelessly passed off as the voice of the Holy Ghost. And now — bearing a forked staff, appropriately enough — Francis has said it all again in his homily at the beginning of this elaborate stage show for further subversion of the Church:
For we know that our young people will be capable of prophecy and vision to the extent that we, who are already adult or elderly, can dream and thus be infectious in sharing those dreams and hopes that we carry in our hearts…
May the Spirit grant us the grace to be synodal Fathers anointed with the gift of dreaming and of hoping. We will then, in turn, be able to anoint our young people with the gift of prophecy and vision…
Hope challenges us, moves us and shatters that conformism which says, "it's always been done like this". Hope asks us to get up and look directly into the eyes of young people and see their situations….
And this demands that we be really careful against succumbing to a self-preservation and self-centredness which gives importance to what is secondary yet makes secondary what is important.
The gift of that ability to listen, sincerely and prayerfully, as free as possible from prejudice and conditioning, will help us to be part of those situations which the People of God experience….
This disposition protects us from the temptation of falling into moralistic or elitist postures, and it protects us from the lure of abstract ideologies that never touch the realities of our people….
Here we go again: "prophesy and vision," "dreams and hopes," "see their situations," eschewing "conformism," moving beyond what is "secondary," freedom from "prejudice and conditioning," rejecting "moralistic or elitist postures" versus "the realities of our people."
In other words: another poisonous dose of situation ethics to follow the recent scandal of "permission" for Holy Communion to be administered to people who intend to continue engaging in sexual relations within "second marriages" which constitute "none other than disgraceful and base concubinage, repeatedly condemned by the Church," to quote Blessed Pope Pius XI. 
This preposterous sham of a Synod features the attendance of two communist Chinese bishops handpicked by Beijing from the ranks of the Catholic Patriotic Association, which, following the Vatican sellout of the Underground Church, promptly declared its "independence" from Rome. Francis ludicrously declared in his homily that the attendance of these puppets of Beijing and its "independent" pseudo-Church means that "the communion of the entire Episcopate with the Successor of Peter is yet more visible thanks to their presence."
The inevitable outcome of this sham (barring a veritable miracle) will be a further erosion of the Church's moral foundations under the specious pretext of an expression of the "ordinary Magisterium" that takes into account "situations" and "concrete realities" — as if reality and morality were somehow opposed, when in fact it is conformity to God's moral law that leads a soul to the reality of true freedom.
God help us. God rescue us. Holy Mother of God, intercede for us and obtain for the Church that holy and courageous Pope who will put an end to this utter madness by doing at long last what You requested of the Roman Pontiff nearly a century ago at Tuy: the Consecration of Russia to Your Immaculate Heart.
Pope Francis the Space Cadet
"Time is Greater than Space: A constant tension exists between fullness and limitation. Fullness evokes the desire for complete possession, while limitation is a wall set before us. Broadly speaking, "time" has to do with fullness as an expression of the horizon which constantly opens before us, while each individual moment has to do with limitation as an expression of enclosure. People live poised between each individual moment and the greater, brighter horizon of the utopian future as the final cause which draws us to itself. Here we see a first principle for progress in building a people: time is greater than space."
Pope Francis, Evangelii Gaudium, "Time is Greater than Space"
"God manifests himself in historical revelation, in history. Time initiates processes, and space crystallizes them. God is in history, in the processes. We must initiate processes, rather than occupy spaces." 
Pope Francis, Interview with Anthony Spadaro
Since "time is greater than space," I would make it clear that not all discussions of doctrinal, moral, or pastoral issues need to be settled by interventions of the magisterium. Unity of teaching and practice is certainly necessary in the Church, but this does not preclude various ways of interpreting some aspects of that teaching or drawing certain consequences from it. This will always be the case as the Spirit guides us towards the entire truth (cf. Jn 16:13), until he leads us fully into the mystery of Christ and enables us to see all things as he does. Each country or region, moreover, can seek solutions better suited to its culture and sensitive to its traditions and local needs. For "cultures are in fact quite diverse and every general principle…needs to be inculterated, if it is to be respected and applied."
Pope Francis, Amoris Laetitia
CATHOLIC PROPHECY
May 13, 1820: I saw also the relationship between the two popes. . . I saw how baleful would be the consequences of this false church. I saw it increase in size; heretics of every kind came into the city (of Rome). The local clergy grew lukewarm, and I saw a great darkness. . . Then, the vision seemed to extend on every side. Whole Catholic communities were being oppressed, harassed, confined, and deprived of their freedom. I saw many churches close down, great miseries everywhere, wars and bloodshed. A wild and ignorant mob took to violent action. But it did not last long.
Once more I saw that the Church of Peter was undermined by a plan evolved by the secret sect, while storms were damaging it. But I saw also that help was coming when distress had reached its peak. I saw again the Blessed Virgin ascend on the Church and spread her mantle [over it]. I saw a Pope who was at once gentle, and very firm. . . I saw a great renewal, and the Church rose high in the sky.
Sept. 12, 1820: I saw a strange church being built against every rule. . .  No angels were supervising the building operations. In that church, nothing came from high above. . . There was only division and chaos. It is probably a church of human creation, following the latest fashion, as well as the new heterodox church of Rome, which seems of the same kind. . .
I saw again the strange big church that was being built there (in Rome). There was nothing holy in it. I saw this just as I saw a movement led by Ecclesiastics to which contributed angels, saints and other Christians. But there (in the strange big church) all the work was being done mechanically (i.e. according to set rules and formulae). Everything was being done according to human reason. . .
I saw all sorts of people, things, doctrines, and opinions. There was something proud, presumptuous, and violent about it, and they seemed to be very successful. I did not see a single Angel nor a single saint helping in the work. But far away in the background, I saw the seat of a cruel people armed with spears, and I saw a laughing figure which said: "Do build it as solid as you can; we will pull it to the ground."
Blessed Anna Katherina Emmerich, Catholic Prophecy by Ives DuPont
"Europe will return to the faith or…. perish." 
Hilaire Belloc
"If you love me you will keep my commandments… He that hath my commandments, and keepeth them; he it is that loveth me. And he that loveth me, shall be loved of my Father: and I will love him, and will manifest myself to him… If you keep my commandments, you shall abide in my love; as I also have kept my Father's commandments, and do abide in his love… In this we know that we love the children of God: when we love God, and keep his commandments." (John 14:15; 14:21; 15:10; 1 John 5:2)
Pope Francis will learn, souls are "condemned for ever" who teach the Lutheran heresy of justification & deny the Catholic dogma that to abide in "true charity" is "conditional" upon keeping the commandments!
"The way of the Church is not to condemn anyone for ever; it is to pour out the balm of God's mercy on all those who ask for it with a sincere heart… For true charity is always unmerited, unconditional and gratuitous….
It is a matter of reaching out to everyone, of needing to help each person find his or her proper way of participating in the ecclesial com-munity and thus to experience being touched by an "unmerited, unconditional and gratuitous" mercy. No one can be condemned for ever, because that is not the logic of the Gospel!"
Pope Francis, Amoris Laetitia, paragraphs 296 and 297
Let nothing disturb thee, Nothing affright thee;
All things are passing; God never changeth;
Patient endurance attaineth to all things;
Who God possesseth in nothing is wanting;
Alone God sufficeth.
Bookmark of St. Teresa of Jesus
How beauteous is the courage which we find,
with childlike confidence in God combined!
Who fears his God shall know no other fear -
He heeds not pitying smile, nor unkind sneer.
<![if !vml]>
<![endif]>
"The virtue of fortitude protects a person from loving his life so much that he loses it." 
Josef Pieper, A Brief Reader on the Virtues of the Human Heart
"Prayer draws its merits from charity; but its imperative efficacy comes from faith and confidence." 
St. Thomas
<![if !vml]>
<![endif]>
"Only take heed to yourself and guard your soul diligently." (Deut 4:9)
<![if !vml]>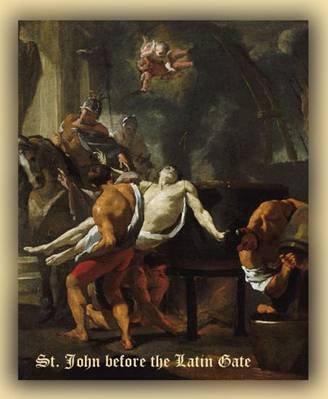 <![endif]>
"It is a sin to believe there is salvation outside the Catholic Church!"  
Blessed Pope Pius IX
PREVIOUS BULLETIN POSTS BELOW THAT REMAIN TIMELY:
<![if !vml]>
<![endif]>
Open Enemies of the Kingship of Jesus Christ
"Someone could ask himself: why is the Pope going with the Muslims and not just Catholics? With Muslims, we are descendants of the same father, Abraham. There are many religions, but they always look towards heaven; they look to God. What God wants is brotherhood among us, in a special way with our brothers, sons of Abraham like us, the Muslims." 
Pope Francis the Mason, proselytizing for the Masonic Brotherhood One World Religion
Devotions to the Holy Souls in Purgatory
Requiem aeternam dona eis domine; et lux perpetual luceat eis.   Requiescant in pace. Amen.
(Eleternal rest grant unto them, O Lord; and let perpetual light shine upon them.  May they rest in peace. Amen.)
<![if !supportLists]>· <![endif]>Sunday  O Lord God omnipotent, I beseech Thee by the Precious Blood, which Thy divine Son Jesus shed in the Garden, deliver the souls in purgatory, and especially that one which is the most forsaken of all, and bring it into Thy glory, where it may praise and bless Thee for ever. Amen.     Our Father, Hail Mary, Eternal rest, etc.
<![if !supportLists]>· <![endif]>Monday  O Lord God omnipotent, I beseech Thee by the Precious Blood which Thy divine Son Jesus shed in His cruel scourging, deliver the souls in purgatory , and among them all, especially that soul which is nearest to its entrance into Thy glory, that it may soon begin to praise Thee for ever. Amen.    Our Father, Hail Mary, Eternal rest, etc.
<![if !supportLists]>· <![endif]>Tuesday  O Lord God omnipotent, I beseech Thee by the Precious Blood of Thy divine Son Jesus that was shed in His bitter crowning with thorns, deliver the souls in purgatory, and among them all, particularly that soul which is in the greatest need of our prayers, in order that it may not long be delayed in praising Thee in Thy glory and blessing Thee for ever. Amen.    Our Father, Hail Mary, Eternal rest, etc.
<![if !supportLists]>· <![endif]>Wednesday  O Lord God omnipotent, I beseech Thee by the Precious Blood of Thy divine son Jesus that was shed in the streets of Jerusalem whilst He carried on His sacred shoulders the heavy burden of the Cross, deliver the souls in purgatory and especially that one which is richest in merits in Thy sight, so that, having soon attained the high place in glory to which it is destined, it may praise Thee triumphantly and bless Thee for ever. Amen.    Our Father, Hail Mary, Eternal rest, etc.
<![if !supportLists]>· <![endif]>Thursday  O Lord God omnipotent, I beseech Thee by the Precious Body and Blood of Thy divine Son Jesus, which He himself on the night before His Passion gave as meat and drink to His beloved Apostles and bequeathed to His Holy Church to be the perpetual Sacrifice and life-giving nourishment of His faithful people, deliver the souls in purgatory, but most of all, that soul which was most devoted to this Mystery of infinite love, in order that it may praise Thee therefor, together with Thy divine Son and the Holy Spirit in Thy glory forever. Amen.    Our Father, Hail Mary, Eternal rest, etc.
<![if !supportLists]>· <![endif]>Friday  O Lord God omnipotent, I beseech Thee by the Precious Blood which Jesus Thy divine Son did shed that day upon the tree of the Cross, especially from His Sacred Hands and Feet, deliver the souls in purgatory, and particularly that soul for whom I am most bound to pray, in order that I may not be the cause which hinders Thee from admitting it quickly to the possession of Thy glory where it may praise Thee and bless Thee for evermore. Amen.    Our Father, Hail Mary, Eternal rest, etc.
<![if !supportLists]>· <![endif]>Saturday  O Lord God omnipotent, I beseech Thee by the precious Blood which gushed forth from the sacred Side of Thy divine Son Jesus in the presence and to the great sorrow of His most holy Mother, deliver the souls in purgatory and among them all especially that soul which has been most devout to this noble Lady, that it may come quickly into Thy glory, there to praise Thee in her, and her in Thee through all the ages. Amen.    Our Father, Hail Mary, Eternal rest, etc.
Heroic Act of Charity for the Souls on Purgatory
An "Heroic Act of Charity" is the offering of the satisfactory value (not the merits) of all of our sufferings and works of our rest of our lives and of any time we may spend in Purgatory for the relief of the souls in Purgatory. We do this by first deciding to do so, and then praying (using our own words or the more formal prayer below) to offer these things to God through Mary's hands.

Doing this is not a matter of taking a vow; it doesn't bind under pain of sin, and it is revokable (unless one vows never to revoke the Act). But it is a tremendous sacrifice, hence the name. It is truly heroic, a giving up of one's own earned relief from the temporal effects of sin -- even relief of the sufferings of Purgatory -- for the good of others.

In addition to asking God to use their satisfactory works for the souls in Purgatory, those who make this Act also receive a plenary indulgence (under the usual conditions) for the souls in Purgatory each time they receive Communion, and each time they hear Mass on Mondays for the sake of the departed. Words to a formal Act of Heroic Charity are as follows:
O Holy and Adorable Trinity, desiring to aid in the relief and release of the Holy Souls in Purgatory, through my devotion to the Blessed Virgin Mary, I cede and renounce, on behalf of these souls, all the satisfactory part of my works, and all the suffrages which may be given to me after my death. In their entirety, I offer them to Mary, the Most Holy Mother of God, that she may use them, according to her good pleasure, for those souls of the faithful departed whom she desires to alleviate their suffering. O my God, deign to accept and bless my offering which I make to Thee through the most august Queen of Heaven and Earth.
Amen.
Quotable Pope Francis - BYOC (Bring Your Own Clarity)
Each one of us has his own vision of good and evil and must choose to follow the good and to fight the evil as he understands them. This would be enough to change the world.
Pope Francis
Spiritual interference in personal life is not possible. 
Pope Francis
If a homosexual person is of good will and is seeking God, I am no one to judge him. Religion has the right to express its opinion in the service of the people, but God in creation has made us free.
Pope Francis
Scalfari: "Is there a single vision of the good? And who establishes it?"
Pope Francis: "Each of us has his vision of the good. We must incite him to proceed toward what he thinks to be the good."
Vatican II, inspired by Pope John and by Paul VI, decided to look to the future with a modern spirit and to open to modern culture. The council fathers knew that opening to modern culture meant religious ecumenism and dialogue with nonbelievers. After then very little was done in that direction. I have the humility and the ambition of wanting to do it. 
Pope Francis
If a person is gay and is seeking the Lord and has good will, who am I to judge him?
Pope Francis
Our objective is not proselytism, but listening to the needs, the desires, the disappointments, the desperation, the hope. We must bring hope back to the young, help the old, open to the future, spread love. Poor among the poor. We must include the excluded and preach peace. Vatican II, inspired by Pope John and Paul VI, decided to look to the future with a modern spirit and to open to modern culture. The council fathers knew that opening to modern culture meant religious ecumenism and dialogue with nonbelievers. After then, very little was done in that direction. I have the humility and the ambition to want to do it.
Pope Francis
Next time, they need to throw the person responsible for this blasphemy into the Tiber along with his pagan idols so that none may ever be recovered!
Fr. James Martin: Catholics who threw Pachamamas in Tiber have 'hatred of the foreigner'
LifeSiteNews | VATICAN CITY | October 22, 2019 – Pro-LGBT Jesuit priest James Martin accused those who threw the Amazon Synod's controversial statues of an unclothed pregnant female, also being referred to as the pagan idol "Pachamama", into Rome's Tiber river of "hatred."
The U.S. celebrity priest who is editor-at-large of America magazine also falsely accused the unknown Catholic men who took the fertility symbols from Santa Maria in Traspontina yesterday morning of "breaking into" the church.
"The hatred unleashed by the Synod, which led to breaking into a church, is hatred of the 'foreigner,' hatred of a Christianity that seems different from your own, when in fact Christianity has always inculturated itself," he said on Twitter.
"The 'Roman Church,' after all, began in the Middle East."
Martin included an odd message from someone calling himself "etspesnostra" who identified with the men who threw the "ugly piece of firewood" in the Tiber and said "we are coming for you."
The hatred unleashed by the Synod, which led to breaking into a church, is hatred of the "foreigner," hatred of a Christianity that seems different from your own, when in fact Christianity has always inculturated itself. The "Roman Church," after all, began in the Middle East. <![if !vml]>
<![endif]>— James Martin, SJ (@JamesMartinSJ), October 22, 2019
However, the men who removed the four simulacra of a naked pregnant woman did not break into the Carmelite church but walked into the open building as at least one worshipper prayed there. They later provided a statement saying that they acted because Jesus Christ, His mother and His other followers "are being attacked by members of our own Church."
"We do not accept this! We do not [sic] longer stay silent! We start to act NOW!" they continued.
"Because we love humanity, we cannot accept that people of a certain region should not get baptised and therefore are being denied entrance into heaven. It is our duty to follow the words of God like our holy Mother did. There is no second way of salvation. Christus vincit, Christus regnat, Christus imperat !
An Amazonian took to Twitter yesterday to celebrate the removal of the figures, whom he identified as the region's version of the fertility goddess many identify with the "Earth Mother."
"I am from the Amazon (Belém, PA, Brazil) and I say with all authority: Amazonian Catholics are celebrating the destruction of the 'Pachamama' pagan idol," wrote Lucas Klautau.
"Cry, modernist. In the Amazon we have only one queen: Our Lady of Nazareth, the horror of the pagans."
Cardinal Wilfrid Napier, the Archbishop of Durban, South Africa, did not share Fr. Martin's vehemence. In response to a National Catholic Register piece about the statues being tossed into the Tiber, he quipped over Twitter, "I guess that could be the fate of some of the theories being floated about the Synod!"
The 'Pachamama' statues were part of a display about "Amazonian spirituality" in the church. Both the figures, which the Vatican identified as fertility symbols, and a poster showcasing a 1992 photograph of a naked indigenous woman breastfeeding a wild boar have excited much controversy during the Synod.
Meanwhile, Venezuelan Cardinal Jorge Urosa Savino, archbishop emeritus of Caracas, has said that "syncretism" evident at the "pagan" cermony witnessed by Pope Francis in the Vatican Gardens on October 4, in which several Catholics prostrated themselves before two of the 'Pachamama' statues, should have been "avoided entirely."
Breaking News from Una Voce Malta: Modernist Vatican will only allow the traditional Mass to be said within the context of the New Church (beginning Advent 2018) if it accepts the Lectionary and Calendar of the Novus Ordo. This would mean that the traditional Catholic Mass would not be allowed within the context of New Church. Notice the section of the story about the Fraternity of St. Peter and the Institute of Christ the King. Also, the SSPX will only be given a "temporary exemption" "in order to make the reconciliation possible." No other exemptions will be allowed! Note the smug establishment description of Una Voce of itself. Basically, the True Mass with Catholic worship and prayers and celebrations will only be possible in, what Fr. Malachi Martin called 20 years ago, the "Underground Church." 
Peter Chojnowski, Ph.D.
Pope Francis the Sophist: He believes in "Absolute Truth" but denies that it can be know or communicated to other!
"We believers and of course above all we priests and we bishops believe in the Absolute, but each in their own way because each one has his own head and thought. So our absolute truth, shared by us all, is different from person to person. We do not avoid discussions in the case where our different thoughts confront each other. So there is a kind of relativism among us as well."
Pope Francis, quoted by Eugenio Scalfari in La Repubblica, 10-10-17
To the Hypocrite, everyone else is a Hypocrite!
The devil doesn't have anything to do with repentant sinners because they look to God and say, 'Lord, I'm a sinner. Help me,' and the devil is impotent. But with the hypocrites he is strong. He is strong, and he uses them to destroy, to destroy people, destroy society, destroy the church.
Pope Francis the HomoLobby CEO, homily September 20, 2018
The purpose of dialogue is to produce opinion. The purpose of logical argument is to appeal to the intellect to arrive at truth.  Rhetoric appeals to the will and poetry to the imagination. The emphasis of the Novus Ordo Church since Vatican II on dialogue is therefore a repudiation of any claim to truth offering in its place only the opinions of churchmen. Is the reduction of Jesus Christ from the Truth to just another opinion.
"The Church will have to opt for dialogue as her style and method, fostering an awareness of the existence of bonds and connections in a complex reality. . . . No vocation, especially within the Church, can be placed outside this outgoing dynamism of dialogue . . . . [emphasis added]."
Pope Francis' Instrumentum Laboris, XV ORDINARY GENERAL ASSEMBLY OF SYNOD OF BISHOPS:  YOUNG PEOPLE, THE FAITH AND VOCATIONAL DISCERNMENT
Vatican Offers Plausible Denial of Scalfari Report that Francis Affirms that Jesus Christ is not God -  The problem is that only two people know if the report is true, that is, Scalfari and Francis.  Since Scalfari has affirmed the claim, only Francis can deny it.  The Vatican "spokesman" knows nothing.  Francis has not denied the accusation, and is unlikely to ever do so.  Why? Because, the report is probably true!
"As has been said on other occasions, the words that Dr. Eugenio Scalfari ascribed to the Holy Father in conversations with him, are not as a faithful representation of what has actually been said, but above all are a personal and free interpretation of what he has heard, as it quite obviously seems, what is written today concerning the deity of Jesus Christ."
Rev. Matteo Bruni, Vatican Spokesman
Is the Amazonian Synod Inciting God's Wrath? By David Martin
A poster of a topless indigenous woman breast-feeding a weasel is among the many graphics being used to publicize the infamous Amazonian Synod presently underway in Rome. LifeSiteNews videographer Jim Hale was able to obtain this footage while documenting the Synod in Rome.
Disgusting as it is, there is more to this than meets the eye. It derives from Pope Francis' eco-encyclical Laudato Si, which underscores the synod. What they're saying is that everything in creation is "interconnected," that we are "related" to the animals, and it uses this degraded imagery to make the point.
According to the synodal architects, we're just animals. The synod is about our "ecological conversion" and oneness with the planet, not about our oneness with Christ. It calls upon the Church to bow to the planetary idol and make "reparation" to "Mother-Earth" for the "sins" committed against her. It dignifies the superstition of pagan culture and seeks to pollute the Church therewith. It is truly the work of Antichrist.
Mr. Hale was also able to capture on film a most deplorable scene inside of St. Peter's Basilica—a nude Mother Earth idol along with Pope Francis and various cardinals chanting, dancing, and praying before the statue. The nude idol along with other shocking exhibits are now on display in the Santa Maria in Transpontina Church, just down the street from St. Peter's. It appears that the Eternal City has become a forum for globalists.
Divine Wrath Imminent?
That Rome should descend to such diabolical depths that would have the hierarchy carousing around this latter-day golden calf is a clear testament to the apostasy of our times. These shocking events immediately call to mind Christ's prophecy concerning the divine wrath of the last days that would ensue in the wake of the abominations that would pollute the Sanctuary. As he says:
"When therefore you shall see the abomination of desolation, which was spoken of by Daniel the prophet, standing in the holy place: he that readeth let him understand.... For there shall be then great tribulation, such as hath not been from the beginning of the world until now, neither shall be. And unless those days had been shortened, no flesh should be saved: but for the sake of the elect those days shall be shortened." (Matthew 24:15-22)
The synod also calls to mind how God many times in the Bible had punished the Jews for turning to strange gods worshiping idols in their groves. Is history about to repeat itself?
The pope and his errant hierarchy would do well to put away their idol and return to their knees before their Crucified Savior and King on the Cross, remembering the admonition of Holy Scripture:
"For power is given you by the Lord, and strength by the most High, who will examine your works, and search out your thoughts: Because being ministers of his kingdom, you have not judged rightly, nor kept the law of justice, nor walked according to the will of God. Horribly and speedily will he appear to you: for a most severe judgment shall be for them that bear rule." (Wisdom 6: 4-6)
Eponymous Flower Blog
St. Joseph's forgotten role in Fatima's 'Miracle of the Sun'
Voice of the Family | 10-5-2017 – The 13 October 2017 will be the centenary of the Miracle of Sun and the final apparition of Our Lady of Fatima. Despite being essential for understanding the period of history that we are now living through, the details of these remarkable events are far too little known, including amongst Catholics. In this article, we wish to draw attention to the much-neglected role of St Joseph during that momentous event.
Following the Miracle of Sun, and at the culmination of Our Lady's final apparition, St Joseph also appeared to the three young seers. Father John de Marchi, in his book The True Story of Fatima, describes it as follows:
To the left of the sun, Saint Joseph appeared holding in his left arm the Child Jesus. Saint Joseph emerged from the bright clouds only to his chest, sufficient to allow him to raise his right hand and make, together with the Child Jesus, the Sign of the Cross three times over the world. As Saint Joseph did this, Our Lady stood in all Her brilliancy to the right of the sun, dressed in the blue and white robes of Our Lady of the Rosary. Meanwhile, Francisco and Jacinta were bathed in the marvelous colors and signs of the sun, and Lucia was privileged to gaze upon Our Lord dressed in red as the Divine Redeemer, blessing the world, as Our Lady had foretold. Like Saint Joseph, He was seen only from His chest up. Beside Him stood Our Lady, dressed now in the purple robes of Our Lady of Sorrows, but without the sword. Finally, the Blessed Virgin appeared again to Lucia in all Her ethereal brightness, clothed in the simple brown robes of Mount Carmel.
This final apparition at Fatima points us towards three particular forms of devotion towards Our Lady that we are called to practice during this "final battle" against Satan. These are devotion to:
<![if !supportLists]>· <![endif]>her Sorrowful and Immaculate Heart
<![if !supportLists]>· <![endif]>the Holy Rosary
<![if !supportLists]>· <![endif]>the Brown Scapular.
However, it is of the greatest importance to note that the final apparition of Fatima also directs us towards the intercession of St Joseph, whom Our Lord intimately associated with Himself in his blessing of the world.
Father de Marchi wrote:
Our Lord, already so much offended by the sins of mankind and particularly by the mistreatment of the children by the officials of the county, could easily have destroyed the world on that eventful day. However, Our Lord did not come to destroy, but to save. He saved the world that day through the blessing of good Saint Joseph and the love of the Immaculate Heart of Mary for Her children on earth. Our Lord would have stopped the great World War then raging and given peace to the world through Saint Joseph, Jacinta later declared, if the children had not been arrested and taken to Ourem.
On the Feast of the Immaculate Conception, 8 December 1870, Blessed Pope Pius IX, following appeals received from bishops worldwide, had declared St Joseph to be Patron of the Universal Church, "in this most sorrowful time" when "the Church herself is beset by enemies on every side and oppressed by heavy calamities, so that impious men imagine that the gates of Hell are at length prevailing against her."
Pope Leo XIII, to whom it was revealed in 1884 that Satan would be given, for a time, increased power to work for the destruction the Church, instituted a new devotion to St Joseph in his encyclical letter Quamquan pluries, promulgated on the Feast of the Assumption, 15 August 1889. The Supreme Pontiff wrote:
During periods of stress and trial – chiefly when every lawlessness of act seems permitted to the powers of darkness – it has been the custom in the Church to plead with special fervour and perseverance to God, her author and protector, by recourse to the intercession of the saints – and chiefly of the Blessed Virgin, Mother of God – whose patronage has ever been the most efficacious.
He further explained:
We see faith, the root of all the Christian virtues, lessening in many souls; we see charity growing cold; the young generation daily growing in depravity of morals and views; the Church of Jesus Christ attacked on every side by open force or by craft; a relentless war waged against the Sovereign Pontiff; and the very foundations of religion undermined with a boldness which waxes daily in intensity. These things are, indeed, so much a matter of notoriety that it is needless for Us to expatiate on the depths to which society has sunk in these days, or on the designs which now agitate the minds of men. In circumstances so unhappy and troublous, human remedies are insufficient, and it becomes necessary, as a sole resource, to beg for assistance from the Divine power.
More than a century after the promulgation of this encyclical the evils identified by Pope Leo XIII have intensified to a degree that would have been inconceivable to most people in 1889. Thousands of innocent children are slaughtered every day with the approval of the governments that ought to be defending them, the sanctity of marriage is defiled by divorce, adultery and contraception, and the bonds between parents and their children are being deliberately targeted for destruction by the most powerful states and institutions in the world. Worst of all, the Pope himself is responsible for the spread of heresies which are leading the flock away from Christ and towards eternal damnation.
Pope Leo XIII urged the faithful, just as Our Lady would do twenty-eight years later at Fatima, to combat these evils through the prayer of the Holy Rosary:
At this proximity of the month of October, which We have already consecrated to the Virgin Mary, under the title of Our Lady of the Rosary, We earnestly exhort the faithful to perform the exercises of this month with, if possible, even more piety and constancy than heretofore. We know that there is sure help in the maternal goodness of the Virgin, and We are very certain that We shall never vainly place Our trust in her. If, on innumerable occasions, she has displayed her power in aid of the Christian world, why should We doubt that she will now renew the assistance of her power and favour, if humble and constant prayers are offered up on all sides to her? Nay, We rather believe that her intervention will be the more marvellous as she has permitted Us to pray to her, for so long a time, with special appeals.
But then, once more anticipating Fatima, he directed the faithful also towards St Joseph:
But We entertain another object, which, according to your wont, Venerable Brethren, you will advance with fervour. That God may be more favourable to Our prayers, and that He may come with bounty and promptitude to the aid of His Church, We judge it of deep utility for the Christian people, continually to invoke with great piety and trust, together with the Virgin-Mother of God, her chaste Spouse, the Blessed Joseph; and We regard it as most certain that this will be most pleasing to the Virgin herself.
He further explained:
The divine house which Joseph ruled with the authority of a father, contained within its limits the scarce-born Church. From the same fact that the most holy Virgin is the mother of Jesus Christ is she the mother of all Christians whom she bore on Mount Calvary amid the supreme throes of the Redemption; Jesus Christ is, in a manner, the first-born of Christians, who by the adoption and Redemption are his brothers. And for such reasons the Blessed Patriarch looks upon the multitude of Christians who make up the Church as confided specially to his trust – this limitless family spread over the earth, over which, because he is the spouse of Mary and the Father of Jesus Christ he holds, as it were, a paternal authority. It is, then, natural and worthy that as the Blessed Joseph ministered to all the needs of the family at Nazareth and girt it about with his protection, he should now cover with the cloak of his heavenly patronage and defend the Church of Jesus Christ.
Therefore the Holy Father instituted a new prayer to said after the Holy Rosary throughout the month of October. He intended this prayer to be said, not just in October 1889, but in October every year. As we prepare for the centenary of the Miracle of Sun, let us learn the lesson of St Joseph's apparition at Fatima, and turn to him for help and protection.
St Joseph, terror of demons, pray for us!
The revealed truth of the Gospel are reduced to "opinions", to "merely human calculations."
So many past controversies between Christians can be overcome when we put aside all polemical or apologetic approaches, and seek instead to grasp more fully what unites us, namely, our call to share in the mystery of the Father's love revealed to us by the Son through the Holy Spirit. Christian unity – we are convinced – will not be the fruit of subtle theoretical discussions in which each party tries to convince the other of the soundness of their opinions. […..…] In the call to be evangelizers, all the Churches and Ecclesial Communities discover a privileged setting for closer cooperation. For this to be effective, we need to stop being self-enclosed, exclusive, and bent on imposing a uniformity based on merely human calculations. Our shared commitment to proclaiming the Gospel enables us to overcome proselytism and competition in all their forms. 
Pope Francis
"And what is most remarkable is that the enemies of the Church—the movements that rend and crucify her—are in a sense her own offspring and derive their dynamic force from her." This includes her current enemies who attack from within the household. In the crucible of conflict, saints are forged and crowns won.
Actually, however, Christianity has never accepted these postulates, and the Christian ought to be the last person in the world to lose hope in the presence of the failure of the right and the apparent triumph of evil. For all this forms part of the Christian view of life, and the Christian discipline is expressly designed to prepare us to face such a situation.
Christianity, to a far greater degree than any other religion, is a historical religion and it is knit up inseparably with the living process of history. Christianity teaches the existence of a divine progress in history which will be realized through the Church in the Kingdom of Cod. But at the same time it recognizes the essential duality of the historical process—the co-existence of two opposing principles, each of which works and finds concrete social expression in history. Thus we have no right to expect that Christian principles will work in practice in the simple way that a political system may work The Christian order is a supernatural order. It has its own principles and its own laws which are not those of the visible world and which may often seem to contradict them. Its victories may be found in apparent defeat and its defeats in material success.
We see the whole thing manifested clearly and perfectly once and once only, i.e. in the life of Jesus, which is the pattern of the Christian life and the model of Christian action. The life of Jesus is profoundly historical; it is the culminating point of thousands of years of living historical tradition. It is the fulfillment of a historical purpose, towards which priests and prophets and even politicians had worked, and in which the hope of a nation and a race was embodied. Yet, from the worldly point of view, from the standpoint of a contemporary secular historian, it was not only unimportant, but actually invisible. Here was a Galilean peasant who for thirty years lived a life so obscure as to be unknown even to the disciples who accepted his mission. Then there followed a brief period of public action, which did not lead to any kind of historical achievement but moved swiftly and irresistibly towards its catastrophic end, an end that was foreseen and deliberately accepted.
And out of the heart of this catastrophe there arose something completely new, which even in its success was a deception to the very people and the very race that had staked their hopes on it. For after Pentecost—after the outpouring of the Spirit and the birth of the infant Church—there was an event as unforeseen and inexplicable as the Incarnation itself, the conversion of a Cilician Jew, who turned away from his traditions and from his own people so that he seemed a traitor to his race and his religion. So that ultimately the fulfillment of the hope of Israel meant the rejection of Israel and the creation of a new community which was eventually to become the State religion of the Roman Empire which bad been the enemy of Jew and Christian alike.
If you look on all this without faith, from the rationalist point of view, it becomes no easier to understand. On the contrary it becomes even more inexplicable; credo quia incredibile.
Now the life of Christ is the life of the Christian and the life of the Church. It is absurd for a Christian who is a weak human vehicle of this world changing force to expect a quiet life. A Christian is like a red rag to a bull—to the force of evil that seeks to be master of the world and which, in a limited sense, but in a very real sense, is, as St. John says, the Lord of this world. And not only the individual but the Church as an historic community follows the same pattern and finds its success and failure not where the politician finds them, but where Christ found them.
The Church lives again the life of Christ. It has its period of obscurity and growth and its period of manifestation, and this is followed by the catastrophe of the Cross and the new birth that springs from failure. And what is most remarkable is that the enemies of the Church—the movements that rend and crucify her—are in a sense her own offspring and derive their dynamic force from her. Islam, the Protestant Reformation, the liberal Revolution, none of them would have existed apart from Christianity—they are abortive or partial manifestations of the spiritual power which Christianity has brought into history. "I have come to cast fire on the earth and what will I, but that it be kindled."
Christopher Dawson, Dynamics of World History
"Woe to you that call evil good, and good evil: that put darkness for light, and light for darkness: that put bitter for sweet, and sweet for bitter." Isaias 5:20
In these times, it seems like the Great Accuser has been unchained and is attacking bishops. True, we are all sinners, we bishops. He tries to uncover the sins, so they are visible in order to scandalize the people. The Great Accuser, as he himself says to God in the first chapter of the book of Job, "Roams the earth looking for someone to accuse."
A bishop's strength against the Great Accuser is prayer, that of Jesus and His own, and the humility of being chosen and remaining close to the people of God, without seeking an aristocratic life that removes this unction. Let us pray, today, for our bishops: For me, for those who are here, and for all the bishops throughout the world.
Pope Francis, homily during recent Novus Ordo service, calling those who "uncover the sins" of homosexual bishops' perversions of being 'Satan'.
Amazonian Synod dedicated by the ideologue, Francis the Destroyer, to his modernist fantasy, St. Francis the Ecologue. The real St. Francis has something else to say to those who "trample the truth under foot and deny it":
The Saint Prophesies great Schisms and Tribulations in the Church
A short time before the holy Father's death, he called together his Children and warned them of the coming troubles, saying: 'Act bravely, my Brethren; take courage, and trust in the Lord. The time is fast approaching in which there will be great trials and afflictions; perplexities and dissensions, both spiritual and temporal, will abound; the charity of many will grow cold, and the malice of the wicked will increase. The devils will have unusual power, the immaculate purity of our Order, and of others, will be so much obscured that there will be very few Christians who will obey the true Sovereign Pontiff and the Roman Church with loyal hearts and perfect charity. At the time of this tribulation a man, not canonically elected, will be raised to the Pontificate, who, by his cunning, will endeavour to draw many into error and death. Then scandals will be multiplied, our Order will be divided, and many others will be entirely destroyed, because they will consent to error instead of opposing it. There will be such diversity of opinions and schisms among the people, the religious and the clergy, that, except those days were shortened, according to the words of the Gospel, even the elect would be led into error, were they not specially guided, amid such great confusion, by the immense mercy of God. Then our Rule and manner of life will be violently opposed by some, and terrible trials will come upon us. Those who are found faithful will receive the crown of life; but woe to those who, trusting solely in their Order, shall fall into tepidity, for they will not be able to support the temptations permitted for the proving of the elect. Those who preserve their fervour and adhere to virtue with love and zeal for the truth, will suffer injuries and persecutions as rebels and schismatics; for their persecutors, urged on by the evil spirits, will say they are rendering a great service to God by destroying such pestilent men from the face of the earth. But the Lord will be the refuge of the afflicted, and will save all who trust in Him. And in order to be like their Head, these, the elect, will act with confidence, and by their death will purchase for themselves eternal life; choosing to obey God rather than man, they will fear nothing, and they will prefer to perish rather than consent to falsehood and perfidy. Some preachers will keep silence about the truth, and others will trample it under foot and deny it. Sanctity of life will be held in derision even by those who outwardly profess it, for in those days Our Lord Jesus Christ will send them not a true Pastor, but a destroyer.
The Works of the Seraphic Father - St. Francis of Assisi
"When I happened to discuss these phrases (citing scriptural passages where Jesus Christ prayed), Pope Francis told me: 'They are the definite proof that Jesus of Nazareth, once he became a man, even if he was a man of exceptional virtue, was not God at all.'" Eugenio Scalfari, published in La Repubblica
Did Pope Francis Deny Christ's Divinity?
Eponymous Flower | David Martin |  October 10, 2019
The pope's favorite interviewer has gone on record as saying that Francis denies the divinity of Christ. Italian journalist Eugenio Scalfari said on Wednesday that the pope told him that Jesus of Nazareth "was not God at all."
In the October 9 issue of LaRepubblica, Scalfari wrote: "Those who have had the chance, as I have had different times, to meet him [Pope Francis] and speak to him with the greatest cultural confidence, know that Pope Francis conceives Christ as Jesus of Nazareth, a man, not God incarnate. Once incarnated, Jesus ceases to be a God and becomes a man until his death on the cross."
Scalfari cites examples in Scripture where Christ prayed, including the account of his agony in the Garden of Gethsemane, to support his thesis that Jesus Christ was not divine. He continues: "When I happened to discuss these phrases, Pope Francis told me: 'They are the definite proof that Jesus of Nazareth, once he became a man, even if he was a man of exceptional virtue, was not God at all.'"
The Vatican press office has discouraged the report, opining that Scalfari's account merely represents "a personal and free interpretation of what he has heard." Even so, the Vatican has not been able to refute the report with any certitude. The fact that Francis has done nothing to disavow the report tends to give it credence.
If the report is true, then Francis has unofficially professed the heresy of Arianism, which says that Christ on earth was not God Himself, the Second Person of the Trinity by Whom "all things" were made (John 1: 3), but was just a mere man.
This inference is encouraged when we consider Francis' ongoing slight of doctrine and his repeated efforts to dissuade Catholics from attempting to convert members of other religions. If Francis has no confidence in the One True Church that Christ left us, would it not indicate that it is Christ Himself Whom he lacks confidence in?
This apostate attitude is certainly reflected in the Amazonian Synod presently underway in Rome. According to Archbishop Viganò, 'Christ is absent' from the synod's working document. Cardinal Burke has described the Synod as "a direct attack on the Lordship of Christ." The synod is all about bowing to "mother-earth" in defiance of the everlasting ordinance that we bow only to Christ the King on His throne, so Scalfari's claim about Francis is not far-fetched.
If it is, the pope will publicly disavow this, but if he doesn't we can only infer that he blesses Scalfari, just as he has blessed him in the past by granting him new interviews after Scalfari had publicly attributed to him outlandish statements that contravene doctrine. If this isn't an endorsement of Scalfari's work, what is? 
Scalfari publishes the "authentic magisterium" of Francis while permitting 'plausible denial'!
Pope's favored interviewer claims Francis denies Christ's divinity
LifeSiteNews | ROME, October 9, 2019 – Atheist Italian journalist Eugenio Scalfari has claimed that Pope Francis does not believe that Jesus <![if !vml]>
<![endif]>Christ is truly God and man.
The Pope has granted Scalfari numerous interviews throughout his pontificate, despite repeated claims from the Vatican press office that his reports are unreliable.
In La Repubblica newspaper on Wednesday, Scalfari wrote: "Those who have had the chance, as I have had different times, to meet him [Pope Francis] and speak to him with the greatest cultural confidence, know that Pope Francis conceives Christ as Jesus of Nazareth, a man, not God incarnate. Once incarnated, Jesus ceases to be a God and becomes a man until his death on the cross." According to Scalfari, "When I happened to discuss these phrases, Pope Francis told me: 'They are the definite proof that Jesus of Nazareth, once he became a man, even if he was a man of exceptional virtue, was not God at all.'"
EWTN news anchor Raymond Arroyo reacted on Twitter, writing that he finds the report "hard to believe." However, he added, "Why does the Pope continue to grant interviews to an atheist who does not take notes and relies on his aged memory to reconstruct conversations?"
I find this hard to believe. But why does the Pope continue to grant interviews to an atheist who does not take notes and relies on his aged memory to reconstruct conversations? The Vatican must correct this.
— Raymond Arroyo (@RaymondArroyo) October 9, 2019
The Holy See Press Office's director, Matteo Bruni, issued the following official response to Scalfari's report: "As already stated on other occasions, the words that Dr. Eugenio Scalfari attributes in quotation marks to the Holy Father during conversations with him cannot be considered as a faithful account of what has actually been said, but rather represent a personal and free interpretation of what he has heard, as is quite evident from what has been written today about the divinity of Jesus Christ."
The Catholic Church teaches "that Jesus is inseparably true God and true man. He is truly the Son of God who, without ceasing to be God and Lord, became a man and our brother: 'What he was, he remained and what he was not, he assumed', sings the Roman Liturgy. And the liturgy of St. John Chrysostom proclaims and sings: 'O only-begotten Son and Word of God, immortal being, you who deigned for our salvation to become incarnate of the holy Mother of God and ever-virgin Mary, you who without change became man and were crucified, O Christ our God, you who by your death have crushed death, you who are one of the Holy Trinity, glorified with the Father and the Holy Spirit, save us!'" (CCC 469)
A self-declared atheist, the 95-year-old Scalfari is a founder of La Repubblica and a one-time fascist who later became a libertarian and member of Italy's national legislature. Scalfari has conducted several interviews with the pontiff. In March 2018, Scalfari claimed that the Pope told him that hell does not exist. La Repubblica claimed that Pope Francis had told him that the souls of those who do not go to heaven are annihilated. Francis allegedly said, "Souls are not punished," and "Those who repent obtain God's forgiveness and go among the ranks of those who contemplate him, but those who do not repent and cannot be forgiven disappear. There is no hell — there is the disappearance of sinful souls." Annihilationism is considered a heresy by the Catholic Church.
At the time, the Vatican Press Office disputed Scalfari's account, asserting that the Pope really does believe that hell exists and that "no quotation of the article should be considered as a faithful transcription of the words of the Holy Father." Media outlets have noted in the past that Scalfari uses neither a tape recorder nor takes notes during his interviews, and has admitted that he reconstructs conversations according to his memory.
Following the report by the Italian journalist, Christopher Altieri of the UK-based Catholic Herald wrote: "Why on earth does Pope Francis still trust Eugenio Scalfari?" He called upon Francis to "disown not only the precise verbiage Scalfari reported in his piece, but the ideas foisted upon him therein—at least the ones that are manifestly heretical."
"The longer he does not," Altieri wrote, "the stronger the case becomes for believing he cannot."
While Pope Francis has not chosen to grant an audience to cardinals who have formally questioned his teachings on marriage and salvation, he has met with other controversial figures. Recently, he met with Fr. James Martin, a fellow Jesuit who has been notable for his advocacy to normalize homosexuality within the Church. The pope has not met with Cardinals Raymond Burke and Walter Brandmuller, for instance, who along with two now-deceased prelates published their dubia questions about Amoris Laetitia in 2016.
Amazonic Notes # 1 - Francis Reaches a New Ridiculous Low: Pagan Rituals on Vatican Hill
<![if !vml]>

<![endif]>Nearly two thousand years ago, Saint Peter,the first bishop of Rome, was martyred on Vatican Hill, across the Tiber from the historical center of the City. The great shrine and Basilica dedicated to the Prince of the Apostles rose on top of it as Catholics were freed from oppression, and gradually, over the course of the centuries, as the main papal places of worship and administration faded away, in the Lateran and the Quirinal, the buildings surrounding the Vatican basilica became more and more prominent, until, with the unification of Italy and the Lateran treaties, the Vatican became the absolute center of the administrative and spiritual power of the Catholic Church.
It seems absolutely providential and appropriate, because it was not at all obvious that the blood of Saint Peter, first Vicar of Christ, would end up at the very center of Catholicity.
The blood of Saint Peter, Saint Paul, and uncounted Catholic martyrs of Rome, many of whom we remember daily in the Canon of the Mass, was spilled by pagans and in defense of paganism. Nothing could be further from the lesson of Our Lord Jesus Christ and His apostles than the worship of idols. Quite the opposite: from Germany to the Baltic, from Canada to the Amazon, from Africa to the Philippines, Catholic missionaries worked, suffered, and died to end the worship of pagan idols: "the things which the heathens sacrifice, they sacrifice to devils, and not to God."
How shocked would Saint Peter be if he knew that on that very same ground made blessed through his sacrifice a future bishop of Rome would bring pagan abomination. It happened today, as merely the first salvo of the "Synod for the Amazon", a gathering that nobody asked for, and made up by the bishops of the most liberal parts of Europe, with the help of some demonic bishops from South America, to reach some preordained objectives: the ordination of married men, if possible, and the normalization of the current version of secularized paganism, a mix of earth-worship and Rousseaian myths on the indigenous peoples of the Amazon river basin.
On the one hand, there is the ridiculousness of it all: Francis is, above all, or below it all, a ridiculous and pathetic man. Ridiculous men are made more ridiculous when they occupy august offices: Francis seems to fancy causing scandal, and this is just the latest example. On the other, while they claim they "respect" indigenous people, nothing could be more disrespectful than this: these poor natives are brought across the Atlantic to be used as puppets of evil liberal men.
These men could not care less about the natives, and certainly not about their souls (we would be shocked if they actually believed in the existence of souls at all): they have used the indigenous, use them now, and will use them as long as possible as mere marionettes to carry out their evil designs.
But, "be not deceived, God is not mocked." (Galatians 6:7)
Rorate Caeli
Fifteen Promises for Praying the Most Holy Rosary
<![if !supportLists]>1) <![endif]>Whoever shall faithfully serve Me by the recitation of the Rosary shall receive signal graces.
<![if !supportLists]>2) <![endif]>I promise My special protection and the greatest graces to all who shall recite the Rosary.
<![if !supportLists]>3) <![endif]>The Rosary shall be a powerful armor against Hell. It will destroy vice, decrease sin, and defeat heresies. (Actually, were that the only promise, we should pray it for that reason. Because what have we in our world today? We are surrounded by, wherever we are in the world, vice, sin and heresy.) 
<![if !supportLists]>4) <![endif]>It will cause virtue and good works to flourish. It will obtain for souls the abundant mercy of God. It will withdraw the hearts of men from the love of the world and its vanities, and will lift them to the desire of eternal things. Oh, that souls would sanctify themselves by this means. 
<![if !supportLists]>5) <![endif]>The soul which recommends itself to Me by the recitation of the Rosary shall not perish. 
<![if !supportLists]>6) <![endif]>Whoever shall recite the Rosary devoutly, applying himself to the consideration of its Sacred Mysteries, shall never be conquered by misfortune. God will not chastise him in His justice, he shall not perish by an unprovided death. If he be just, he shall remain in the grace of God and become worthy of eternal life.
<![if !supportLists]>7) <![endif]> Whoever shall have a true devotion for the Rosary shall not die without the Sacraments of the Church.
<![if !supportLists]>8) <![endif]>Those who are faithful in reciting the Rosary shall have during their life and at their death the light of God and the plenitude of His graces. At the moment of death they shall participate in the merits of the Saints in Paradise.
<![if !supportLists]>9) <![endif]>I shall deliver from Purgatory those who have been devoted to the Rosary.
<![if !supportLists]>10) <![endif]>The faithful children of the Rosary shall merit a high degree of glory in Heaven. 
<![if !supportLists]>11) <![endif]>You shall obtain all you ask of Me by the recitation of the Rosary.
<![if !supportLists]>12) <![endif]>All those who propagate the Holy Rosary shall be aided by Me in their necessities. 
<![if !supportLists]>13) <![endif]>I have obtained from My Divine Son that all the advocates of the Rosary shall have for intercessors the entire Celestial Court during their life and at the hour of death.
<![if !supportLists]>14) <![endif]>All who recite the Rosary are My sons, and brothers of My only Son, Jesus Christ. 
<![if !supportLists]>15) <![endif]>Devotion to My Rosary is a great sign of predestination.
Obedience is governed by the virtue of Religion, which is itself perfected by the Gift of Piety
Incited by that profound cry of "Father!" (Gal. 4, 6) which the Holy Ghost repeats within us, we rise toward heaven, longing to win God's heart and to behave in all things as His true children…. This is how the gift of piety helps virtue of justice as well as the virtue of religion…..If we aspire to live in close union with God, it is right for us to desire and pray for the gift of piety.  Under its influence our prayer will become more affectionate, more filial, and we shall attend with greater facility to all that concerns divine worship.  Let us ask for this gift, especially when we seem to be very dry and cold, so that in time of trial and interior suffering by its help we shall go to God as a child to its Father.  Furthermore, our diligent, constant application to prayer, notwithstanding the lack of sensible devotion, is one of the best dispositions for bringing us the life-giving breath of the gift of piety.
Rev. Gabriel of St. Mary Magdalen, O.C.D., Divine Intimacy
       "The Catholic Church…. Demands"?
The Catholic Church firmly advocates that due recognition be given to the public dimension of religious adherence. In an overwhelmingly pluralist society, this demand is not unimportant. Care must be taken to guarantee that others are always treated with respect. Mutual respect grows only on the basis of agreement on certain inalienable values that are proper to human nature, in particular the inviolable dignity of every single person. Such agreement does not limit the expression of individual religions; on the contrary, it allows each person to bear witness explicitly to what he believes, not avoiding comparison with others. 
Pope Benedict XVI to the Muslims in Germany
COMMENT: Rights are derived from duties.  God has imposed no duty to worship false gods.  So how is it that the "Catholic Church firmly advocates" and "demands" that "due recognition be given to the public dimension of religious adherence" to false gods?  How does it follow that treating one "with respect… allows each person to bear witness explicitly to what he believes"?
Pope Francis, in corrupting the Sacrament of Matrimony, has perpetrated a terrible injustice to countless Catholics!
Many Catholic families had hoped that the Synod on the Family would address the serious problem of the divorce epidemic and its long-term damage to youth, innocent spouses, the sacrament of marriage, the culture, and the Church. (It did not!) The divorce plague has inflicted severe pain upon Catholic families worldwide. Married couples need to be encouraged by the Church not to give up on their marriages during stressful, unhappy times, and to persevere in loyalty to their marital vows. [.....] Over the past forty years, I have never worked with a Catholic marriage in which both spouses wanted a divorce. In the majority of marriages under stress, one spouse remains happy with the marriage, believes the conflicts can be resolved and is loyal to the sacramental bond.
The spouses who are not happy and who want to pursue divorce and a decision of nullity most often refuse to address their own weaknesses. Instead, they portray themselves as victims of insensitive treatment or emotional abuse.[......]
The majority of spouses who pursue divorce — in our experience with several thousand couples — have never worked on these issues. This explains, in part, why the national survey of divorced men and women, conducted by the Office of Survey Research at the University of Texas at Austin, found the honest response that only one in three divorced spouses claimed that both they and their ex-spouses worked hard enough to try to save their marriage. There is reason to be hopeful about the resolution of marital difficulties. In a major study from the University of Chicago among spouses who rated their marriages as very unhappy, 86 percent of those who persevered reported themselves as happily married five years later.
One grave danger to Catholic marriages and families from the changes made in canon law made by the Holy Father (without a careful study by a commission of experts) is that spouses will not be motivated to engage in the hard work of addressing personal psychological and spiritual weaknesses. Instead, they will pursue divorce and with a belief that they are entitled to a decision of nullity if they can meet the criteria cited, including the new one, "etcetera."
With all due respect, the determination of nullity by only one priest or by a bishop after 30 to 45 days, is seriously flawed because they lack the proper mental health training to uncover and evaluate the numerous complex psychological conflicts that lead to a decision for divorce. This new process is a grave injustice and, therefore, a manifestation of a severe lack of mercy towards the sacrament of marriage, innocent spouses, children, and Catholic families.
In his closing talk at the Synod, the Holy Father criticized bishops and priests, whom he claimed hide behind rigid doctrines and ignore wounded families. In fact, his radical change in canon law in regard to annulments, made prior to the Synod, will weaken and harm Catholic marriages and families. [.....]
Rick Fitzgibbons, Psychological Science and the Evaluation of Nullity, published by "The Catholic Thing"
SCHISM
Pope Could Soon Say 'I Do' to Married Priests–and Open a Schism
A group of hand-picked clerics meeting in Rome next week about the ecumenical needs of the Amazon could change the entire Catholic Church forever.
Barbie Latza Nadeau |  Correspondent-At-Large | September 29, 2019
ROME–In October 2017, when Pope Francis announced a Vatican synod on the Amazon region "to identify new paths for the evangelization of God's people in that region," few people beyond those who had to attend marked it on their calendars. But over the course of the last two years, as the church prepared for the synod, which will run from Oct. 6 to 27 in Rome, it's become clear there may be no more important meeting in Francis' entire papacy.
One item among the 146 topics on the agenda listed in the 45-page working document has eclipsed all others–including the pope's focus on climate change and poverty. That is whether or not to allow married "viri probati"–men of proven virtue–to be ordained as priests for the purpose of delivering the big sacraments: baptism, confession, weddings and funerals, in far flung areas where no priests are present.
Bishop Rafael Cob, apostolic vicar of Puyo, Ecuador, who will be attending the synod in Rome, said that the Church must "respond to a concrete challenge in a concrete reality."
"The Amazon is a geographically difficult region to evangelize, first because of its distance, its inaccessibility," he told reporters at a press conference in Rome. "But there also is a lack of candidates who can or want to be priests with the issue of celibacy. So, logically, the Church is looking for new methods to respond to concrete challenges."
But a phalanx of conservative Catholic clerics, led by American Cardinal Raymond Burke and a host of other traditionalists, are ready to demand the resignation of the pope if he signs off on such heretical matters. By allowing married men to become priests in remote areas, they fear, the church could pave the way to the abolition of celibacy. Their slippery slope concern is that next, ordained priests will be able to marry. Then, God knows what could happen, maybe even women would be allowed into the priesthood.
German Cardinal Gerhard Müller of Germany is vehement: he doesn't even want the topic brought up and has condemned the synod working document. He says it has "triggered fears of a pending change to Church doctrine." He warns that it could actually cause a schism, leaving conservatives with no choice but to leave the church under Francis.
Müller says the Amazon working document "lacks theological reflection" and creates "great confusion" for Catholics. He says that it puts the focus on "human ideas to save the world" rather than Jesus.
The great schisms of the Catholic Church have been few and far between, but hugely momentous. The most significant is the so-called East-West schism that divided Christendom into the Western Roman Catholic and the Eastern Orthodox branch. The Eastern Orthodox church, for the record, does allow married priests. The Eastern Catholic church as well as the Latin rite church also allows married men to be ordained as priests while still being recognized in Rome.
Francis, as his papacy has proven, believes humans should have a say in all matters relating to, well, humans. Still, even as he entertains the idea that married devout Catholic men could be ordained to deliver the sacraments, Pope Francis has been clear that he is not willing to bend on celibacy, per se. On a recent papal voyage, he told journalists that he "would rather give his life" than reverse the celibacy rule which, for the record, is a rule he could easily change.
"If the bishops agreed through mutual consent to ordain married men–those called viri probati – it's my judgment that the pope would accept it," German Cardinal Walter Kasper, one of Francis' closest theological allies, told Crux, a Catholic news site, recently. "Celibacy isn't a dogma, it's not an unalterable practice."
On his way back from Africa in early September, Francis told reporters that he did not fear a divided church, which has led many to question whether in some small way he would like the conservatives to leave. "I pray that there will not be schisms," he told reporters on board the papal plane. "But I am not afraid."
Maybe he is banking on the theory that elderly married viri probati won't have a huge issue with the matter. After all, early on in his papacy he compared Europe to an ageing women, who he described as a "grandmother, no longer fertile and vibrant." Perhaps he is sure that a man of virtue won't sin for the sake of sexual satisfaction after a certain age.
On the face of it, the issue seems rather banal. At the moment, many of the 2.8 million mostly Catholic people who live in the Amazon region, which skirts Bolivia, Brazil, Colombia, Ecuador, French Guiana, Guyana, Peru, Venezuela and Suriname, don't have access to ordained priests. If they want to baptize newborns or bury their dead they have either to wait until a traveling priest shows up, which could be once a month or longer in some cases, or travel for miles to see the closest one which, as one can imagine, is almost as difficult with a newborn as it would be with a corpse.
Weddings are often scheduled to happen one after another when the priest will be in town, but things like last rites are impossible to administer and vitally important to devout Catholics who believe they must be anointed at death to rise to Heaven. Nuns are aplenty in the area and while they have done much of the heavy lifting like reading the Sunday liturgy in lieu of mass, they just don't have the power that deacons and priests have because of their gender.
The Catholic bishops in the Amazon region have long insisted that there are two options to deliver the faith to the faithful. First, the Catholic Church could give the nuns more power, but opening that door seems one that Rome doesn't want to go anywhere near for fear that the precedent might spark a global stampede. Francis has, in fact, slammed the door on that a number of times.
So they are left with the option of ordaining married men who qualify as viri probati and giving them full powers to conduct priestly duties. The synod's working document clearly suggests studying "the possibility of priestly ordination for elders, preferably Indigenous, respected and accepted by the community, even if they have an established and stable family."
And Francis has stacked the synod deck of voting clerics to include the bulk from that region and the rest from his advisory group, including three Americans who are often classified as liberal, including Cardinal Kevin Farrell, the prefect of the Dicastery for the Laity, Family and Life, Cardinal Sean O'Malley of Boston, who is one of his closest advisers, and Bishop Robert McElroy of San Diego. Francis has also invited 12 "special" guests to weigh in, inducing former United Nations Secretary General Ban Ki-Moon to deliver a talk on a yet undefined topic.
The pope's trusted adviser Cardinal Kaspar says he hopes the pope does sign off on ordaining married men in certain situations. "Personally, I'm very much in favor of maintaining celibacy as an obligatory way of life with a commitment to the cause of Jesus Christ," Kaspar said. "But this doesn't exclude that a married man can carry a priestly service in special situations."
What about faithful Catholics defending traditions who have been cast to the "existential peripheries" and are "victims of the throwaway culture" of Novus Ordoism?
Pope Francis: God Has a 'Particular Concern for Foreigners'
BREITBART
Pope Francis celebrated the World Day of Migrants and Refugees in the Vatican Sunday, insisting on the "moral duty" to welcome the stranger with the compassion exhibited by God himself. The Lord "upholds the stranger as well as the widow and the orphan among his people," the pope said in his homily at morning Mass in St. Peter's Square. "The Lord has a particular concern for foreigners, widows and orphans, for they are without rights, excluded and marginalized. This is why God tells the Israelites to give them special care." Citing the biblical book of Exodus, Francis said that the God of Israel is the one who "executes justice for the fatherless and the widow, and loves the sojourner, giving him food and clothing." "This loving care for the less privileged is presented as a characteristic trait of the God of Israel and is likewise required, as a moral duty, of all those who would belong to his people," he said. Yet this message "is not only about foreigners; it is about all those in existential peripheries who, together with migrants and refugees, are victims of the throwaway culture," the pope clarified.
"Three things are necessary for the salvation of man: to known what he ought to believe; to know what he ought to desire (that is, to love), and to know what he ought to do." 
St. Thomas Aquinas
"Love takes up where knowledge leaves off." 
St. Thomas Aquinas
"For loving draws us more to things than knowing does, since good (that which we love) is found by going to the thing, whereas the true (that which we known) is found when the thing comes to us."
St. Thomas Aquinas
"Better to illuminate than merely to shine, to deliver to others contemplated truths than merely to contemplate."
St. Thomas Aquinas
"There is but one Church in which men find salvation, just as outside the ark of Noah it was not possible for anyone to be saved. 
St. Thomas Aquinas
"Good can exist without evil, whereas evil cannot exist without good."
St. Thomas Aquinas
"To teach in order to lead others to faith is the task of every preacher and of each believer." 
St. Thomas Aquinas
"Man has free choice to the extent that he is rational."
St. Thomas Aquinas
"To bear with patience wrongs done to oneself is a mark of perfection, but to bear with patience wrongs done to someone else is a mark of imperfection and even of actual sin." 
St. Thomas Aquinas
COMMENT:  There is no etymological or historical opposition between proselytism and evangelization.  A proselyte is a new convert.  Historically it refers to a new religious convert but can be used in a broader sense. To proselytize is to make a new convert.  The New Testament specifically calls one of the Church's first deacons, Nicolas, a "proselyte from Antioch" (ACTS 6:5).  The Greek word from which proselyte is derived refers to a "stranger, or alien resident."  Evangelism is the "winning or revival of personal commitments to Jesus Christ." Evangelism refers to the Gospel, or Good News.  Saints Matthew, Mark, Luke and John who wrote the Gospels are called "evangelists."  On the first Pentecost, St. Peter preached to the Jews in Jerusalem (ACTS 2) the "Good News" of Jesus Christ, and from this first evangelization, "they that received his word, were baptized, and there were added in that day about three thousand souls," that is, "three thousand" proselytes.  To create an opposition between evangelization and proselytism is to affirm that the Good News, the Gospel message, does not impose any doctrinal or moral imperative that requires conversion for salvation.  It affirms that modern error that the personal dignity of every man is so great that he is free to reject the truth that God has revealed and free to disobey with impunity God's moral law.  It denies the fundamental truth that everyone born in original sin is an enemy of God until he professes his belief in the revealed truths of God and receives the sacrament of baptism which removes the stain of original sin and makes one a child of God, a temple of the Holy Ghost, a member of the Church, and an heir to heaven.  Anyone who creates an opposition between evangelization and proselytism, as Pope Francis does, is an enemy of God, of the Gospel message, and of all mankind.
Pope Francis claims that proselytism destroys freedom.  No kidding!  Any and every choice made by any and everyone necessarily limits freedom.  If a woman chooses to marry and be the mother of children, she necessarily is no longer free to become religious nun.  Freedom is not an end in itself but a means to obtain the end for which we have been created by God.  Those that make freedom an end in itself make no choices and live meaningless lives and are aliens to grace and the friendship of God.  Here we see Pope Francis introduced to a Catholic evangelist and her two proselytes, and from this, he is filled with "bitterness."  This bitterness is typified in the Gospels by the Pharisees as they recoil against the preaching, the miracles, and the person of Jesus Christ.  This bitterness engenders their murderous conspiracy to bring about the passion and death of Jesus.  Francis cannot direct his resentment against Jesus Christ so he directs his bitterness against the true faithful, the evangelist who rejoices in the winning of souls to Jesus Christ.  Pope Francis is an enemy of Jesus Christ.  He is like the high priest Caiaphas and in the end will merit the same reward.
Proselytism vs. Evangelization
Pope Francis says he felt 'bitterness' when introduced to Catholic converts in Africa
LifeSiteNews | VATICAN CITY |  September 27, 2019 ― In a question-and-answer session with Jesuits in Mozambique, Pope Francis underscored his dislike of "proselytization" by condemning the actions of a Catholic woman he had met that day.
The Argentinian pontiff's September 5 remarks were published yesterday in the Holy See's news website Vatican News.
"Today I felt a certain bitterness after a meeting with young people," Pope Francis told the assembled Jesuits.
"A woman approached me with a young man and a young woman. I was told they were part of a slightly fundamentalist movement," he continued.
"She said to me in perfect Spanish: 'Your Holiness, I am from South Africa. This boy was a Hindu and converted to Catholicism. This girl was Anglican and converted to Catholicism.' But she told me in a triumphant way, as though she was showing off a hunting trophy. I felt uncomfortable and said to her, 'Madam, evangelization yes, proselytism no.'"
Pope Francis seemed to believe that the young people had been coerced in some way, for he told his listeners that whereas "evangelization is free," "proselytism … makes you lose your freedom."
"Proselytism is incapable of creating a religious path in freedom," he said.
"It always sees people being subjugated in one way or another. In evangelization the protagonist is God, in proselytism it is the I."
Pope Francis continued by saying that there were "many forms of proselytism' and that "the one practiced by soccer teams, acquiring fans, is all right, obviously!"
"And then it is clear that there are those forms of proselytism for commerce and business, for political parties," he added.
"Proselytism is widespread, we know that. But it doesn't have to be the case with us. We must evangelize, which is very different from proselytizing."
The pontiff repeated the old story about St. Francis telling his friars to evangelize and "if necessary, use words, too."
"Evangelization is essentially witness," Francis continued.
"Proselytizing is convincing, but it is all about membership and takes your freedom away."
He cited an address Benedict XVI gave at the Shrine of Our Lady of Aparecida in Brazil during his visit in 2017. The German pontiff had said that the Church does not engage in proselytism.
"Instead, she grows by 'attraction': just as Christ 'draws all to himself' by the power of his love, culminating in the sacrifice of the Cross, so the Church fulfils her mission to the extent that, in union with Christ, she accomplishes every one of her works in spiritual and practical imitation of the love of her Lord," Benedict continued.
Catholics expressed their dismay about Francis' rejection of the South African lady on social media. British Father Evan Julce contrasted Pope Francis' approached with that of St. Padre Pio when an enthusiastic lady addressed him.
"A woman excitedly told Padre Pio that there was a prophecy that a Franciscan would convert 1/3 of the world," Julce recalled over Twitter.
"The saintly Padre responded: 'what would I want with only 1/3? I want everyone to come to Christ,'" he continued.
"He didn't spurn her. Her spurred her (and himself) to work more."
A Twitter user named Heather replied, "I feel so sad for this lady. She was probably just so excited for the Pope to meet her convert friends."
Pope's proposal for 'new humanism' would 'wipe out Christianity': Mother Miriam
LifeSiteNews | September 25, 2019 — News of the pope's just-launched "Global Pact" for "new humanism" has "to do with ruining our <![if !vml]>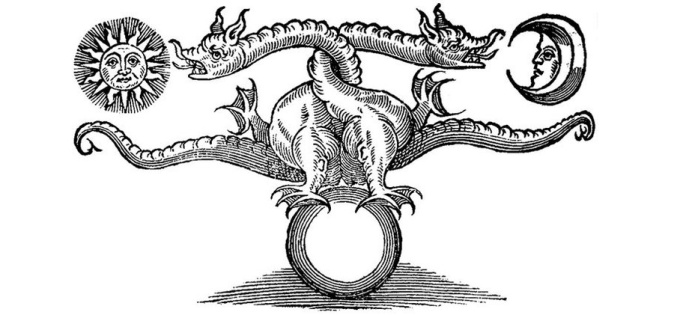 <![endif]>society, ruining our culture, and destroying the family," Mother Miriam said on her live show Monday.
On September 12, the Vatican issued a statement inviting religious, humanitarian, and international leaders, and leading politicians, academics, scientists, and athletes, to sign a "Global Pact on Education."
On her Monday show, Mother Miriam read and reflected on a LifeSiteNews article about it.
"We did not awake this morning to glorious news, and it all has to do with ruining our society, ruining our culture, and destroying the family," she said.
The goal of the "Global Pact on Education" is to hand "on to younger generations a united and fraternal common home." Mother told listeners this is the "common home of the devil. There is no common home we have but Heaven and Christianity on Earth this side of Heaven. We have no common home other than that."
According to a Vatican site promoting the pact, "Pope Francis has invited everyone who cares about the education of the young generation to sign a Global Pact, to create a global change of mentality through education."
"Beloved, that is what the communists set out to do well over a hundred years ago," Mother responded. "The evil has entered into the Church, and it has been bought by the very pope himself and the hierarchy."
Mother reminded listeners that we are called to be stewards of God's creation and to educate our children.
Over the last few weeks, Mother's shows have focused on the duty of parents to educate their children. She has called on parents to pull their children out of public schools to protect them from gender ideology and graphic sex education. Mother has advocated bringing children home and not passing off their primary duty of educating their children to others. The pope is proposing nearly the opposite.
"This [the Global Education Pact]," the pope said, "will result in men and women who are open, responsible, prepared to listen, dialogue and reflect with others, and capable of weaving relationships with families, between generations, and with civil society, and thus to create a new humanism."
Mother called the pope's initiative to globalize education "demonic." [.....]
The U.N., founded Communists, is now the great promoter of worldwide Abortion and Contraception. Obey?
"When we acknowledge international organizations and we recognize their capacity to give judgment, on a global scale—for example the international tribunal in The Hague, or the United Nations—If we consider ourselves humanity, when they make statements, our duty is to obey … We must obey international institutions. That is why the United Nations were created."
Pope Francis, September 10, 2019, press conference on route to Rome from Madagascar
Pope Francis has all clinical symptoms and signs of debilitating 'Pernicious Logorrhea'!?
Question: Does this mean that faithful Catholics will no longer be labeled with such adjectives as "rigid," "self-absorbed," "promethean,"  neo-pelegian," "intransigent," "narcissistic," "authoritarian," "elitist," "adulterated" Christians by Pope Francis (Evangelii Gaudium, #94)?
Answer: Probably not. After all, Pope Francis' directive is only applied to his enemies and never to himself. This new idea of Pope Francis is manifestly (adverb) stupid (adjective) which, in a self-explanatory way, shows why he would like those who know him well to drop all adverbs and adjectives. 
Nouns are more Christian? Pope Francis says he's 'allergic' to adjectives
<![if !vml]>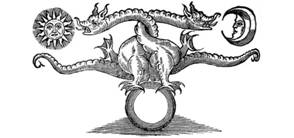 <![endif]>RT | World News | Sep 25, 2019
Traditionally, the head of the Roman Catholic Church uses his pulpit to speak out against calamities such as war and hunger. But Pope Francis has taken aim at a less conspicuous enemy of humanity: The dreaded adjective.
In a speech to the Vatican communications team, Francis lectured about the sinful overuse of adjectives, stating that he is "allergic" to them.
"We have fallen into the culture of adjectives and adverbs, and we have forgotten the strength of nouns… Why say authentically Christian? It is Christian!" he opined, while acknowledging that the word 'Christian' often acts as an adjective.
He called on the Vatican's PR gurus to "communicate with reality, without sweetening with adjectives or adverbs," explaining that "beauty manifests itself from the noun itself, without strawberries on the cake."
"Let us learn to call people by their name, as the Lord does with us, and to give up using adjectives."— Pope Francis (@Pontifex 9-24-19)
The group, which runs the Pope's social media accounts, later published a tweet urging Christians to abandon the temptation of using adjectives.
The unorthodox sermonizing received mixed reviews on Twitter, with some applauding the directive as long overdue, while others expressed confusion over why the Pontiff was bothering with such matters.
<![if !vml]>
<![endif]>Pope Francis lays the groundwork to overturn Humanae Vitae
"The welfare of the family is decisive for the future of the world and that of the Church… The anthropological-cultural change, which today affects all aspects of life and requires an analytical and diversified approach, does not allow us to limit ourselves to pastoral and missionary practices that reflect forms and models of the past. We must be conscious and passionate interpreters of the wisdom of faith in a context in which individuals are less sustained than in the past by social structures, in their affective and family life. In the clear purpose of remaining faithful to the teaching of Christ, we must look with the intellect of love and with wisdom of realism to the reality of the family today, in all its complexity, in its lights and in its shadows."
Pope Francis, in his Motu Proprio, Summa Familiae Cura, referencing his own document which overturned all Catholic morality, Amoris Laetitia
Hermeneutics of Continuity/Discontinuity  
Tradition: from an Objective Truth Received reduced to a Subjective Impression of Historical Events
Now I make known unto you, brethren, the gospel which I preached to you, which also you have received, and wherein you stand; By which also you are saved, if you hold fast after what manner I preached unto you, unless you have believed in vain. For I delivered unto you first of all, which I also received. 
St. Paul, 1 Cor. 15: 1-3
Concluding and summing up, we can therefore say that Tradition is not the transmission of things or words, a collection of dead things. Tradition is the living river that links us to the origins, the living river in which the origins are ever present, the great river that leads us to the gates of eternity. 
Pope Benedict XVI, General Audience, April 26, 2006
Both the Catholic and Protestant interpretation of Christianity have meaning each in its own way; they are true in their historical moment... Truth becomes a function of time... fidelity to yesterday's truth consists precisely in abandoning it, in assimilating it into today's truth. [.....] The truth is whatever serves progress, that is, whatever serves the logic of history.
Joseph Cardinal Ratzinger, Principles of Catholic Theology: Building Stones for a Fundamental Theology
All Art of Christendom has as its foundation the immemorial "received and approved rite" of the Mass, while only the most "mediocre man" could ever embrace the Novus Ordo!
ART is the remembrance of the universal presence of God.
Art is Beauty expressed in ways that can be grasped by the senses. It is the form assumed by the Ideal under the laws of the natural world.
How shall it succeed in entering this land of exile?
Time and Space guard the frontiers of our world, and seize on all that enter. Nothing escapes them. And so Art condescends to submit its infinite and gracious splendour to human limitations. It does not violate its unity; but since the finite mind of man cannot grasp it as a whole, it reveals itself in different modes.
Forced to submit to Time and Space, it begs their aid to help it to retain its beauty while it sojourns in the country which they rule. And Time lends it language, Space lends it light.
The laws of Time are summed up in arithmetic; the laws of Space in algebra. In the world of Art, arithmetic—the science of numbers—is the basis of poetry and music; for Time determines measure, and measure is rhythm. Geometry is the basis of architecture, sculpture, and painting, for it is Space which decides their proportions. Love is the life of Art, yet the arts are founded on mathematics, inflexible and absolutely exact. It is as though Love and Order, which men sometimes regard as opposed to each other, had determined to demonstrate their essential unity by the loftiest of their forms.
Art is an ascension. Its law is to rise. By its very nature it seeks the eternal types of things, and tends towards the Ideal. It may, indeed, lose sight of the Polar Star and make for a false ideal. Still, through every error we catch a glimpse of THE IDEAL, the corruption of which, in one way or another, explains the deviations of Art. Through every error we perceive the shattered form of Truth perverted.
Every artist—every artist worthy of the name—helps the human soul to breathe. Art, to a certain extent and at a given moment, is a force which blows the roof off the cave where we crouch imprisoned. What mighty levers does it employ? What massive weights have been placed at its service? Language! Music! A mere breath from human lips!
Poor fugitive notes, poor syllables caught away by the breeze! How invisible your majesty! How weak you seem! Yet you have power to shake earth to its foundations, and Heaven itself stoops to listen to you. In the solemn moments when we yield ourselves to your sway, our soul breathes a purer air; she breathes, and she is conscious of herself. She says: "Yes, my God, I am great, and I had forgotten it." [.....]
Contempt for Art is one of the commonest of sentiments, not only among ordinary men, but among artists and critics. To have a contempt for Art is to permit it to lie. The artist despises Art when he aims at anything but the realization of Truth. The critic despises Art when he pardons it for adopting an ideal which is not true.
Every day we hear this absurd expression with reference to some error clothed in brilliant language: "It is poetry." When the mediocre man, speaking of a lie, has declared that it is poetry, he thinks he has excused the liar. On the contrary, he has brought a fresh accusation against him; for if the liar lies poetically, he has laid hold of the loftiest form of language and forced to utter a lie.
When the mediocre man desires pander to the disorderly life of another man, he says: "He is an artist." If the man is really an artist, the disorder is most criminal. Music is founded on mathematics, poetry and painting depend on rigorous laws. Every artist should live in austere conformity to Order.
Earnest Hello, Catholic writer, 1828-1885, Life, Science and Art
Sacramental Theology for the ideological driven ecologist
The celebration of Baptism invites us to consider the importance of "water" as a source of life, not only as a tool or material resource, and it makes the community of believers responsible for guarding this element as a gift of God for the whole planet. Furthermore, since the water of Baptism purifies the baptized of all sins, its celebration allows the Christian community to adopt the value of water and "the river" as a source of purification, thus facilitating the inculturation of the water-related rites that come from the ancient wisdom of the Amazonian peoples.
Pope Francis, Preparatory document for Amazon Synod: Amazonia: New Paths for the Church and for an Integral Ecology
More Timely as Time Goes By:
Excerpt from Ss. Peter & Paul Roman Catholic Mission Open Letter Addressed to Bishop Joseph McFadden, June 29, 2011
  The recent document Universae Ecclesiae published by the Pontifical Commission of Ecclesia Dei (PCED) is the instruction on the application of Pope Benedict XVI's Motu Proprio, Summorum Pontificum, which concerns the use of the 1962 Missal.  That Missal has been variously known as the Missal of John XXIII, the Bugnini transitional Missal of 1962, the Indult Missal, and now, as the "extra-ordinary form" of the Novus Ordo expressing a single 'lex orandi/lex credendi' of the later Bugnini edition, which is now called the "ordinary form" of the Novus Ordo.  The 1962 Missal can be identified by any number of descriptive names except, the "received and approved" immemorial Roman rite of the Mass.  It is impossible that the 1962 Missal could be the "received and approved"2 immemorial Roman rite because it is impossible that the immemorial Roman rite could ever be reduced to the status of an Indult, or treated as a grant of legal privilege entirely as a matter of Church discipline subject to the free, independent and arbitrary will of the legislator, or even worse, as the proper subject matter for experimentation by "liturgical experts" staffing "liturgical committees." The 1962 Missal has never been afforded the standing of immemorial custom by the authorities in Rome and it has proven itself to be just as unstable and transitory today as it was when first published in 1962.  We agree with Pope Benedict that there exists no antithesis between the 1962 Missal and the 1970 edition of that rite.
  The Masses offered at Ss. Peter & Paul Roman Catholic Mission are offered according to the immemorial Roman rite of Mass before Rev. Annibale Bugnini, as secretary for the Commission for Liturgical Reform, overturned the principles of organic liturgical development and subjected the "received and approved" Roman rite of Mass to artificial manmade theories of liturgical innovation.  These theories, that are clearly foreign to the Catholic sense of liturgical development, are of the same kind used by the Protestants in the 16th century, and later by the Jansenists in the 17th and 18th centuries, to employ liturgy as a means of changing doctrine.3  Since we do not use the 1962 Missal, we are not subject to the PCED, whose particular competency is to govern the use of that edition with its anticipated updates in the ongoing "reform of the reform," nor are we subject to the restrictive norms established for the use of that Missal.
  We have some small appreciation for the challenge facing Pope Benedict in his attempt to correct the Novus Ordo liturgical problems in the Latin rite, problems which he himself described as "a liturgical collapse,"4 but he is not without a share in the responsibility for the current state of affairs.  Implementing his 'hermeneutic of continuity/discontinuity' by employing a Hegelian dialectic to create a new liturgical synthesis between the Bugnini Missal of 1962 and the Bugnini Missal of 1970 will only produce another artificial construct by liturgical innovators.  We are not opposed to these "reform of the reform" corrections and anticipate a general benefit for all Catholics when, for example, the high altar is restored to its proper position in Catholic sanctuaries, and such abuses as communion in the hand are ended, but why should these corrections be paid for by a compromise of immemorial tradition?  No one should expect Catholics who have been faithful to tradition over the last 50 years to willingly subject themselves to another liturgical edition of "musical chairs" with no idea where they will end up when the music stops.  Liturgical instability has become the norm.  It is for this reason that we did not consider any suggestion to become an Indult community by Bishop Rhoades.
  Ss. Peter and Paul Roman Catholic Mission claims that by virtue of our baptism, whose character both empowers and obligates us to profess our Catholic faith and to worship God in the external forum, we have the right to the "received and approved" immemorial traditions of our Church that are perfectly consonant with that faith we hold in the internal forum and by which our faith is visibly manifested, most importantly, we possess  the right to have the "received and approved rites customarily used in the administration of the sacraments" (Council of Trent).  We further hold that, although these rights can be duly regulated by properly constituted authority, they can never be conditionally exercised by required concessions or compromises of Catholic faith or morals. 
  We further publically avow that we have made every effort to insure that our consciences, according to Catholic moral principles, have been properly formed and that they are both true and certain on these questions that pertain to faith and worship; and have made every effort to conform our actions to our conscience which we as Catholics are morally obliged to do. […..]
"Nothing is more insolent than a fact." 
Dom Gueranger
Pope Francis, like his conciliarists predecessors, endorses the pagan One World Government of the UN!
"When we acknowledge international organizations and we recognize their capacity to give judgment, on a global scale—for example the international tribunal in The Hague, or the United Nations—If we consider ourselves humanity, when they make statements, our duty is to obey … We must obey international institutions. That is why the United Nations were created."
Pope Francis, press conference, 9-10-19 during flight from Madagascar to Rome
Pope Francis, the CEO of the HomoLobby, is losing all his friends!
Two cardinals close to Francis accused of covering up sex abuse of pope's altar boys
LifeSiteNews | September 19, 2019 – Two high-ranking cardinals close to Pope Francis stopped an investigation of a seminarian accused of abusing multiple adolescents who serve at Pope Francis' masses, according to extensive reports in the Italian media as well as statements made by Archbishop Carlo Maria Viganò that were published by LifeSite earlier this year.
Viganò names the two cardinals as Angelo Comastri, Vicar General of Vatican City, and Cardinal Francesco Coccopalmerio, then the President of the Pontifical Council for Legislative Texts. Viganò also states that Pope Francis himself was directly informed of the accusations by the main witness, but for years failed to act.
Following LifeSite's publication of the accusations, and following an extensive investigation by the Prosecutor of Rome, the Holy See announced this week that its Promoter of Justice is officially requesting a criminal trial of the accused seminarian, now a priest, as well as the rector of the seminary at the time of the alleged abuse. It also states that Pope Francis is permitting the prosecution despite the fact that the one-year statute of limitations has been exceeded.
Cardinals nixed investigation into case, Francis never responded to complaint, Viganò says
"One of the seminarians, Kamil Jarzembowski, a roommate of one of the victims, claims to have witnessed dozens of incidents of sexual aggression," wrote Archbishop Viganò in July. "Along with two other seminarians, he denounced the aggressor, first in person to his pre-seminary superiors, then in writing to cardinals, and finally in 2014, again in writing to Pope Francis himself. One of the victims was a boy, allegedly abused for five consecutive years, starting at age 13. The alleged aggressor was a 21-year-old seminarian, Gabriele Martinelli."
"That pre-seminary [St. Pius X] is under the responsibility of the diocese of Como, and is run by the Don Folci Association," said Viganò. "A preliminary investigation was entrusted to the judicial vicar of Como, Don Andrea Stabellini, who found elements of evidence that warranted further investigation. I received firsthand information indicating that his superiors prohibited his continuing the investigation."
"After evidence [of the sexual abuse] was collected by Don Stabellini, the case was immediately covered up by the then-bishop of Como, Diego Coletti, together with Cardinal Angelo Comastri, Vicar General of Pope Francis for Vatican City," said Viganò. "In addition, Cardinal Coccopalmerio, then President of the Pontifical Council for Legislative Texts, who was consulted by Don Stabellini, strongly admonished him to stop the investigation."
Viganò says that while the accused seminarian was ultimately ordained a priest, his accusers have all been expelled or have left the seminary: "The bishop of Como removed Don Stabellini from the post of Judicial Vicar; the whistleblower, the seminarian Kamil Jarzembowski, was expelled from the seminary; the two fellow seminarians who had joined him in the denunciation left the seminary; and the alleged abuser, Gabriele Martinelli, was ordained [a] priest in July 2017."
"The signs I see are truly ominous," wrote Viganò in July. "Not only is Pope Francis doing close to nothing to punish those who have committed abuse, he is doing absolutely nothing to expose and bring to justice those who have, for decades, facilitated and covered up the abusers."
"The pope and many prelates in the Curia are well aware of these allegations, but in neither case was an open and thorough investigation permitted. An objective observer cannot help but suspect that horrible deeds are being covered up," stated Viganò.
"All this happened within the Vatican walls, and not a word of it came out during the [sex abuse] summit," he added.
Coverup accusations confirmed by extensive Italian media coverage
Viganò's accusations are backed by coverage in the Italian media going back to November of 2017, when the story of the alleged sexual abuse by Martinelli was first revealed to the public by Gianluigi Nuzzi in his book, "Original Sin." One of the victims was then interviewed by the television program Le Iene, which also revealed the name of the accused seminarian and rumors of a coverup. Archbishop Viganò's statements offer confirmation of the story as well as the coverup, and bring the accusation to the attention of the global public.  [.......]
And what is the sure sign of rigidity? They believe what God has revealed and keep His commandments!
"I would like to emphasize an attitude that I do not like, because it does not come from God: rigidity. Today it is fashionable, I do not know about here, but in other parts of the world it is fashionable, to find rigid people. Young, rigid priests, who want to save with rigidity, perhaps, I don't know, but they take this attitude of rigidity and sometimes – excuse me – from the museum. They are afraid of everything, they are rigid. Be careful, and know that under any rigidity there are serious problems."
Pope Francis, advising the bishops of Mozambique on choosing men for ministry
Do you suppose he was also talking to us at Ss. Peter & Paul Roman Catholic Mission?
"Always refer back to your baptism. "One faith, one baptism, one Lord." This is what Paul tells us, and then take the consequences from there. I wouldn't ever dare to allow this, because it's not my competence. One baptism, one Lord, one faith. Talk to the Lord and then go forward. I don't dare to say anything more."
Pope Francis the Obfuscator, August 2019, addressing a Lutheran woman married to a Catholic asking if she could receive Holy Communion in a Catholic Church
Well, Maybe Not!
Francis in a clear example of psychological projection!
Pope says US critics use 'rigid' ideology' to mask failings
Associated Press | Nicloe Winfield | September 10, 2019
ABOARD THE PAPAL PLANE (AP) — Pope Francis said Tuesday he wasn't afraid of a U.S. Catholic Church schism led by his conservative critics, but sees a "rigid" ideology opponents use to mask their own moral failings has already infiltrated the American church.
Francis said during an airborne news conference that he prays a schism in the U.S. Catholic Church doesn't happen. He nevertheless doubled down on confronting outspoken conservatives in the U.S. and beyond who oppose his outreach to gay and divorced people and his concern for the poor and the environment.
Francis said he welcomed "loyal" criticism that leads to introspection and dialogue. Such "constructive" criticism shows a love for the church, he said. But he ideologically driven critics don't really want a response but merely to "throw stones and then hide their hand."
"I'm not afraid of schisms," Francis told reporters while the papal plane was flying back from his trip to Africa. "I pray that there aren't any because the spiritual health of so many people is at stake.
"Let there be dialogue, correction if there is some error. But the path of the schismatic is not Christian," he added.
Francis' comments are likely to inflame a heated debate roiling the Catholic Church in the United States and elsewhere. The pope's mercy-over-morals emphasis irks some doctrine-minded Catholics who came of age during the conservative papacies of St. John Paul II and Benedict XVI.
During his flight to Africa last week, a French journalist presented Francis with a book about the pope's conservative critics in the U.S. Francis acknowledged his right-wing opponents and said, "For me, it's an honor if the Americans attack me."
The book, "How America Wants to Change the Pope," documents the growing criticism of Francis by a small wing of U.S. Catholics who question many of his positions. Some have gone so far as to accuse Francis of heresy and warned of the risk of schism, or a formal separation from the Holy See.
Francis' allies, including German Cardinal Walter Kaper and the head of Francis' Jesuit order, have said the conservative criticism amounts to a "plot" to force the first Jesuit pope to resign so a conservative would take his place.
Asked about the criticism and risk of schism, Francis insisted his social teachings were identical to those of St. John Paul II, the standard-bearer for many conservative Catholics.
And he noted that church history is full of schisms, most recently after the Second Vatican Council, the 1960s church meetings that modernized the church.
A group of traditionalist Catholics led by French Archbishop Marcel Lefebvre rejected the reforms and grew into what Francis said was the "most well-known" of recent church schisms.
"I pray there are no schisms, but I'm not afraid of them," he said.
Francis said all schismatics share a common trait: They allow ideology to become "detached" from Catholic doctrine and distance themselves from the faith of ordinary Catholics.
"When doctrine slips into ideology, there's the possibility of schism," he warned.
He lamented that many bishops and priests were already engaged in a "pseudo-schism" but said ideas won't survive.
He claimed doctrinal rigidity, or "moral asceticism," masked their own personal problems. It was perhaps a reference to how some of the church's most notorious sexual predators - the late Legion of Christ leader, Rev. Marciel Maciel among them - preached a highly conservative brand of sexual morals.
"You'll see that behind rigid Christians, bishops and priests there are problems," Francis said, adding that such rigidity showed a lack of a healthy understanding of the Gospel. "We have to be meek with these people who are tempted to attack (because) behind them there are problems and we have to accompany them with meekness."
Opposition to Francis in the U.S. reached a fever pitch in the last year following the publication of accusations by a former Vatican ambassador to the U.S. that Francis, and before him a long list of Vatican and U.S. prelates, turned a blind eye to the sexual misconduct of ex-Cardinal Theodore McCarrick.
Francis didn't name Archbishop Carlo Maria Vigano during his news conference. But he praised critics who spoke to him directly with openness to dialogue.
"At least those who say something have the advantage of honesty in saying so. And I like that," he said. "I don't like criticism when it's under the table, when they smile at you and then then they try to stab you in the back.
"That isn't loyal. That isn't human," Francis said.
If the teaching proposed by the Church as dogma is not actually and really the doctrine supernaturally revealed by God through Jesus Christ Our Lord, [........] then there could be nothing more pitifully inane than the work of the Catholic Magisterium. [........] This common basis of the false doctrinal Americanism and of the Modernist heresy is, like doctrinal indifferentism itself, ultimately a rejection of Catholic dogma as a genuine supernatural message or communication from the living God Himself. It would seem impossible for anyone to be blasphemous or silly enough to be convinced, on the one hand, that the dogmatic message of the Catholic Church is actually a locutio Dei ad homines, and to imagine, on the other hand, that he, a mere creature, could in some way improve that teaching or make it more respectable. The very fact that a man would be so rash as to attempt to bring the dogma of the Church up to date, or to make it more acceptable to those who are not privileged to be members of the true Church, indicates that this individual is not actually and profoundly convinced that this dogmatic teaching of the Catholic Church is a supernatural communication from the living and Triune God, the Lord and Creator of heaven and earth. It would be the height of blasphemy knowingly to set out to improve or to bring up to date what one would seriously consider a genuine message from the First Cause of the universe.
Fr. Joseph C. Fenton, AER, The Sacrorum Antistitum and the Background of the Oath Against Modernism
"Woe to you that call evil good, and good evil: that put darkness for light, and light for darkness: that put bitter for sweet, and sweet for bitter." Isaias 5:20
Hence it is can no longer simply be said that all those in any "irregular" situation are living in a state of mortal sin and are deprived of sanctifying grace. More is involved here than mere ignorance of the rule. A subject may know full well the rule, yet have great difficulty in understanding "its inherent values", or be in a concrete situation which does not allow him or her to act differently and decide otherwise without further sin. As the Synod Fathers put it, "factors may exist which limit the ability to make a decision."
Pope Francis the Lutheran, Amoris Laetitia
Opinions opposed to reason inevitably produce actions opposed to nature.
Louis de Bonald, (1754-1840) French counter-revolutionary, statesman, philosopher
He who does not keep the true Catholic faith whole and without error will undoubtedly be lost.  He who is separated from the Catholic Church will not have life. 
Pope Gregory XVI, Perlatum Ad Nos
That the Mystical Body of Christ and the Catholic Church in communion with Rome are one and the same thing is a doctrine based on Revealed Truth.  That we must necessarily belong to the true Church if we are to attain everlasting salvation is a statement which some people reduce to meaningless formula. 
Pope Pius XII, Humani Generis
Nature of DOGMA - "A genuine supernatural message or communication from the living God Himself" -
and its Denial by Modernists
    Thus, We have reached one of the principal points in the Modernists' system, namely the origin and the nature of dogma. For they place the origin of dogma in those primitive and simple formulae, which, under a certain aspect, are necessary to faith; for revelation, to be truly such, requires the clear manifestation of God in the consciousness. But dogma itself they apparently hold, is contained in the secondary formulae.
To ascertain the nature of dogma (for the modernist), we must first find the relation which exists between the religious formulas and the religious sentiment. This will be readily perceived by him who realises that these formulas have no other purpose than to furnish the believer with a means of giving an account of his faith to himself. These formulas (for the modernist) therefore stand midway between the believer and his faith; in their relation to the faith, they are the inadequate expression of its object, and are usually called symbols; in their relation to the believer, they are mere instruments.
Hence it is quite impossible (for the modernist) to maintain that they express absolute truth: for, in so far as they are symbols, they are the images of truth, and so must be adapted to the religious sentiment in its relation to man; and as instruments, they are the vehicles of truth, and must therefore in their turn be adapted to man in his relation to the religious sentiment. But the object of the religious sentiment, since it embraces that absolute, possesses an infinite variety of aspects of which now one, now another, may present itself. In like manner, he who believes may pass through different phases. Consequently, the formulae too, which we call dogmas, must be subject to these vicissitudes, and are, therefore, liable to change. Thus the way is open to the intrinsic evolution of dogma. An immense collection of sophisms this, that ruins and destroys all religion. Dogma is not only able, but ought to evolve and to be changed.
St.Pius X, Pascendi
If the teaching proposed by the Church as dogma is not actually and really the doctrine supernaturally revealed by God through Jesus Christ Our Lord, [........] then there could be nothing more pitifully inane than the work of the Catholic Magisterium. [........] This common basis of the false doctrinal Americanism and of the Modernist heresy is, like doctrinal indifferentism itself, ultimately a rejection of Catholic dogma as a genuine supernatural message or communication from the living God Himself. It would seem impossible for anyone to be blasphemous or silly enough to be convinced, on the one hand, that the dogmatic message of the Catholic Church is actually a locutio Dei ad homines, and to imagine, on the other hand, that he, a mere creature, could in some way improve that teaching or make it more respectable. The very fact that a man would be so rash as to attempt to bring the dogma of the Church up to date, or to make it more acceptable to those who are not privileged to be members of the true Church, indicates that this individual is not actually and profoundly convinced that this dogmatic teaching of the Catholic Church is a supernatural communication from the living and Triune God, the Lord and Creator of heaven and earth. It would be the height of blasphemy knowingly to set out to improve or to bring up to date what one would seriously consider a genuine message from the First Cause of the universe.
Fr. Joseph C. Fenton, AER, The Sacrorum Antistitum and the Background of the Oath Against Modernism
Historical Note: Only Catholics are Christians.  The Thirty Years' War was fought between Catholics and those who rejected the revelation of Jesus Christ for a religion of their own making.
There are so many divisions among us Christians, if we look at the history of the Church! Even now we are divided. In history, as Christians, we waged wars among ourselves because of theological differences; let us think of the Thirty Years' War. But this is not Christian.  We are divided even now: we must ask for unity among all Christians, the unity that Jesus wants, because he prayed for this. 
Pope Francis, General Audience, 8/27/2014
"I seek for nothing more; I have made the sacrifice of everything and of everyone to God; now I prepare to die. Now it is indeed true that nothing more remains to me, Jesus.  I recommend my poor soul to Thee … Jesus!" 
St. Gemma Galgani, Last Words
Both the Sacrament of Baptism and the will to receive the Sacrament are necessary for salvation!
"But God desired that his confession should avail for his salvation, since he preserved him in this life until the time of his holy regeneration." St. Fulgentius
Thus the proper understanding of the passage from the Catechism of Trent:
Canon 4 on the sacraments in general: If anyone says that the sacraments of the New Law are not necessary for salvation but are superfluous, and that without them or without the desire of them men obtain from God through faith alone the grace of justification, though all are not necessary for each one, let him be anathema.
"If anyone is not baptized, not only in ignorance, but even knowingly, he can in no way be saved. For his path to salvation was through the confession, and salvation itself was in baptism. At his age, not only was confession without baptism of no avail: Baptism itself would be of no avail for salvation if he neither believed nor confessed." St. Fulgentius
Notice, both the CONFESSION AND THE BAPTISM are necessary for salvation, harkening back to Trent's teaching that both the laver AND the "votum" are required for justification, and harkening back to Our Lord's teaching that we must be born again of water AND the Holy Spirit.
 
In fact, you see the language of St. Fulgentius reflected in the Council of Trent. Trent describes the votum (so-called "desire") as the PATH TO SALVATION, the disposition to Baptism, and then says that "JUSTIFICATION ITSELF" (St. Fulgentius says "SALVATION ITSELF") follows the dispositions in the Sacrament of Baptism.
 
Yet another solid argument for why Trent is teaching that BOTH the votum AND the Sacrament are required for justification.
"Hold most firmly and never doubt in the least that not only all pagans but also all Jews and all heretics and schismatics who end this present life outside the Catholic Church are about to go into the eternal fire that was prepared for the Devil and his angels."
St. Fulgentius
 "The most Holy Roman Church firmly believes, professes and preaches that none of those existing outside the Catholic Church, not only pagans, but also Jews and heretics and schismatics, can have a share in life eternal; but that they will go into the 'eternal fire which was prepared for the devil and his angels.'"  St. Eugene IV, Cantate Domino
Ladislaus, CathInfo
The Novus Ordo is "irreversible" because it lost its way long ago. There can be no retracing of its steps. The fruit of the Novus Ordo is apostasy. It is a memorial meal with an ever changing menu. Pope Francis does not possess the authority to overturn Dogma, therefore, he cannot overturn God's liturgical laws any more than he can overturn God's laws regarding Sodomy, Fornication and Adultery.
"After this magisterium, after this long journey, we can affirm with certainty and with magisterial authority that the liturgical reform is irreversible." 
Pope Francis the Destroyer, addressing the 68th Italian National Liturgical Week, August 24, 2017
"If anyone shall say that the received and approved rites of the Catholic Church accustomed to be used in the solemn administration of the sacraments may be disdained or omitted by the minister without sin and at pleasure, or may be changed to other new rites by any pastor of the churches whomsoever : let him be anathema."
Council of Trent, Den. 856
It is erroneous to conceive of graces of state as helps which will automatically fill in for deficits of temperament, aptitude, and preparation, as if the mere fact of being assigned to a task would make us able to accomplish it, as if God were bound to grant us graces of state that would compensate for our deficiencies. The grace of state is not a guarantee of infallibility to a superior; it is not a conferment of knowledge to the ignorant to become teachers, and so on; it is not a panacea... We must prepare ourselves to receive the graces of state like all graces, to merit them as much as possible, through an entire and continual docility to the invitations of the Holy Ghost. Indeed, this would be an illusion that imagines God granting graces of state mechanically. If God always offers these graces, they would only be received in the measure of the disposition of the subject.
Dictionary of Spirituality, quoted by Fr. Olivier Rioult, The Impossible Reconciliation
"For all the gods of the Gentiles are devils: but the Lord made the heavens." Psalm 95:5
Pope Francis the Heretic claims that the worship of devils is the positive will of God!
Freedom is a right of every person: each individual enjoys the freedom of belief, thought, expression and action. The pluralism and the diversity of religions, color, sex, race and language are willed by God in His wisdom, through which He created human beings. This divine wisdom is the source from which the right to freedom of belief and the freedom to be different derives. Therefore, the fact that people are forced to adhere to a certain religion or culture must be rejected, as too the imposition of a cultural way of life that others do not accept. 
Pope Francis, Human Fraternity for World Peace and Living Together
Francis/Bergoglio has surrounded himself with so many "crooks, creeps, and degenerates" because he himself is a "crook, creep and degenerate"!
"Bergoglio would call up those investigating, say, a pederast priest and tell them to back off," a Buenos Aires Church insider told me. "He then would inform the offending priest of his intervention and then use that to extract total obedience from him." Many such priests were in Bergoglio's debt. Some have wondered why as pope Bergoglio has surrounded himself with so many crooks, creeps, and degenerates. But that is no mystery to Argentine Catholics. "He did the same as archbishop," says one. "He uses their secrets to control them."
George Neumayr, The Political Pope: How Pope Francis is Delighting the Liberal Left and Abandoning Conservatives
Fr. Arturo Sosa Abascal, Superior General of the Jesuits, claiming the "devil exists as a symbolic reality, not as a personal reality"!
Question: Father Sosa, does the devil exist?
Fr. Arturo Sosa Abascal: In different ways. We need to understand the cultural elements to refer to this figure. In the language of Saint Ignatius, it is the evil spirit that makes one do things that are directed against the Spirit of God. He exists as personified evil in different structures, but not in humans because he is not a person. He is a way to realize the evil. It is not a person like a human. It is a way of evil to be present in human life. Good and evil are in constant conflict in the human conscience and we have different ways to name them. We recognize God as good, as completely good. Symbols are part of reality, and the devil exists as a symbolic reality, not as a personal reality.
Pope Francis also has denied the existence of Hell!
"They are not punished, those who repent obtain the forgiveness of God and enter the rank of souls who contemplate him, but those who do not repent and cannot therefore be forgiven disappear.... There is no hell, there is the disappearance of sinful souls."
Pope Francis, interview with La Repubblica founder Eugenio Scalfari, May 2018
You have seen hell where the souls of poor sinners go. To save them, God wishes to establish in the world devotion to My Immaculate Heart. If what I say to you is done, many souls will be saved and there will be peace…….Pray, pray very much, and make sacrifices for sinners, for many souls go to Hell because they have no one to make sacrifices and pray for them. 
Blessed Virgin Mary to the children at Fatima
Vatican Backs Court Decision to Deny Cardinal Pell's Appeal against Child Abuse Charges
Eponymous Flower | David Martin | August 21, 2019
Catholics the world over were aghast to learn today that the appeal by George Cardinal Pell against his conviction of child sexual abuse was denied by the Australian court. Worse yet, the Vatican endorsed the court decision to deny Pell.
https://www.vaticannews.va/en/vatican-city/news/2019-08/vatican-statement-on-cardinal-pell-verdict.html
This unfortunate news about the innocent and commendable Cardinal Pell immediately calls to mind Christ's words: "Blessed are ye when they shall revile you, and persecute you, and speak all that is evil against you, untruly, for my sake: Be glad and rejoice, for your reward is very great in heaven. For so they persecuted the prophets that were before you." (Matthew 5: 11, 12)
Here the best Catholics of the Church, including the exemplary Archbishop Viganò, have respectfully attempted to elicit a response from Rome concerning its ongoing cover-up of sexual abuse and they continue to circumvent the issue, refusing to offer even a squeak of a reply.
Worse yet, Pope Francis goes out of his way to install notorious sex-offenders like Archbishops Paglia and Maradiaga to the highest positions of the Church, thus aggravating the sexual abuse problem, but when Cardinal Pell is maliciously slammed and jailed for charges of "sexual abuse," the Vatican is right there thumping against sexual abuse, saying "Pell is guilty."
Yea, they orchestrated this whole frame job against Pell, since it covers their own sex-abuse problem while limiting any chance that Pell will expose their crimes. Today's blurb from the Vatican Press Office is typical of their Pharisaic covering of "dead men's bones" (Mt. 23; 27), which shouldn't surprise us. Let us not forget that the Vatican News Service is run by the homosexual marketing firm, Accenture, known the world over for its LGBT political agenda, which means anything they say should never be taken seriously.
And just what do they think Infallibility IS?
Let the reader accept the reasonable fact that the Pontiffs who pronounced these decrees (on No Salvation Outside the Church) were perfectly literate and fully cognizant of what they were saying. If there were any need to soften or qualify their meanings, they were quite capable of doing so..... Dogmas of the faith, like Outside the Church There is No Salvation, are truths fallen from heaven. The very point of a dogmatic definition is to DEFINE PRECISELY and EXACTLY what the Church means by the very words of the formula. If it does not do this by those very words in the formula then it has failed in its primary purpose – to define – and was pointless and worthless. ANYONE who says that we must interpret or understand the meaning of a dogmatic definition, in a way which contradicts its actual wording, is denying the whole point of Papal Infallibility and dogmatic definitions. They who insist that infallible DEFINITIONS must be interpreted by non-infallible statements (e.g., from theologians, catechisms, etc.) are denying the whole purpose of these infallible truths fallen from heaven. They are subordinating the dogmatic teaching of the Holy Ghost to the re-evaluation of fallible human documents,thereby inverting their authority, perverting their integrity and denying their purpose".
Fr. James Wathen, Who Shall Ascend?
"OFFICIAL & PREVAILING" CONSPIRACY THEORY
The FBI has published a document that concludes that "conspiracy theories" can motivate believers to commit crimes. [.....]
The FBI document says that conspiracy theories "are usually at odds with official or prevailing explanations of events." Note the use of "official" and "prevailing." Official explanations are explanations provided by governments. Prevailing explanations are the explanations that the media repeats. Examples of official and prevailing explanations are: Saddam Hussein's weapons of mass destruction, Assad's use of chemical weapons, Iranian nukes, Russian invasion of Ukraine, and the official explanation by the US government for the destruction of Libya. If a person doubts official explanations such as these, that person is a "conspiracy theorist."
Official and prevailing explanations do not have to be consistent with facts. It is enough that they are official and prevailing. Whether or not they are true is irrelevant. Therefore, a person who stands up for the truth can be labeled a conspiracy theorist, monitored, and perhaps pre-emptively arrested. [.....] Consider Russiagate. Here we have an alleged conspiracy between Trump and Russia that was the official prevailing explanation. Yet, to believe in the Russiagate conspiracy did not make one a conspiracy theorist as this conspiracy was the official prevailing explanation. But to doubt the Russiagate conspiracy did make one a conspiracy theorist.
What the FBI report does, intentionally or unintentionally, is to define a conspiracist as a person who doubts official explanations. In other words, it is a way of preventing any accountability of government. Whatever the government says, no matter how obvious a lie, will have to be accepted as fact or we will be put on a list to be monitored for preemptive arrest.
Paul Craig Roberts, former Undersecretary of the Treasury, An Open Invitation to Tyranny, 8-8-19
A sure sign of progress: Silence is replaced by Calumny!
The conservative Catholic Pied Piper of Jew hatred and racism
Dexter Van Zile talks about E Michael Jones. He says that Jones' racist views appeal to people looking for scapegoats for society's decline.
Anti-Semitism | Zionist Federation | Israel News Talk Radio | 09/08/19
<![if !vml]>
<![endif]>Rod Reuven Dovid Bryant and Jerry Gordon bring back Dexter Van Zile of the Committee for Accuracy in Middle East Reporting in America (CAMERA) to discuss a conservative Catholic E. Michael Jones extolling Jew hatred and racism via the internet misleading young millennials.
Jones has been promoting his dangerous views since the 1980s. The problem is that millennials are biting into Jones' views in droves. Van Zile first encountered Jones and his Jew hatred views in a YouTube interview with another notorious anti-Semite, Owen Benjamin.
Jones has been writing books since the 1970's, however, his rise to prominence in podcasts, increasingly viewed by millennials, has occurred within the past decade.
He blames Jews for abortion and pornography in the US. The millennials in the US have latched on to Jones who promotes their salvation by becoming Catholics and fighting Jewish influence in America.
Van Zile says that Jones' anti-Semitic and racist views appeal to unhappy people looking for scapegoats for society's decline.
So we are supposed to rejoice because a 'married clergy' will be tabled if we accept the Gaia cult of Earth Worship!
Pope insists Amazon Synod will focus on environment, not married priests
LifeSiteNews | VATICAN CITY | August 14, 2019 — Pope Francis has downplayed the subject of the married priesthood as a priority at an upcoming synod.
In an August 6  interwiew with Italian newspaper La Stampa, published August 9, the pontiff said the Synod on the Amazon is the "child of Laudato Si'."
"Those who have not read it will never understand the Synod on the Amazon," he told his interviewer Domenico Gasso, Jr.
"Laudato Si' is not a green encyclical. It is a social encyclical, which is based on a 'green' reality, the stewardship of Creation," the pontiff continued.
Gasso asked Pope Francis if the possibility of ordaining "viri probati, elderly and married men" is a main theme of the Amazon Synod. Francis replied firmly in the negative.
"Absolutely not," he said.
"It is simply a number of the Instrumentum Laboris. The important thing will be the ministries of evangelization and the different ways of evangelizing."
The pontiff did not expand on the subject of evangelization, however. Instead, he focused on environmental issues like pollution, melting glaciers, and deforestation.
"A few months ago seven fisherman told me: 'In recent months we have collected 6 tons of plastic,'" he said.
"The other day, I read about a huge glacier in Iceland that melted almost completely: they built a funeral monument. With the fire in Siberia, some glaciers in Greenland lost tons through melting," he continued.
"The people of a Pacific country are moving because in twenty years the island on which they live will no longer be there."
The pontiff painted his sober environmental picture with impressionist strokes. As a matter of fact, the vanished Icelandic glacier has so far been cmmemorated with a plaque, the Greenland glaciers have been affected by both a seasonal heatwave and wildfires from across the entire Arctic region, and the devoutly Christian people of Kiribati are still hopeful that they will not have to move.
"We don't believe that Kiribati will sink like the Titanic ship," said the nation's president, Taneti Mamau, on a promotional video. "Our country, our beautiful lands, are created by the hands of God."
Francis said he was even more shocked by "Earth Overshoot Day," the day on which some people believe that human societies have used up all their proper allotment of natural materials for the year, after which point the planet Earth is not able to regenerate these resources.
"On July 29th, we used up all the regenerative resources of 2019," the pontiff declared.
"Since July 30, we have been consuming more resources than the planet can regenerate in a year. It's very serious. It's a global emergency. And ours will be an urgent Synod," he continued.
The pontiff stressed that a synod is based in the Christian faith. "A Synod is not a meeting of scientists or politicians," he explained. "It is not a Parliament: it is something else. It was born of the Church and will have a mission and evangelizing dimension. It will be a work of communion guided by the Holy Spirit."
Francis told Grasso he was focussing on the Amazon region because it is both diverse and crucial for the health of the globe.
"It is a representative and decisive place," he said.
"Together with the oceans, it contributes decisively to the survival of the planet. Much of the oxygen we breathe comes from there. That's why deforestation means killing humanity," he continued.
"And then the Amazon involves nine states, so it doesn't concern a single nation. And I'm thinking of the Amazonian richness, vegetable and animal biodiversity: it's wonderful."
The pontiff said economic and political interests threaten this richness and the people of the Amazon and that politicians must stop their conniving and corruption and take responsibility for such ecologically dangerous activities as, for example, open-pit mining.
Asked his worst fear for the planet, Pope Francis listed a number of concerns:
"The disappearance of biodiversity. New lethal diseases. A decline and devastation of Nature that could lead to the death of the human race."
The pontiff mentioned the activities of such "young ecologists" as Greta Thunberg and said he was struck by a placard held by young environmentalists reading, "We are the future." He also said he believed that personal activities like household recycling are helpful because they are "concrete actions" and foster a culture of not dirtying the Earth.
During the interview, Pope Francis expressed support for the European Union and the vision of its "Founding Fathers." He said he was concerned by a focus in Europe on sovereignty, which he called "an attitude of isolation."
"I am concerned because one hears speeches that resemble those of Hitler in 1934," he said.
Open Letter from Don Nicola Bux to Vatican reporter, Marco Tosatti
Dear Director,
In the context of recent developments at the Pontifical Institute for Marriage and Family Studies, it is important to note the backwardness of the Church compared to the Middle Ages, when the theological disputes and conflicts between Franciscans and Dominicans took place on the basis that of whoever had the best arguments. Meanwhile, we arrived at Stalinist methods with kid gloves. There is no argument and no more dispute in the Church. If one does not think as the boss, one is identified, cataloged and excluded. This is the damaging effect of the ideology of dialogue, which fits as long as one thinks the same as the one who preaches it.
To confirm pluralism and synodality, we now have the dismissal of ordinary professors, for ideological reasons have deprived them of their chairs.
What would happen at any other university if that happened?
What academic prestige will remain at the Institute of John Paul II? The question is not only whether it will continue to be a university institution inspired by John Paul II, but whether it will even be a university institution at all.
All this weighs heavily on the Rector as a man of the Academy, since he is in charge of this operation. He certainly did not act on it but on higher orders.
In a brutal way, or with baseless reasons, it happens in seminaries, faculties, and Roman congregations and dicasteries.
The paradox is that ecumenical and interreligious dialogue spreads outward, while the dictatorship of unified thought prevails internally.
Many ask themselves - always in the name of synodality and pluralism - should not the confrontation of all baptized be promoted, especially among all categories of theologians? A confrontation that Catholic thought has as a point of reference, according to the maxim of St. Vincent de Lerins: "Always, everywhere, and believed by all"?
Maybe the time will come when we have to get up and make our way against the whole world to St. Peter to denounce the new "Latrocinium Ephesinum". I want to explain that. The Second Council of Ephesus of 449, which became known among Catholic and Orthodox theologians as Latrocinium Ephesi or Robber's Synod of Ephesus (in Greek Ληστρική της Εφέσου), was a Christological Church meeting. Because of the resulting conflicts over the person of Jesus Christ and especially as a result of the conflicts after the Council of Chalcedon (451), the Christian churches were divided into Chalcedonian and pre-Chalcedonian churches.
It seems that after the next synod, Jesus Christ will be outdated, because the Amazon and some other "European regions" no longer seem to need it for their salvation because it fits as it is. In the meantime, the "moral theology" of marriage and family, which John Paul II defended and propagated, and paid for it in person, is outdated. So we are in the harbingers of the Ephesian betrayal.
So let us follow Benedict XVI, who expressed his solidarity with the deposed rector, and imagine Pope Francis, how annoyed he is, despite all his calls for pluralism, parrhesia and synodality.
So let's take cover, especially teachers and students of the John Paul II Institute, before it's too late. All According to Saint Peter!
Best regards
in Domino Iesu
Don Nicola Bux
COMMENT: Don Bux is no traditionalist and he does not understand that Dogma must necessarily be every faithful Catholic's proximate rule of faith. The truth of the matter is this: John Paul II and Benedict XVI were, in the essentials, indistinguishable from Francis the Destroyer. These conciliar popes are united in first principles. They are without exception Neo-modernists. Neither JPII nor Benedict could ever offer any principled objection to Francis' ways and means of destroying Catholic doctrine and upending Catholic morals. Benedict has stated this publically repeatedly yet people like Bux do not believe him. It was Benedict who said on his abdication that this marks the beginning of the "true council." However, Bux does make an important and valid point.  While the Neo-modernists have one attitude to the OTHERS and preach ecumenism, plurality, receptiveness to other's traditions, non-judgmental attitude towards heterodox doctrines, the new evangelization that denies proselytism, etc., etc., to their OWN they behave like Stalinists. Bux thinks this is something new only with Francis! It is the mark of the Neo-modernists and has always been since Vatican II.  When they give the appearance of a conciliatory approach to Traditional Catholics, it is for the purpose to control. Those who believe that this "control" is ultimately aimed at the beneficial welfare of the Church are willfully naive.
Benedict XVI announcing that the "virtual Council" of the "media" is over and now, with Pope Francis, we get the "real Council, " the "true Council," that will now establish "true reform, true renewal"!
We know that this Council of the media was accessible to everyone. Therefore, this was the dominant one, the more effective one, and it created so many disasters, so many problems, so much suffering: seminaries closed, convents closed, banal liturgy … and the real Council had difficulty establishing itself and taking shape; the virtual Council was stronger than the real Council. But the real force of the Council was present and, slowly but surely, established itself more and more and became the true force which is also the true reform, the true renewal of the Church. It seems to me that, 50 years after the Council, we see that this virtual Council is broken, is lost, and there now appears the true Council with all its spiritual force. And it is our task, especially in this Year of Faith, on the basis of this Year of Faith, to work so that the true Council, with its power of the Holy Spirit, be accomplished and the Church be truly renewed. Let us hope that that the Lord will assist us. I myself, secluded in prayer, will always be with you and together let us go forward with the Lord in the certainty that the Lord will conquer. Thank you!
Benedict XVI, to the clergy in Rome on his abdication, Feb 14, 2013
Pius XII - the man responsible for planting the seed of liturgical destruction!
Fr. Annibale Bugnini had been making clandestine visits to the Centre de Pastorale Liturgique (CPL), a progressivist conference centre for liturgical reform which organized national weeks for priests.
Inaugurated in Paris in 1943 on the private initiative of two Dominican priests under the presidency of Fr. Lambert Beauduin, it was a magnet for all who considered themselves in the vanguard of the Liturgical Movement. It would play host to some of the most famous names who influenced the direction of Vatican II: Frs. Beauduin, Guardini, Congar, Chenu, Daniélou, Gy, von Balthasar, de Lubac, Boyer, Gelineau etc.
It could, therefore, be considered as the confluence of all the forces of Progressivism, which saved and re-established Modernism condemned by Pope Pius X in Pascendi.
According to its co-founder and director, Fr. Pie Duployé, OP, Bugnini had requested a "discreet" invitation to attend a CPL study week held near Chartres in September 1946.
Much more was involved here than the issue of secrecy. The person whose heart beat as one with the interests of the reformers would return to Rome to be placed by an unsuspecting (?) Pope (Pius XII) in charge of his Commission for the General Reform of the Liturgy.
But someone in the Roman Curia did know about the CPL – Msgr. Giovanni Battista Montini, the acting Secretary of State and future Paul VI – who sent a telegram to the CPL dated January 3, 1947. It purported to come from the Pope with an apostolic blessing. If, in Bugnini's <![if !vml]>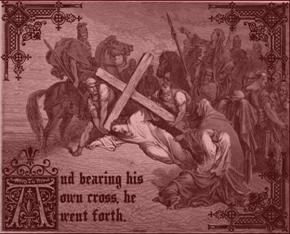 <![endif]>estimation, the Roman authorities were to be kept in the dark about the CPL so as not to compromise its activities, a mystery remains. Was the telegram issued under false pretences, or did Pius XII really know and approve of the CPL? [.....]
This agenda (for liturgical reform) was set out as early as 1949 in the Ephemerides Liturgicae, a leading Roman review on liturgical studies of which Fr. Annabale Bugnini was Editor from 1944 to 1965.
First, Bugnini denigrated the traditional liturgy as a dilapidated building ("un vecchio edificio"), which should be condemned because it was in danger of falling to pieces ("sgretolarsi") and, therefore, beyond repair. Then, he criticized it for its alleged "deficiencies, incongruities and difficulties," which rendered it spiritually "sterile" and would prevent it appealing to modern sensibilities.
It is difficult to understand how, in the same year that he published this anti-Catholic diatribe, he was made a Professor of Liturgy in Rome's Propaganda Fide (Propagation of the Faith) University. His solution was to return to the simplicity of early Christian liturgies and jettison all subsequent developments, especially traditional devotions.
These ideas expressed in 1949 would form the foundational principles of Vatican II's Sacrosanctum Concilium. For all practical purposes, the Roman Rite was dead in the water many years before it was officially buried by Paul VI.
Dr. Carol Byrne, How Bugnini Grew Up under Pius XII
No Salvation Outside the Catholic Church is a DOGMA of Faith!
However ignorant you may be, you have the true faith if you believe, without exception, all the holy Catholic Church believes and teaches; on the other hand, however learned you may be, you lose the gift and the virtue of faith if you reject any doctrine which she teaches; for her faith is your rule. "As there is but one faith," says St. Paul, "to wish to divide it, is to destroy it." Heretics not only differ from the Church in faith, but they also differ amongst themselves, a proof that they have not the true faith, which is one. The holy Catholic Church never has suffered, and never will suffer, a difference of faith in regard to any article. Her faith is the same in all times, in all places, and in all her true children. Thus her faith is one and the only true faith. You should be most desirous to preserve the faith in all its purity, since without it, it is impossible to do anything which merits Heaven. "Without faith it is impossible to please God." Those who do not possess it may practice all the moral virtues, justice, sobriety, chastity, alms-deeds, prayers, mortification; and not only is this the case with heretics, but it is a truth which should be borne in mind, that these good actions, unless they have faith for their principle, will never merit Heaven for them. The law of Moses, all holy as it was, could save only those who observed it through faith.
When, therefore, you observe that those who believe not in the Church, practice some good works, offer many prayers, and lead an austere life, do not believe that they are on this account in the way of salvation, unless they have true faith; you commit an enormous sin if you believe that they can be saved outside of the Church; that they can have faith without believing in her, or that they can be saved without faith.
St. John Eudes, Man's Contract with God in Baptism
Wisdom is only possible for those who hold DOGMA as the Rule of Faith!
Besides, every dogma of faith is to the Catholic cultivated mind not only a new increase of knowledge, but also an incontrovertible principle from which it is able to draw conclusions and derive other truths. They present an endless field for investigation so that the beloved Apostle St. John could write at the end of his Gospel, without fear of exaggeration: "But there are also many other things which Jesus did: which if they were written every one, the world itself, I think, would not be able to contain the books that should be written."
The Catholic Church, by enforcing firm belief in her dogmas—which are not her inventions, but were given by Jesus Christ—places them as a bar before the human mind to prevent it from going astray and to attach it to the truth; but it does not prevent the mind from exercising its functions when it has secured the treasure of divine truth, and a "scribe thus instructed in the kingdom of heaven is truly like a man that is a householder, who bringeth forth out of his treasure new things and old." He may bring forth new illustrations, new arguments and proofs; he may show now applications of the same truths, according to times and circumstances; he may show new links which connect the mysteries of religion with each other or with the natural sciences as there can be no discord between the true faith and true science; God, being the author of both, cannot contradict Himself and teach something by revelation as true which He teaches by the true light of reason as false. In all these cases the householder "brings forth from his treasure now things and old." They are new inasmuch as they are the result of new investigations; and old because they are contained in the old articles of faith and doctrine as legitimate deductions from their old principles.
Fr. Joseph Prachensky, S.J., The Church of Parables and True Spouse of the Suffering Saviour, on the Parable of the Scribe
Hermeneutics of Continuity/Discontinuity
Pope Francis in Evangelii Gaudium Smears Faithful Catholics as "Neo-pelagians":
  Catholics faithful in keeping God's moral law and believing His revealed truth are "self-absorbed promethean neopelagianism [who] observe certain rules or remain intransigently faithful to a particular Catholic style [characterized by a] narcissistic and authoritarian elitism [which is a] manifestations of an anthropocentric immanentism. It is impossible to think that a genuine evangelizing thrust could emerge from these adulterated forms of Christianity."
94. This worldliness can be fuelled in two deeply interrelated ways. One is the attraction of gnosticism, a purely subjective faith whose only interest is a certain experience or a set of ideas and bits of information which are meant to console and enlighten, but which ultimately keep one imprisoned in his or her own thoughts and feelings. The other is the self-absorbed promethean neopelagianism of those who ultimately trust only in their own powers and feel superior to others because they observe certain rules or remain intransigently faithful to a particular Catholic style from the past. A supposed soundness of doctrine or discipline leads instead to a narcissistic and authoritarian elitism, whereby instead of evangelizing, one analyzes and classifies others, and instead of opening the door to grace, one exhausts his or her energies in inspecting and verifying. In neither case is one really concerned about Jesus Christ or others. These are manifestations of an anthropocentric immanentism. It is impossible to think that a genuine evangelizing thrust could emerge from these adulterated forms of Christianity.
Pope Francis, Evangelii Gaudium
While in the same document he has this to say about the possibility of salvation for "Non-Christinas":
254. Non-Christians, by God's gracious initiative, when they are faithful to their own consciences, can live "justified by the grace of God", and thus be "associated to the paschal mystery of Jesus Christ".
Pope Francis, Evangelii Gaudium, this teaching of Pope Franics references the teaching of the International Theological Commission.
"By God's gracious initiative" is pure invention. God has never revealed this fable. This is Pelagianism by definition. This is what a Pelagian heretic affirms that salvation is possible through being "faithful to their own consciences." Catholic dogmas, formal objects of divine and Catholic faith, affirm that supernatural faith, the sacraments, membership in the Church, and subjection to the Roman Pontiff are necessary as necessities of means to obtain eternal salvation. Pope Francis is a Pelagian heretic. So where is his source material for this error?  He cites as his authority the International Theological Commission which teaches:
10. Exclusivist ecclesiocentrism—the fruit of a specific theological system or of a mistaken understanding of the phrase extra ecclesiam nulla salus—is no longer defended by Catholic theologians after the clear statements of Pius XII and Vatican II the possibility of salvation for those who do not belong visibly to the Church (cf, e.g., Vatican II, LG 16; GS 22).
Christocentrism accepts that salvation may occur in religions, but it denies them any autonomy in salvation on account of the uniqueness and universality of the salvation that comes from Jesus Christ. This position is undoubtedly the one most commonly held by Catholic theologians, even though there are differences among them.
International Theological Commission, Christianity and the World Religions, 1997
This is the fundamental doctrine of Neo-Modernism which holds that Dogmas need not be taken in a literal sense because they are man-made and thus always undergoing evolutionary development in an effort to achieve a closer approximation of truth. Catholics believe, as St. Pope Pius X said, dogmas are "truths fallen from heaven." Pope Pius XII never denied the dogma that there is no salvation outside the Catholic Church.  Those who claim he did are simply liars. Vatican II on the other hand did, and Vatican II cites as its authority for the denial of the dogma that there is no salvation outside the Catholic Church, the heretical 1949 Holy Office Letter that teaches that the one and only thing necessary for salvation is the 'desire to do the will of a god who rewards and punishes'. This can be known by natural philosophy and is simply a necessary presupposition to receiving the Gospel message. The 1949 Holy Office Letter and Vatican II are teaching Pelagianism.  The very error that Pope Francis attributes to faithful Catholics who believe the revealed truths of our faith and keep our immemorial traditions. Is it any wonder that Pope Francis who denies the necessity of faith, the sacraments, membership in the Church, and submission to the Roman Pontiff as necessary for salvation as necessities of means would then thoroughly corrupt the definition of "genuine evangelization"?
Catholics who "observe certain rules (like keeping the Ten Commandments or believing Catholic dogma) or remain intransigently faithful to a particular Catholic style (the "received and approved rites customarily used in the solemn administration of the sacraments" Trent)" are guilty of "self-absorbed promethean neopelagianism... narcissistic and authoritarian elitism [that is a] manifestation of an anthropocentric immanentism...  [whereby, it is] impossible to think that a genuine evangelizing thrust could emerge from these adulterated forms of Christianity."
Pope Francis, Evangelii Gaudium
What is "Genuine evangelization"? Pope Francis said: "Proselytism is solemn nonsense, it makes no sense. We need to get to know each other, listen to each other and improve our knowledge of the world around us. ..... I believe I have already said that our goal is not to proselytize but to listen to needs, desires and disappointments, despair, hope" (Interview with Italian journalist and atheist Eugenio Scalfari). He also said in answer to a question from a Lutheran girl, "It is not licit that you convince them of your faith; proselytism is the strongest poison against the ecumenical path." On another occasion he said, "Proselytism among Christians, therefore, in itself, is a grave sin." 
  How is this possible? Proselytism means to seek converts. A "proselyte" is a convert. It was the Great Commission given by Jesus Christ to His Church: "Go ye into the whole world, and preach the gospel to every creature. He that believeth and is baptized, shall be saved: but he that believeth not shall be condemned." (Mark 16:15-16) The goal of "preaching" is to bring other to "believe" the revealed truth and become members of the Church through "baptism" so that they may become a "proselyte," like one of the first deacons of the Church, Nicolas in Acts 6:5, and be "saved."
  "Genuine evangelization" is the act of proselytism and the fruit of evangelization is proselytes. "By their fruit you shall know them." In South America alone there have been more than 40 million Catholics lost to the faith since Vatican II. This is the fruit of the "new evangelization" of Pope Francis which does not seek converts at all because he sees no reason to convert. 
  So who in end is "self-absorbed promethean neo-pelagian"? Prometheus was eternally punished for his hubris of defying the gods while Pope Francis does the same thing by "intransigently" overturning God's revealed truth.  His heresy is the fruit of his own "narcissistic and authoritarian elitism" to believe that he is better than God.  He proposes an "adulterated form of Christianity" which explains why he promotes Catholic divorce.  Heretics always permit divorce because marriage is the metaphor used by God to describe His relationship to His Church and to each of His faithful.  The heretic cannot stand the integrity of the metaphor and always permits divorce.  This is the unmistakable sign that Pope Francis is a heretic.
The Vatican Walls were not built for decoration.  Columbus sailed West because the Muslim had complete control of the Mediterranean and land routes to the East.
The background of the Islamic state occupying large areas of Europe began when Muslim crusaders, called "Moors," invaded Spain in 711 AD.
The Muslim commander was named Ṭāriq ibn Ziyad. He landed, with his 80,000-man Umayyad army, at a place where there was a large mount, for which the Arabic word is "jabal."
The place took his name "Jabal Ṭāriq," or as it was later pronounced "Gibraltar."
Moorish cavalry, wielding curved scimitar swords, "went through all places like a desolating storm."
The Mozarabic Chronicle, 754 AD, recorded that thousands of churches were burned and: "God alone knows the number of the slain."
The Moors advanced into central France until they were defeated at the Battle of Tours by Charles Martel (Hammer), the grandfather of Charlemagne in 732 AD.
In 846 AD, just 46 years after Charlemagne was crowned Holy Roman Emperor in Rome's old St. Peter's Basilica, 11,000 Muslims on 73 ships invaded Rome and sacked the Basilica.
They looted the historic basilica and desecrated the grave of St. Peter.
Invaders then trashed the remains of St. Paul, which were in the historic church, San Paolo fuori le Mura (St Paul's outside the Walls.)
As a result of this invasion, Pope Leo IV built a massive wall, 39-feet high, to protect the Vatican from future Muslims raids.
A miracle saved Rome from being sacked again at the Battle of Ostia in 849 AD.
The battle was memorialized in a famous fresco by the painter Raphael.
<![if !vml]>
<![endif]>Muslim Saracen pirates set sail from Sardina with a fleet to invade Rome.
Pope Leo rallied the cities of Amalfi, Gaeta and Naples to send ships to block the mouth of the Tiber River near Ostia.
Muslims fiercely attacked and were winning when suddenly a violent storm arose, dividing the Christians fleet from the Muslim attackers.
Christian ships made it back to port, but Muslim ship were decimated by the storm, and afterwards easily captured.
The Cardinals of the Holy Roman Church Biographical Dictionary (1998, Salvador Miranda) described the Battle of Ostia:
"Danger from the Saracens was always imminent ...
In 849 the Pope appealed to the maritime cities of Naples, Amalfi and Gaeta and asked them to join their fleets in a league not only in defense of Rome, but of their own trade affected by the raids of the Arab pirates ...
Command was given to Cesare, son of the duke of Naples, who arranged for the fleets to meet at the entrance of the port of Ostia. Pope Leo IV imparted a solemn blessing ...
The Christian fleet was victorious helped by a terrible and sudden storm that destroyed much of the Saracen fleet, of which many of the crews were taken prisoners.
Pope Leo IV communicated to the emperor that this was necessary to raise a new wall in Rome to protect ... the Vatican ... completely enclosing the neighborhood ... Fortification was also extended to ... all the areas affected by the Saracen raids."
Muslims warriors continued to raid.
When Pope John VIII (872-882) failed in rallying a defense, he was forced to pay the Muslim pirates an annual extortion tribute payment of 25,000 mancusi of silver.
Muslims increased their plundering of the coasts of Italy.
In 883 AD, they destroyed the renown monastery of Monte Cassino, dragging its abbot, St. Bercharius, to the altar where they killed him.
They destroyed the abbey of San Vincezo in 884, and the abbies of Farfa and Subiaco in 890 AD.
Pope John X rallied Byzantines, Lombards, Gaeta, Capua, Salerno, Beneventum, and others Italian states and personally led the troops into the field to stop the Muslims at the Battle of Garigliano River in 916 AD.
Muslim warriors captured Reggio and Calabria, selling inhabitants into North African slavery.
In 1011, Muslims killed 2,000 in Cordoba, Spain.
In 1054, the Great Schism split the Byzantine Eastern Orthodox Church from the Roman Catholic Church, further weakening resistance to Islamic advances.
Beginning in 1045, Christianized Vikings, called Normans, sailed into the Mediterranean.
Norman Richard I of Capua took control of Calabria in the "toe of Italy," and pushed back Muslims raiders.
In 1061, Normans Robert and Roger Guiscard recaptured Sicily from Muslim Saracens.
In 1066, the same year that William the Norman conquered Britain, Muslims massacred every one of the 5,000 Jews in Granada, Spain.
In 1189, Muslims raided Libson, Portugal, and enslaved 3,000 women and children.
In 1191, Muslims attacked Silves, Portugal, enslaving another 3,000.
The Catholic Orders of Montjoie, and Calatrava, were organized to ransom back Christian slaves.
The Spanish effort to drive liberate Spain from Islamic control was called the "reconquista" or re-conquest.
In 1085, the Kingdom of Castile freed Toledo from Muslim control.
The Spanish knight Rodrigo Diaz, known as "El Cid," drove Muslims out of Valencia in 1094.​
In 1119, the Kingdom of Aragon fought and freed the city of Zaragoza from Islamic control.
Finally, after 700 years, King Ferdinand and Queen Isabella drove Islamic occupiers out in 1492.
Columbus wrote in his El Libro de la Primera Navegacion, as recounted by Bartolome' de Las Casas':
"After Your Highnesses had made an end to the war with the Moors who ruled in Europe, and had concluded the war in the very great City of Granada, where in the present year, on the 2nd day of the month of January, I saw the Royal Standards of Your Highnesses placed by force of arms on the towers of the Alhambra (which is the citadel of the said city), and I saw the Moorish King come forth to the gates of the city and kiss the Royal Hands of Your Highnesses."
Columbus referenced how 40 years earlier, in 1453, Muslim Ottoman Turks conquered Constantinople, effectively cutting off the land trade routes to travel from Europe east to India and China.
This gave rise to Columbus and other European explorers searching for a sea route.
Columbus continued in his El Libro de la Primera Navegacion:
"And soon after in that same month, through information I had given to your Highnesses concerning the lands of India, and of a Prince who is called Gran Can (Khan), which is to say in our vernacular 'King of Kings,' how many times he and his predecessors had sent to Rome to seek doctors in our Holy Faith to instruct him therein, and that never had the Holy Father provided them, and thus so many people were lost through lapsing into idolatries and receiving doctrines of perdition; and Your Highnesses, as Catholic Christians and Princes devoted to the Holy Christian Faith and the propagators thereof, and enemies of the sect of Mahomet and of all idolatries and heresies, resolved to send me, Christopher Columbus, to the said regions of India, to see the said princes and peoples and lands and the dispositions of them and of all, and the manner in which may be undertaken their conversion to our Holy Faith ..."
Columbus concluded his address to the King and Queen of Spain:
"... And ordained that I should not go by land (the usual way) to the Orient (East), but by the route of the Occident (West), by which no one to this day knows for sure that anyone has gone."
Modern-day detractors who are critical of Columbus should instead be critical of the expansionist Islamic State, for it was only after the Turks cut off Europe's use of the land routes to India and China did Columbus seek a sea route.
Columbus gave the reason for his persistence in Libro de Las Profecias, written between his third and fourth voyages:
"I spent seven years in your royal Court arguing the case with so many persons of such authority and learned in all the arts, and in the end they concluded that all was idle nonsense ... yet the outcome will be the fulfillment of what our Redeemer Jesus Christ said ... that ... all that was written by him and by the prophets to be fulfilled."
He concluded:
"The Holy Scriptures testify ... that this world will come to an end ... St. Augustine says that the end of this world will occur in the seventh millennium following the Creation ... I have already said that for the execution of the enterprise of the Indies, neither reason, nor mathematics, nor world maps were profitable to me; rather the prophecy of Isaiah was fulfilled.
Homosexual Heresy - The Great Vatican Silence
<![if !supportLists]>· <![endif]>"We must clearly, explicitly and reservedly say: yes, there is a strong homosexual underground in the Church ... such circles in the Church strongly oppose the truth, morality and Revelation, cooperate with enemies of the Church [and] incite revolt against Peter of our times.
<![if !supportLists]>· <![endif]>"It is for [his] accuracy of opinion that he is so vehemently opposed, or even hated by some in the Church, especially by members of the homolobby which represents the very center of internal opposition against the Pope."
<![if !supportLists]>· <![endif]>"If homolobbyists are allowed to act freely, [in Poland] in a dozen or so years they may destroy entire congregations and dioceses — like in the USA, where priestly vocation is more and more now called a gay profession."
<![if !supportLists]>· <![endif]>"The global network of the homolobbies and homomafias must be counterbalanced by a network of honest people. An excellent tool that can be used here is the Internet, which makes it possible to create a global community of people concerned about the fate of the Church, who have resolved to oppose homoideology and homoheresy. The more we know, the more we can do."
<![if !supportLists]>· <![endif]>"This is about the Church's to be or not to be. If homolobbyists are allowed to act freely, in a dozen or so years they may destroy entire congregations and dioceses – like in the USA, where the priestly vocation is more and more now called a gay profession (particularly with reference to American Jesuits), or like in Ireland, where men are hesitant about joining the emptying seminaries for fear of being suspected of suffering from some disorders."
<![if !supportLists]>· <![endif]>"The Church does not generate homosexuality, but falls victim to dishonest men with homosexual tendencies, who take advantage of its structures to follow their lowest instincts. Active homosexual priests are masters of camouflage. They are often exposed by accident. ... The real threat to the Church are cynical homosexual priests who take advantage of their functions on their own behalf, sometimes in an extraordinarily devious way. Such situations cause great suffering to the Church, the priestly community, the superiors. The problem is indeed a very difficult one." F. Józef Augustyn
Fr. Dariusz Oko, Ph.D., WITH THE POPE AGAINST THE HOMOHERESIES
The "Living" Magisterium
First of all they lay down the general principle that in a living religion everything is subject to change, and must in fact be changed. In this way they pass to what is practically their principal doctrine, namely evolution.
Pope St. Pius X, Pascendi Dominici Gregis
Worth recalling how the Catholic universities in the U.S. were destroyed.  This was orchestrated by the president of Notre Dame University, Fr. Theodore Hesburgh, who divorced Catholic education from Catholic doctrine and Catholic morality at the Land O'Lakes Conference in 1967.  These schools have not simply been secularized but have in fact become anti-Catholic.  A Catholic student is much more likely to keep his faith in a secular university than in a "Catholic" university.  This revolution by Hesburgh was unopposed by the Catholic hierarchy!
50 years later, Catholic colleges still reeling from statement rejecting Church authority
LifeSiteNews | DENVER, Colorado | July 26, 2017– On the occasion of the 50th anniversary of the Land O'Lakes statement on Catholic education, Lincoln Bishop James Conley likened the controversial declaration to the ultimate rejection of God.
Bishop Conley described the statement as the "the 'non serviam' moment of many of America's Catholic universities."
"Non serviam," a Latin phrase for "I shall not serve," is typically attributed to Lucifer's Old Testament words expressing his rejection of serving God. The prophet Jeremiah also used it to describe the Hebrew people's disobedience to God.
"The Land O'Lakes statement proposed to redefine the mission of the Catholic university," Bishop Conley said. "It rejected the authority of the Church, and of her doctrinal teaching."
"It rejected the idea that faith and reason work best in communion with one another," he continued. "It prioritized the standards and culture of secular universities over the authentic mission of Catholic education. It was a statement of self-importance, and self-assertion."
This self-importance "defies an authentically Catholic view of education," he said.
The statement "declared that Catholic universities would become independent from the hierarchy of the Church, from any obligation to orthodoxy, and from the authentic spirituality of the Church," the bishop went on to say.
Speaking July 5 to teachers and principals at the Regional Catholic Classical Schools Conference at the Institute for Catholic Liberal Education in Denver, Bishop Conley said, "Fifty years ago, a 'declaration of independence' in Catholic education transformed the Church."
The document came from some 26 presidents and administrators from 10 institutions who convened at a retreat center in Land O'Lakes, Wisconsin, for the North American summit for the International Federation of Catholic Universities. Holy Cross Father Theodore Hesburgh, Notre Dame's president and head of the federation at the time, had summoned the attendees.
The meeting's purpose was to establish a vision for Catholic higher education in the wake of Vatican II. The "Statement on the Nature of the Contemporary Catholic University" was signed July 23, 1967.
It is considered by many to have devastated Catholic education because of the ensuing loss of Catholic identity in Catholic colleges and universities. Bishop Conley spoke about the ripple effects on the U.S. church.
"Land O'Lakes sought to make many parts of the Catholic university indistinguishable from secular counterparts," Bishop Conley said. "And that has impacted the entire Church in the United States."
In the 50 years since the statement, he said, secularization in Catholic universities has caused secularization in many Catholic elementary and high schools. There are textbooks that don't reflect Catholic perspectives and, he said, "teachers who have, regrettably, not been trained to think or teach from the heart and wisdom of the Church."
"An entire generation of bishops, priests, religious, and lay Catholics — myself included — were formed in the wake of Land O'Lakes," stated Bishop Conley. "And we formed another generation, which now forms another, all of us doing the best we can, but regrettably, without being exposed to much of truth, goodness, and beauty of the Church's tradition." […..]
Catholic Feasts in Thanksgiving for Deliverance from our Enemies
On July 22, 1496, the Christian forces under the command of the great Hungarian John Hunyadi crushed the Turkish Moslem forces of Sultan Mehmet II at the Battle of Belgrade.  The news of this great victory reached Rome on August 6th and in gratitude, Pope Callistus III elevated the ancient Feast of the Transfiguration of our Lord to the universal Church.  The feast of the Holy Name of Mary on September 12 commemorates the victory of the Christian forces at the Battle of Vienna.  September 12 is also the anniversary of the Battle of Muret where Simon de Montfort assisted by St. Dominic with a force of 870 Crusaders crushed the 40,000 man Albigensian army of Raymond VI.   The Feast of the Holy Rosary, October 7th, commemorates the Catholic victory at the battle of Lepanto.
The "received and approved" Roman rite of Mass 'customarily used in the solemn administration of the sacraments."
Who does not know that what has been handed down by Peter, the Prince of the Apostles, to the Roman Church is still observed unto this day, and must be observed by all?
Pope Innocent I (402-417)
"We see, then, what dogma means. The Holy Catholic Church always has been and always must be dogmatic."
Now our Divine Lord, speaking to the woman of Samaria, said, 'You adore that which you know not;' because they were 'an idolatrous people,' of mixed race, partly of Israel, partly of the nations brought and planted in a portion of the Promised Land. They had intermarried with the people of Israel, they had received the books of the Pentateuch, and they had a sort of fragmentary knowledge of the old revelation; but they did not rightly know the True God; and so much as they did know of the True God, they did not know truly. Therefore they could not worship Him 'in spirit and in truth.' For this cause our Divine Lord said, 'You worship that which you know not;' and He then further said, 'We adore that which we know, for salvation is of the Jews.' The full and pure light of revelation is in Jerusalem. The true knowledge of the True God is with us; and yet the time is coming when 'they that adore shall adore neither in this mountain nor in Jerusalem, but everywhere in spirit and in truth.'
From these words I draw one conclusion, namely, that knowledge is the first and vital condition of all true worship. You will remember how S. Paul at Athens found an altar 'to the unknown God,' and how he commended the people for their intentions of piety, but reproved them for their ignorance. He said, 'Him whom you ignorantly worship, Him I declare unto you.' Without knowledge there can be no adoration 'in spirit and in truth;' and just in the measure of our knowledge will our adoration be more or less perfect, that is, intelligent and spiritual. If our knowledge be full and perfect, so will our adoration be. From this let us draw two consequences, and then pass on.
The first is this. How great is the superstition of those who for centuries have pleased themselves by accusing the Catholic Church of teaching that 'ignorance is the mother of devotion.'