Invincible ignorance is a punishment for sin. 
St. Thomas Aquinas (De Infid. q. x., art. 1.)
<![if !vml]>
<![endif]>There are three comings of our Lord; the first in the flesh, the second in the soul, the third at the judgment.  The first was at midnight, according to those words of the Gospel: At midnight there was a cry made, Lo, the Bride-groom cometh!  But this first coming is long since past, for Christ has been seen on the earth and has conversed among men.  We are now in the second coming, provided only we are such as that He may thus come to us; for He has said that if we love Him, he will come unto us and will take up His abode with us.  So that this second coming is full of uncertainty to us; for who, save the Spirit of God, knows them that are of God?  They that are raised out of themselves by the desire of heavenly things, know indeed when He comes; but whence He cometh, or whither He goeth, they know not.  As for the third coming, it is most certain that it will be, most uncertain when it will be; for nothing is more sure than death, and nothing less sure than the hour of death.  When they shall say, peace and security, says the apostle, then shall sudden destruction come upon them, as the pains upon her that is with child, and they shall not escape.  So that the first coming was humble and hidden, the second is mysterious and full of love, the third will be majestic and terrible.  In His first coming, Christ was judged by men unjustly; in His second, He renders us just by His grace; in His third, He will judge all things with justice.  In His first, a lamb; in His last, a lion; in the one between the two, the tenderest of friends.   
Peter of Blois, taken from The Liturgical Year
Tropologically, a reed is a light man, inconstant, tossed to and fro at one time impelled by the cords of flatterers, he asserts something again being driven by detractors, he denies it, as a reed is blown in different directions by different winds.  A reed is one who is devoid of truth, virtue, and consistency, as a reed has no strength, or stamina.  A reed is he who has no fruit of good works to show, since a reed bears no fruit.  It is he who is delighted with, and feeds upon, the fluctuating pleasures of the world. For a reed is dry yet it grows beside the waters.  Whence it is called "the river reed." 
Rev. Cornelius a Lapide, Commentary
St. Damasus was one of the most illustrious defenders of the great mystery of the Incarnation.  He defends the faith of the universal Church in the divinity of the Word, by condemning, as his predecessor Liberius had done, the acts and the authors of the celebrated Council of Rimini.  With his sovereign authority, he bore witness to the teaching of the Church regarding the Humanity of Jesus Christ, and condemned the heretic Apollinaris, who taught the Jesus Christ had assumed only the flesh and not the soul of man.  He commissioned St. Jerome to make a new translation of the New Testament from the Greek, for the use of the Church of Rome; here, again, giving further proof of the faith and love which he bore to the Incarnate Word.  Let us honor this Pontiff, whom the Council of Chalcedon calls, "the ornament and support of Rome by his piety."  St. Jerome called him "a man of the greatest worth; a man whose equal could not be found, well versed in the holy Scriptures, and a virgin doctor of the virgin Church." 
Dom Gueranger, The Liturgical Year, Feast of St. Damasus
Listen and let it penetrate your heart my dear little son.  Do not be troubled or weighed down with grief.  Do not fear any illness or vexation, anxiety or pain.  Am I not here who am your Mother?  Are you not under my shadow and protection?  Am I not your fountain of life?  Are you not in the folds of my mantle?  In the crossing of my arms? Is there anything else you need? 
Blessed Virgin Mary to St. Juan Diego
Odilia was born blind.  Her father insisted on her being removed from the house, for her presence would have been a continual humiliation to him.  It seems as though this affliction was permitted by Providence, in order that the action and power of divine grace might be the more clearly manifested in her regard.  The little exile was taken from her mother, and placed in a monastery.  God, who designed to show the virtue of the holy Sacrament of regeneration, permitted that her Baptism should be deferred until she had reached her thirteenth year.  The time at length came for Odilia to be made a child of God.  No sooner was she taken from the baptismal font, than she received her eyesight, which was but a feeble figure of the light which had lit up in her soul. 
Dom Gueranger, The Liturgical Year, Feast of St. Odilia, December 13  
In the Church, I perceive two kinds of persecutions: the first in its beginnings, under the Roman Empire, in which violence inexorably prevailed; the second at the end of time, when seduction will reign.
Bishop Jacques-Benigne Bossuet
St. Lucy, pray for us, that our eye may be purified, and may see, in the Child who is to be born at Bethlehem, the new Man, the second Adam, the model on which the life of our regeneration must be formed. 
Dom Gueranger, The Liturgical Year, Feast of St. Lucy
Some among you, inflated like bladders with the spirit of vanity strive by profane novelties to cross the boundaries fixed by the Fathers, twisting the sense of the heavenly pages . . .to the philosophical teaching of the rationals, not for the profit of their hearer but to make a show of science . . . these, seduced by strange and eccentric doctrines, make the head of the tail and force the queen to serve the servant.
Pope Gregory IX regarding the 13th century Modernists of his day
If Jesus came to sanctify all, if it is God's will that "all should be saints," then sanctity cannot consist in extraordinary gifts of nature and grace, which depend solely upon God's liberality.  Sanctity, therefore, must consist in something that all souls of good will, even the simplest and most humble, can attain, sustained by the divine assistance.  Sanctity is the perfection of the Christian life.  It is the full development in us of the supernatural life, whose beginnings are sanctifying grace, the infused virtues, and the gifts of the Holy Ghost…  When the influence of grace extends effectively to all our actions, directing them solely to God's glory and uniting us wholly to Him be means of charity, then we have reached the fullness of Christian life, sanctity. 
Fr. Gabriel of St. Mary Magdalen, O.C.D., Divine Intimacy
"Religion holds the first place among the moral virtues"
The supernatural virtue of Religion is, in the first place, an abiding, persevering disposition inclining us to render unto God the worship due Him. Ease and readiness in the performance of supernatural acts of religion is the fruit of faithful exercise and is obtainable by our own exertions assisted by divine grace. Charity and all the infused moral virtues are inseparably united with sanctifying grace, whilst the two theological virtues of faith and hope (habitus fidei et spei) can still exist even after sanctifying grace has been lost…. Religion holds the first place among the moral virtues. Although, like all other moral virtues, the virtue of religion is inferior in merit and dignity to the divine virtues of faith, hope and charity, it is, nevertheless, most intimately connected with them, for it regulates the conduct of man toward God. It holds the first rank among the moral virtues, because it approaches nearer to God than the others, in so far as it produces and has for its primary object those acts which refer directly and immediately to the honor of God — that is, whatever acts pertain to the divine service…. We read in the epistle of St. James (i. 27) these words: "Religion (religio) clean and undefiled before God and the Father is this; to visit the fatherless and widows in their tribulation and to keep one's self unspotted from the world." The meaning of the above is — that if we would honor God the Father in a sincere and proper manner, we must be assiduously intent upon assisting the poor, the abandoned and the distressed, upon consoling and comforting them, and, at the same time, endeavor, amid the universal corruption of the world, to serve God alone and to please Him by purity of heart and the righteousness of our ways. Thus the virtue of religion will produce abundant fruits "that in all things and above all things God may be glorified" (ut in omnibus glorificetur Deus). 
Rev. Nicholas Gihr
The Trial of St. Thomas Becket
Whatever credit may be due to reports originating with men, whose great object it was to bring the religious orders into disrepute, and to terrify them into the surrender of their property, there is one proceeding, which, on account of its singularity and absurdity, deserves the attention of the reader. It had been suggested that, as long as the name of St. Thomas of Canterbury should remain in the (liturgical) calendar, men would be stimulated by his example to brave the ecclesiastical authority of their sovereign. The king's attorney was therefore instructed to exhibit an information against him and "Thomas Becket, some time archbishop of Canterbury," was formally cited to appear in court, and answer to the charge. The interval of thirty days allowed by the canon law was suffered to elapse: still the saint neglected to quit the tomb in which he had reposed for two centuries and a half; and judgment would have been given against him for default, had not the king of his special grace assigned him a counsel. The court sat at Westminster: the attorney general and the advocate of the accused were heard; and sentence was finally pronounced; that Thomas, some time archbishop of Canterbury, had been guilty of rebellion, contumacy, and treason; that his bones should be publicly burnt, to admonish the living of their duty by the punishment of the dead; and that the offerings which had been made at his shrine, the personal property of the reputed saint, should be forfeited to the crown.  A commission was accordingly issued; the sentence was executed in due form; and the gold, silver, and jewels, the spoils obtained by the demolition of the shrine, were conveyed in two ponderous coffers to the royal treasury. Soon afterwards a proclamation was published, stating that, forasmuch as it now clearly appeared, that Thomas Becket had been killed in a riot excited by his own obstinacy and intemperate language and had been afterwards canonized by the bishop of Rome as the champion of his usurped authority, the king's majesty thought it expedient to declare to his loving subjects, that he was no saint, but rather a rebel and traitor to his prince, and therefore strictly charged and commanded that he should not be esteemed or called a saint, that all images and pictures of him should be destroyed, the festivals in his honour be abolished, and his name and remembrance be erased out of all books, under pain of his majesty's indignation and imprisonment at his grace's pleasure.
Archbishop John Milner, D.D., History of England
Act of Abandonment to the Divine Will
O my God, I know not what must come to me today; but I am certain that nothing can happen to me which Thou hast not foreseen and ordained from all eternity: that is sufficient for me.  I adore Thy impenetrable and eternal designs, to which I submit with all my heart; I desire, I accept them all, and I unite my sacrifice to that of Jesus Christ, my divine Saviour; I ask in His name, and through His infinite merits, patience in my trials, and perfect submission to all that comes to me by Thy good pleasure.  Amen 
St. Joseph Pignatelli, S. J., who lived his life as a Jesuit during the 40 years of their suppression dying three years before their official restoration by Pope Pius VII in 1814.  He is considered the "restorer of the Society of Jesus."
The Angel being come in, says the Gospel; the expression "come in," leads us to believe that Mary was "within" her house.  The Angel reveals to her in God's name what will take place in her.  "The Holy Ghost shall come upon thee, and the power of the Most High shall overshadow thee.  And therefore also the Holy which shall be born of thee shall be called the Son of God" (Lk 1, 35).  From that moment God made Himself present in Mary in a very special way, present not only by essence, knowledge, and power, as He is in all creatures; present not only by grace as He is in the souls of the just; but, far more, the Word of God was in Mary by "corporal presence," as St. Albert the Great says. 
Fr. Gabriel of St. Mary Magdalen, O.C.D, Divine Intimacy
CONSOLATION IN SUFFERING
"The God of patience and of comfort, the God of hope fill you with all joy and peace in believing" (Rom. 15:5-13).
What gives us the greatest consolation in adversities?
The strong and fervent belief that each and every thing that happens to us, comes to us for our own good from God, and that whatever evil befalls us, is by the will or permission of God. Good things and evil, life and death, poverty and riches, are from God (Ecclus. 11:14). If we have received good things at the hand of God (Job 2:10), saith the pious job in his affliction, "why should we not receive evil?"
We should be fully convinced that without the permission of God not a single hair of our head shall perish (Lk. 21:18), much less can any other evil be done to us by man or devil (Job 1); we should have a steadfast confidence that if we ask Him, God can and will assist us in our sufferings, if it be for our salvation. Can a woman forget her infant, so as not to have pity on the son of her womb? And if she should forget, yet will not I forget thee. Behold, I have graven thee in my hands (Is. 49:15‑16); we should hope for abundant reward in the future life, which we will merit by patience in our sufferings, for that which is at present momentary and light of our tribulation, worketh for us above measure exceedingly an eternal weight of glory (II Cor. 4:17); we should remember that all complaints and murmurs against the dispensation of God are useless, and lead only to harm and shame; Who hath resisted Him, and hath had peace? (Job 9:4) we should have a vivid remembrance of our sins, for which we have long since deserved the eternal punishments of hell - hence the well-known saying of St. Augustine: O Lord, here cut, here burn, but spare me in eternity. No other way leads to the kingdom of heaven than the way of the cross, which Christ Himself, His sorrowing mother, and all the saints had to tread. Ought not Christ to have suffered these things, and so to enter into His glory? (Lk. 24:26) Through many tribulations we must enter into the kingdom of God (Acts 14:21). And we should not forget that sorrows and adversities are signs of God's love, and manifest proofs of being His chosen ones. Whom the Lord loveth He chastiseth, and He scourgeth every son whom He receiveth (Heb. 12:6. compare 7-11).
PRAYER IN SORROW O almighty, kind and merciful God! who hast said: "Call upon me in the day of trouble, I will deliver thee, and thou shalt glorify me" (Ps. 49:15), behold relying upon Thy word, I take refuge in Thee in my trouble. Give honor to Thy name, therefore, and deliver me, if it be pleasing to Thee and beneficial for me, that all may know, Thou art our only help. Amen.
For all the gods of the Gentiles are devils: but the Lord made the heavens. Ps. 95, 5
Wanting to reconcile the Faith with the modern spirit leads not only to a weakening of the Faith, but also to its total ruin. 
Pope St. Pius X
THE LORD WILL NOT DELAY                    SECOND SUNDAY OF ADVENT
PRESENCE OF GOD ‑ I place myself in the presence of Jesus in the Blessed Sacrament, to receive His two‑fold invitation to confidence and repentance, contained in today's liturgy.
MEDITATION:
     I. After we have considered the sublime program of sanctification which we should follow, it is very consoling to consider the magnificent texts of today's liturgy. They invite us to have complete trust in God's help. "Thy salvation cometh quickly: why art thou wasted with sorrow?... I will save thee and deliver thee, fear not .... As a mother comforteth her sons, so will I comfort thee, saith the Lord" (RB). God does not want anxiety or discouragement. If He proposes to us an exalted way of sanctity, He does not leave us alone, but comes to help and sustain us.
    Today's Mass shows clearly how Jesus comes not only for the people of Israel, for a small number of the elect, but also for the Gentiles, for all men. "Behold the Lord shall come to save the nations" (Introit), therefore, let us have confidence and rejoice, as St. Paul exhorts us: "Now may the God of hope fill you with all joy and peace in believing that you may abound in hope" (Ep: Rom 15, 4‑13). And in order to stimulate our hope in Christ, the Gospel (Mt 11, 2‑10) presents His wonderful works: "The blind see, the lame walk, lepers are cured, the deaf hear, the dead rise again, the poor have the gospel preached to them."
    There is no physical or moral misery which Jesus cannot cure. He asks only that we go to Him with a heart dilated by faith, and with complete trust in His all‑powerful, merciful love.
    2. In today's Gospel Jesus directs our attention to the strong, austere figure of John the Baptist. "What went you out to see? A reed shaken by the wind?... A man clothed in soft garments? "
    If we want to prepare our hearts for Jesus' coming, we, like St. John the Baptist, must detach ourselves from all the goods of earth. John had left everything and gone into the desert to lead a life of penance. His example invites us to retire into the interior desert of our heart, far from creatures, to await the coming of Jesus in deep recollection, silence, and solitude, insofar as the duties of our state in life permit. We must persevere in this waiting, in spite of aridity and discouragement. "The Lord shall appear and shall not deceive us: if He make any delay, wait for Him, for He will come and will not tarry" (RB).
    To our interior recollection, let us add a greater spirit of penance and mortification. Let us examine our generosity in practicing the penances and mortifications prescribed by our Rule, and those which we have imposed upon ourselves with the approval of our confessor or superior. If we discover that we are lax in this regard, it would be well to resolve to do something more: some mortification at meals, in our rest, or in our clothing, some work that is hard or painful to nature.
    If we wish to taste the sweet joys of Christmas, we should know how to prepare ourselves with these dispositions which the Church invites us to pray for today: "We beseech You, O Lord, to teach us. . . to despise the things of earth and to love those of heaven" (RM).
COLLOQUY:
    O my Savior, Word of God, how can I doubt that are coming upon earth to save and sanctify me? Why I do not go to You with complete, loving confidence, when You have spared nothing to show me Your infinitely merciful love? Your Incarnation, Your infant tears, Your humble hidden life, Your apostolate, Your miracles, Your sorrow Passion and death, all Your precious Blood poured out, shall they not be enough to make me believe in Your love, open my heart in the most complete confidence?
    "I repeat with all confidence the humble prayer of the publican. Most of all do I imitate the behavior of Magdalen, for her amazing ‑ rather I should say her loving ‑ audacity, which delighted Your heart .... I am certain that even if I had on my conscience every imaginable crime, I should lose nothing of my confidence, but would throw myself, my heart broken with sorrow, into Your arms, for I remember Your love for the prodigal son who returns to You" (T.C.J. St. 12).
    With this confidence, O my Jesus, I will resume my way and begin again my poor efforts.
    During this Advent You invite me to greater recollection, to greater interior and exterior silence, so that I may be able to hear Your voice and prepare for Your coming. Help me, then, to quiet my continual chatter about useless things, the discordant voices of nature, self‑love, sensitiveness, the distracting prattle of my fantasies, imaginations, thoughts and useless preoccupations.
    I acknowledge that often my mind and heart are like a raging sea in which the waves thunder continually; and yet, if You wish, a sign from You will be enough to make calm return and all be silent.
    Yes, You teach me that interior silence exacts detachment from self and from creatures, exacts interior and exterior mortification. For love of You I will mortify my curiosity, the curiosity of my eyes, ears, thoughts, and imagination. I also want to silence my passions and, therefore, I resolve to be more generous in the practice of corporal mortification.
    O eternal Word, my Savior, draw all my powers to Yourself; fasten my interior gaze upon Yourself, so that I shall no longer seek or hear anything or anyone but You alone, eternal Word of my eternal God!
Many indeed have never known Thee; many too, despising Thy precepts, have rejected Thee.  Have mercy on them all, most merciful Jesus, and draw them to Thy Sacred Heart…. Be Thou King of all those who are still involved in the darkness of idolatry or of Islamism, and refuse not to draw them all into the light and Kingdom of God. 
Act of Consecration to the Sacred Heart of Jesus, Raccolta
Catholic doctrine ought thus to be proposed and set forth totally and in its entirety: one ought not to pass over in silence or cover with ambiguous words what Catholic truth teaches on the true nature and means of justification, on the constitution of the Church, on the primacy of jurisdiction of the Roman pontiff, on the only true union which is achieved by the return of dissidents to the one true Church of Christ. It is taught that they, by returning to the Church, do not lose any part of the good that, by the grace of God, has up to now been born in them, but that with their return this good is rather completed and perfected. There is no need to discuss this subject as though these people should believe that by their return to the Church they should bring it some essential element that they have lacked up to now.
Pius XII, Instruction of the Holy Office on Ecumenism, Dec. 20, 1949
"An Unjust Law is Not a Law"
When Pope Nicholas II ordered the suppression of the Ambrosian Rite, he was opposed by the Catholics of Milan who refused his order.  This order was subsequently overturned by Pope Alexander II who declared it to have been most manifestly "unjust."  Human law, even the highest form of human law imposed by the pope, has all the limitations of every human law. That is, it must be a promulgation of reason, by the proper authority, promoting the common good, and not in any way opposed to Divine or natural law. As St. Thomas has said, "an unjust law is not a law." The pope had no authority to bind an unjust law and therefore the Catholics of Milan were completely within their rights to refuse the order of Pope Nicholas II in his attempt to suppress their immemorial traditions. Traditional Catholics are, like them, within their rights to refuse any liturgical innovations to their immemorial customs.
At this moment, O Lord, I freely consecrate my will to You without reserve… Grant that Your will may always be fulfilled in me, in the way which is most pleasing to You.  If You wish me to do this by means of trails, give me strength and let them come.  If by means of persecution and sickness and dishonor and need, here I am, my father, I shall not turn my face away. 
St. Teresa of Avila, Way of Perfection
Whosoever therefore is not united with the Body is no member thereof, neither is he in communion with Christ its Head. 
Pius XI, Mortalium Animos
Some say they are not bound by the doctrine, explained in Our Encyclical Letter [Mystici Corporis] of a few years ago, and based on the sources of revelation, which teaches that the Mystical Body of Christ and the Roman Catholic Church are one and the same thing. 
Pius XII, Humani Generis
The more joyfully souls do His will, the greater is their perfection. 
St. Therese of the Child Jesus
I am worried by the Blessed Virgin's messages to Lucy of Fatima. This persistence of Mary about the dangers which menace the Church is a divine warning against the suicide of altering the Faith, in Her liturgy, Her theology and Her soul. … I hear all around me innovators who wish to dismantle the Sacred Chapel, destroy the universal flame of the Church, reject Her ornaments and make Her feel remorse for Her historical past.
A day will come when the civilized world will deny its God, when the Church will doubt as Peter doubted. She will be tempted to believe that man has become God. In our churches, Christians will search in vain for the red lamp where God awaits them. Like Mary Magdalene, weeping before the empty tomb, they will ask, "Where have they taken Him"?
Pope Pius XII, Roche, Devant L'Historie, p. 52-5
The highest perfection consists not in interior favors,  or in great raptures, or in visions, or in the spirit of prophesy, but in the bringing of our wills so closely into conformity with the will of God that, as soon as we realize He wills anything, we desire it ourselves with all our might, and take the bitter with the sweet. 
St. Teresa of Avila
If you love Me, keep My commandments… If you keep My commandments, you shall abide in My love; as I also have kept My Father's commandments, and do abide in His love. 
John 14, 15; 15, 10
Novena Prayer to the Infant of Prague
O Dearest Jesus, tenderly loving us, Thy greatest joy is to dwell among men and to bestow Thy blessings upon us! Though I am not worthy that Thou should behold me with love, I feel myself drawn to Thee, O dear Infant Jesus, because Thou gladly pardon me and exercise Thy almighty power over me.
So many who turned with confidence to Thee and have received graces and had their petitions granted. Look upon me as I kneel in spirit before Thy miraculous image on Thine altar in Prague and lay open my heart to Thee, with its prayers, petitions and hopes. Especially the affair of... I enclose in Thy loving Heart. Govern me and do with me and mine according to Thy holy will, for I know that in Thy Divine wisdom and love Thou will ordain everything for the best. Almighty, gracious Infant Jesus, do not withdraw Thy hand from us, but protect and bless us forever. 
Amen
Jesus Christ Received the Throne of David from St. Joseph
It may be yet further asked, why S. Matthew unfolded the genealogy of Joseph rather than of Mary, since Christ was born of her alone, being a Virgin? I answer : First, because among the Jews, and other nations, genealogy is customarily reckoned through fathers and husbands, not through mothers and wives. Second, because Joseph was the true and lawful father of Christ, after the manner which I shall explain presently. And Christ was the heir of David's throne and sceptre, not through Mary, but through Joseph, according to Gods promise to David, 2 Sam. vii. 12; Ps. lxxxix. and cxxxii. The sceptre, therefore, of Judah devolved upon Jesus Christ, not only by the promise and gift of God, but by the right of hereditary succession. For if, by common right, sons succeed to their fathers' inheritance, when they are only accounted their sons by common repute, how much more was Christ Joseph's, his father's, heir, since He was the Son of his wife, by the power and the gift of the Holy Ghost? Wherefore as Joseph had a parent's right over Christ, indeed, all rights which parents have over sons, so on the other hand, Christ had, with reference to Joseph, all the rights which sons have in respect to their parents. He had therefore a right to the kingdom of Israel after Joseph's death. Hence the question of the Magi (ii. 2), "Where is he that is born King of the Jews?" This was what S. Matthew wished to demonstrate, who, as S. Augustine says, insists, most of all the Evangelists, upon the kingship of Christ. And this explains why he gives the genealogy of Joseph, rather than of Mary. For she could not be the heiress of the kingdom, so long as heirs male, like Joseph and others, survived. Whence also it must be said, as a consequence, that the father and other ancestors of Joseph were first-born, or at least eldest surviving sons of their fathers, so that the right of reigning devolved upon them.
This is what is meant in the first chapter of S. Luke by the words, "And the Lord God will give unto him the throne of his father David." So likewise in Gen. xlix. to, "The sceptre shall not depart from Judah, nor a lawgiver from between his feet, until Shiloh come," that is, Christ, who was to restore to Judah the sceptre, iniquitously taken away by Herod; yea, who was to raise their kingdom to a far higher grandeur, by making it spiritual instead of corporeal, heavenly instead of earthly, and, instead of temporal, eternal. 
Rev. Cornelius a Lapide, Commentary on St. Matthew
Whoever dwells in the protection of the Almighty, may say to God: "You are my refuge and my castle, Lord, whom I trust".
Psalm 90: 1-2, Invocation of St. Clement Maria Hofbauer, taught to him by his mother
Pray, they are ringing the Angelus. 
St. Clement Maria Hofbauer's last words
This moreover is true if you consider the mass of mankind. For by far the greater portion of men are Infidels, Turks, Saracens, or heretics. S. Augustine (lib. 4 contr. crescent. c. 53) compares the Church to a threshing-floor in which there is far more chaff than grains of wheat, more bad than good, more who will be damned than will be saved. Yet others, with greater mildness, think it probable that the greater portion of professing Christians will be saved, because most of them receive the Holy Sacraments before they die. And they justify sinners, not only those who have contrition, but who have attrition. But this seems to be true of those who have not lived in constant and habitual sins, such as fornication, usury, hatred. For such, when they are sick, conceive with difficulty any serious and efficacious purpose of amendment, or if they do conceive it, God in just punishment of their past sins suffers the demon of their bygone lusts to tempt them, and he furbishes and sharpens their memory, and so the sick man in consequence of his habits easily yields, and consents in his heart to sin, and thus he falls and is damned. Of this there are many examples. 
Rev. Cornelius a Lapide, Commentary on St. Matthew
Sanctity properly consists only in conformity to God's will, expressed in a constant and exact fulfillment of the duties of our state in life. 
Pope Benedict XV
Home School? - an added benefit, Education!
"(The results show a) picture of educational stagnation.... We must invest in early education, raise academic standards, make college affordable, and do more to recruit and retain top-notch educators."
Arne Duncan, Education Secretary, commenting on the U.S.A. results from the three-yearly Organization for Economic Cooperation and Development (OECD) Program for International Student Assessment (PISA) report, which compares the knowledge and skills of 15-year-olds in 70 countries around the world, ranked the United States 14th out of 34 OECD countries for reading skills, 17th for science and a below-average 25th for mathematics.  U.S. averages $10,599.00 for a 15 year old's education.
Modern "theologians" ignorant of scholasticism and thus, any sense of true theology, should know, the Summa was intended for "beginners."
Because the Master of Catholic Truth ought not only to teach the proficient, but also to instruct beginners (according to the Apostle: As unto little ones in Christ, I gave you milk to drink, not meat. 1 Cor. 3, 1-2), we propose in this book to treat of whatever belongs to the Christian Religion, in such a way as may tend to the instruction of beginners.  We shall try, by God's help, to set forth whatever is included in this Sacred Science as briefly and clearly as the matter itself may allow. 
St. Thomas Aquinas, prologue to the Summa
Indulgences for the Blue Scapular, (the Scapular of the Immaculate Conception)
"As for me, I would take all scapulars." But above all you must know that the scapular of the Immaculate Conception, which is blessed by the Theatine Fathers, besides all its partial indulgences, has all the indulgences granted to whatever religious order, whatever devotion, whatever person there can be. And particularly that by reciting six times Pater, Ave, and Gloria, in honor of the Most Holy Trinity and Mary Immaculate, can be gained each time all the indulgences of Rome, of Portiuncula, of Jerusalem, and of Galicia, which amounts to 533 plenary indulgences, without speaking of partial indulgences, which are innumerable.
St. Alphonsus Liguori, Glories of Mary. These indulgences have been confirmed by Gregory XVI in a decree dated July 12, 1845
For decades the South American Church has been falling into ruin, its crisis the greatest on the planet: the latest data, just published by the Pew Center, confirming the precipitous drop of membership in the Catholic Church in Latin America. Now that same recipe for failure is being applied to the whole Church. And so we soon we will see the same ruins. The Bergoglio Effect.
Antonio Socci, Italian journalist and author
The silkworm starts to spin its silk and to build the house in which it is to die…. On then, my daughters, let us hasten to perform this task and spin this cocoon.  Let us renounce our self-love and self-will, and our attachment to earthly things.  Let us practice penance, prayer, mortification, obedience, and all the other good works that you know of…. Let the silkworm die – let it die, as in fact it does when it has completed the work which it was created to do.  Then we shall see God and shall ourselves be as completely hidden in his greatness as is this little worm in its cocoon… And let us see what becomes of this silkworm, for all that I have been saying about it is leading up to this.  When it is in this state of prayer, and quite dead to the world, it comes out a little white butterfly.  Oh, greatness of God, that a soul should come out like this, after being with him for so short a time. 
St. Theresa of Avila
Charity… unites man with God so that he no longer lives for himself but for God.
St. Thomas Aquinas
St. Ignatius on the Question of Penance
Neither mortification of the body nor that of the passions should be deferred to old age, old age is uncertain, and does not allow of severity being used towards it. [....]Penance is divided into that which is interior and exterior. Interior penance consists in sorrow for one's sins, accompanied by a firm resolution not to fall again into the same sins nor into any other. Exterior penance is a fruit of the former, and consists in punishing oneself for one's past faults; which may be practised chiefly in three ways. First, with regard to food. As to which it must be remembered that cutting off what is superfluous is not penance but temperance. That only is penance when we deprive ourselves of something which we might properly take; and, in this sense, the more we succeed in cutting off, the greater and more praiseworthy is the penance, provided it does not go so far as to destroy our strength and to injure our health notably. Secondly, with regard to sleep. As to the manner of taking it, it should be remarked that it is not penance to cut off what only tends to gratify our delicacy and our sensuality. There is penance only in depriving ourselves of part of the things which we might properly use; and, in this sense, the more we succeed in cutting off, the better we shall do, provided we do not greatly injure health and no notable weakness ensues. As to the time to be given to sleep, nothing should generally be cut off from what is expedient unless with the view of correcting the evil habit of sleeping too much and arriving at a right measure. Thirdly, with regard to the body. It consists in causing it to suffer sensible pain by wearing haircloth, cords, or iron chains on the flesh ; by taking the discipline. What appears to be most suitable and least dangerous on this point is, that the pain should only he felt by the flesh, and not penetrate to the bone so that the penance should cause pain and not infirmity.
Exterior penances are used chiefly for three purposes: first, as a satisfaction for past sins; secondly, in order to overcome oneself, that is to say, in order that sensuality may be obedient to reason, and all the inferior parts of the soul be more subjected to the superior; thirdly, in order to seek and find some grace or gift which a person wishes for and desires: as, for example, if he desires to have an interior sorrow for his sins, or to weep much for them, or for the pains and sufferings which Christ our Lord endured in His Passion, or in order to obtain the solution of some doubt he is in. 
Fr. Xavier De Franciosi, S.J., Spirit of St. Ignatius
On the other hand, it is certain that the Jewish Cabalistic tradition was one of the principal mediums through which Eastern occultism (which has so many times come to the surface in European history) has been transmitted to modern Europe; and that many, if not all, of the recognized founders of the eighteenth century Illuminism (including Weishaupt, Pasqualis, and Cagliostro) were initiated into its secrets by Jewish Cabalists or drew their inspiration and their methods from the Jewish esoteric writings. The Jewish apologist, Bernard Lazare, states that "there were Cabalistic Jews around the cradle of Freemasonry, as certain rites still in existence conclusively show." 
Rev. Edward J. Cahill, S.J., The Truth About Freemasonry
Father of Modernism: Cardinal John Henry Newman?
 It has always been incomprehensible to me why Manning's hostility to Newman should be imputed to him as a sin, while Newman's hostility to Manning is held to be a virtue. [.....] Yet at the present hour, when the Modernists have claimed Newman as their precursor, supporting their contention with many a passage from his writings, it would seem that Manning, as the exponent of orthodox doctrine, was justified in his appreciation of Newman's teaching. [....] Manning had everything to lose by becoming a Catholic, Newman had everything to gain. [....]This is shown by the willingness with which (Manning) threw aside ambition, comfort, and prosperity, when as the high road to the foremost and pleasantest preferments in the Church of England, to enter upon the tedious life of a Roman Catholic mission priest. His new durance called forth from him no moaning such as Newman poured out when he was sent to work in Ireland. [.... ] Manning's religion was free from all pious affectation. Yet in close contact with him one felt that he was always living in the presence of an unseen Power, not as a pompous agent, but as its simple and humble messenger. It has been my lot to witness some of the most imposing religious ceremonies of modern Christendom; but nothing so impressive, so faith-inspiring has ever met my eyes as the sight of the noble old Englishman in his threadbare cassock kneeling alone before the altar of his bare chapel."
[......] "I became a Catholic off my own bat" (Manning) exclaimed to indicate the lack of conviction in the Oxford converts. Afterwards the conversation moved to theological ground, and Manning's tone changed. "From an observation you made", he said, "I gather that you are under the impression that Doctor Newman is a good Catholic." I replied that such was my vague belief. He retorted: "Either you are ignorant of the Catholic doctrine, or of the works of Doctor Newman" - he always said 'Doctor Newman' in Oxford fashion, and never gave him the title of Cardinal. After asking me which of Newman's books I had read, he proceeded to tick off on his tapering fingers, in his usual way, ten distinct heresies to be found in the most widely-read works of Dr. Newman." [.....] To Msgr. Talbot Manning wrote, ". . . an English Catholicism, of which Newman is the highest type. It is the old Anglican, patristic, literary, Oxford tone transplanted into the Church... In one word, it is a worldly Catholicism, and it will have the worldly on its side, and will deceive many. [....] He is the most dangerous man in England."
Richard Sartino, Another Look at Cardinal Newman, quoting J. E. C. Bodley, a Protestant and Mason, on Cardinal Newman and Cardinal Manning
Hope for all of Europe
"We are proud that our King St. Stephen established the Hungarian state on firm foundations a thousand years ago and our country as part of Christian Europe…. We recognize the role of Christianity in preserving our nationhood." Hungary, excerpt from its constitution
Nothing is more evident than this –
Pope Francis knows nothing of the Mother of God, he knows nothing of the spiritual life!
The Gospel does not tell us anything: if she spoke a word or not... She was silent, but in her heart, how many things told the Lord! "You, that day, this and the other that we read, you had told me that he would be great, you had told me that you would have given him the throne of David, his forefather, that he would have reigned forever and now I see him there!" Our Lady was human! And perhaps she even had the desire to say: "Lies! I was deceived!"
Pope Francis, sermon December 20, 2013, published by Vatican News Service
Hermeneutics of Continuity/Discontinuity – Even JPII did not deny this dogma!
<![if !vml]>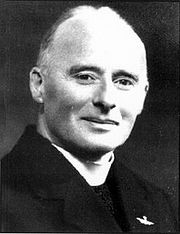 <![endif]>Pope Francis Teaches:
We hold the Jewish people in special regard because their covenant with God has never been revoked, for "the gifts and the call of God are irrevocable" (Rom.11:29). The Church, which shares with Jews an important part of the Sacred Scriptures, looks upon the people of the covenant and their faith as one of the sacred roots of her own Christian identity (cf. Rom. 11:16-18). As Christians, we cannot consider Judaism as a foreign religion; nor do we include the Jews among those called to turn from idols and to serve the true God (cf. 1 Thes. 1:9). With them, we believe in the one God who acts in history, and with them we accept his revealed word. Pope Francis, Evangelii Gaudium
The Church officially recognizes that the People of Israel continue to be the Chosen People. Nowhere does it say: "You lost the game, now it is our turn." It is a recognition of the People of Israel.  Pope Francis, On Heaven and Earth
The Catholic Church Teaches:
Hebrews 7:18: "On the one hand, a former commandment is annulled because of its weakness and uselessness…";
Hebrews 10:9: "Then he says, 'Behold, I come to do your will.' He takes away the first [covenant] to establish the second [covenant]…";
2 Corinthians 3:14: "For to this day when they [the Jews] read the Old Covenant, that same veil remains unlifted, because only through Christ is it taken away";
Hebrews 8:7: "For if there had been nothing wrong with that first covenant, no place would have been sought for another";
Colossians 2:14: "Having canceled the written code, with its decrees, that was against us and stood opposed to us; He took it away nailing it to the cross";
Pope Pius XII, Mystici Corporis, para. 29: "…the New Testament took the place of the Old Law which had been abolished…but on the gibbet of His death Jesus made void the Law with its decrees fastened the handwriting of the Old Testament to the Cross";
The Catechism of the Council of Trent: "…the people, aware of the abrogation of the Mosaic Law…";
Council of Florence: [This council] firmly believes, professes, and teaches that the matter pertaining to the law of the Old Testament, of the Mosiac law, which are divided into ceremonies, sacred rites, sacrifices, and sacraments, because they were established to signify something in the future, although they were suited to the divine worship at that time, after our Lord's coming had been signified by them, ceased, and the sacraments of the New Testament began; and that whoever, even after the passion, placed hope in these matters of the law and submitted himself to them as necessary for salvation, as if faith in Christ could not save without them, sinned mortally. Yet it does not deny that after the passion of Christ up to the promulgation of the Gospel they could have been observed until they were believed to be in no way necessary for salvation; but after the promulgation of the Gospel it asserts that they cannot be observed without the loss of eternal salvation. All, therefore, who after that time observe circumcision and the Sabbath and the other requirements of the law, it declares alien to the Christian faith and not in the least fit to participate in eternal salvation, unless someday they recover from these errors.  Pope Eugene IV, Council of Florence, Cantate Domino
Council of Trent: "but not even the Jews by the very letter of the law of Moses were able to be liberated or to rise therefrom";
Cardinal Ratzinger: "Thus the Sinai [Mosaic] Covenant is indeed superseded" (Many Religions – One Covenant, p. 70).
St. John Chrysostom: "Yet surely Paul's object everywhere is to annul this Law….And with much reason; for it was through a fear and a horror of this that the Jews obstinately opposed grace" (Homily on Romans, 6:12); "And so while no one annuls a man's covenant, the covenant of God after four hundred and thirty years is annulled; for if not that covenant but another instead of it bestows what is promised, then is it set aside, which is most unreasonable" (Homily on Galatians, Ch 3);
St. Augustine: "Instead of the grace of the law which has passed away, we have received the grace of the gospel which is abiding; and instead of the shadows and types of the old dispensation, the truth has come by Jesus Christ. Jeremiah also prophesied thus in God's name: 'Behold, the days come, says the Lord, that I will make a new covenant with the house of Israel, and with the house of Judah…' Observe what the prophet says, not to Gentiles, who had not been partakers in any former covenant, but to the Jewish nation. He who has given them the law by Moses, promises in place of it the New Covenant of the gospel, that they might no longer live in the oldness of the letter, but in the newness of the spirit" (Letters, 74, 4);
Justin Martyr: "Now, law placed against law has abrogated that which is before it, and a covenant which comes after in like manner has put an end to the previous one; and an eternal and final law – namely, Christ – has been given to us, and the covenant is trustworthy…Have you not read…by Jeremiah, concerning this same new covenant, He thus speaks: 'Behold, the days come,' says the Lord, 'that I will make a new covenant with the house of Israel and with the house of Judah…'" (Dialogue with Trypho, Ch 11).
John Paul II: "Christ fulfills the divine promise and supersedes the old law." (Redemptoris Mater)
Taken from Robert Sungenis, The Old Covenent: Revoked or Not Revoked?
His friends just call him "Bergoglio"
We were close for a few days, the three daily meals and have shared other moments both public and private. We talked about everything: about dialogue, but also about the journey that we will do together to Israel [.....] Together we have celebrated the beginning of Shabbat, he was by my side when I recited the Kiddush and has broken challah, which Zion Evrony, the Israeli Ambassador, brought to the Holy See. They were unforgettable days and I think that they have a value that goes beyond the affection and confidence that has always connected us [.....] "Important signal": "I see great value in Bergoglio's comments against proselytism. It is a point on which he insists with a special emphasis and gets even more weight when we think of the evangelizing framework within which these statements were made...... But now, the Pope speaks of it (of evangelization) only to introduce Catholics to the faith.
Rabbi Abraham Skorka from Argentina, interview for the Jewish monthly Pagine Ebraiche, which was reproduced in Osservatore Romano November 25, about his visit to the Community of Sant'Egidio in Rome as a "personal guest of Bergolio in Santa Maria."
Seek more immediately our Divine Master Himself, I mean His most holy gifts, embrace them, and be closely united to them. This is the happiest and most blessed path, that which leads to, and is concerned with, eternal life. By these gifts I mean such as it is not in our power to have when we desire them, but which are simply bestowed on us by the Giver of all good, to Whose almighty power no blessing is too great: such are, for example, with regard to the Divine Majesty, intensity of faith, hope, and charity, spiritual joy and rest, tears, deep consolations, elevation of mind, Divine impressions and illuminations, and all other spiritual tastes and sentiments relating to such gifts, such as humility, and profound respect for the holy Church our Mother, for those who govern it, and for its teachers. Every one of these holy gifts should be preferred to all bodily acts, which are only good in so far as they aim at acquiring these gifts, or at least part of them. I do not mean by this that we ought to seek them solely for the pleasure which we find in them: certainly not. But recognizing that without these gifts, all our thoughts, words, and deeds are confused, cold and troubled, we should desire these gifts in order that by means of them they may become ardent, clear, and just, for the greater service of God. From this it follows that we ought to wish for these precious gifts wholly or in part, and these spiritual graces, so far as with their help we may promote God's greater glory. As when the body is in danger, in consequence of excessive labours, the best thing to do is to seek for these gifts by acts of the understanding and by moderate exercises : so, not only will the soul be healthy, but, as a healthy mind animates a body which is so also, the whole will become more healthy, and more fit to serve God.
Fr. Xavier De Franciosi, S.J., Spirit of St. Ignatius, St. Ignatius' Letter to St. Francis Borgia regarding his "excessive austerities."
<![if !vml]>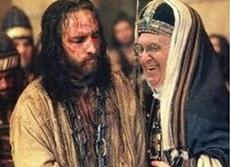 <![endif]>Castro was not reconciled to the Church, only to his fellow revolutionary, Pope Francis
Pope Francis grieves, prays for atheist revolutionary Castro
VATICAN CITY | Reuters | November 26, 2016 - Pope Francis said the death of Cuba's revolutionary leader Fidel Castro was "sad news" and that he was grieving and praying for his repose.
Francis expressed his condolences in a Spanish-language message to Fidel's brother, President Raul Castro on Saturday.
The pope, who met Fidel Castro when he visited Cuba last year, said he had received the "sad news" and added: "I express to you my sentiments of grief."
Fidel Castro, who was a professed atheist, was baptized as a Catholic and educated in schools run by the Jesuits, the religious order of which the pope is a member.
Many men sin against Faith in an even more subtle way through the sins against the Holy Ghost, namely, the sins of despair, presumption, impenitence, obstinacy, resisting the known truth and envy of someone else's spiritual good.  The sins against the Holy Ghost are not sins of weakness or ignorance.  They are sins of certain malice.  By despair a man rejects God's goodness and mercy.  By presumption he rejects God's justice.  By impenitence he refuses to turn from sin to God.  By obstinacy a man hardens his will in sin.  A man sins in resisting the known truth because he does so in order to sin more freely.  Lastly a man sins by envying someone else's spiritual good because he hates the increase of God's grace in the world.  In all these sins there is great danger for man because these sins mean that man is deliberately refusing to consider those truths and motives which would keep him from sin and enable him to turn to God.  It is for this reason that the sins against the Holy Ghost are said to be unforgivable.  It is not that God is unwilling to forgive any sins.  It is rather that in these sins a man shows that he does not wish forgiveness.
Fr. Walter Farrell, O.P., S.T.M., My Way of Life, Pocket edition of St. Thomas
This is the expected fruit from the blasphemous 1989 Profession of Faith which demands a vow of unconditional obedience to man on his own authority.  Unconditional obedience can only be given to God!
Pope Francis Promulgates Buenos Aires Guidelines Allowing Communion for Some Adulterers in AAS as his "Authentic Magisterium"
The Vatican's organ for promulgating the Official Acts of the Apostolic See, Acta Apostolicae Sedis (AAS), has published its October 2016 issue, containing Pope Francis' infamous Letter to the Buenos Aires Bishops. AAS not only published this letter, declaring that there are "no other interpretations" ("No hay otras interpretaciones") of Amoris Laetitia other than those of the Buenos Aires bishops, but it also published the full Buenos Aires guidelines themselves, which permit Holy Communion in some cases for couples in a state of permanent and public adultery who are not committed to living in complete continence.
Rorate Caeli
Two Years! No indictments and the hard work of collecting evidence was done for them!
BREAKING: U.S. Department of Justice investigating Planned Parenthood for selling baby parts
LifeSiteNews | Claire Chretien | WASHINGTON, D.C. |  December 7, 2017– The U.S. Department of Justice (DOJ) is officially investigating Planned Parenthood for selling baby body parts, more than two years after the release of the Center for Medical Progress (CMP) videos.
"It is time for public officials to finally hold Planned Parenthood and their criminal abortion enterprise accountable under the law," said David Daleiden of CMP.
Fox News broke the story Thursday evening, reporting that they had obtained a letter from Justice Department Assistant Attorney General for Legislative Affairs Stephen Boyd to the U.S. Senate Judiciary Committee. This letter asked for unredacted documents from that committee, which had been investigating Planned Parenthood.
"This is long-awaited, good news," said Abby Johnson, a former abortion advocate and Planned Parenthood director who is now a pro-life activist.
"Planned Parenthood has actively participated in illegal activity, selling the body parts of aborted babies in exchange for profit," said Johnson. "They've lied to the very women they purport to fight for. I saw it first-hand when I worked for the abortion giant and yet, they still manage to obtain over half a billion dollars a year in our tax dollars." [.....]
Prophecy of St. Francis of Assisi
Act bravely, my brethren; take courage and trust in the Lord. The time is fast approaching in which there will be great trials and afflictions; perplexities and dissensions, both spiritual and temporal, will abound; the charity of many will grow cold, and the malice of the wicked will increase. The devils will have unusual power; the immaculate purity of our Order, and of others, will be so much obscured that there will be very few Christians who obey the true Supreme Pontiff and the Roman Church with loyal hearts and perfect charity.
At the time of this tribulation a man, not canonically elected, will be raised to the Pontificate, who, by his cunning, will endeavour to draw many into error and death. Then scandals will be multiplied, our Order will be divided, and many others will be entirely destroyed, because they will consent to error instead of opposing it.
There will be such diversity of opinions and schisms among the people, the religious and the clergy, that, except those days were shortened, according to the words of the Gospel, even the elect would be led into error, were they not specially guided, amid such great confusion, by the immense mercy of God….
Those who preserve their fervor and adhere to virtue with love and zeal for the truth, will suffer injuries and persecutions as rebels and schismatics; for their persecutors, urged on by the evil spirits, will say they are rendering a great service to God by destroying such pestilent men from the face of the earth…
Some preachers will keep silent about the truth, and others will trample it under foot and deny it. Sanctity of life will be held in derision even by those who outwardly profess it, for in those days Our Lord Jesus Christ will send them, not a true Pastor, but a destroyer.
St. Francis of Assisi, shortly before his death addressed to his faithful followers, Works of the Seraphic Father, St. Francis of Assisi, pp. 248-250
On 13 June 1525, after weeks of speculation, Martin Luther secretly married <![if !vml]>
<![endif]>Katharina von Bora, a former nun, in a private ceremony officiated by city preacher Johann Bugenhagen and attended by jurist Johann Apel, professor Justus Jonas, and artist Lucas Cranach and his wife. Over the last centuries, scholars, writers, artists, Wittenberg citizens—in their popular, annual Lutherhochzeit [Luther's wedding] festival—and even a recent filmmaker have characterized this event as one of the iconic episodes of the Lutheran Reformation. Yet Luther's marriage neither legalized nor heralded an immediate acceptance of priestly marriage even in reformed territories. Luther certainly was not the first cleric to marry. Three of the witnesses at his wedding—Apel, Bugenhagen, and Jonas—were former Catholic clergy who had all married by mid-1523, a full two years before this event. Only a few weeks prior to this event, Luther expressed hesitation about marriage even for political reasons, suggesting perhaps he would agree to a chaste marriage, a Josephehe, to support married clergy. Luther's marriage does illustrate many aspects of the ongoing reform process. His mixed feelings about marrying, the atmosphere that led him to a decision, the subsequent outcry about marriage, and the personal trials that faced him and his wife in their married life had much in common with the many clergy who married before and after him in the first decades of the German Reformation.
From Priest's Whore to Pastor's Wife: Clerical Marriage and the Process of Reform in the Early German Reformation
Marjorie Elizabeth Plummer, Western Kentucky University
"Every one therefore that shall confess me before men, I will also confess him before my Father who is in heaven. But he that shall deny me before men, I will also deny him before my Father who is in heaven."
Matthew 10:32-33
Jesuits are fifth column in the Catholic Church promoting the Homosexual Heresy!
Vatican-approved Jesuit rector: I still want to see homosexual couples blessed and women ordained
LifeSiteNews | November 28, 2018– Father Ansgar Wucherpfennig, S.J. has recently been re-instated by the Vatican as the <![if !vml]>
<![endif]>rector of the Jesuit graduate school in Frankfurt, Germany, in spite of his statements in favor of blessings for homosexual partners and female ordination.
As he now says in a new interview: "I did not recant anything." Wucherpfennig also adds that it was Jesuit Superior General Father Arturo Sosa who handled his case and now even asks him to publish essays on these two controversial topics.
LifeSiteNews has reported that the Vatican – after an initial demurral to give a Nihil obstat ("nothing stands in the way") to his re-election as the rector of the Jesuit school – has now accepted Wucherpfennig's simple statement that, while teaching Catholic doctrine, he will always present the statements of the Magisterium, but at the same time he will continue to question certain aspects of it.
Now, in a new interview, Father Wucherpfennig responds to this recent Vatican decision and makes it clear that he has not withdrawn any of his controversial statements in favor of the blessing of homosexual couples, as well as female ordination.
"No, I did not recant," he said.
The priest explains that he only dealt, through his own German superior, with Father Arturo Sosa, the head of the Jesuits, and not with the Vatican. He adds that it was Sosa who gave him the mission to write about these controversial topics: "The General Superior, Father Sosa, however, has given me the task to make further research about these two topics [homosexuality and female ordination] and to further develop, with a creative loyalty, the Church's views."
Wucherpfennig makes it clear that he told Father Sosa that he "as a Christian and academic" has the "hope that the teaching with regard to these two points will change and will widen."
He also shows himself content with the current resolution of the conflict, saying that all of the involved parties "were able to save face." "Both sides made conciliatory steps."
When asked whether he already has plans about his future essays on these topics, Father Wucherpfennig responds, saying: "This is still too early. I anyway wanted to continue to work on these topics." In light of the recent German clerical sex abuse study, he adds, "one has to discuss things openly, without taboos." It is now time for such research, the priest explains. He has already received several requests concerning the question of how to interpret the Bible – especially the letters of St. Paul – concerning the topic of homosexuality.
Concerning female ordination, Wucherpfennig points out that "Pope Francis himself has already touched upon the matter of a 'female diaconate.'" In the German priest's eyes, the New Testament "allows for a larger variety of tasks and a greater range of kerygmatic and pastoral tasks for men and women" than what is currently believed. "Whether I will then write an article or whether there will be a book, I do not yet know," he concludes.
Father Wucherpfennig says that there are still some resistances in parts of the Vatican, but then specifically praises Pope Francis and says that, under his pontificate, "there was a new opening up of the Church's debates." He thus welcomes the decision in his own case, saying that it reflects the direction wanted by the Pope: this Vatican decision "goes into the direction that the Pope obviously prefers: that the Church moves forward."
Pointing to other cases that are still pending in the Vatican with regard to other theologians possibly to be censored for their heterodox positions, Wucherpfennig explains that, in his case, it was not about suspending his teaching license, but, rather, only about his being the rector of the Jesuit St. Georgen Graduate School in Frankfurt. Commenting on the outcome after the tense recent weeks, Wucherpfennig says: "All is well that ends well."
Within a few blocks around Ss. Peter & Paul Chapel there are at least five protestant Hispanic churches.  These souls have been lost to the Catholic Church being wholly ignorant of the doctrinal and moral teachings which must necessarily be believed to save their souls.  December 4 we will begin a novena to our blessed Mother for the conversion of the Hispanic people of York to the Catholic Church, outside of which there is no salvation.
Novena to Our Lady of Guadalupe for the conversion of the Hispanic people of York
(Novena begins December 4th and ends on December 12th)
    Our Lady of Guadalupe, according to your message in Mexico I venerate you as the Virgin Mother of the true God for whom we live, the Creator of all the world, Maker of heaven and earth.  In spirit I kneel before your most holy image which you miraculously imprinted upon the cloak of the Indian Juan Diego, and with the faith of the countless numbers of pilgrims who visit your shrine, I beg you for this favor: (the conversion of the Hispanic population of York to the true Church).
    Remember, O immaculate Virgin, the words you spoke to your devout client: "I am a merciful mother to you and to all your people who love me and trust in me and invoke my help.  I listen to their lamentations and solace all their sorrows and sufferings."  I beg you to be a merciful mother to me, because I sincerely love you and trust in you and invoke your help.  I entreat you, our Lady of Guadalupe, to grant my request, if this should be the will of God, in order that I may bear witness to your love, your compassion, your help and protection.  Do not forsake me in my needs.
Our Lady of Guadalupe, pray for us. (Hail Mary three times)
Consecration to the Immaculate Heart of Mary
By St. Louis de Montfort
<![if !vml]>
<![endif]>    O Eternal and incarnate Wisdom! O sweetest and most adorable Jesus! True God and true man, only Son of the Eternal Father, and of Mary, always virgin! I adore Thee profoundly in the bosom and splendors of Thy Father during eternity; and I adore Thee also in the virginal bosom of Mary, Thy most worthy Mother, in the time of Thine incarnation.
    I give Thee thanks for that Thou hast annihilated Thyself, taking the form of a slave in order to rescue me from the cruel slavery of the devil. I praise and glorify Thee for that Thou hast been pleased to submit Thyself to Mary, Thy holy Mother, in all things, in order to make me Thy faithful slave through her. But, alas! Ungrateful and faithless as I have been, I have not kept the promises which I made so solemnly to Thee in my Baptism; I have not fulfilled my obligations; I do not deserve to be called Thy child, nor yet Thy slave; and as there is nothing in me which does not merit Thine anger and Thy repulse, I dare not come by myself before Thy most holy and august Majesty. It is on this account that I have recourse to the intercession of Thy most holy Mother, whom Thou hast given me for a mediatrix with Thee. It is through her that I hope to obtain of Thee contrition, the pardon of my sins, and the acquisition and preservation of wisdom.
    Hail, then, O immaculate Mary, living tabernacle of the Divinity, where the Eternal Wisdom willed to be hidden and to be adored by angels and by men! Hail, O Queen of Heaven and earth, to whose empire everything is subject which is under God. Hail, O sure refuge of sinners, whose mercy fails no one. Hear the desires which I have of the Divine Wisdom; and for that end receive the vows and offerings which in my lowliness I present to thee.
    I, N______ a faithless sinner, renew and ratify today in thy hands the vows of my Baptism; I renounce forever Satan, his pomps and works; and I give myself entirely to Jesus Christ, the Incarnate Wisdom, to carry my cross after Him all the days of my life, and to be more faithful to Him than I have ever been before. In the presence of all the heavenly court I choose thee this day for my Mother and Mistress. I deliver and consecrate to thee, as thy slave, my body and soul, my goods, both interior and exterior, and even the value of all my good actions, past, present and future; leaving to thee the entire and full right of disposing of me, and all that belongs to me, without exception, according to thy good pleasure, for the greater glory of God in time and in eternity.
    Receive, O benignant Virgin, this little offering of my slavery, in honor of, and in union with, that subjection which the Eternal Wisdom deigned to have to thy maternity; in homage to the power which both of you have over this poor sinner, and in thanksgiving for the privileges with which the Holy Trinity has favored thee. I declare that I wish henceforth, as thy true slave, to seek thy honor and to obey thee in all things.
    O admirable Mother, present me to thy dear Son as His eternal slave, so that as He has redeemed me by thee, by thee He may receive me! O Mother of mercy, grant me the grace to obtain the true Wisdom of God; and for that end receive me among those whom thou lovest and teachest, whom thou leadest, nourishest and protectest as thy children and thy slaves.
    O faithful Virgin, make me in all things so perfect a disciple, imitator and slave of the Incarnate Wisdom, Jesus Christ thy Son, that I may attain, by thine intercession and by thine example, to the fullness of His age on earth and of His glory in Heaven. Amen
Remember in your charity the following pray requests:       
Please remember our expectant mother: Vanessa LoStrocco,
For Kay Levitt, who is ill,
Fr. John Murphy, for his spiritual and physical welfare, and Fr. Collins,
Charles Muldowney, who is terminally ill,
Luis Rafael Zelaya, for his conversion,
For the health of Kim Cochran, the daughter-in-law of Joseph and Brenda Cochran, the wife of their son Joshua,
Louie Verrecchio, Catholic apologist, who has a health problem,
John Minidis, Jr. family, for help in their spiritual trial,  
John and Joann DeMarco, for their health and spiritual welfare,
Regina (Manidis) Miller, her spiritual welfare and health,   
Melissa Elena Levitt, her health and conversion, and welfare of her children,
For the spiritual and temporal welfare of Irwin Kwiat,
Fr. Waters asks our prayers for Elvira Donahy, who is recovering from a stroke,
Kimberly Ann, the daughter of John and Joann DeMarco, for her health and spiritual welfare,
Mufide Rende, a traditional Catholic from India has asked our prayers for her welfare,
Mary and Bill Glatz, the welfare of their family,
Barbara Harmon, who is gravely ill, and still cares for her ailing parents,
For the health and welfare of Kolinsky and Sorace families,
Fr. Waters asks our prayers for the health and spiritual welfare of Brian Abramowitz,
Thomas Schiltz family, in grateful appreciation for their contribution to the beauty of our chapel,
Welfare of Bishop Richard Williamson, for strength and courage in the greater battles to come,
Angelina Montesano family & Helen Snyder, for their health and spiritual welfare,
Michael J. Brigg & his family, who have helped with the needs of the Mission,
The conversion of David Keithley and the welfare of the Nathaniel Miller family, are the petitions of Gene Peters,
For the conversion of Ben & Tina Boettcher family, Karin Fraessdorf, Eckhard Ebert, and Fahnauer family,
Fr. Waters requests our prayers for Br. Rene, SSPX who has been ill, and for Fr. Thomas Blute, 
For the health and welfare of Kathryn Lederhos, the aunt of David Drew,
For the welfare of Fr. Paul DaDamio and Fr. William T. Welsh,
The Drew's ask our prayers for the welfare of Joe & Tracy Sentmanat family, Keith & Robert Drew, Christy Koziol & her children, Fred Nesbit and Michael Nesbit families, and Gene Peters Family, the John Manidis Family, the Sal Messinio Family, Michael Proctor Family,
Ryan Boyle grandmother, Jane Boyle, who is failing health,
Ebert's request our prayers for the Andreas & Jenna Ortner Family,
Joyce Paglia has asked prayers for George Richard Moore Sr. & his children, and her brother, George Panell,
For the welfare of Anthony & Joyce Paglia, who are responsible for the beautiful statuary in our chapel,
Philip Thees asks our prayers for his family, for McLaughlin Family, the conversion of Bruce Heller, & Janet Gardner, the welfare of Dan Polly Weand, the conversion of Sophia Herman, Tony Rosky, and Carl Ropeter, the welfare Nancy Erdeck, the wife of the late Deacon Erdeck, and the welfare of Frank D'Agustino who is ill, the health of Charles Kanaskie, and the health of his brother, Thomas Thees, John Calasanctis, Stephen Cagorski, Tony Rosky, John Bogda, and Maryann Reutter.
Pray for the Repose of the Souls:
Alfred de Prospero, the brother of Fr. Nicholas de Prospero, died November 29,
Adeline Nardi, died November 13,
Rev. Paul Petko, who helped with our Mission in the past, died October 21,
Auxiliadora de Gomez, died July 4, the Godmother and aunt of Claudia Drew, and her husband, Eduardo Gomez Lopez, February 28,
Lawrence Hartzer, died June 11,
Sandra Peters, the wife of Gene Peters, who died June 10 receiving the sacraments and wearing our Lady's scapular,
Rev. Francis Slupski, a priest who kept the Catholic faith and its immemorial traditions, died May 14,
Martha Mochan, the sister of Philip Thees, died April 8,
George Kirsch, our good friend and supporter of this Mission, died February 15,
For Fr. Paul J. Theisz, died October 17, is the petition of Fr. Waters,
Fr. Mecurio Fregapane, died Jan 17, was not a traditional priest but always charitable,
Fr. Casimir Peterson, a priest who often offered the Mass in our chapel and provided us with sound advice, died December 4,
Fr. Constantine Bellasarius, a faithful and always charitable Eastern Rite Catholic Melkite priest, who left the Roman rite, died November 27,
Christian Villegas, a motor vehicle accident, his brother, Michael, requests our prayers,
John Vennari, the former editor of Catholic Family News, and for his family's welfare,
Mary Butler, the aunt of Fr. Samuel Waters, died October 17,
Joseph DeMarco, the nephew of John DeMarco, died October 3,
John Fergale, died September 25 after receiving the traditional sacramental rites of the Church wearing the brown scapular,
John Gabor, the brother of Donna Marbach, died September 9,
Fr. Eugene Dougherty, a faithful priest, fittingly died on the Nativity of the BVM after receiving the traditional Catholic sacraments,
Phyllis Schlafly, died September 5,
Helen Mackewicz, died August 14,
Mark A. Wonderlin, who died August 2,
Fr. Carl Cebollero, a faithful priest to tradition who was a friend of Fr. Waters and Fr. DeMaio,
Jessica Cortes, a young mother of ten who died June 12,
Frances Toriello, a life-long Catholic faithful to tradition, died June3, the feast of the Sacred Heart, and her husband Dan, died in 1985, 
John McLaughlin, a friend of the Drew's, died May 22,
Angela Montesano, who died April 30, and her husband, Salvatore,  who died in July 3, 2013,
Charles Schultz, died April 5, left behind nine children and many grandchildren, all traditional Catholics,
Esperanza Lopez de Callejas, the aunt of Claudia Drew, died March 15,
Fr. Edgardo Suelo, a faithful priest defending our traditions who was working with Fr. Francois Chazal in the Philippines, died February 19,
Conde McGinley, a long time laborer for the traditional faith, died February 12, at 96 years,
The Drew family requests your prayers for Ida Fernandez and Rita Kelley, parishioners at St. Jude,
Fr. Stephen Somerville, a traditional priest who repented from his work with the Novus Ordo English translation, died December 12,
Fr. Arturo DeMaio, a priest that helped this Mission with the sacraments and his invaluable advice, died December 2,
J. Paul Carswell, died October 15, 2015,
Solange Hertz, a great defender of our Catholic faith, died October 3, the First Saturday of the month,
Paula Haigh, died October 21, a great defender of our Catholic faith in philosophy and natural science,
Gabriella Whalin, the mother of Gabriella Schiltz, who died August 25,
Mary Catherine Sick, 14 year old from a large traditional Catholic family, died August 25,
Fr. Paul Trinchard, a traditional Catholic priest, died August 25,
Stephen J. Melnick, Jr., died on August 21, a long-time faithful traditional Catholic husband and father, from Philadelphia,
Patricia Estrada, died July 29, her son Alex petitions our prayers for her soul,
Fr. Nicholas Gruner, a devoted priest & faithful defender of Blessed Virgin Mary and her Fatima message, died April 29,
Sarah E. Shindle, the grandmother of Richard Shindle, died April 26,
Madeline Vennari, the mother of John Vennari, died December 19,
Salvador Baca Callejas, the uncle of Claudia Drew, died December 13,
Robert Gomez, who died in a motor vehicle accident November 29,
Catherine Dunn, died September 15,
Anthony Fraser, the son of Hamish Fraser, died August 28,
Jeannette Rhoad, the grandmother of Devin Rhoad, who died August 24,
John Thees, the uncle of Philip Thees, died August 9,
Sarah Harkins, 32 year-old mother of four children, died July 28,
Anita Lopez, the aunt of Claudia Drew,
Fr. Kenneth Walker, a young traditional priest of the FSSP who was murdered in Phoenix June 11,
Fr. Waters petitions our prayers for Gilberte Violette, the mother of Fr. Violette, who died May 6,
Pete Hays petitions our prayers for his brothers, Michael, died May 9, and James, died October 20, his sister, Rebecca,  died March17, and his mother, Lorraine Hayes who died May 4,
Philip Marbach, the father of Paul Marbach who was the coordinator at St. Jude in Philadelphia, died April 21,
Richard Slaughtery, the elderly sacristan for the SSPX chapel in Kansas City, died April 13,
Bernedette Marie Evans nee Toriello, the daughter of Daniel Toriello , died March 31, a faithful Catholic who suffered many years with MS, 
Natalie Cagorski, died march 23,
Anita Lopez de Lacayo, the aunt of Claudia Drew, who died March 21,
Mario Palmaro, Catholic lawyer, bioethicist and professor, apologist, died March 9, welfare of his widow and children,
Daniel Boyle, the uncle of Ryan Boyle, died March 4,
Jeanne DeRuyscher, who died on January 25,
Arthur Harmon, died January 18,
Fr. Waters petitions our prayers for the soul of Jeanne DeRuyscher, who died January 17,
Joseph Proctor, died January 10,
Susan Scott, a devote traditional Catholic who made the vestments for our Infant of Prague statue, died January 8,
Brother Leonard Mary, M.I.C.M., (Fred Farrell), an early supporter and friend of Fr. Leonard Feeney, died November 23,
John Fergale, requests our prayers for his sister Connie, who died December 19,
Jim Capaldi, died December 15,
Brinton Creager, the son of Elizabeth Carpenter, died December 10, 
Christopher Lussos, age 27, the father of one child with an expecting wife, died November 15,
Jarett Ebeyer, 16 year old who died in his sleep, November 17, at the request of the Kolinsky's,
Catherine Nienaber, the mother of nine children, the youngest three years of age, killed in MVA after Mass, 10-29,
Nancy Aldera, the sister of Frances Toriello, died October 11, 2013 at 105 years of age,
Mary Rita Schiltz, the mother of Thomas Schiltz, who died August 27,
William H. (Teddy) Kennedy, Catholic author of Lucifer's Lodge, died August 14, age 49, cause of death unknown,
Alfred Mercier, the father of David Mercier, who died August 12,
The Robert Kolinsky asks our prayers for his friend, George Curilla, who died August 23,
John Cuono, who had attended Mass at our Mission in the past, died August 11,
Raymond Peterson, died July 28, and Paul Peterson, died February 19, the brothers of Fr. Casimir Peterson,
Margaret Brillhart, who died July 20,
Msgr. Joseph J. McDonnell, a priest from the diocese of Des Moines, who died June 8,
Patrick Henry Omlor, who wrote Questioning The Validity of the Masses using the New, All English Canon, and for a series of newsletters which were published as The Robber Church, died May 2, the feast of St Athanasius,  
Bishop Joseph McFadden, died unexpectedly May 2,
Timothy Foley, the brother-in-law of Michelle Marbach Folley, who died in April,
William Sanders, the uncle of Don Rhoad, who died April 2,
Gene Peters ask our prayers for the repose of the soul of Mark Polaschek, who died March 22,
Cecelia Thees, died February 24,
Elizabeth Marie Gerads, a nineteen year old, the oldest of twelve children, who died February 6, 
Michael Schwartz, the co-author with Fr. Enrique Rueda of "Gays, Aids, and You," died February 3,
Stanley W. Moore, passed away in December 16, and Gerard (Jerry) R. Pitman, who died January 19, who attended this Mission in the past, 
Louis Fragale, who died December 25,
Fr. Luigi Villa, Th.D. author of Vatican II About Face! detailing the heresies of Vatican II, died November 18 at the age of 95,
Rev. Michael Jarecki, a faithful traditional Catholic priest who died October 22,and Rev. Hector Bolduc, who died September 10,
Jennie Salaneck, died September 19 at 95 years of age, a devout and faithful Catholic all her life,
Dorothy Sabo, who died September 26,
Cynthia (Cindy) Montesano Reinhert, the mother of nine children, four who are still at home, died August 19,
Regina Spahalsky, who died June 24, and for the soul of Francis Lester, her son,
Julia Atkinson, who died April 30,
Antonio P. Garcia, who died January 6, 2012 and the welfare of his teenage children, Andriana and Quentin,
Helen Crane, the aunt of David Drew who died February 27,
Fr. Timothy A. Hopkins, of the National Shrine of St. Philomena, in Miami, November 2,
Frank Smith, who died February 7, and the welfare of his wife, Delores,
Eduardo Cepeda, who died January 26,
Larry Young, the 47 year old father of twelve who died December 10 and the welfare of his wife Katherine and their family,
Sister Mary Bernadette, M.I.C.M., a founding member of the Slaves of the Immaculate Heart of Mary, died December 16,
Joeseph Elias, who died on September 28,
William, the brother of Fr. Waters, who died September 7,
Donald Tonelli, died August 1,
Rev. Fr. Gregory Hesse, of Austria, a great defender of Catholic Truth, died January 25, 2006,
Emma Colasanti, who died May 29,
Mary Dullesse, who died April 12, a Catholic convert who died wearing our Lady's scapular,
Ruth Jantsch, the grandmother of Andre Ebert, who died April 7, Derrick and Denise Palengat, his godparents,
Philip D. Barr, died March 5, and the welfare of his family, 
Judith Irene Kenealy, the mother of Joyce Paglia, who died February 23, and her son, George Richard Moore, who died May 14, 
For Joe Sobran who died September 30,
Fr. Hector Bolduc, a great and faithful priest, died, September 10, 2012,
John Vennari asks our prayers for Dr. Raphael Waters who died August 26,
Stanley Bodalsky, the father of Mary Ann Boyle who died June 25,
Mary Isabel Kilfoyle Humphreys, a former York resident and friend of the Drew's, who died June 6th,
Rev. John Campion, who offered the traditional Mass for us every first Friday until forbidden to do so by Bishop Dattilo, died May 1,
Joseph Montagne, who died May 5,
For Margaret Vagedes, the aunt of Charles Zepeda, who died January 6,
Fr. James Francis Wather, died November 7, 2006, author of The Great Sacrilege and Who Shall Ascend?, a great defender of dogma and liturgical purity,
Fr. Enrique Rueda, who died December 14, 2009, to whom our Mission is indebted,
Fr. Peterson asks to remember, Leonard Edward Peterson, his cousin, Wanda, Angelica Franquelli,  and the six priests ordained with him.
Philip Thees petitions our prayers for Beverly Romanick, Deacon Michael Erdeck, Henry J. Phillips, Grace Prestano, Connie DiMaggio, Elizabeth Thorhas, Elizabeth Thees, Theresa Feraker, Hellen Pestrock, and James & Rose Gomata, and Kathleen Heinbach,
Fr. Didier Bonneterre, the author of The Liturgical Movement, and Fr. John Peek, both were traditional priests,
Brother Francis, MICM, the superior of the Slaves of the Immaculate Heart of Mary in Richmond, NH, who died September 5,
Rodolfo Zelaya Montealegre, the father of Claudia Drew, who died May 24,
Rev. Francis Clifford, a devout and humble traditional priest, who died on March 7,
Benjamin Sorace, the uncle of Sonya Kolinsky.
<![if !vml]>
<![endif]>
"Only take heed to yourself and guard your soul diligently" (Deut 4:9)
<![if !vml]>
<![endif]>
"It is a sin to believe there is salvation outside the Catholic Church!"
Blessed Pope Pius IX
PREVIOUS BULLETIN POSTS BELOW THAT REMAIN TIMELY:
<![if !vml]>
<![endif]>Another Creepy Clown sighting!
"He was born a female, a girl, and he suffered greatly because he felt that he was a boy but physically was a girl. He told his mother, when he was in his twenties, at 22, that he wanted to have an operation and so forth. His mother asked him not to do so as long as she was alive. She was elderly, and died soon after. He had the operation. He is a municipal employee in a town in Spain. He went to the bishop. The bishop helped him a great deal, he is a good bishop and he "wasted" time to accompany this man. Then he got married. He changed his civil identity, he got married and he wrote me a letter saying that it would bring comfort to him to come see and me with his bride: he, who had been she, but is he. I received them."
Pope Francis the Weird, CEO of the Homosexual Lobby, comment during in flight press conference from Azerbaijan, October 2, 2016
<![if !vml]>
<![endif]>
Book on Pope Francis the Humbler than Thou
Father (Peter Hans) Kolvenbach (superior general of the Jesuits from 1983 to 2008) accused Bergoglio of a series of defects, ranging from habitual use of vulgar language to deviousness, disobedience concealed under a mask of humility, and lack of psychological balance; with a view to his suitability as a future bishop, the report pointed out that he had been a divisive figure as Provincial of his own order. It is not surprising that, on being elected Pope, Francis made efforts to get his hands on the existing copies of the document, and the original filed in the official Jesuit archives in Rome has disappeared.
Marcantonio Colonna, The Dictator Pope
Cardinal Müller, as head of the CDF was the dog who couldn't bite, wouldn't bark, wouldn't even whine, has now openly declared himself a card carrying member of the Homosexual Lobby.  He now says that it is the duty of every cleric to cover up homosexual pederasty within the Catholic Church or else, his exposure of the crime becomes "a public controversy with attacks that end up calling into question the credibility of the church and her mission."  This worthless cleric has not a clue as to what the "mission" of the Church is!  This Catholic News Service article was front page news in America, the publication of the Jesuit order in the U.S. which is the Homosexual Lobby's fifth column within the Church. The obvious questions that were never asked Cardinal Müller: "As head of the CDF responsible for cleaning up the Homosexual Lobby, why did you do nothing? And just when did you know about McCarrick's perversion and why didn't you do anything about it? And what about Cardinal Donald Wuerl (i.e.: Whirly Girl)?  Are you the last prelate in the Catholic Church to know anything about this mouse?"
Cardinal Müller on Viganò: No one has right to demand a pope's resignation
Carol Glatz | Catholic News Service | November 28, 2018
<![if !vml]>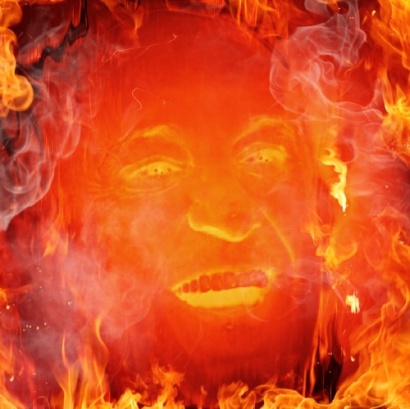 <![endif]>VATICAN CITY (CNS) -- People can disagree about problems and the best ways to resolve them, but no one should launch a formal accusation against a pope much less ask for his resignation, German Cardinal Gerhard Muller said.
Such public attacks put into question the church's credibility, he said in an interview with the Italian website Vatican Insider Nov. 27.
"I am personally convinced that Pope Francis is doing everything possible to oppose the phenomenon of abuse against minors and to foster a new spirituality among priests who must act with the heart of Christ and do what is good for all people, above all for children and young people," he said in a lengthy question-and-answer piece.
Asked about Archbishop Carlo Maria Vigano's public call for Pope Francis to resign because he felt the pope knew about the alleged sex abuse involving U.S. Archbishop Theodore E. McCarrick's but still failed to act, Cardinal Muller said, "No one has a right to indict the pope or ask him to resign."
"Clearly it is possible to have different opinions about existing problems and the ways to resolve them, but we have to discuss this," each according to his or her role and in a discreet way, the cardinal said.
Such discussions must never become "a public controversy with attacks that end up calling into question the credibility of the church and her mission," he said.
The former head of the Congregation for the Doctrine of the Faith, which is charged with handling cases of clerical sex abuse, said, "We all have to cooperate in order to overcome this crisis (of abuse) that wounds the credibility of the church."
"Unfortunately, we have these groups, these 'parties' -- the so-called 'progressives' and 'conservatives.' We are all united in the revealed faith and not by the biases of political ideologies," he said.
One way the abuse crisis unfolding in the United States could be handled, for example, he said, would be for the pope to create a commission of cardinals he trusts to study the situation and then offer proposals based on "solid information."
Beyond the problem of opposing opinions, warring factions, propaganda in the media and mutual suspicion, he said, "we need a solid foundation of information. This is the only way we can make decisions for the future."
The cardinal was asked about the Vatican's request that the U.S. bishops postpone voting on several proposals to address abuse during their annual fall general assembly in mid-November. The Congregation for Bishops had requested that no vote be taken on proposals such as standards of episcopal accountability and conduct and the formation of a special commission for review of complaints against bishops for violations of the standards.
Cardinal Muller said bishops and the pope each have their own responsibilities, "but everyone must collaborate."
The church's existing laws are "sufficient" and "the norms of the Congregation for the Doctrine of the Faith already exist," said the cardinal, who led the congregation from 2012 to 2017.
"All the bishops did not always collaborate with our dicastery. They did not inform (us) as it is established they do. First, we have to do what is already established and indicated as necessary and mandatory by existing norms," he said.
Once existing procedures are followed, then "one can collaborate in a fraternal and collegial spirit, and perhaps discuss if the tone" or tenor of any proposed text is adequate.
He said it would have been better to avoid debate and public controversy by having more discussions well beforehand in Rome and not at the last minute, especially with experts at the doctrinal congregation.
"The Holy Father is one person and he cannot take care of everything. This is why there are dicasteries of the Roman Curia, to collaborate with and come up with a well-developed proposal to bring to the pope."
Novus Ordo "new evangelization" can be furthered by....  closing more churches!? Actually, Pope Francis may be on to something. When a man of good will sees a beautiful Church that is destroyed, he will indeed consider the "faith of the community that produced" it.  He will also consider the "faith of the community" that destroyed it. The man of good will is attracted to goodness, truth and beauty. The ugliness of the Novus Ordo churches is evidence that they lack goodness and truth. The destroyed beauty of historical Catholic churches may very well be "instruments of evangelization" but not in the sense that Pope Francis intends.
Pope sends message to conference on closed churches
<![if !vml]>
<![endif]>Hannah Brockhaus | Catholic News Agency | November 29, 2018
ROME - Pope Francis wrote in his 2015 encyclical, Laudato si, that, "by learning to see and appreciate beauty, we learn to reject self-interested pragmatism."
The pope quoted this line again in a Nov. 29 message to a Vatican conference centered on answering the question of how to preserve the beauty and the sacredness of now-empty and unused Catholic churches.
"The common sense of the faithful perceives of the environments and objects destined for worship the permanence of a kind of imprint that does not end even after they have lost that destination," the pontiff said.
Catholic churches which are no longer being used for worship, he said, can still be preserved in such a way that they can be "witnesses to the faith of the community that produced them in the past and for this reason they are in their own way instruments of evangelization."
The pope's message was sent to participants of a conference called "God No Longer Lives Here?" taking place at the Vatican Nov. 29-30.
The meeting has brought together representatives of bishops' conferences, the Pontifical Council for Culture, and university professors, to approach the question of what to do about closed churches from a multi-disciplinary perspective.
A goal of the conference is to draft guidelines for what to do with churches that have been de-consecrated and perhaps sold; a problem of particular interest for several European countries - as well as the U.S. and Canada - as population shifts, declining numbers of parishioners, and priest shortages bring an increased number of church closures.
Yet the interest in protecting the historic and cultural significance of unused churches remains.
In his message, Francis told the conference that the fact that there are now many empty churches should not be a cause for anxiety but welcomed "as a sign of the times that invites us to reflection and requires us to adapt." [....]
"Family Ties" within the Homosexual Lobby
          Notorious homosexual Cardinal Terrance ("Blanche,  'call-me-Uncle Teddy'") McCarrick was ordained by the notorious homosexual Cardinal Francis ("Franny") Spellman of New York who also ordained the notorious homosexual Cardinal Terence ("Cookie") Cooke who took the notorious homosexual McCarrick as his "personal secretary" and consecrated McCarrick an auxiliary bishop.  Cardinal Donald (Whirly Girl) Wuerl was ordained by the notorious homosexual Bishop Francis Fredrick Reh of Charleston, SC who was consecrated a bishop by the notorious homosexual Spellman.  Wuerl became the "private secretary" to the notorious homosexual Cardinal John Wright who was Prefect for the Congregation of the Clergy and represented Wright at the conclave that elected John Paul II who consecrated Wuerl a bishop and made McCarrick a cardinal.  It was Benedict/Ratzinger, formally head of the CDF responsible for cleaning up the Homosexual Lobby, who made Wuerl a cardinal. The homosexual Wuerl ultimately followed in the line of the homosexual Wright as Archbishop of Pittsburg and was himself followed the homosexual McCarrick in Washington.  The Pennsylvania Grand Jury report, 900 plus pages citing Wuerl's name more than 200 times,  charges that Wuerl as Archbishop of Pittsburgh for eighteen years repeatedly covered for the Homosexual Lobby. 
          The mansion that housed Wuerl and the local branch of the Homosexual Lobby in the Diocese of Pittsburgh was obtained by his homosexual predecessor Cardinal Wright and was appraised twenty years ago for $1.5 million. It was sold after Wuerl's departure.  The Jacobethan Revival house along Fifth Avenue, at 9,842 square feet (914.4 m2) with 39 rooms including 11 bedrooms, six full baths, and a half-bath is one of the largest homes in the Shadyside neighborhood of Pittsburgh. It housed an extensive collection of antiques, Oriental rugs and art during Wuerl's residency. 
          Just as Wuerl had covered up for the Homosexual Lobby in Pittsburgh, he did the same for McCarrick in Washington claiming to know nothing about McCarrick's perversion.  McCarrick was Cardinal Archbishop of Washington 2001 to 2006.  Homosexual McCarrick's "personal secretary" was the current Archdiocesan Vicar General Monsignor Charles Antonicelli who subsequently became the "personal secretary" to Homosexual Cardinal Wuerl.  When Antonicelli was McCarrick's "personal secretary" in Washington, the Dioceses of Trenton, Metuchen, and Newark in 2004 and 2006 paid settlements for $100,000 and $80,000 to two men who had been abused by McCarrick while they were in the seminary as well as after they had become priests.  It is, believe it or not, Antonicelli who now claims that he and Wuerl knew nothing about the homosexual escapades of McCarrick.
Compiled from Randy Engel, Rite of Sodomy, published in 2006, and recent articles from LifeSiteNews and WikiPedia
The Vatican Front Man for JPII against the ordaining of homosexuals was..... Cardinal McCarrick!
Question, Chris Ferrara and John Vennari of Catholic Family News: Nearly every single case (of sexual abuse) has involved an adolescent and does not constitute a true case of pedophilia. So, we're dealing with the acts of homosexual males who could not control their predilection. To avoid what would be a perpetual bumper crop of this type of scandal, is the hierarchy in North America going to enforce the Vatican's [1961] Instruction that homosexual males simply should not be ordained?
Answer, Cardinal McCarrick: I think certainly every seminary in the country has a program that says, "anyone who is an active homosexual should never be admitted." I don't know of any bishop in the country who would allow someone who had been actively involved in homosexuality to enter a seminary. I don't think any bishop would allow anyone who was actively engaged in heterosexual activity right before they went in to enter the seminary. We believe in celibacy. It's not the easiest road in today's crazy world, but we believe in celibacy. We believe that if you practice celibacy with all your heart, with all your love, you can be free to serve God's people, to serve God in a beautiful way. If someone gets into a seminary, and that question is not asked, that's a terrible thing. But any seminary that I know, you say, "have you been acting celibately up until now?"
Pope Novus Ordo Saint John Paul II, Extraordinary Meeting of American Cardinals in Rome to discuss the clerical sexual abuse problem in the United States, April 23-24, 2002, question directed by CFN during press conference at the Vatican Press Office held on the evening of the close of the two-day session with the Holy Father. In attendance were Cardinal Theodore McCarrick, Archbishop of Washington, D.C., Cardinal James Francis Stafford, Bishop Wilton Gregory, President of the USCCB, and Vatican lay press officer, Dr. Joaquin Navarro-Valls, M.D.
In Pascendi, St. Pius X's condemnation of the heresy of Modernism, the word novelty occurs twelve times always in a severely critical sense. As we approach the 48th anniversary of the Modernist Novus Ordo Missa, Paul VI was right in that "This novelty is no small thing."
We must prepare for this many-sided inconvenience. It is the kind of upset caused by every novelty that breaks in on our habits. We shall notice that pious persons are disturbed most, because they have their own respectable way of hearing Mass, and they will feel shaken out of their usual thoughts and obliged to follow those of others. Even priests may feel some annoyance in this respect. So what is to be done on this special and historical occasion? First of all, we must prepare ourselves. This novelty is no small thing.
Pope Paul VI, Changes in Mass for Greater Apostolate, General Audience, November 26, 1969
<![if !vml]>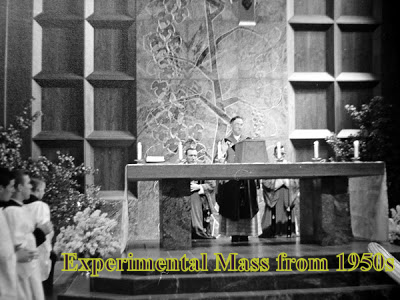 <![endif]>
Vatican II Decline Ongoing: 341 Religious Houses Closed in Spain within 18 Months
en.news | November 19, 2018
341 convents and monasteries were closed down in Spain between January 2015 and July 2016 according to Giuseppe Mineo (RedesCristianas.net, November 15).
270 of the closed houses belonged to female and 71 to male religious orders.
The most affected orders were the Daughters of Charity of Saint Vincent de Paul who closed 23 houses while the Dominicans closed 14 female and 14 male houses.
Most of the abandoned houses were simply abandoned as nobody could be found to buy or rent them.
What is accepted as an "Indult" can no longer be claimed as a "right"! 
Italian Bishops Take Aim at Summorum Pontificum, Want Traditional Mass Abrogated
OnePeterFive | Steve Skojec | November 17, 2018
As has so often been the case in the past year or two, an important report has surfaced on the Italian traditionalist blog, Messa in Latino (Mass in Latin). In it, the authors reveal that at the recent Italian Bishops' Conference meeting in Rome (Nov. 12-15), an attack was mounted on the 2007 Motu Proprio of Pope Benedict XVI, Summorum Pontificum. That papal instruction affirmed that it is "permitted to celebrate the Sacrifice of the Mass following the typical edition of the Roman Missal, which was promulgated by Blessed John XXIII in 1962 and never abrogated, as an extraordinary form of the Church's Liturgy."
The attack was led by Archbishop Redaelli of Gorizia, who argued that the Mass was, in fact, abrogated (in direct contradiction to Pope Benedict) and that it can thus not be considered to be universally permitted.
Earlier this week, 1P5 contributor Hilary White, who lives in Italy, offered more insight into what the liturgical landscape looks like in Italy, and how this move might be interpreted. She says that the Traditional Mass "is barely surviving" in Italy "due to the blind, insane hostility of the Italian bishops to the Catholic religion." She also argues that Francis has effectively taken over the Italian Bishops' Conference, imposing his own candidate in Perugia and parachuting "a bunch of his toadies into key positions around the country to start softening up the local Church to his ideological platform planks." [….]
Pope Francis the "Loose Lipped" replies to Archbishop Carlo Maria Viganò: "The loose-lipped person is a terrorist."
What does it mean to say the truth? Does it mean to be sincere? Or to be exact? In reality, this is not enough, because one can be sincerely mistaken, or one can be precise in detail but not grasp the meaning of the whole. Sometimes we justify ourselves by saying: "But I said what I felt!" Yes, but you have absolutized your point of view. Or, "I just told the truth!" Maybe, but you've revealed personal or confidential facts. How many chatterers have destroyed communion because of inappropriateness or lack of sensitivity! On the contrary, chatter kills, and this was said by the apostle James in his letter: the chattering, the loose-lipped are people who kill others, because the tongue kills like a knife. Be careful: the loose-lipped person is a terrorist, because with their tongue they drop a bomb and then leave, and that bomb they have dropped destroys the reputations of others as they leave quietly: don't forget, gossiping is killing.
Pope Francis, "I won't say a single word", has not shut up since Archbishop Viganò fingered him as the CEO of the Homosexual Lobby, excerpt from his general audience address November 14, 2018.
Abp. Viganò urges U.S. bishops to confront sex abuse as 'courageous shepherds'
LifeSiteNews | ROME, November 13, 2018— Archbishop Carlo Maria Viganò today issued a brief message to the U.S. Bishops, urging them to confront sex abuse as "courageous shepherds" rather than "frightened sheep."
The U.S. Bishops are currently in Baltimore at their much-anticipated fall annual meeting at which they were expected to vote on concrete proposals to hold bishops accountable for their failures after the revelations about former Cardinal Theodore McCarrick.
Today's message from the former Apostolic Nuncio to the United States (2011-2016) comes one day after the Vatican insisted that U.S. Bishops not vote at their fall assembly on two action items to prevent sexual abuse coverup: standards of accountability for bishops and the special commission for receiving complaints against bishops.
Here below we publish the official English text of Archbishop Viganò's message to U.S. Bishops, dated November 13.
***
Dear Brother Bishops in the US,
I am writing to remind you of the sacred mandate you were given on the day of your episcopal ordination: to lead the flock to Christ. Meditate on Proverbs 9:10: The fear of the Lord is the beginning of wisdom! Do not behave like frightened sheep, but as courageous shepherds. Do not be afraid of standing up and doing the right thing for the victims, for the faithful and for your own salvation. The Lord will render to every one of us according to our actions and omissions.
I am fasting and praying for you.
Arch. Carlo Maria Viganò
Your former Apostolic Nuncio
November 13, 2018
Saint Frances Xavier Cabrini
COMMENT: When clerics like conservative lite, Msgr. Nicoal Bux, for whom the heresies of John Paul II and Benedict XVI were invisible, can see clearly the evident heresies of Francis, it is a sign that the middle ground has entirely given way.  What we have posted on the ANNOUNCEMENTS page since the publication of Amoris Laetitia in 2016 needs to read and understood.  The answer for every faithful Catholic is to recognize that DOGMA is the proximate rule of faith:
"Amoris Laetitia, as expected, overturns the Catholic doctrinal and moral teaching on the sacrament of Marriage and by directly endorsing situation ethics which is morally repugnant to all faithful Catholics.  As said before, this will eliminate conservative Catholicism.  The problem facing Catholics who have been faithful to the doctrinal and ecclesiastical traditions of the Catholic Church is to make conservative Catholics, who are just now rejecting the novelties and corruptions of Francis, understand that the answer to the problem is not a return to the novelties and corruptions of Benedict XVI and John Paul II.  Neither of these two conciliar popes could or would offer any principled objection to Pope Francis who is just travelling a little further down the same road!"
"Francis Errs" – Monsignor Nicola Bux
en.news | 11-15-18
<![if !vml]>
<![endif]>
Pope Francis is generating "heresies, schisms, and controversies", Italian prelate Nicola Bux, a friend of Benedic XVI and adviser to the Congregation for the Causes of Saints, told the Italian Journalist Aldo Maria Valli on October 13.
Bux mentioned Francis' "heretical statements" on marriage, the moral life and the reception of the sacraments and that he sees the Church like a federation of ecclesial communities - "a bit like the Protestant communities."
According to Bux, the origin of the doctrinal confusion caused by Francis is Amoris Laetitia (2016) but since then the situation has become "considerably worse" and "more complicated".
Bux refers to Francis' attempt to change the doctrine on death penalty. If Francis is right on this - Bux points out - then one has to conclude that the Church has contradicted the Gospel on this for two thousand years or on has to admit that Pope Bergoglio is erring.
Pope Francis is an enemy of the Catholic Faith! Those who make him their rule of faith will loose it.
en.news  Nov 11, 2018
Vatican Destroys Another Community: 90% of Sisters Go
<![if !vml]>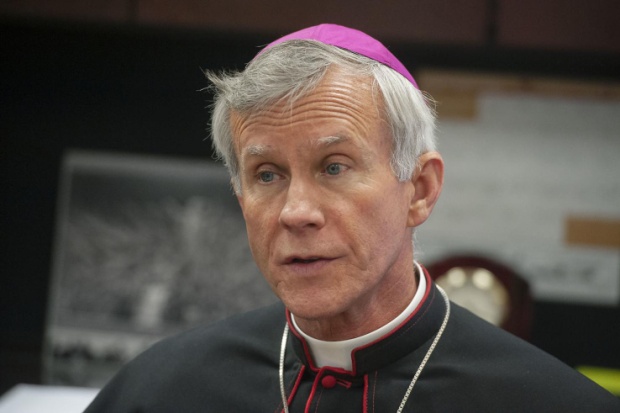 <![endif]>
34 out of the 39 sisters of the Little Sisters of Mary have asked to be dispensed from their vows. Founded in 1949, they run four nursing homes in the dioceses of Laval and Toulouse, France. The sisters use the Novus Ordo in Latin. In 2012 they returned to their old habit.
The community suffered two canonical visitations in 2016 and 2018 being accused of "sectarian excesses". The sisters called the report issued after the second visitation "a caricature" and a "pre-trial judgment".
The mother superior and the novice mistress where exiled to distant monasteries and replaced with three modernist commissioners. All the canonical appeals and pleas for mercy were ignored.
One commissioner, Sister Geneviève Médeviellem, teaches at the Catholic Institute in Paris and claims that fornication can be justified.
On September 17, Cardinal Braz de Aviz, head of the Congregation for Religious, ordered the sisters to accept the commissioner "without reserve" lest they would be dismissed.
34 sisters announced on November 7 that they had decided in conscience to ask their vows to be dissolved.
In the past, the Vatican has already destroyed the sisters of Auerbach, Germany, the contemplative sisters of Saint John, France, and the Franciscan Sisters of the Immaculate, Italy. All of them were blessed with many vocations.
<![if !vml]>
<![endif]>
Ordinary Pope Greets Extra-Ordinary Pope!
I spoke because now more than ever, corruption has spread to the highest levels of the hierarchy of the Church. I ask the journalists: why are they not asking what happened to the cache of documents that, as we all saw, were delivered at Castel Gandolfo to Pope Francis from Pope Benedict? Was that all useless? It would have been enough to read my report and the transcript that was made of my deposition before the three cardinals charged with the investigation of the Vatileaks case (Julian Herranz, Jozef Tomko, and Salvatore De Giorgi) in order to begin some cleaning up in the Curia.
Archbishop Carlo Maria Viganò, comment during interview after his open letter accusing Pope Francis of covering for homosexual predators in the Catholic Church, August 28, 2018
Archbishop Carlo Maria Viganò responds to Cardinal Ouellet, and thus, to Pope Francis, and re-affirms his charge that Francis is guilty of covering-up the crimes of the Homosexual Lobby!
<![if !vml]>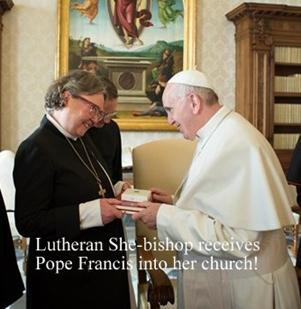 <![endif]>To bear witness to corruption in the hierarchy of the Catholic Church was a painful decision for me, and remains so. But I am an old man, one who knows he must soon give an accounting to the judge for his actions and omissions, one who fears Him who can cast body and soul into hell. A judge, even in his infinite mercy, will render to every person salvation or damnation according to what he has deserved. Anticipating the dreadful question from that judge — "How could you, who had knowledge of the truth, keep silent in the midst of falsehood and depravity?" — what answer could I give?
I testified fully aware that my testimony would bring alarm and dismay to many eminent persons: churchmen, fellow bishops, colleagues with whom I had worked and prayed. I knew many would feel wounded and betrayed. I expected that some would in their turn assail me and my motives. Most painful of all, I knew that many of the innocent faithful would be confused and disconcerted by the spectacle of a bishop's charging colleagues and superiors with malfeasance, sexual sin, and grave neglect of duty. Yet I believe that my continued silence would put many souls at risk, and would certainly damn my own. Having reported multiple times to my superiors, and even to the pope, the aberrant behavior of Theodore McCarrick, I could have publicly denounced the truths of which I was aware earlier. If I have some responsibility in this delay, I repent for that. This delay was due to the gravity of the decision I was going to take, and to the long travail of my conscience.
I have been accused of creating confusion and division in the Church through my testimony. To those who believe such confusion and division were negligible prior to August 2018, perhaps such a claim is plausible. Most impartial observers, however, will have been aware of a longstanding excess of both, as is inevitable when the successor of Peter is negligent in exercising his principal mission, which is to confirm the brothers in the faith and in sound moral doctrine. When he then exacerbates the crisis by contradictory or perplexing statements about these doctrines, the confusion is worsened.
Therefore I spoke. For it is the conspiracy of silence that has wrought and continues to wreak great harm in the Church — harm to so many innocent souls, to young priestly vocations, to the faithful at large. With regard to my decision, which I have taken in conscience before God, I willingly accept every fraternal correction, advice, recommendation, and invitation to progress in my life of faith and love for Christ, the Church and the pope.
Let me restate the key points of my testimony.
<![if !supportLists]>· <![endif]>In November 2000 the U.S. nuncio Archbishop Montalvo informed the Holy See of Cardinal McCarrick's homosexual behavior with seminarians and priests.
<![if !supportLists]>· <![endif]>In December 2006 the new U.S. nuncio, Archbishop Pietro Sambi, informed the Holy See of Cardinal McCarrick's homosexual behavior with yet another priest.
<![if !supportLists]>· <![endif]>In December of 2006 I myself wrote a memo to the Secretary of State Cardinal Bertone, and personally delivered it to the Substitute for General Affairs, Archbishop Leonardo Sandri, calling for the pope to bring extraordinary disciplinary measures against McCarrick to forestall future crimes and scandal. This memo received no response.
<![if !supportLists]>· <![endif]>In April 2008 an open letter to Pope Benedict by Richard Sipe was relayed by the Prefect of the CDF, Cardinal Levada, to the Secretary of State, Cardinal Bertone, containing further accusations of McCarrick's sleeping with seminarians and priests. I received this a month later, and in May 2008 I myself delivered a second memo to the then Substitute for General Affairs, Archbishop Fernando Filoni, reporting the claims against McCarrick and calling for sanctions against him. This second memo also received no response.
<![if !supportLists]>· <![endif]>In 2009 or 2010 I learned from Cardinal Re, prefect of the Congregation of Bishops, that Pope Benedict had ordered McCarrick to cease public ministry and begin a life of prayer and penance. The nuncio Sambi communicated the Pope's orders to McCarrick in a voice heard down the corridor of the nunciature.
<![if !supportLists]>· <![endif]>In November 2011 Cardinal Ouellet, the new Prefect of Bishops, repeated to me, the new nuncio to the U.S., the Pope's restrictions on McCarrick, and I myself communicated them to McCarrick face-to-face.
<![if !supportLists]>· <![endif]>On June 21, 2013, toward the end of an official assembly of nuncios at the Vatican, Pope Francis spoke cryptic words to me criticizing the U.S. episcopacy.
<![if !supportLists]>· <![endif]>On June 23, 2013, I met Pope Francis face-to-face in his apartment to ask for clarification, and the Pope asked me, "il cardinale McCarrick, com'è (Cardinal McCarrick — what do you make of him)?"– which I can only interpret as a feigning of curiosity in order to discover whether or not I was an ally of McCarrick. I told him that McCarrick had sexually corrupted generations of priests and seminarians, and had been ordered by Pope Benedict to confine himself to a life of prayer and penance.
<![if !supportLists]>· <![endif]>Instead, McCarrick continued to enjoy the special regard of Pope Francis and was given new responsibilities and missions by him.
<![if !supportLists]>· <![endif]>McCarrick was part of a network of bishops promoting homosexuality who exploiting their favor with Pope Francis manipulated episcopal appointments so as to protect themselves from justice and to strengthen the homosexual network in the hierarchy and in the Church at large.
<![if !supportLists]>· <![endif]>Pope Francis himself has either colluded in this corruption, or, knowing what he does, is gravely negligent in failing to oppose it and uproot it.
<![if !supportLists]>· <![endif]>I invoked God as my witness to the truth of my claims, and none has been shown false. Cardinal Ouellet has written to rebuke me for my temerity in breaking silence and leveling such grave accusations against my brothers and superiors, but in truth his remonstrance confirms me in my decision and, even more, serves to vindicate my claims, severally and as a whole.
<![if !supportLists]>· <![endif]>Cardinal Ouellet concedes that he spoke with me about McCarrick's situation prior to my leaving for Washington to begin my post as nuncio.
<![if !supportLists]>· <![endif]>Cardinal Ouellet concedes that he communicated to me in writing the conditions and restrictions imposed on McCarrick by Pope Benedict.
<![if !supportLists]>· <![endif]>Cardinal Ouellet concedes that these restrictions forbade McCarrick to travel or to make public appearances.
<![if !supportLists]>· <![endif]>Cardinal Ouellet concedes that the Congregation of Bishops, in writing, first through the nuncio Sambi and then once again through me, required McCarrick to lead a life of prayer and penance.
<![if !supportLists]>· <![endif]>What does Cardinal Ouellet dispute?
<![if !supportLists]>· <![endif]>Cardinal Ouellet disputes the possibility that Pope Francis could have taken in important information about McCarrick on a day when he met scores of nuncios and gave each only a few moments of conversation. But this was not my testimony. My testimony is that at a second, private meeting, I informed the Pope, answering his own question about Theodore McCarrick, then Cardinal archbishop emeritus of Washington, prominent figure of the Church in the US, telling the pope that McCarrick had sexually corrupted his own seminarians and priests. No pope could forget that.
<![if !supportLists]>· <![endif]>Cardinal Ouellet disputes the existence in his archives of letters signed by Pope Benedict or Pope Francis regarding sanctions on McCarrick. But this was not my testimony. My testimony was that he has in his archives key documents – irrespective of provenance – incriminating McCarrick and documenting the measures taken in his regard, and other proofs on the cover-up regarding his situation. And I confirm this again.
<![if !supportLists]>· <![endif]>Cardinal Ouellet disputes the existence in the files of his predecessor, Cardinal Re, of "audience memos" imposing on McCarrick the restrictions already mentioned. But this was not my testimony. My testimony is that there are other documents: for instance, a note from Card. Re not ex-Audientia SS.mi, or signed by the Secretary of State or by the Substitute.
<![if !supportLists]>· <![endif]>Cardinal Ouellet disputes that it is false to present the measures taken against McCarrick as "sanctions" decreed by Pope Benedict and canceled by Pope Francis. True. They were not technically "sanctions" but provisions, "conditions and restrictions." To quibble whether they were sanctions or provisions or something else is pure legalism. From a pastoral point of view they are exactly the same thing.
In brief, Cardinal Ouellet concedes the important claims that I did and do make, and disputes claims I don't make and never made.
There is one point on which I must absolutely refute what Cardinal Ouellet wrote. The Cardinal states that the Holy See was only aware of "rumors," which were not enough to justify disciplinary measures against McCarrick. I affirm to the contrary that the Holy See was aware of a variety of concrete facts, and is in possession of documentary proof, and that the responsible persons nevertheless chose not to intervene or were prevented from doing so. Compensation by the Archdiocese of Newark and the Diocese of Metuchen to the victims of McCarrick's sexual abuse, the letters of Fr. Ramsey, of the nuncios Montalvo in 2000 and Sambi in 2006, of Dr. Sipe in 2008, my two notes to the superiors of the Secretariat of State who described in detail the concrete allegations against McCarrick; are all these just rumors? They are official correspondence, not gossip from the sacristy. The crimes reported were very serious, including those of attempting to give sacramental absolution to accomplices in perverse acts, with subsequent sacrilegious celebration of Mass. These documents specify the identity of the perpetrators and their protectors, and the chronological sequence of the facts. They are kept in the appropriate archives; no extraordinary investigation is needed to recover them.
In the public remonstrances directed at me I have noted two omissions, two dramatic silences. The first silence regards the plight of the victims. The second regards the underlying reason why there are so many victims, namely, the corrupting influence of homosexuality in the priesthood and in the hierarchy. As to the first, it is dismaying that, amid all the scandals and indignation, so little thought should be given to those damaged by the sexual predations of those commissioned as ministers of the gospel. This is not a matter of settling scores or sulking over the vicissitudes of ecclesiastical careers. It is not a matter of politics. It is not a matter of how church historians may evaluate this or that papacy. This is about souls. Many souls have been and are even now imperiled of their eternal salvation.
As to the second silence, this very grave crisis cannot be properly addressed and resolved unless and until we call things by their true names. This is a crisis due to the scourge of homosexuality, in its agents, in its motives, in its resistance to reform. It is no exaggeration to say that homosexuality has become a plague in the clergy, and it can only be eradicated with spiritual weapons. It is an enormous hypocrisy condemn the abuser, claim to weep for the victims, and yet refuse to denounce the root cause of so much sexual abuse: homosexuality. It is hypocrisy to refuse to acknowledge that this scourge is due to a serious crisis in the spiritual life of the clergy and to fail to take the steps necessary to remedy it.
Unquestionably there exist philandering clergy, and unquestionably they too damage their own souls, the souls of those whom they corrupt, and the Church at large. But these violations of priestly celibacy are usually confined to the individuals immediately involved. Philandering clergy usually do not recruit other philanderers, nor work to promote them, nor cover-up their misdeeds — whereas the evidence for homosexual collusion, with its deep roots that are so difficult to eradicate, is overwhelming.
It is well established that homosexual predators exploit clerical privilege to their advantage. But to claim the crisis itself to be clericalism is pure sophistry. It is to pretend that a means, and instrument, is in fact the main motive.
Denouncing homosexual corruption and the moral cowardice that allows it to flourish does not meet with congratulation in our times, not even in the highest spheres of the Church. I am not surprised that in calling attention to these plagues I am charged with disloyalty to the Holy Father and with fomenting an open and scandalous rebellion. Yet rebellion would entail urging others to topple the papacy. I am urging no such thing. I pray every day for Pope Francis — more than I have ever done for the other popes. I am asking, indeed earnestly begging, the Holy Father to face up to the commitments he himself made in assuming his office as successor of Peter. He took upon himself the mission of confirming his brothers and guiding all souls in following Christ, in the spiritual combat, along the way of the cross. Let him admit his errors, repent, show his willingness to follow the mandate given to Peter and, once converted let him confirm his brothers (Lk 22:32).
In closing, I wish to repeat my appeal to my brother bishops and priests who know that my statements are true and who can so testify, or who have access to documents that can put the matter beyond doubt. You too are faced with a choice. You can choose to withdraw from the battle, to prop up the conspiracy of silence and avert your eyes from the spreading of corruption. You can make excuses, compromises and justification that put off the day of reckoning. You can console yourselves with the falsehood and the delusion that it will be easier to tell the truth tomorrow, and then the following day, and so on.
On the other hand, you can choose to speak. You can trust Him who told us, "the truth will set you free." I do not say it will be easy to decide between silence and speaking. I urge you to consider which choice– on your deathbed, and then before the just Judge — you will not regret having made.
October 19, 2018 Memory of the North American Martyrs
+ Carlo Maria Viganò
Tit. Archbishop of Ulpiana
Apostolic Nuncio
COMMENT: This is a brief encapsulation of the philosophy of Pope Francis.  He is a pure Modernist who presupposes the Hegelian evolutionary "process" as a given.  All things, including doctrine, are in a state of constant flux including the morality that doctrine determines.  Francis admits to being a "utopian" dreamer who believes that the "processes" created by Vatican II will ultimately yield good fruit in the "utopian future".  The rotten swill we are currently consuming is only an unfortunate but necessary part of normal development; 'you can't make an omelet without breaking eggs'.  Like all liberals, it is always the theory that is normative, the facts keep going askew.  Whatever problems we are currently enduring is because the theory has not been applied correctly in its purity with sufficient rigor for enough time, something like the Elizabethan racking of Catholic saints.  The prescription is always more of the same rotten swill to "enhance human fullness".  But the truth is that Francis has no idea where his "processes" are going.  He is confident that some future "history" will judge his worth.  We are confident of that as well.  Unfortunately for Francis, if he dies without repenting of this heretical folly, he will not save his soul.  On the 500th anniversary of Luther's revolt, he stands with the heresiarch without the Catholic Faith.  
Time is greater than space: A constant tension exists between fullness and limitation. Fullness evokes the desire for complete possession, while limitation is a wall set before us. Broadly speaking, "time" has to do with fullness as an expression of the horizon which constantly opens before us, while each individual moment has to do with limitation as an expression of enclosure. People live poised between each individual moment and the greater, brighter horizon of the utopian future as the final cause which draws us to itself. Here we see a first principle for progress in building a people: time is greater than space.
This principle enables us to work slowly but surely, without being obsessed with immediate results. It helps us patiently to endure difficult and adverse situations, or inevitable changes in our plans. It invites us to accept the tension between fullness and limitation, and to give a priority to time. One of the faults which we occasionally observe in sociopolitical activity is that spaces and power are preferred to time and processes. Giving priority to space means madly attempting to keep everything together in the present, trying to possess all the spaces of power and of self-assertion; it is to crystallize processes and presume to hold them back. Giving priority to time means being concerned about initiating processes rather than possessing spaces. Time governs spaces, illumines them and makes them links in a constantly expanding chain, with no possibility of return. What we need, then, is to give priority to actions which generate new processes in society and engage other persons and groups who can develop them to the point where they bear fruit in significant historical events. Without anxiety, but with clear convictions and tenacity.
Sometimes I wonder if there are people in today's world who are really concerned about generating processes of people-building, as opposed to obtaining immediate results which yield easy, quick short-term political gains, but do not enhance human fullness. History will perhaps judge the latter with the criterion set forth by Romano Guardini: "The only measure for properly evaluating an age is to ask to what extent it fosters the development and attainment of a full and authentically meaningful human existence, in accordance with the peculiar character and the capacities of that age".
This criterion also applies to evangelization, which calls for attention to the bigger picture, openness to suitable processes and concern for the long run. The Lord himself, during his earthly life, often warned his disciples that there were things they could not yet understand and that they would have to await the Holy Spirit (cf. Jn 16:12-13). The parable of the weeds among the wheat (cf. Mt 13:24-30) graphically illustrates an important aspect of evangelization: the enemy can intrude upon the kingdom and sow harm, but ultimately he is defeated by the goodness of the wheat.
Pope Francis, Evangellii Gaudium
"I read that statement (Archbishop Vigano's accusation that Pope Francis is guilty of suborning the cover-up of homosexual molestation in the Catholic Church) this morning. I read it and I will say sincerely that I must say this, to you and all of who are interested: read the document carefully and judge it for yourselves. I will not say one word on this. I think the statement speaks for itself and you have sufficient journalistic capacity to reach your own conclusions.  It is an act of trust, when time passes and you'll draw the conclusions maybe I will speak but I'd like that you do this job in a professional way." 
Pope Francis, commenting on Archbishop Vigano's Public Accusation against him. 
Verifying Viganò: Francis Incriminates Himself
Remnant | Elizabeth Yore | November 6, 2018
Now that nearly three months have passed since the MOAB (Mother of All Bombs) was dropped on the Francis pontificate by Archbishop Carlo Maria Viganò, it is time to assess what can be gleaned from the Vatican response about the accuracy of the Viganò charges.
The Pope's Response
Remnant readers will recall that, within hours of the release of Viganò 's Testimony, Pope Francis personally issued his own non-answer to the charges. For all with all eyes to see, he inadvertently confirmed the very "conspiracy of silence" detailed by Archbishop Viganò in his initial testimony.
Pope Francis uttered the astonishing words, "I will not say a single word about this." What? Surely, this Pope of Mercy understands the pain and suffering of clergy abuse victims anxiously awaiting an appropriate papal response to the McCarrick predation?
Apparently, not. Instead, Francis stunned them with his silence and apparent indifference, thus adding fuel to the fires of accusation of a papal coverup while providing even more evidence of papal complicity.
Apparently, the pontiff from 'the ends of the earth' just doesn't get it. His dismissive response to the damning allegations against then-Cardinal McCarrick greatly strengthens the Viganò case. Francis refused to refute any of the charges leveled against him by a most credible witness. Not a one.
Imagine a corporate CEO refusing to address detailed accusations of malfeasance and cover up leveled against him by an insider whistleblower. If said CEO responded as Francis did, he'd be gone in twenty-four hours. But the papal hubris on display at 30,000 feet is made all the worse by the fact that this scandal is not about faulty airbags or dirty restaurants. This is about the predatory sexual assaults of a cardinal on young males and seminarians.
Perhaps Bergoglio needs the USCCB VIRTUS® refresher course. Even Catholic school janitors understand that, for the protection of children, if there is a credible allegation of sexual abuse it must be reported to authorities and investigated.
The VIRTUS lesson plan might have come in handy with all the clergy abuse victims that Francis ignored while still Cardinal Archbishop of Buenos Aires and, later, as Pope, with the substantiated allegations against his pal Bishop Barros, Fr. Grassi, Fr. Inzoli, Fr. Capozzi, to name just a few.
Beatriz Varela is an Argentine woman whose son suffered sexual abuse at the hands of a Buenos Aires priest where Francis once served as the cardinal. Varela said the Francis ignored victims of sexual abuse while welcoming celebrities like Leonardo DiCaprio with open arms.
Sounding more like a Borgia Pope, Francis castigated those people that accuse clerics and bishops of sexual abuse as being like Satan, "the Great Accuser." That medieval attitude and stance will land you in jail in America.
In classic Bergoglian foot dragging, the USCCB was forced to wait a month following the Viganò accusations before the Pope granted a meeting with the American delegation of Cardinals DiNardo, O'Malley and Archbishop Gomez. The long-awaited meeting was for the purpose of requesting an apostolic visitation to investigate the charges surrounding McCarrick's serial predation.
Having learned his lesson from the disastrous Barros Apostolic Visitation, which forced a papal public apology over his personal mishandling of the scandal, Francis refused to grant an Apostolic Visitation into the McCarrick sex abuse allegations. Instead—and this can only be described as a public insult to victims and concerned Catholics--the Vatican:
Communications Office released a photo of that meeting with all the participants laughing along with the Pope. This insulting photo sent a strong message that the Vatican does not take these allegations seriously.
<![if !vml]>
<![endif]>The photo served as a finger in the eye to American Catholics and clergy abuse victims and it further bolsters Viganò's allegation that the Vatican isn't appreciating the enormity of the McCarrick scandal. How troubling that Francis is unwilling to permit an apostolic visitation which would reveal the full extent of the sexual misconduct of McCarrick and those that protected him. Optics matter. Just view Cardinal Kevin about Cardinal McCarrick's sexual misconduct.
Despite 15 Attorney General investigations (and 2 federal grand jury investigations) into McCarrick and the clergy abuse scandals, the Pope shows no interest or inclination to clean up his own house. His obstinate inaction and total lack of transparency further confirms Viganò's allegation of a conspiracy of silence with Francis at the center of the plot.
From the moment he stepped out onto the Loggia in 2013, Francis has been stonewalling, slow walking, and dismissing serious allegations of clerical sex abuse in the clergy. It's the Argentine way.
V.S. Naipaul captures the culture of Argentines in his book, The Return of Eva Peron:
"It is the Argentine attitude: suppress, ignore. There is no history in Argentina. There are no archives; There are only graffiti and polemics and school lessons."
The Francis papacy seems fashioned after the tyranny of his hero, Juan Peron. As Bergoglio systematically and successfully ignored and suppressed the cries of clerical sex abuse victims in Buenos Aires, he is adopting a similar attitude now as Pope.
While returning from his ill-fated Ireland visit, Francis commented further to the reporters about the Viganò allegations:
"I read the statement this morning, and I must tell you sincerely that, I must say this, to you and all those who are interested: Read the statement carefully and make your own judgment."
Make our own judgment?
Well, we have.
Viganò is telling the truth.
NPR, following the New York Times, becomes a shill for Pope Francis and the HomoLobby party line!
NPR is simply wrong to blame 'traditionalist' Catholics for Church's sex-abuse crisis
<![if !vml]>
<![endif]>LifeSiteNews | November 8, 2018 – National Public Radio (NPR) has attempted to saddle traditional Catholics with blame for the Church's clerical sex abuse problem while dismissing the presence of homosexual priests and prelates as the source of the Church's current crisis.
In a short, four-minute segment which aired Wednesday morning, the government-funded broadcaster said, "traditionalist Catholic media" which publishes articles "blaming sex abuse on gay priests" are wrong to do so because "researchers in the field say they've found no evidence linking clerical pedophilia to sexual orientation."
Instead, "The only way to eliminate sex abuse is to wipe out the sense of entitlement and unaccountability enshrined in that culture so dear to conservatives: Clericalism," declared NPR.
NPR wants its listeners to think that clericalism is a trait of orthodox Catholics who embrace the teachings of the Church — including what it refers to as an "old boys network" of Catholic clergy — simultaneously inferring that progressive Catholics are above reproach.
Wrong, wrong, wrong and wrong.
But NPR didn't stop there.
Evidently, the source of all the Church's woes are "traditionalists." The entire segment seems to serve no purpose other than to shift attention away from the current pontificate while protecting the agenda of progressives and homosexualists within the Roman Catholic Church.
According to NPR, conservative, traditional Catholics are to blame for, well, everything, for every evil facing the Church inside and out.
"Many of the Pope's most vocal opponents are in the U.S., attacking him in tweets, blogs, and conservative media," because, according to NPR, they have been "emboldened" by this year's sex abuse revelations.
"Blame escalated this summer after 'disgruntled' former Vatican diplomat, Archbishop Carlo Maria Vigano, accused Francis of covering up abuse and called for his resignation," asserted NPR.
"That's kind of a perfect storm that has really tossed the Pope's pontificate around," said David Gibson, Director at Fordham University's Center on Religion, during the NPR segment.
"This conservative opposition which is very much based in the United States has been able to use the anger — the widespread anger — over the sex abuse crisis to create even more difficulties and opposition to Pope Francis," added Gibson.
"Now there is no shame in launching attacks that were unthinkable under John Paul II, or Pope Benedict," said Massimo Faggioli, professor of theology at Villanova University.
Faggioli lamented to NPR via skype that only a handful of bishops defended Pope Francis against Vigano's vitriolic attack. "There is some kind of undeclared schism. As a church historian, I don't remember anything like that happening in these last six centuries."
"So much of this scandal was seeded and sewn in the pontificate of Pope John Paul II," said Gibson. There's a reluctance among many to go unearth all of that because, obviously, the Pope has been canonized and he's Saint John Paul II."
While, of course, the pontificate of St. Pope John Paul II must be held to the same standard of scrutiny as every other pontificate when it comes to the mishandling of sex abuse, but this is clearly a ploy to deflect attention away from Pope Francis. It was Francis who, at the outset of his pontificate, restored known homosexual predator Theodore McCarrick to high-profile public ministry, installed Fr. James Martin, SJ, America's chief promoter of the normalization of homosexuality in the church as a consultant to the Vatican office of communicastions, has appointed homosexual-friendly bishops and archbishops and cardinals, and has accused sexual abuse victims of slander.
NPR WRONG
The problematic "sense of entitlement and unaccountability" which NPR points to comes not from clericalism, but from the narcissism which is a hallmark of homosexuality, and which plagues homosexual priests and prelates in a particular way.
One only has to think of abusers like former cardinal Theodore McCarrick, who without pangs of conscience, brazenly abused young men and seminarians for decades, thinking only of his own sexual fulfillment. He risked bringing horrific scandal on the Church while endangering the souls of the young men for whom he lusted, while utterly abandoning his role as pastor and shepherd.
To this day, McCarrick's narcissistic self-love chooses pride over repentance. He remains the prime example of the church's narcissistic homosexual clergy problem.
Properly attributed, clericalism — that "sense of entitlement and unaccountability" — applies not to those priests who honor the magisterium of the Church, but to those who flagrantly disregard the magisterium, asserting their own interpretations of Church teaching. They do not hold themselves accountable to God.
NPR's assertion that there is "no evidence linking clerical pedophilia to sexual orientation," is objectively false.
A recently published study titled Is Catholic clergy sex abuse related to homosexual priests? by the Ruth Institute and authored by Fr. Paul Sullins shows that there is a correlation between the presence of a high proportion of homosexuals in the priesthood and the incidence of clergy sex abuse.
The landmark report also examines how "homosexual subcultures" within Catholic seminaries may have contributed to creating an environment where homosexual clergy were more likely to abuse minors.
With 80% of all clergy sexual abuse perpetrated on young males, the source of the problem is clearly neither clericalism nor the "traditionalist" Catholics NPR seeks to indict. Active homosexual priests along with their prelate protectors are the epicenter of this earthquake rocking the Church.
The Jesuits are the voice of the Homosexual Lobby in the Catholic Church.  They are a fifth column within the Catholic Church who are in league with 'Devil, the flesh and the world' to overthrow the Kingdom of Jesus Christ. The order should be suppressed and its membership laicized. If it were not for Pope Francis, the disgusting Fr. James Martin, S.J. would be the most famous Jesuit in the world.
Jesuit-run America mag runs article denying link between homosexuality and clergy sex abuse
LifeSiteNews | NEW YORK | October 29, 2018– The Jesuit-run publication America has <![if !vml]>

<![endif]>carried an article by a professor-psychologist who claims that homosexuality is not the "root cause" of clerical sexual abuse. The photo accompanying the article contained an angel with a rainbow in the background.
Dr. Thomas G. Plante, a professor of psychology at the Jesuit Santa Clara University and an adjunct clinical professor of psychiatry at the Stanford University School of Medicine, had his article published on October 22 in which he states that sexual orientation is "simply" not a factor in the clerical sex-abuse of minors.
"Many people believe that homosexuality is the root cause of sexual abuse by clergy in the Catholic Church since about 80 percent of the known victims have been male," he wrote.
"This has led some church leaders to suggest that banning homosexual men from the priesthood could prevent future victimization of children in the church," he continued. "While it may be understandable that some believe this, it is simply not true," he averred.
Plante did not appear to understand that men with deep-seated homosexual attractions are already de jure, if obviously not de facto, barred from admission to seminaries. This teaching in the Catholic Church is not new and has been backed by Pope Francis.
Plante said that readers need to be clued in on the "psychopathology of sex offenders and pedophiles" to understand the issue.
It was one of many times in which Plante skirted the fact that the majority of underage victims, at least in the United States, have not been pre-pubescents who are of sexual interest only to pedophiles but adolescent boys.
The Pennsylvania Grand Jury Report clearly identified the 78% of abuse cases it scrutinized as examples of "homosexual predation". However, despite this finding, Plante wrote that "the research data on the topic makes clear that sexual orientation alone is not a risk factor for pedophilia or for committing sexual crimes against children or teens or anyone. Sexual orientation by itself is irrelevant to child sexual abuse behavior or risks."
Plante suggested that priests who prey on male children and teens have been "'situational generalists', or men who simply abused victims to whom they had access" and "with whom they had the opportunity to develop trust."
"In the Catholic Church, these individuals tended to be boys. If Father wanted to have private time with an altar boy or perhaps take a boy off on a camping trip or to a baseball game back in the 20th century, no one would have thought much of it. Boys were trusted with priests. But most of the clergy sex offenders during the last half of the 20th century, according to the [second, 2011] John Jay Report, viewed themselves as more likely to be heterosexual than as homosexual," he wrote.
Again lumping pedophiles and ephobiles in the same paragraph, Plante stated that risk factors for pedophiles included "impulse control problems, brain injury, poor peer relationships, antisocial personality, a lack of nonsexual intimate connections with others, alcohol and substance abuse, and a history of sexual victimization."
"Sexual orientation is not a risk factor at all," he concluded.
Then he divided child abusers into those who target children, those who target teens those who prefer adult sexual partners but "select minors as a substitute", and those who "like most clerical sexual offenders in the church elect those with whom they have access and trust."
Blaming homosexual men for sexual abuse of minors is not the solution, Plante counsels. He also reminds readers that only a small percentage of people select children and teens for sexual abuse, and most of them are heterosexual, married and "noncelibate" [sic] lay people who "tend to exploit members of their own family."
Plante's interpretation of the data may not provide the full picture. He failed to mention the findings of the first John Jay report.
There were two John Jay Reports into clerical sexual abuse in the United States. The first John Jay Report, published in 2004, was officially called The Nature and Scope of the Problem of Sexual Abuse of Minors by Catholic Priests and Deacons in the United States. This first study reported that 81% of victims within the fifty year period under scrutiny were male. Of all the victims, only 22% were under the age of 10. Of the remainder, 51% were aged between 11 and 14, and 27% were aged between 14 and 17.
The second John Jay Report, published in May 2011, was officially called The Causes and Context of Abuse of Minors by Catholic Priests in the United States, 1950-2010. As Plante attests, it blames "situational generalists" for the attacks on boys.
But not every psychiatrist agrees with Plante or the second John Jay Report's assurances that the primary reason that criminal clerics preyed on males was opportunism.
Dr. Rick Fitzgibbons recently wrote in LifeSiteNews that his professional opinion "as a psychiatrist with forty years of clinical experience is that the cause of the abuse crisis is rooted in psychological and spiritual conflicts in bishops and in priests, specifically a narcissism and a profound weakness in male confidence which inclines them to homosexual predation."
Citing his 40 years of treating priest abusers, Fitzgibbons said that in every case of sexual involvement with children or teenagers he knew of, "the perpetrator had previously been involved in adult homosexual relationships."
Fitzgibbons believes that the second John Jay Report is seriously flawed.
"The Causes and Context study (2011) by the John Jay College of Criminal Justice concluded that the childhood and adolescent sexual abuse committed by clergy was unrelated to homosexuality," he observed.
"Instead, they identified the predation and abuse of adolescent males, the primary victims in the crisis, as a crime of opportunity or availability. While criminologists may describe homosexual predation in imprisoned men as arising from availability, this theory is not applicable to the general public or to priests," he continued.
He thinks there was a deceitful attempt on the part of those involved in the report to cover up the role of homosexuality.
Fitzgibbons also opined that the second John Jay Report ignored "severe psychological conflicts" and behaviours present in abusive clergy:
"The John Jay second study ignored the severe psychological conflicts and grooming behaviors in priests and bishops, such as Archbishop McCarrick who sexually abused minors, seminarians and adults," he wrote.
The psychiatrist told LifeSiteNews that by disguising the real causes, the cover up of clerical sexual abuse of minors is still going on. Fitzgibbons is particularly incensed at the blame being placed on "clericalism" by Pope Francis.
"We have this massive, massive denial of the true origins," he said.
Fitzgibbons has asked for Pope Francis to stop the cover-up.
"The Pope should acknowledge that the worldwide sexual abuse crisis is caused by clerical homosexual predation. The logical response: encourage priests and seminarian to lead chaste lives."
He recommends that the Courage apostolate be developed for international online use in the Church "as soon as possible" to assist clerics in remaining chaste and to protect "youth adults and seminarians from ongoing sexual abuse."
The Third Revolution in the Catholic Church
OnePeterFive | Al Ruhl | October 31, 2018
Any Catholic who has studied the history of the Church since the 1960s knows that revolution has happened. "Revolution" is an important word, as it describes points in history when change has happened, often violently but sometimes under cover of "progress."
It took France three revolutions to finally get rid of the monarch. There was the 1789 revolution, which we all know about but which was only the beginning. The later revolutions of 1830 and 1848 sealed the fate of the French monarchy, and no king has sat on the throne of France since.
The Catholic Church knows only too well of these multiple revolutions. In fact, the third revolution in the Church is taking place as we speak, and Catholic tradition is losing ground by the day.
The first revolution was Vatican II, the council that changed nothing and everything at the same time. The 16 documents of Vatican II gave us ambiguous and squishy language that modernists ran with to implement heresy left, right, and center. Our liturgy was deformed, our bishops embraced their role as politicians, and Christ was effectively demoted from Lord of the universe to the duke of His estate. Also, the greatest evil in the world at that time and most horrific persecutor of Catholics was communism. This was not condemned at all at the council, leaving the bishops of Eastern Europe to fight their own battles. This was the first revolution.
The second revolution contained the papacies of John Paul II and Benedict XVI. This is where the Vatican II documents were surpassed. They weren't quite enough anymore, so the Spirit of Vatican II had to pick up from where the documents left off. In this revolution, we saw the novelty of altar girls receive papal approval under the reign of the Polish pontiff. In addition, interfaith prayer meetings with representatives of false religions became the norm, whether at Assisi or the synagogue in Rome. Let us never forget that it was during this pontificate when the priestly sex scandals reached their zenith. While priests disgraced their collar, many in red and purple robes not only protected them, but ascended to higher offices while doing so. Benedict XVI continued down the path of John Paul II. After all, he was the right-hand man during John Paul's pontificate. When he was elected in the conclave of 2005, we all knew that this would be a continuation of the John Paul papacy.
Enter Jorge Mario Bergoglio and the start of the third revolution. Pope Francis possesses all of the bad qualities of his two predecessors and almost none of the good ones. Catholic values that John Paul II stood up for are now being thrown to the wolves. The firm teaching of Familiaris Consortio has been replaced by the shaky ground of Amoris Laetitia as the Church moves closer to communion for unrepentant adulterers. Homosexuality is hardly ever condemned in an era where the sexual revolution faces little to no opposition. The agents in this revolution have the ultimate goal of turning Christ's body into a church that looks not at all different from any mainline Protestant denomination whose numbers are in steep decline and will most likely cease to exist within a few generations. All of this had been made possible in these churches by synods. The same type of synods is being used in the Catholic Church to give the revolutionaries ground that Vatican II didn't. In addition to this, they seek a church that wields absolutely no political power and gives cultural elites carte blanche to spread their agenda at the expense of human life and biblical morality.
After three revolutions, the French monarchy ceased to exist. Will the Church fall victim to this same fate after this third revolution is over?
The Church has something that France never did, and that is a promise from our Lord Jesus Christ. We'll win in the end, and the victory will be complete. However, this doesn't mean that the enemy won't do damage. The enemy will cause souls to be lost, churches to be closed, and vocations to be destroyed. Christ promised that the gates of Hades would not overcome the Church, but he never said the Church won't be hurt in process.
Archbishop Viganò helped us out by identifying the enemy for us. Every single high-ranking member of the homosexual cabal in the American Church has been exposed. What Viganò did will certainly slow them down now that the spotlight is on them. Regardless, they haven't been defeated. McCarrick and Wuerl are gone, but Cupich and Tobin still hold their offices. Fr. James Martin is still wearing his clerical collar while promoting sexual subversion and disgracing the once great order founded by St. Ignatius of Loyola. These clerics are still operating and working hard to steal the faith from Catholics, just as the Tudor monarchs of the 16th century stole it from the English people.
The third revolution removed the last king of France from his throne. As Catholics, this is our opportunity to crush the revolution and restore our monarch. It won't be easy in the same way things weren't easy for valiant Catholic warriors like St. Joan of Arc and Don Juan of Austria. We may not live to see the victory, but that doesn't exclude any of us from doing his part.
The hypocrisy of Pope Francis again evident: He bends the synodial process to his own agenda to give the appearance of collegial support for his corrupting policies and heretical doctrine.
Francis's liberal supporters made sure the Youth Synod approved his agenda
Catholic Culture. org | October 31, 2018 – Remember back in 2014 and again 2015, when angry bishops protested that the Vatican staff was <![if !vml]>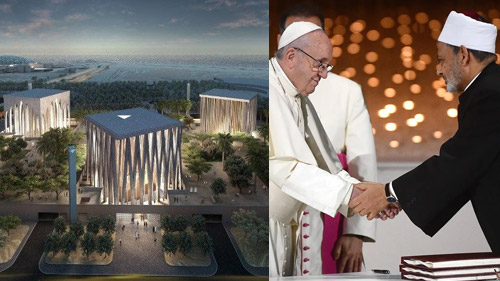 <![endif]>manipulating the Synod of Bishops? This year, when the Synod met to discuss youth and vocation, the complaints were different in tone. The participating bishops could no longer claim to be surprised by the maneuvering of the staff. The manipulation was too obvious.
As the Synod ended its work, George Weigel provided a comprehensive summary of how the meeting had played out. The tensions between the Synod staff and the participating bishops were evident, he reports. Discussing the heavy-handed approach taken by the secretary-general of the Synod, Weigel writes: "If Pope Francis is serious about making the Synod of Bishops work better, he will thank Lorenzo Baldiserri for his services and bring in a new general secretary – right away."
That's an unlikely prospect, however, because Cardinal Baldiserri, who was appointed by Pope Francis, is one of the Pontiff's staunchest allies. His tactics during the October session were calculated to advance two of the Pope's favorite goals: to increase the teaching authority of the Synod, and to ensure that the bishops' message was in line with the Pope's preferences.
You can see the difficulty there, can't you? It's no easy trick to tell a group of bishops that they should teach with authority, and then to tell them what they should teach. If the Synod is merely to rubber-stamp papal policies, then it doesn't have much authority on its own.
Nevertheless this year's meeting, as orchestrated by Cardinal Baldiserri, saw a series of attempts to tell the bishops what they should say. The committee of bishops selected to draft a final statement for the group found that a statement had already been drafted, by the ever-helpful Synod staff. That statement included a lengthy discussion of synodal government – a topic that the bishops had not really addressed, but one close to the Pope's heart. And finally, the final statement included an admonition that the bishops' document should be read in the light of the Instrumentum Laboris, the preparatory document that had been presented to the assembly by the staff before the bishops began their discussions. As Father Raymond de Souza points out, "The 'working document' [the Instrumentum Laboris] was not prepared by the Synod, nor was it voted upon by them." So how could this staff document be interpreted as an expression of the bishops' thoughts?
It couldn't, of course. But the staff seemed less interested in collecting the bishops' thoughts than in promoting the thoughts of Pope Francis. For that matter, even the thoughts of previous Pontiffs were given short shrift. Weigel reminds us that Pope John Paul II was spectacularly successful in reaching out to young people, yet the final document of this Synod – whose topic was reaching out to young people – ignores him.
In another perceptive report on this Synod, Christopher Altieri remarks that the bishops did not allow their discussion to be dominated by the current crisis of confidence in the hierarchy. But in his closing remarks to the assembly, in which he spoke again of the "Great Accuser" who criticizes bishops, Pope Francis betrayed his own preoccupation with that crisis. As well he might. Altieri writes: "Pope Francis still has a chance – perhaps his only one left – to right the ship." Whatever else this October meeting accomplished, it did not enhance confidence in the Pope's leadership.
Quotable Pope Francis -  BYOC (Bring Your Own Clarity)
Each one of us has his own vision of good and evil and must choose to follow the good and to fight the evil as he understands them. This would be enough to change the world. Pope Francis
Spiritual interference in personal life is not possible.  Pope Francis
If a homosexual person is of good will and is seeking God, I am no one to judge him. Religion has the right to express its opinion in the service of the people, but God in creation has made us free. Pope Francis
Scalfari: "Is there a single vision of the good? And who establishes it?"
Pope Francis: "Each of us has his vision of the good. We must incite him to proceed toward what he thinks to be the good."
Vatican II, inspired by Pope John and by Paul VI, decided to look to the future with a modern spirit and to open to modern culture. The council fathers knew that opening to modern culture meant religious ecumenism and dialogue with nonbelievers. After then very little was done in that direction. I have the humility and the ambition of wanting to do it.  Pope Francis
If a person is gay and is seeking the Lord and has good will, who am I to judge him? Pope Francis
Our objective is not proselytism, but listening to the needs, the desires, the disappointments, the desperation, the hope. We must bring hope back to the young, help the old, open to the future, spread love. Poor among the poor. We must include the excluded and preach peace. Vatican II, inspired by Pope John and Paul VI, decided to look to the future with a modern spirit and to open to modern culture. The council fathers knew that opening to modern culture meant religious ecumenism and dialogue with nonbelievers. After then, very little was done in that direction. I have the humility and the ambition to want to do it. Pope Francis
Young Catholics urge Vatican to issue inclusive LGBT message
APNews | By NICOLE WINFIELD | October 21, 2018
<![if !vml]>
<![endif]>VATICAN CITY (AP) — Catholic bishops are entering their final week of debate over hot-button issues facing young Catholics, including how the church should welcome gays and respond to the clerical sex abuse scandal that has discredited many in the church hierarchy.
The month long synod of bishops ends next Saturday with the adoption by the 260-plus cardinals, bishops and priests of a final document and approval of a separate, shorter letter to the world's Catholic youth.
Some of the youth delegates to the meeting have insisted that the final document express an inclusive message to make LGBT Catholics feel welcome in a church that has often shunned them.
The Vatican took a step in that direction by making a reference to "LGBT" for the first time in its preparatory document heading into the meeting.
But some bishops have balked at the notion, including Philadelphia Archbishop Charles Chaput, who insisted in his speech that "there is no such thing as an 'LGBTQ Catholic' or a 'transgender Catholic' or a 'heterosexual Catholic,' as if our sexual appetites defined who we are."
But other bishops have expressed a willingness to use the language, though it remains to be seen if the final document or the letter will. Each paragraph will be voted on one by one and must obtain a two-thirds majority.
"The youth are talking about it freely and in the language they use, and they are encouraging us 'Call us, address us this because this is who we are,'" Papua New Guinea Cardinal John Ribat told a press conference Saturday.
One of those young people, Yadira Vieyra, who works with migrant families in Chicago, said gays often feel attacked and shunned by the church.
"We know that's not true, any Catholic knows that's not true," she said. But she added bishops need to communicate that "the church is here for them."
Catholic church teaching holds that gays should be loved and respected but that homosexual acts are "intrinsically disordered."
The Oct. 3-28 synod has unfolded against the backdrop of the clergy sex abuse scandal exploding anew in the U.S., Germany, Poland and other nations. Some conservatives have charged that a gay subculture in the priesthood is to blame, even though studies have shown that gays are not more likely than heterosexuals to abuse.
Many of the young delegates have insisted that the final document address the abuse scandal straight on, and Melbourne Archbishop Peter Comensoli hinted that it would.
"One of the key things that will be important going forward is not just that there might be a word of apology, of recognition and of aiming for better practices, but that there is action associated with that," he said.
Chicago Cardinal Blase Cupich said young people are also demanding accountability and transparency from the church's leadership, which has been excoriated for having covered-up the abuses of predator priests for decades.
He repeated his call, first made in an interview last week with National Catholic Reporter, for bishops to cede their own authority and allow an external process involving lay experts to investigate them when an accusation against them has been made.
"Lay people want us to succeed. People want us to get this right," Cupich said. "Yes, there's a lot of anger out there. But beneath that anger there's a sadness. There's a sadness that the church is better than this, and that we should get this right.
Dogma is the proximate Rule of Faith. Deny this Catholic truth and this is the stupidy that follows. So now we have an infallibly infallible magisterium and a infallibly non-infallible magisterium! The pope become the revealer of truth rather than its divine appointed guardian! 
This false accusation railed against Pope Francis, claiming that he is teaching or prompting heresy in part of his Ordinary Magisterium is in effect a denial of the one of the essential truths behind the teaching authority of the Roman Pontiff, who is granted Divine assistance which prevents him from erring in matters of faith and morals, even when teaching non-infallibly.
So while there may be certain deficiencies present in the Ordinary Magisterium, the faithful are still required to submit their will and intellect to its higher prudential judgment by giving religious assent, and such deficiencies can never fall into error in matters of faith and morals through the promise of Divine assistance accorded to even these non-infallible pronouncements.
Emmett O'Regan, published by Vatican Insider
Religious Liberty from Vatican II has its root in the Americanist Heresy
On every side the dread phantom of war holds sway: there is scarce room for another thought in the minds of men. The combatants are the greatest and wealthiest nations of the earth; what wonder, then, if, well provided with the most awful weapons modern military science has devised, they strive to destroy one another with refinements of horror. There is no limit to the measure of ruin and of slaughter; day by day the earth is drenched with newly-shed blood, and is covered with the bodies of the wounded and of the slain. Who would imagine as we see them thus filled with hatred of one another, that they are all of one common stock, all of the same nature, all members of the same human society? ....We implore those in whose hands are placed the fortunes of nations to hearken to Our voice. Surely there are other ways and means whereby violated rights can be rectified. Let them be tried honestly and with good will, and let arms meanwhile be laid aside.
Benedict XV, Ad beatissimi apostolorum, November 1, 1914
"We consider the establishment of our country's independence, the shaping of its liberties and laws, as a work of special Providence, its framers 'building better than they knew,' the Almighty's hand guiding them. We believe that our country's heroes were the instruments of the God of nations in establishing this home of freedom; to both the Almighty and to His instruments in the work we look with grateful reverence. And to maintain the inheritance of freedom which they have left us, should it ever–which God forbid—be imperiled, our Catholic citizens will be found to stand forward as one man, ready to pledge anew 'their lives, their fortunes, and their sacred honor.'"
Archbishop (soon to be Cardinal) James Gibbons, addressing the American bishops at the Third Plenary Council of Baltimore, 1884 attended by 14 archbishops and 61 bishops.
Moved to the very depths of our hearts by the stirring appeal of the President of the United States, and by the action of our national Congress, we accept whole-heartedly and unreservedly the decree of that legislative authority proclaiming this country to be in a state of war. Inspired neither by hate nor fear, but by the holy sentiments of truest patriotic fervor and zeal, we stand ready, we and all the flock committed to our keeping, to cooperate in every way possible with our President and our national government, to the end that the great and holy cause of liberty may triumph and that our beloved country may emerge from this hour of test stronger and nobler than ever. Our people, as ever, will rise as one man to serve the nation.
Pledge of U.S. Catholic Archbishops, April 18,1917; sent to President Woodrow Wilson by Cardinal James Gibbons, Archbishop of Baltimore, the leading Catholic prelate in the United States.
"The primary duty of a citizen is loyalty to country. It is exhibited by an absolute and unreserved obedience to his country's call."
Cardinal James Gibbons, Archbishop of Baltimore (1877-1921), April 1917 in support of the U.S. declaration of war against Germany and Austria-Hungary. The Balfour Declaration agreement committed the British to deliver Palestine into Jewish hands in return for the Jews bringing the United States into WWI in support of the British. Cardinal James Gibbons was the chief propagator of the heresy of Americanism which became settled Novus Ordo doctrine after Vatican II (religious liberty) primarily by the work of Fr. John Courtney Murray who greatly admired Cardinal Gibbons. Gibbons did his best to align American Catholics with Jewish interests to bring the United States into the Great War. In doing so Gibbons worked directly to undermine the peace plans of Pope Benedict XV. Pope Benedict devised a generous peace plan and contacted Cardinal Gibbons to do what he could to influence the United States government to back his offer of a negotiated peace. Gibbons did nothing of the sort. While giving lip service to the Pope's peace plan six months too late, he in fact never contacted President Wilson or any official of the government to even mention Pope Benedict's peace plan. Gibbons was too busy building the National Catholic War Council (NCWC) and supporting the call of universal military service. The purpose of the NCWC as Gibbons said in a letter to all American bishops was to form "the mental and moral preparation of our people for the war."
If God is nothing, everything is permitted; if God is nothing, everything is a matter of indifference. 
Feodor Dostoyevsky, The Devils (The Possessed)
To Congar's credit, he at least told the truth about what he helped destroy!
"It cannot be denied that the Declaration on Religious Liberty does say materially something else than the Syllabus of 1864; it even says just about the opposite of  Propositions 15 and 77 to 79 of this document..... I collaborated on the final paragraphs which left me less satisfied. It involved demonstrating that the theme of religious liberty was already contained in Scripture. Now, it isn't there."
Cardinal Yves Marie Joseph Congar, O.P., forbidden to teach by the Church and whose books were suppressed in the early 1950s, made a peritus at Vatican II by Novus Ordo St. John XXIII, and is considered by many to have been the most influential of all the periti. He was raised to the cardinalate by Novus Ordo St. John Paul II. He rejected the dogmatic teaching of Trent which his teacher and mentor, Fr. Marie-Dominique Chenu, O.P., derisively called "Baroque theology".
Excerpts from the Diary of Msgr. Joseph Fenton:
<![if !supportLists]>· <![endif]>"He [Cardinal Ottaviani] remarked that we were on the eve of the Council, and that no one knew who the Council's theologians were to be." (Sept. 28, 1962)
<![if !supportLists]>· <![endif]>"It is a crime that we did not take the Anti-Modernist Oath. Poor O[ttaviani] must have failed to have our own profession passed by the central commission. It contained his condemnation of [Fr. John Courtney] Murray [the Americanist heretic who structured the Council teaching on Religious Liberty]." (Oct. 9, 1962)
<![if !supportLists]>· <![endif]>"I had always thought that this council was dangerous. It was started for no sufficient reason. There was too much talk about what it was supposed to accomplish. Now I am afraid that real trouble is on the way." (Oct. 13, 1962)
<![if !supportLists]>· <![endif]>"I started to read the material on the Liturgy, and I was shocked at the bad theology. They actually have been stupid enough [to say] that the Church is 'simul humanam et divininam, visibilem et invisibilem' [at the same time human and divine, visible and invisible]. And they speak of the Church working 'quousque unum ovile fiat et unus pastor' [until there be one fold and one shepherd], as if that condition were not already achieved." (Oct. 19, 1962)
<![if !supportLists]>· <![endif]>"I do not think that any little work on our part is going to bring good to the Church. We should, I believe, face the facts. Since the death of [Pope] St. Pius X the Church has been directed by weak and liberal popes, who have flooded the hierarchy with unworthy and stupid men. This present conciliar set-up makes this all the more apparent. [Fr.] Ed Hanahoe, the only intelligent and faithful member of [Cardinal] Bea's secretariat has been left off the list of the periti. Such idiots as [Mgr. John S.] Quinn and the sneak [Fr. Frederick] McManus have been put on. [Fr. George] Tavard is there as an American, God help us. From surface appearance it would seem that the Lord Christ is abandoning His Church. The thoughts of many are being revealed. As one priest used to say, to excuse his own liberalism, which, in the bottom of his heart he knew was wrong, 'for the last few decades the tendency in Rome has been to favor the liberals.' That is the policy now. We can only do what we can to overt an ever more complete disloyalty to Christ." (Oct. 19, 1962)
<![if !supportLists]>· <![endif]>"[Fr.] Ed Hanahoe gave me two books on Modernism. In one of them I found evidence that the teaching in the first chapter of the new schema on the Church [that became the Vatican II dogmatic constitution Lumen Gentium] and the language are those of [the excommunicated Modernist Fr. George Tyrrell [who died outside the Catholic Church and was denied ecclesiastical burial]. May God preserve His Church from that chapter. If it passes, it will be a great evil. I must pray and act." (Sept. 24, 1963)
Pope Francis continues his slander against faithful Catholics for being "rigid" in the profession of Catholic truth and practice of Catholic morality!
Pope's Latest Homily: 'Rigid' Catholics Lack the 'Spirit of God'
OnePeterFive | Bree A Dail | October 16, 2018
Pope Francis has returned to a common theme of his pontificate, this time in his homily for daily Mass at Casa Santa Marta, earlier this morning. The following are quotes from the pontiff, as reported as by VaticanNews.va correspondent Adriana Masotti:
They [the Pharisees] were truly an example of formality. But they lacked life. … They were rigid.
Rigidity has been theme often repeated by the pope in connection to the rise of interest in the traditional Latin Mass among youths and young adults, as has been reported by LifeSiteNews in the past.
Continuing his homily, the pope stressed that such "rigid" individuals, like the "hypocritical" Pharisees of Jesus's time, look to perfect only the external, and therefore – like whited sepulchers – hide corruption, greed, wickedness.
Jesus spoke clearly; He was not a hypocrite. He spoke clearly. And he said to them, "But why do you look at what is external? Look at what is within." Another time He said to them, "You are whitened sepulchers." Nice compliment, eh? Beautiful on the outside, all perfect…all perfect…but within, full of rottenness, therefore of greed, of wickedness, He says. Jesus distinguishes between appearances and internal reality. These lords are "doctors of appearances": always perfect, always. But within, what is there?
The pope continued to focus on the "hypocrisy" of those who seem to "rigidly" adhere to their Catholic Faith. It should also be noted that the pontiff used language similar to that of one of his closest advisers, Cardinal Oscar Rodríguez Maradiaga, when referring to those who report on the current crisis in the Church. "Jesus describes these people with one word: 'hypocrites.' They are people with greedy souls, capable of killing: 'capable of paying to kill or calumniate, as happens every day. It happens today: they are paid to give bad news, news that smears others.' But always, under or behind rigidity, there are problems, grave problems. Jesus is not there. The spirit of the world is there."
Pope Francis ended his homily with a warning: "Be careful around those who are rigid. Be careful around Christians – be they laity, priests, bishops – who present themselves as so 'perfect,' rigid. Be careful. There's no Spirit of God there. They lack the 'spirit of liberty.'"
Paul VI - Beatified?   Fr. Luigi Villa, Th.D.
Read about the "virtue" the Novus Ordo looks for in their "saints"!
Paul VI declared Novus Ordo Saint. So just what is a "Novus Ordo Saint"?
A Novus Ordo Saint is a man-made saint. Contrasted with Catholic saints who are God-made saints. In virtue of their union with God they are sanctified, and therefore, Catholic Saints exhibit heroic virtue in their lives. God confirms their sanctity by working miracles through their intercession and thus, a cult of veneration (dulia) develops and spreads throughout the Church. The Church recognizes God's evidence that they are saints and declares this fact to the universal Church. Contrary to this, Novus Ordo Saints are man-made saints and their elevation to the title of sainthood is for the purpose of promoting the human ideology exemplified in their lives. There is no real cult of veneration (dulia) among the faithful to Novus Ordo Saints. Since God does not work true miracles through the intercession of man-made saints, only man-made miracles are required for the beatification of man-made Novus Ordo Saints. Finally, the Novus Ordo beatification process does have a promotor fidei, the so-called "devil's advocate," although his role has been change as the promotor ideologiae. The greatest difference between Catholic Saints and Novus Ordo Saints is that the former are in heaven and the latter, very well may not be.
Two More High-Ranking Papal Appointees Implicated in Alleged Misconduct
OnePeterFive | Steve Skojec | October 16, 2018
<![if !vml]>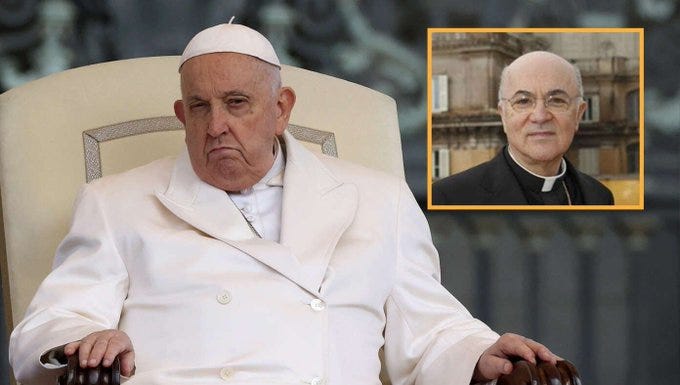 <![endif]>Pope Francis has once again found him at the center of scandal after two of his most high-ranking appointees have been implicated in misconduct allegations. Monsignor Edgar Peña Parra, who has been tapped to take on the number two role at the Vatican Secretariat of State, has become the subject of a dossier compiled by laity in his home diocese which makes mention of possible homosexual behavior. Cardinal Luis Ladaria Ferrer, Prefect of the Congregation for the Doctrine of the Faith (CDF), has also failed to respond to a court summons in France as a co-defendant in the trial of the Cardinal Archbishop of Lyon, Philippe Barbarin, for "failing to denounce a sexually abusive priest". Ladaria was made aware of the accusations years before he advised disciplinary action in his capacity as secretary of the CDF, which handles such cases.
Peña Parra, who is the former papal nuncio to Mozambique, will soon take the position of Sostituto for General Affairs in the Vatican Secretariat of State. According to Emiliano Fittipaldi of Italy's L'Esspresso, "the position of Sostituto is a most delicate nomination, and the name of Peña Parra has caught Vatican insiders by surprise." Fittipaldi describes the role as "second in influence only to the Pope and the Secretary of State."
Peña Parra, however, was one of the figures Archbishop Viganò warned about in his initial testimony about abuse coverup and corruption in the Church. Viganò wrote:
Finally, the recent appointment as Substitute of Archbishop Edgar Peña Parra is also connected with Honduras, that is, with Maradiaga. From 2003 to 2007 Peña Parra worked as Counsellor at the Tegucigalpa Nunciature. As Delegate for Pontifical Representations I received worrisome information about him.
In Honduras, a scandal as huge as the one in Chile is about to be repeated. The Pope defends his man, Cardinal Rodriguez Maradiaga, to the bitter end, as he had done in Chile with Bishop Juan de la Cruz Barros, whom he himself had appointed Bishop of Osorno against the advice of the Chilean Bishops. First he insulted the abuse victims. Then, only when he was forced by the media, and a revolt by the Chilean victims and faithful, did he recognize his error and apologize, while stating that he had been misinformed, causing a disastrous situation for the Church in Chile, but continuing to protect the two Chilean Cardinals Errazuriz and Ezzati. [emphasis in original]
According to Fittipaldi, a 25-page dossier on Peña Parra was mailed to "various prelates" by "enemies" of the Venezuelan priest just nine days after his appointment to the Secretariat of State was announced – prelates who Fittipaldi says "promptly informed the pope." Signed by the "Laity of the Archdiocese of Maracaibo" — the capital of the Venezuelan state of Zulia, where Peña Parra was "born and raised" — the document provides a possible insight into the idea of "worrisome information" reported, but not explicitly disclosed, by Viganò.
It includes, according to Fittipaldi, "a very strong report about the alleged immoral conduct of this priest, enclosing as well some photocopies of signed letters of the then-Archbishop of Maracaibo, Domingo Roa Pérez, in which he makes reference to these doubts and to grave accusations" against the new Sostituto.
Fittipaldi writes that L'Esspresso has read the document, and that:
The heart of the accusations is a letter from 1985 signed personally by Archbishop Roa Peréz and sent to the rector of the first seminary (San Tommaso D'Aquino in San Cristobal) where the young Peña Parra attended. The young Edgar received his philosophy degree in 1981, and at the beginning of 1985 he had completed his theological studies at another inter-diocesan seminary, Santa Rosa de Lima in Caracas.
That August he was scheduled to be ordained as a priest. Archbishop Roa Peréz, who had held doubts about the candidate for some time, received an anonymous yet credible letter and decided to make it known. In a letter to the rector of San Tommaso D'Aquino, Pio Leon Cardenas, the prelate wrote:
"Dear Monsignor, in this beloved seminary the young Edgar Robinson Peña Parra studied philosophy. Reports concerning his personal habits were quite negative. For this reason, the administration decided to not allow him to continue in formation. Thinking that perhaps his error was not so serious as to exclude him definitively from the seminary…I decided to send him to the seminary in Caracas, where he has studied theology and is now about to receive the diaconate and soon after the priesthood. The reports on him from the inter-diocesan seminary are generally positive, indeed quite good," wrote Archbishop Roa Peréz. "Now I have received an anonymous letter from Caracas, which says that [Peña Parra] "was expelled from San Tommaso D'Aquino seminary at the end of his third year because he was a homosexual…" Roa Peréz affirmed that such a fact "was actually verified by Peña Parra's priest-formator [padre assistente] for that year of study, Padre Leye," but that he [Roa Peréz] did not find out "because a priest of this archdiocese falsified the report."
"I do not know if we are dealing with false accusations," Roa Peréz finally concludes. "Your illustrious Lordship can imagine the anguish which now assails me. I have a great need of priests, but I cannot be "a pitiful impious one" as a saint of the Church says referring to the ordination of those who are clearly unworthy. As I have said, it could be that this is a false accusation, and it also could be that what this anonymous letter declares so strongly is true. I beg you with vehemence to re-examine these reports and speak to Padre Leye to see if he remembers the case."
Fittipaldi writes that within the various documents of the dossier are "several sheets on the moral and spiritual character of the new Sostituto". L'Esspresso claims to have requested clarification or comment from the Holy See about the dossier, "asking for days" but "without receiving any response."
It is perhaps fitting that Viganò mentioned Peña Parra in the same breath as Juan Barros; just as he did in the case of his hand-picked Chilean bishop accused of complicity in sexual abuse, Francis appears to have again chosen stubborn recalcitrance in the face of accusations against his pick for Sostituto. Writes Fittipaldi:
It is a fact, however, that the Pope – after being informed of the affair – explained resolutely that he did not believe at all in the credibility of the accusations, saying to his supporters that this is yet another attack against him following the attack of Viganò. "It is always the conservative frontline trying to discredit his magisterium and the image of his faithful collaborators," so says the commentary from his inner circle.
L'Esspresso announced a plan to release a full investigation in their Sunday, October 14 edition, which was not available online at the time of this writing. It is unclear whether they will provide the answer, if one was received, from San Tommaso D'Aquino seminary, from which Peña Parra was alleged to have been dismissed for immoral conduct.
Cardinal Ladaria Fails to Respond to Summons in French Abuse Trial
The accusations against Peña Parra come as reports that a French court has ordered Cardinal Philippe Barbarin, Archbishop of Lyon, to be tried early next year for "failing to denounce a sexually abusive priest". According to TheTablet (UK), the trial will move forward despite the Vatican's "failure to respond to a summons" issued to Cardinal Luis Ladaria Ferrer, the CDF prefect, who has been named as a co-defendant in the case. Attorneys representing the alleged victims of Fr. Bernard Preynat say that "Ladaria had advised Barbarin by letter in 2015 to discipline Preynat but avoid public scandal. At the time, he was secretary of the CDF, the Vatican department that handles clerical sexual abuse cases."
The Tablet reports that "Nadia Debbache, a lawyer for the victims, said the Vatican's failure to acknowledge receipt of the summons amounted to obstruction of French justice. 'There is clearly a will to drag things out and cover them up,' she said."
Ladaria has, according to The Tablet, "denied wrongdoing but admitted his reaction to abuse accusations he learned about in 2007 was 'belated'." Preynat was not removed from priestly ministry until 2015 — eight years after the abuse accusations were brought to the now-cardinal prefect's attention.
Ladaria, a Jesuit, was promoted by Pope Francis to head up the CDF after the abrupt dismissal of its previous prefect, Gerhard Ludwig Müller, in 2017.
"The Rosary is the most powerful weapon for defending ourselves on the field of battle." 
… The decadence which exists in the world is without any doubt the consequence of the lack of the spirit of prayer. Foreseeing this disorientation, the Blessed Virgin recommended recitation of the Rosary with such insistence. And since the Rosary is, after the holy Eucharistic liturgy, the prayer most apt for preserving faith in souls, the devil has unchained his struggles against it. Unfortunately, we see the disasters he has caused.
… We must defend souls against the errors which can make them stray from the good road. … We cannot and we must not stop ourselves, nor allow, as Our Lord says, the children of Darkness to be wiser than the children of Light … The Rosary is the most powerful weapon for defending ourselves on the field of battle. 
Sr. Lucy of Fatima, Letter to Dom Umberto Pasquale
"Revelation manifests itself more and more each day… it's always moving." 
It is a dogma of divine and Catholic faith that Revelation was completed at the death of the last Apostle!
Ideologies are bewitching; and so Paul says: "Oh foolish Galatians, who has bewitched you?" Those who preach with ideologies: everything's right! They are bewitching: it's all clear!  But look, God's revelation isn't clear eh? God's revelation manifests itself more and more each day; it is always moving. Is it clear? Crystal clear! It is Him, but we have to find it along the way. Those who think they possess the whole truth are not just ignorant, Paul goes as far as to call them 'foolish' for letting themselves be bewitched.
Pope Francis, sermon, October 6, 2016
Maybe he meant to say, 'Time is greater than Grace'?
"Time is Greater than Space: A constant tension exists between fullness and limitation. Fullness evokes the desire for complete possession, while limitation is a wall set before us. Broadly speaking, "time" has to do with fullness as an expression of the horizon which constantly opens before us, while each individual moment has to do with limitation as an expression of enclosure. People live poised between each individual moment and the greater, brighter horizon of the utopian future as the final cause which draws us to itself. Here we see a first principle for progress in building a people: time is greater than space."
Pope Francis, Evangelii Gaudium, "Time is Greater than Space"
"God manifests himself in historical revelation, in history. Time initiates processes, and space crystallizes them. God is in history, in the processes. We must initiate processes, rather than occupy spaces." 
Pope Francis, Interview with Anthony Spadaro
Since "time is greater than space," I would make it clear that not all discussions of doctrinal, moral, or pastoral issues need to be settled by interventions of the magisterium. Unity of teaching and practice is certainly necessary in the Church, but this does not preclude various ways of interpreting some aspects of that teaching or drawing certain consequences from it. This will always be the case as the Spirit guides us towards the entire truth (cf. Jn 16:13), until he leads us fully into the mystery of Christ and enables us to see all things as he does. Each country or region, moreover, can seek solutions better suited to its culture and sensitive to its traditions and local needs. For "cultures are in fact quite diverse and every general principle…needs to be inculterated, if it is to be respected and applied."
Pope Francis, Amoris Laetitia
"If you love me you will keep my commandments… He that hath my commandments, and keepeth them; he it is that loveth me. And he that loveth me, shall be loved of my Father: and I will love him, and will manifest myself to him… If you keep my commandments, you shall abide in my love; as I also have kept my Father' s commandments, and do abide in his love… In this we know that we love the children of God: when we love God, and keep his commandments." (John 14:15; 14:21; 15:10; 1 John 5:2)
Pope Francis will learn, souls are "condemned for ever" who teach the Lutheran heresy of justification & deny the Catholic dogma that to abide in "true charity" is "conditional" upon keeping the commandments!
The way of the Church is not to condemn anyone for ever; it is to pour out the balm of God's mercy on all those who ask for it with a sincere heart… For true charity is always unmerited, unconditional and gratuitous….
It is a matter of reaching out to everyone, of needing to help each person find his or her proper way of participating in the ecclesial com-munity and thus to experience being touched by an "unmerited, unconditional and gratuitous" mercy. No one can be condemned for ever, because that is not the logic of the Gospel!
Pope Francis, Amoris Laetitia, paragraphs 296 and 297
Cardinal Müller confirms sex abuse investigation against UK Cardinal was stopped
LifeSiteNews | October 3, 2018 – Cardinal Gerhard Müller has confirmed that the Vatican investigation into sexual abuse by Cardinal Cormac Murphy-O'Connor was not completed, but instead was stopped for lack of the Pope's approval.
The cardinal spoke with LifeSiteNews yesterday in Washington, D.C. while there to speak at the Napa Institute's Conference on Authentic Catholic Reform.
LifeSiteNews asked Cardinal Müller if Pope Francis had indeed halted the investigation into Cardinal Murphy-O'Connor, who passed away in 2017. Müller was until recently the Prefect for the Congregation of the Doctrine of the Faith (CDF), the Vatican body tasked with investigating sex abuse cases. Cardinal Murphy-O'Connor was accused of abusing a girl when she was 13 or 14 during the 1960s.
Cardinal Müller told LifeSiteNews he was "bound by Pontifical Secret," but said that "the Pope's approval is required for investigations" of a Cardinal. LifeSiteNews informed Müller that some news reports were suggesting he had completed the investigation, rather than the investigation having been interrupted and prevented from continuing.
LifeSiteNews asked the cardinal if he would at least go on the record to indicate that the investigation was stopped, rather than completed, and he agreed, "yes."
'The Pope wants to speak to you'
Despite suggestions to the contrary, neither LifeSiteNews nor Archbishop Carlo Maria Viganò claimed that Cardinal Murphy-O'Connor was guilty of the abuse. Rather, LifeSite's original report focused on the fact that the investigation into the allegations did not follow proper Church protocol, and Archbishop Viganò mentioned the halting of the investigation in the context of the Pope's larger record on sex abuse cover-up.
The bizarre circumstances around the Pope stopping the investigation were revealed by famed Vatican reporter Marco Tosatti. From a source close to Cardinal Müller, Tosatti learned that the Cardinal, when he was Prefect of the CDF, was interrupted by a phone call from the Pope while saying Mass in June 2013 at the Church of Santa Monica (next to the CDF building) for a small group of German students.
As Tosatti put it in an article for First Things last year:
His secretary joined him at the altar: "The pope wants to speak to you." "Did you tell him I am celebrating Mass?" asked Müller. "Yes," said the secretary, "but he says he does not mind—he wants to talk to you all the same." The cardinal went to the sacristy. The pope, in a very bad mood, gave him some orders about a dossier concerning one of his friends, a cardinal.
In a joint report with LifeSiteNews last week, Tosatti revealed for the first time, via a source close to Cardinal Müller, that it was the CDF's investigation of Cardinal Murphy-O'Connor that Pope Francis nixed during that urgent phone call.
The allegation, and failed investigations
From a source in England close to the Cardinal Murphy-O'Connor case, LifeSiteNews learned that the lady around 2009 accused Murphy-O'Connor of involvement in her abuse. She had been, as a young teen in the 1960s, a victim of notorious pedophile priest Michael Hill. She asserted around 2009 that there were several priests involved in her abuse at the time, with Cardinal Murphy-O'Connor being one of them. Cardinal Murphy-O'Connor later infamously transferred the known abuser Hill to be the chaplain at Gatwick airport despite warnings that he would offend again. (He did indeed offend again.) The lady in question is an acknowledged victim of Fr. Hill and was paid at the beginning of the 2000s a £40,000 settlement by the Diocese of Arundel and Brighton for the abuse she suffered.
While the left-leaning Tablet in England has claimed that the woman's allegations against Murphy-O'Connor were investigated by police and the Church and found lacking in credibility, our source in England provides needed clarification.
Our source notes: "The police did not decide that she was not credible, but that they did not have corroborating evidence." The source added that, had the police not found the victim a credible source, "they would not have investigated the case." Rather, the source said, the police took the case so seriously that they interviewed Cardinal Murphy-O'Connor himself "under caution," which means that they made it clear to him that his answers could be used against him in court. Moreover, the source says the police never closed the case, but put it aside awaiting corroborating evidence.
The Tablet author Christopher Lamb omits in his description of the history of the case that the Archdiocese of Westminster altogether refused to investigate the allegations of the female victim according to Church protocols. As LifeSiteNews has reported, it was not the Archdiocese of Westminster, but two other dioceses – Portsmouth and Northampton – which filed a case directly with the CDF in 2011. As our well-placed source in England has affirmed, it was not Cardinal Vincent Nichols, the Archbishop of Westminster since 2009, who instigated the CDF investigation. Only in 2011 – that is, three years after the lady started to claim Cardinal Murphy-O'Connor abused her – Nichols finally had his diocesan officials meet with her in person. Still, they did not open an investigation.
According to our source in England, Bishop Crispian Hollis (of Portsmouth, now retired) and Bishop Peter Doyle (Northampton) both knew the female victim for years and found her a credible person. "All people involved [i.e., police, as well as the English bishops filing the case with the CDF] found that the female victim is a credible witness," the English source told LifeSiteNews.
The Tablet reports on a CDF investigation in 2011 of the case under then-CDF head Cardinal William Levada. That investigation apparently determined there was no case. However, our English source states that the CDF's investigation in 2011 was not thorough, inasmuch as the victim herself was not even personally interviewed by the CDF officials.
As The Tablet so ambiguously puts it, the need to restart the case then in 2013 was due to an "administrative gap." Of what that "administrative gap" could be, our source commented: "The CDF itself had not followed protocol."
<![if !vml]>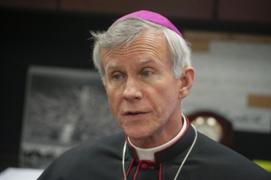 <![endif]>Pope Francis opens "Youth" Synod with novel ferula that is appropriate for his LGBT agenda!
Stang
The stang is a straight branch with a fork or Y at one end, and is most used in ritual circle as a type of centerpiece representing the magick of the three –the trinity– in the following ways: Earth, Sea, and Sky; Body, Mind and Spirit; God, Goddess and Unity; the three faced of the God; the three faces of the Goddess; and the crossroads of life. Stangs used today are normally five to six feet in height and are often decorated with ribbons and flowers that match the seasonal ritual. The stang also relates to the legend of the World Tree, and in some ritual groups it is the pole of libation, where gifts of food and liquid are arranged or poured by the base in honor of the Gods. This is similar to the pole erected in the center of a Voodoo rite, dedicated to Damballah, called the Ponteau Mitan. The stang is normally place at the north (the seat of all power) or directly behind the altar. A few groups, often with Druidic leanings, place the stang in the center of the circle.
Definition provided by:  "Magickal Necessities by Witches of the Craft"
A Forked Staff: Perfect Symbol for the Synod on Youth and Blah, Blah, Blah
Fatima Perspectives #1239; By Chris Ferrara
As one website observes, when the Antichrist arrives to preach his lies among men, seducing "(if it were possible) even the elect" (Mk. 13:22), his forked tongue "will have the eloquence of angels, his honeyed words will pierce to the very heart of those who hear him. His arguments and positions will be so well presented that even those who recognize him will be hard pressed to resist what he has to say."
The Antichrist will make the devil's ultimate sales pitch. For now, however, the forked tongue belongs to lesser voices, lacking all eloquence and nuance, including those who will be spouting empty demagogic slogans and emotivist rubbish at the Synod of Youth and Blah, Blah, Blah now underway in Occupied Rome.
We have heard it all before at the last phony Synod, which was merely a disguise for what Francis wanted from the beginning and shamelessly passed off as the voice of the Holy Ghost. And now — bearing a forked staff, appropriately enough — Francis has said it all again in his homily at the beginning of this elaborate stage show for further subversion of the Church:
For we know that our young people will be capable of prophecy and vision to the extent that we, who are already adult or elderly, can dream and thus be infectious in sharing those dreams and hopes that we carry in our hearts…
May the Spirit grant us the grace to be synodal Fathers anointed with the gift of dreaming and of hoping. We will then, in turn, be able to anoint our young people with the gift of prophecy and vision…
Hope challenges us, moves us and shatters that conformism which says, "it's always been done like this". Hope asks us to get up and look directly into the eyes of young people and see their situations….
And this demands that we be really careful against succumbing to a self-preservation and self-centredness which gives importance to what is secondary yet makes secondary what is important.
The gift of that ability to listen, sincerely and prayerfully, as free as possible from prejudice and conditioning, will help us to be part of those situations which the People of God experience….
This disposition protects us from the temptation of falling into moralistic or elitist postures, and it protects us from the lure of abstract ideologies that never touch the realities of our people….
Here we go again: "prophesy and vision," "dreams and hopes," "see their situations," eschewing "conformism," moving beyond what is "secondary," freedom from "prejudice and conditioning," rejecting "moralistic or elitist postures" versus "the realities of our people."
In other words: another poisonous dose of situation ethics to follow the recent scandal of "permission" for Holy Communion to be administered to people who intend to continue engaging in sexual relations within "second marriages" which constitute "none other than disgraceful and base concubinage, repeatedly condemned by the Church," to quote Blessed Pope Pius XI. 
This preposterous sham of a Synod features the attendance of two communist Chinese bishops handpicked by Beijing from the ranks of the Catholic Patriotic Association, which, following the Vatican sellout of the Underground Church, promptly declared its "independence" from Rome. Francis ludicrously declared in his homily that the attendance of these puppets of Beijing and its "independent" pseudo-Church means that "the communion of the entire Episcopate with the Successor of Peter is yet more visible thanks to their presence."
The inevitable outcome of this sham (barring a veritable miracle) will be a further erosion of the Church's moral foundations under the specious pretext of an expression of the "ordinary Magisterium" that takes into account "situations" and "concrete realities" — as if reality and morality were somehow opposed, when in fact it is conformity to God's moral law that leads a soul to the reality of true freedom.
God help us. God rescue us. Holy Mother of God, intercede for us and obtain for the Church that holy and courageous Pope who will put an end to this utter madness by doing at long last what You requested of the Roman Pontiff nearly a century ago at Tuy: the Consecration of Russia to Your Immaculate Heart.
We deceive ourselves greatly if we think that union with God consists in ecstasies and spiritual consolations.  It consists alone in thinking, saying, doing that which is in conformity to the will of God.  This union is perfect when our will is detached from everything, attached but to God in such a manner that it breathes but His pure will.  This is the true and essential union that I ardently desire, and continually ask of Our Lord. 
St. Teresa of Avila
Europe will return to the faith or…. perish. 
Hilaire Belloc
CATHOLIC PROPHECY
May 13, 1820: I saw also the relationship between the two popes. . . I saw how baleful would be the consequences of this false church. I saw it increase in size; heretics of every kind came into the city (of Rome). The local clergy grew lukewarm, and I saw a great darkness. . . Then, the vision seemed to extend on every side. Whole Catholic communities were being oppressed, harassed, confined, and deprived of their freedom. I saw many churches close down, great miseries everywhere, wars and bloodshed. A wild and ignorant mob took to violent action. But it did not last long.
Once more I saw that the Church of Peter was undermined by a plan evolved by the secret sect, while storms were damaging it. But I saw also that help was coming when distress had reached its peak. I saw again the Blessed Virgin ascend on the Church and spread her mantle [over it]. I saw a Pope who was at once gentle, and very firm. . . I saw a great renewal, and the Church rose high in the sky.
Sept. 12, 1820: I saw a strange church being built against every rule. . .  No angels were supervising the building operations. In that church, nothing came from high above. . . There was only division and chaos. It is probably a church of human creation, following the latest fashion, as well as the new heterodox church of Rome, which seems of the same kind. . .
I saw again the strange big church that was being built there (in Rome). There was nothing holy in it. I saw this just as I saw a movement led by Ecclesiastics to which contributed angels, saints and other Christians. But there (in the strange big church) all the work was being done mechanically (i.e. according to set rules and formulae). Everything was being done according to human reason. . .
I saw all sorts of people, things, doctrines, and opinions. There was something proud, presumptuous, and violent about it, and they seemed to be very successful. I did not see a single Angel nor a single saint helping in the work. But far away in the background, I saw the seat of a cruel people armed with spears, and I saw a laughing figure which said: "Do build it as solid as you can; we will pull it to the ground."
Blessed Anna Katherina Emmerich, Catholic Prophecy by Ives DuPont
15 Promises for Praying the Most Holy Rosary
<![if !supportLists]>1. <![endif]>Whoever shall faithfully serve Me by the recitation of the Rosary shall receive signal graces.
<![if !supportLists]>2. <![endif]>I promise My special protection and the greatest graces to all who shall recite the Rosary.
<![if !supportLists]>3. <![endif]>The Rosary shall be a powerful armor against Hell. It will destroy vice, decrease sin, and defeat heresies. (Actually, were that the only promise, we should pray it for that reason. Because what have we in our world today? We are surrounded by, wherever we are in the world, vice, sin and heresy.)
<![if !supportLists]>4. <![endif]>It will cause virtue and good works to flourish. It will obtain for souls the abundant mercy of God. It will withdraw the hearts of men from the love of the world and its vanities, and will lift them to the desire of eternal things. Oh, that souls would sanctify themselves by this means.
<![if !supportLists]>5. <![endif]>The soul which recommends itself to Me by the recitation of the Rosary shall not perish.
<![if !supportLists]>6. <![endif]>Whoever shall recite the Rosary devoutly, applying himself to the consideration of its Sacred Mysteries, shall never be conquered by misfortune. God will not chastise him in His justice, he shall not perish by an unprovided death. If he be just, he shall remain in the grace of God and become worthy of eternal life.
<![if !supportLists]>7. <![endif]>Whoever shall have a true devotion for the Rosary shall not die without the Sacraments of the Church.
<![if !supportLists]>8. <![endif]>Those who are faithful in reciting the Rosary shall have during their life and at their death the light of God and the plenitude of His graces. At the moment of death they shall participate in the merits of the Saints in Paradise.
<![if !supportLists]>9. <![endif]>I shall deliver from Purgatory those who have been devoted to the Rosary.
<![if !supportLists]>10. <![endif]>The faithful children of the Rosary shall merit a high degree of glory in Heaven.
<![if !supportLists]>11. <![endif]>You shall obtain all you ask of Me by the recitation of the Rosary.
<![if !supportLists]>12. <![endif]>All those who propagate the Holy Rosary shall be aided by Me in their necessities.
<![if !supportLists]>13. <![endif]>I have obtained from My Divine Son that all the advocates of the Rosary shall have for intercessors the entire Celestial Court during their life and at the hour of death.
<![if !supportLists]>14. <![endif]>All who recite the Rosary are My sons, and brothers of My only Son, Jesus Christ.
<![if !supportLists]>15. <![endif]>Devotion to My Rosary is a great sign of predestination.
How to Pray the Rosary with True Devotion
    Before beginning a decade, pause for a moment or two----depending upon how much time you have----and contemplate the mystery that you are about to honor in that decade. Always be sure to ask of Almighty God, by this mystery and through the intercession of the Blessed Mother, one of the virtues that shines forth most in this mystery or one of which you stand in particular need.
    Take great care to avoid the two pitfalls that most people fall into during the Rosary. The first is the danger of not asking for any graces at all, so that if some people were asked their Rosary intention they would not know what to say. So, whenever you say your Rosary, be sure to ask for some special grace. Ask God's help in cultivating one of the great Christian virtues or in overcoming one of your sins.
    The second big fault a lot of people make when saying the Holy Rosary is to have no intention other than that of getting it over as quickly as possible! This is because so many of us look upon the Rosary as a burden which is always heavier when we have not said it----especially if it is weighing on our conscience because we have promised to say it regularly or have been told to say it as a penance more or less against our will.
    It is really pathetic to see how most people say the Holy Rosary----they say it astonishingly fast and mumble so that the words are not properly pronounced at all. We could not possibly expect anyone, even the most unimportant person, to think that a slipshod address of this kind was a compliment and yet we expect Jesus and Mary to be pleased with it! Small wonder then that the most sacred prayers of our holy religion seem to bear no fruit, and that, after saying thousands of Rosaries, we are still no better than we were before! Dear Confraternity members, I beg of you to temper the speed which comes all too easily to you and pause briefly several times as you say the Our Father and Hail Mary. I have placed a cross at each pause, as you will see:
    Our Father Who art in Heaven, <![if !vml]>
<![endif]>hallowed be Thy name, <![if !vml]>
<![endif]>Thy kingdom come, <![if !vml]>
<![endif]>Thy will be done <![if !vml]>
<![endif]>on earth as it is in Heaven. <![if !vml]>
<![endif]>Give us this day <![if !vml]>
<![endif]>our daily bread <![if !vml]>
<![endif]>and forgive us our trespasses <![if !vml]>
<![endif]>as we forgive those who trespass against us, <![if !vml]>
<![endif]>and lead us not into temptation <![if !vml]>
<![endif]>but deliver us from evil. Amen.
    Hail Mary, full of grace, <![if !vml]>
<![endif]>the Lord is with Thee, <![if !vml]>
<![endif]>blessed art thou among women <![if !vml]>
<![endif]>and blessed is the Fruit of Thy womb, Jesus. <![if !vml]>
<![endif]>
    Holy Mary, Mother of God, <![if !vml]>
<![endif]>pray for us sinners, now <![if !vml]>
<![endif]>and at the hour of our death. Amen.
    At first, you may find it difficult to make these pauses because of your bad habit of saying prayers in a hurry; but a decade that you say recollectedly in this way will be worth more than thousands of Rosaries said all in a rush----without any pauses or reflection.
St. Louis de Montfort, The Secret of the Rosary
In rejecting the Redeemer Himself, the social unit [the old Jewish religious commonwealth] had automatically rejected the teaching God had given about Him. The rejection of this message constituted an abandonment of the Divine Faith itself. By manifesting this rejecting of the faith, the Jewish religious unit fell from its position as the company of the chosen people. It was no longer God's ecclesia, His supernatural kingdom on earth. It became part of the kingdom of Satan….. At the moment of Our Lord's death on Calvary, the moment when the old dispensation was ended and the Jewish religious association ceased to be the supernatural kingdom of God on earth, this recently organized society of Our Lord's disciples began to be the supernatural Kingdom of God on earth, this recently organized society of Our Lord's disciples began to exist as the ecclesia, or the kingdom.
Msgr. Joseph Clifford Fenton, The Catholic Church and Salvation, 1958
Jews have persecuted the Catholic Church from the time of Jesus Christ to this very day!
[The Jews are] a people who, having imbrued their hands in a most heinous outrage [Jesus' crucifixion], have thus polluted their souls and are deservedly blind. . . . Therefore we have nothing in common with that most hostile of people the Jews. We have received from the Savior another way . . . our holy religion. . . . On what subject will that detestable association be competent to from a correct judgment, who after that murder of their Lord . . . are led… by. . . their innate fury?
Council of Nicaea, 325 AD
Why do Jewish leaders overwhelmingly support homosexual "marriage" for the U.S. (and Europe) and not for Israel? Is this what is meant by "hostility" and "innate fury"?
On May 21, 2013, Vice President Joseph Biden "praised Jewish leaders in the media... crediting them with helping change American attitudes on gay marriage."  In a speech at a Democratic National Convention reception celebrating Jewish Heritage Month, Biden claimed that the Jews were responsible for changing peoples' attitudes on gay marriage: "It wasn't anything we legislatively did.  It was 'Will and Grace,'" said Biden, referring to an NBC sitcom that went off the air nine years ago.  "It was the social media.  Literally.  That's what changed peoples' attitudes.  That's why I was so certain that the vast majority of people would embrace and rapidly embrace" gay marriage..... I bet you 85 percent of those changes, whether it's in Hollywood or social media, are a consequence of Jewish leaders in the industry... The influence is immense, the influence is immense.  And, I might add, it is all to the good."
The liberal Jewish magazine Tikkun agreed with Vice President Biden's assessment: gay marriage was a Jewish creation.  As Amy Dean put it: "In a few short years, same-sex marriage went from being an untouchable political hot-potato to a broadly accepted civil right in eighteen states and the District of Columbia.  Jews, and their social justice organizations, helped make that happen.[.....] The victories in the states around marriage equality owed much to local and national Jewish social justice groups who looked beyond the political consensus of the time.  Even five years ago, many of these groups stood behind same-sex couples who wished to marry.  National Jewish social justice organizations such as the National Council of Jewish Women, the Religious Action Center of reform Judaism, and Bend the Arc (on whose board I currently serve as co-chair), helped to galvanize the American Jewish community to support pro-marriage equality bills in the states.  In fact, Jews can claim a fair share of the credit for bringing Americans to a tipping point of accepting marriage equality.
E. Michael Jones, Why we Lost the Culture Wars
Pope Francis says that whatever he says is what  "Jesus says." This is only true when the pope engages the infallible magisterium of the Church.  When this is not the case, whatever Francis says is only what Francis says.  And Francis, who said he "would not say another word" about the "Archbishop Carlo Maria Viganò's extraordinary testimony" has not shut-up since.  Meanwhile, we are looking for volunteers to pull the Francis' knife out the back of the Catholic Church in China.
Pope says he received a 'sign from God' through Chinese bishops after Viganò testimony
LifeSiteNews | ROME | September 26, 2018 — Pope Francis has claimed to have received a "sign from God," in response to Archbishop Carlo Maria Viganò's extraordinary testimony implicating him and several high-ranking prelates in covering up the Theodore McCarrick abuse.
But some are suggesting that the only "sign" that has been given is that Pope Francis wants to "sweep the bombshell Viganó dossier completely under the carpet."
In concluding remarks during a Q&A with journalists, on his return from the Baltic States last evening, the Pope said the divine "sign" came from two Chinese bishops — from the underground and patriotic churches — just before the Vatican signed a provisional agreement with the People's Republic of China on the appointment of bishops.
The Pope was asked by a Spanish journalist if he would provide additional information about the content of the Vatican's provisional agreement with China (the text of the agreement has not been released), and how he responds to Cardinal Zen's accusation that he is "selling out" the Church to the Communist government in Beijing.
Pope Francis replied by describing the process by which the agreement was reached, and then praised several of the key negotiators for the Vatican, including Secretary of State, Cardinal Pietro Parolin, whom he lauded for his devotion to detail.
As to accusations of "selling out" the underground Church in China, Pope Francis offered this reply:
"I think of the resistance, of the Catholics who have suffered: it's true, they will suffer. There is always suffering in an agreement. But they have great faith and they write, they send messages, affirming that what the Holy See, what Peter says, is what Jesus says: that is, the 'martyr' faith of these people today continues on. They are great."
Taking full responsibility for signing the agreement, the Pope said it was not "an improvisation" but "a journey."
He then wrapped up his remarks with a curious reference to the extraordinary 11-page testimony of former U.S. Nuncio, Archbishop Carlo Maria Viganò. Seeming to treat the dossier more as an historical event than a current issue, he said:
"And then, a simple anecdote and a historical fact, two things before ending. When there was that famous statement by a former Apostolic Nuncio [a reference to the testimony of Archbishop Carlo Maria Viganò], the episcopates of the world wrote to me saying that they felt close, that they were praying for me. The Chinese faithful wrote, and the signature on the letter was that of the bishop — so to speak — of the traditional Catholic Church and the bishop of the patriotic Church: together, both of them, and the faithful of both [Churches]. For me, this was a sign from God."
While the bishops of Canada and New Zealand have come out in support of Pope Francis, dozens of cardinals and bishops from the U.S. and abroad have shown support for Archbishop Viganò, and have attested to his character and integrity.
Some prelates, including Cardinal Daniel DiNardo, President of the United States Conference of Catholic Bishops, have even called for an investigation into the allegations contained in the Viganò dossier. DiNardo's proposed investigation, however, appears to have been put on hold after his recent meeting with Pope Francis.
Commenting on the Pope's remarks, respected priest and theologican Fr. Brian Harrison, O.S. had this to say:
"In another plane interview (Sept. 25th), returning to Rome from his trip to the Baltic States, Pope Francis let slip another indication that he wants to sweep the bombshell Viganó dossier completely under the carpet.
Speaking of that document in the past tense as something now over and done with, Francis managed, within a very few words, to convey the impression that he has been an innocent victim enjoying total support and sympathy from all the world's bishops in the face of an isolated accuser. (He conveniently omitted all mention of the dozens of cardinals and bishops who have now publicly called for transparency and a proper investigation of Archbishop Viganó's grave and all too credible allegations about corruption, homosexual predation and cover-ups reaching up to the very top of the Church.)"
It is also unclear, from the Pope's words, exactly what the divine "sign" denotes. Were the joint signatures of the two Chinese bishops a "sign from God" that he did the right thing in signing the accord with China?
Pope Francis' comments come one month after he was asked, during an inflight press conference on his return from Ireland, exactly when he learned of McCarrick's history of homosexual abuse.
The Pope responded by telling journalists that he's "not going to say a word" about the McCarrick cover-up.
Since then, however, in what have come to be known as his "GreatAccuser" homily series, Pope Francis has compared Archbishop Viganò — and concerned lay faithful who question bishops — to Satan, saying the cries for justice and accountability come from a diabolical spirit. He has reportedly also compared himself to Jesus, the Good Shepherd who "chooses silence when the 'Great Accuser' accuses him 'through so many people.'"
Italian and American journalists had reportedly been "poised" during last evening's press conference to "return to issues dodged by the Pope" on previous occasions. They also reportedly intended to ask the Pope why he had not yet launched "a full-scale investigation into the McCarrick case, which the U.S. bishops' conference had explicitly requested."
Political Comment: Although President Trump has not kept, or has been unable to keep, his promises to end the unjust wars in the extension of the Empire, he has exposed the existence and tyranny of the Deep State for even the most obtuse to clearly see. For this we should be most grateful. The identification of the enemy is the first necessary step in any effective opposition. We have a great divide in this country ruled be an alien oligarchy that has existed for many years. Now everyone knows it. The Democrats are like the citizens in Aldous Huxley's utopia Brave New World which embraces, with real affection, a drugged slavery in exchange for unrestricted sexual license. The Republicans are like the oppressed citizens in George Orwell's dystopia Nineteen Eighty-Four who rebel against the impositions of the soulless Big Brother and his double-speak and perpetual wars. The Democrats love the Deep State and the Republicans are developing a great hatred against it. The Deep State is clearly demonic but God will not help the Republicans until they call upon Him in humility.  
Collaborating evidence supporting Archbishop Carlo Maria Viganò's charge that Pope Francis has aided and abetted the cover-up of clerical sexual abuse.
Cardinal Müller confirms sex abuse investigation against UK Cardinal was stopped
LifeSiteNews | October 3, 2018 – Cardinal Gerhard Müller has confirmed that the Vatican investigation into sexual abuse by Cardinal Cormac <![if !vml]>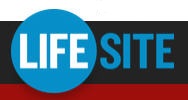 <![endif]>Murphy-O'Connor was not completed, but instead was stopped for lack of the Pope's approval.
The cardinal spoke with LifeSiteNews yesterday in Washington, D.C. while there to speak at the Napa Institute's Conference on Authentic Catholic Reform.
LifeSiteNews asked Cardinal Müller if Pope Francis had indeed halted the investigation into Cardinal Murphy-O'Connor, who passed away in 2017. Müller was until recently the Prefect for the Congregation of the Doctrine of the Faith (CDF), the Vatican body tasked with investigating sex abuse cases. Cardinal Murphy-O'Connor was accused of abusing a girl when she was 13 or 14 during the 1960s.
Cardinal Müller told LifeSiteNews he was "bound by Pontifical Secret," but said that "the Pope's approval is required for investigations" of a Cardinal. LifeSiteNews informed Müller that some news reports were suggesting he had completed the investigation, rather than the investigation having been interrupted and prevented from continuing.
LifeSiteNews asked the cardinal if he would at least go on the record to indicate that the investigation was stopped, rather than completed, and he agreed, "yes."
'The Pope wants to speak to you'
Despite suggestions to the contrary, neither LifeSiteNews nor Archbishop Carlo Maria Viganò claimed that Cardinal Murphy-O'Connor was guilty of the abuse. Rather, LifeSite's original report focused on the fact that the investigation into the allegations did not follow proper Church protocol, and Archbishop Viganò mentioned the halting of the investigation in the context of the Pope's larger record on sex abuse cover-up.
The bizarre circumstances around the Pope stopping the investigation were revealed by famed Vatican reporter Marco Tosatti. From a source close to Cardinal Müller, Tosatti learned that the Cardinal, when he was Prefect of the CDF, was interrupted by a phone call from the Pope while saying Mass in June 2013 at the Church of Santa Monica (next to the CDF building) for a small group of German students.
As Tosatti put it in an article for First Things last year:
His secretary joined him at the altar: "The pope wants to speak to you." "Did you tell him I am celebrating Mass?" asked Müller. "Yes," said the secretary, "but he says he does not mind—he wants to talk to you all the same." The cardinal went to the sacristy. The pope, in a very bad mood, gave him some orders about a dossier concerning one of his friends, a cardinal.
In a joint report with LifeSiteNews last week, Tosatti revealed for the first time, via a source close to Cardinal Müller, that it was the CDF's investigation of Cardinal Murphy-O'Connor that Pope Francis nixed during that urgent phone call.
The allegation, and failed investigations
From a source in England close to the Cardinal Murphy-O'Connor case, LifeSiteNews learned that the lady around 2009 accused Murphy-O'Connor of involvement in her abuse. She had been, as a young teen in the 1960s, a victim of notorious pedophile priest Michael Hill. She asserted around 2009 that there were several priests involved in her abuse at the time, with Cardinal Murphy-O'Connor being one of them. Cardinal Murphy-O'Connor later infamously transferred the known abuser Hill to be the chaplain at Gatwick airport despite warnings that he would offend again. (He did indeed offend again.) The lady in question is an acknowledged victim of Fr. Hill and was paid at the beginning of the 2000s a £40,000 settlement by the Diocese of Arundel and Brighton for the abuse she suffered.
While the left-leaning Tablet in England has claimed that the woman's allegations against Murphy-O'Connor were investigated by police and the Church and found lacking in credibility, our source in England provides needed clarification.
Our source notes: "The police did not decide that she was not credible, but that they did not have corroborating evidence." The source added that, had the police not found the victim a credible source, "they would not have investigated the case." Rather, the source said, the police took the case so seriously that they interviewed Cardinal Murphy-O'Connor himself "under caution," which means that they made it clear to him that his answers could be used against him in court. Moreover, the source says the police never closed the case, but put it aside awaiting corroborating evidence.
The Tablet author Christopher Lamb omits in his description of the history of the case that the Archdiocese of Westminster altogether refused to investigate the allegations of the female victim according to Church protocols. As LifeSiteNews has reported, it was not the Archdiocese of Westminster, but two other dioceses – Portsmouth and Northampton – which filed a case directly with the CDF in 2011. As our well-placed source in England has affirmed, it was not Cardinal Vincent Nichols, the Archbishop of Westminster since 2009, who instigated the CDF investigation. Only in 2011 – that is, three years after the lady started to claim Cardinal Murphy-O'Connor abused her – Nichols finally had his diocesan officials meet with her in person. Still, they did not open an investigation.
According to our source in England, Bishop Crispian Hollis (of Portsmouth, now retired) and Bishop Peter Doyle (Northampton) both knew the female victim for years and found her a credible person. "All people involved [i.e., police, as well as the English bishops filing the case with the CDF] found that the female victim is a credible witness," the English source told LifeSiteNews.
The Tablet reports on a CDF investigation in 2011 of the case under then-CDF head Cardinal William Levada. That investigation apparently determined there was no case. However, our English source states that the CDF's investigation in 2011 was not thorough, inasmuch as the victim herself was not even personally interviewed by the CDF officials.
As The Tablet so ambiguously puts it, the need to restart the case then in 2013 was due to an "administrative gap." Of what that "administrative gap" could be, our source commented: "The CDF itself had not followed protocol."
Viganò releases new 'testimony' responding to Pope's silence on McCarrick cover-up
<![if !vml]>
<![endif]>LifeSiteNews | ROME | September 27, 2018— Archbishop Carlo Maria Viganò has today issued a new extraordinary testimony, responding to Pope Francis' refusal to answer the charge that he knew of Cardinal Theodore McCarrick's sexual abuse, yet made McCarrick "one of his principal agents in governing the Church."
In the four-page document (see below), the former Apostolic Nuncio to the United States also responds to the Pope's recent homilies which seem to cast himself in the role of Christ and Viganò as the diabolical "Great Accuser."
"Has Christ perhaps become invisible to his vicar? Perhaps is he being tempted to try to act as a substitute of our only Master and Lord?" Archbishop Viganò asks in the new statement, sent to LifeSiteNews today.
Given the symbolic date of September 29, the liturgical feast of St. Michael the Archangel, and bearing the Archbishop's episcopal coat of arms and motto, Viganò:
<![if !supportLists]>· <![endif]>explains why he believes he had a duty to come forward despite his oath to keep the "pontifical secret," adding that "the purpose of any secret, including the pontifical secret, is to protect the Church from her enemies, not to cover up and become complicit in crimes committed by some of her members";
<![if !supportLists]>· <![endif]>restates with vigor his central charge that "since at least June 23, 2013, the Pope knew from me how perverse and evil McCarrick was in his intentions and actions, and instead of taking the measures that every good pastor would have taken, the pope made McCarrick one of his principal agents in governing the Church, in regard to the United States, the Curia, and even China, as we are seeing these days with great concern and anxiety for that martyr Church";
<![if !supportLists]>· <![endif]>points to the Pope's initial response that he would "not say a word" but then notes that he contradicts himself, in comparing "his silence to that of Jesus in Nazareth and before Pilate," and Viganò to "the great accuser, Satan, who sows scandal and division in the Church, though without ever uttering my name";
<![if !supportLists]>· <![endif]>raises concern over revelations that Pope Francis played a role in covering up for or blocking investigations into other priests and prelates, including Fr. Julio Grassi, Fr. Mauro Inzoli, and Cardinal Cormac Murphy-O'Connor;
<![if !supportLists]>· <![endif]>and says it was Cardinal Marc Ouellet, prefect of the Congregation for Bishops, who told him of Pope Benedict's sanctions against McCarrick. Addressing the Cardinal, he writes: "You have at your complete disposal key documents incriminating McCarrick and many in the curia for their cover-ups. Your Eminence, I urge you to bear witness to the truth..."
"My decision to reveal those grave facts was for me the most painful and serious decision that I have ever made in my life," Viganò writes. "I made it after long reflection and prayer, during months of profound suffering and anguish, during a crescendo of continual news of terrible events, with thousands of innocent victims destroyed and the vocations and lives of young priests and religious disturbed."
"The silence of the pastors who could have provided a remedy and prevented new victims became increasingly indefensible, a devastating crime for the Church," he writes. "Well aware of the enormous consequences that my testimony could have, because what I was about to reveal involved the successor of Peter himself, I nonetheless chose to speak in order to protect the Church, and I declare with a clear conscience before God that my testimony is true."
In the statement, Archbishop Viganò also encourages the faithful to "never be despondent!" Exhorting them, he writes:
"Make your own the act of faith and complete confidence in Christ Jesus, our Savior, of Saint Paul in his second Letter to Timothy, Scio cui credidi, which I choose as my episcopal motto. This is a time of repentance, of conversion, of prayers, of grace, to prepare the Church, the bride of the Lamb, ready to fight and win with Mary the battle against the old dragon."
Here below is the official English text of Archbishop Viganò's new testimony. It can also be accessed here as a PDF.
Is he lying or just getting senile?
Pope Francis says he 'never' pardoned sex abusers. Has he forgotten Fr. Mauro Inzoli?
LifeSiteNews | September 27, 2018– During his recent flight from Estonia to Rome, Pope Francis denied ever having pardoned clerical sex abusers. This was a surprising statement, given the sad case of Don Mauro Inzoli.
On September 26, after answering, and refusing to answer, reporters' questions, Pope Francis addressed the issue of child sexual abuse during a stream-of-consciousness speech. According to an unofficial transcript in the Catholic Herald, the pontiff said:
"The Church… I take the example of Pennsylvania, watch the correlations and watch when the Church became conscious of this [abuse]. It dedicated all and recently, I have received so, so many completed convictions from the Doctrine of the Faith and I have said forward, forward, never have I signed a request for grace after a conviction. On this I do not negotiate, there is no negotiation."
This statement, however, is contradicted by the well-documented case of Don Mauro Inzoli.
Nicknamed "Don Mercedes" for his love of flashy cars and high living, Communion and Liberation priest Mauro Inzoli was accused of molesting boys, including in the confessional. An ecclesiastical court found Inzoli guilty, and he was suspended from the priesthood in 2012 by Pope Benedict XVI.
However, Cardinal Francesco Coccopalmerio and Monsignor Vito Pinto for Inzoli to the newly-elected Pope Francis. Ignoring the advice of the Prefect of the Congregation for the Doctrine of the Faith, Pope Francis decided in 2014 to return Inzoli to the priesthood. Directed to live a life of "humility and prayer," to take a course of psychiatric treatment, and to stay away from children, Inzoli nevertheless attended an Italian conference on the family in 2015.
According to historian Henry Sire, author of The Dictator Pope, Francis' gesture of clemency didn't work out well for Inzoli in the long run.
"[Francis'] leniency, however, backfired," Sire wrote, "and after complaints from Inzoli's home town of Cremona, police reopened the case against him."
In 2016, an Italian civil court convicted Inzoli of sexual violence against five boys between the ages of 12 and 16. These crimes took place between 2004 and 2008. The then-66-year-old Inzoli was sentenced to four years and five months of imprisonment. Prior to the conviction, Inzoli had agreed to pay 25,000 euros as compensation to the families of his victims.
The prosecutor, Roberto di Martino, complained that the Vatican had not supplied all requested documents the court had deemed necessary. Di Martino also suggested that there may have been more than 100 "questionable incidents" in Inzoli's conduct toward minors. The long delay in Inzoli's civil prosecution, said Di Martino, was the embarrassment of the victims' families, who all belonged to the Communion and Liberation movement.
After that, Inzoli went through a second ecclesiastical trial, and on May 20, 2017, Pope Francis stripped the convicted sex abuser of the priestly faculties Francis had himself restored.
In addition to the Inzoli case, Pope Francis has been implicated in neglecting the cries of victims or of promoting and protecting, rather than disciplining, bishops accused of abuse or cover-up. Most recently, there have been allegations that Pope Francis restored now ex-Cardinal Theodore McCarrick to a position of power despite knowing of his sexual predation. Before those revelations, Pope Francis courted controversy by including in his inner circle the Belgian Cardinal Godfried Daneels, the Honduran Cardinal Oscar Maradiaga, and the Chilean Cardinal Francisco Errazuriz and for supporting Bishop Juan Barros, all of whom have been implicated in covering up clerical sexual abuse.
Recently a prominent left-wing German magazine, Der Spiegel, criticized Pope Francis for his failures in the abuse crisis.
As archbishop of Buenos Aires, Pope Francis - then Cardinal Jorge Bergoglio - attacked and stonewalled sex abuse victims.
St. Joseph's forgotten role in Fatima's 'Miracle of the Sun'
Voice of the Family | – The 13 October 2017 will be the centenary of the Miracle of Sun and the final apparition of Our Lady of Fatima. Despite being essential for understanding the period of history that we are now living through, the details of these remarkable events are far too little known, including amongst Catholics. In this article, we wish to draw attention to the much-neglected role of St Joseph during that momentous event.
Following the Miracle of Sun, and at the culmination of Our Lady's final apparition, St Joseph also appeared to the three young seers. Father John de Marchi, in his book The True Story of Fatima, describes it as follows:
To the left of the sun, Saint Joseph appeared holding in his left arm the Child Jesus. Saint Joseph emerged from the bright clouds only to his chest, sufficient to allow him to raise his right hand and make, together with the Child Jesus, the Sign of the Cross three times over the world. As Saint Joseph did this, Our Lady stood in all Her brilliancy to the right of the sun, dressed in the blue and white robes of Our Lady of the Rosary. Meanwhile, Francisco and Jacinta were bathed in the marvelous colors and signs of the sun, and Lucia was privileged to gaze upon Our Lord dressed in red as the Divine Redeemer, blessing the world, as Our Lady had foretold. Like Saint Joseph, He was seen only from His chest up. Beside Him stood Our Lady, dressed now in the purple robes of Our Lady of Sorrows, but without the sword. Finally, the Blessed Virgin appeared again to Lucia in all Her ethereal brightness, clothed in the simple brown robes of Mount Carmel.
This final apparition at Fatima points us towards three particular forms of devotion towards Our Lady that we are called to practice during this "final battle" against Satan. These are devotion to:
<![if !supportLists]>· <![endif]>her Sorrowful and Immaculate Heart
<![if !supportLists]>· <![endif]>the Holy Rosary
<![if !supportLists]>· <![endif]>the Brown Scapular.
However, it is of the greatest importance to note that the final apparition of Fatima also directs us towards the intercession of St Joseph, whom Our Lord intimately associated with Himself in his blessing of the world.
Father de Marchi wrote:
Our Lord, already so much offended by the sins of mankind and particularly by the mistreatment of the children by the officials of the county, could easily have destroyed the world on that eventful day. However, Our Lord did not come to destroy, but to save. He saved the world that day through the blessing of good Saint Joseph and the love of the Immaculate Heart of Mary for Her children on earth. Our Lord would have stopped the great World War then raging and given peace to the world through Saint Joseph, Jacinta later declared, if the children had not been arrested and taken to Ourem.
On the Feast of the Immaculate Conception, 8 December 1870, Blessed Pope Pius IX, following appeals received from bishops worldwide, had declared St Joseph to be Patron of the Universal Church, "in this most sorrowful time" when "the Church herself is beset by enemies on every side and oppressed by heavy calamities, so that impious men imagine that the gates of Hell are at length prevailing against her."
Pope Leo XIII, to whom it was revealed in 1884 that Satan would be given, for a time, increased power to work for the destruction the Church, instituted a new devotion to St Joseph in his encyclical letter Quamquan pluries, promulgated on the Feast of the Assumption, 15 August 1889. The Supreme Pontiff wrote:
During periods of stress and trial – chiefly when every lawlessness of act seems permitted to the powers of darkness – it has been the custom in the Church to plead with special fervour and perseverance to God, her author and protector, by recourse to the intercession of the saints – and chiefly of the Blessed Virgin, Mother of God – whose patronage has ever been the most efficacious.
He further explained:
We see faith, the root of all the Christian virtues, lessening in many souls; we see charity growing cold; the young generation daily growing in depravity of morals and views; the Church of Jesus Christ attacked on every side by open force or by craft; a relentless war waged against the Sovereign Pontiff; and the very foundations of religion undermined with a boldness which waxes daily in intensity. These things are, indeed, so much a matter of notoriety that it is needless for Us to expatiate on the depths to which society has sunk in these days, or on the designs which now agitate the minds of men. In circumstances so unhappy and troublous, human remedies are insufficient, and it becomes necessary, as a sole resource, to beg for assistance from the Divine power.
More than a century after the promulgation of this encyclical the evils identified by Pope Leo XIII have intensified to a degree that would have been inconceivable to most people in 1889. Thousands of innocent children are slaughtered every day with the approval of the governments that ought to be defending them, the sanctity of marriage is defiled by divorce, adultery and contraception, and the bonds between parents and their children are being deliberately targeted for destruction by the most powerful states and institutions in the world. Worst of all, the Pope himself is responsible for the spread of heresies which are leading the flock away from Christ and towards eternal damnation.
Pope Leo XIII urged the faithful, just as Our Lady would do twenty-eight years later at Fatima, to combat these evils through the prayer of the Holy Rosary:
At this proximity of the month of October, which We have already consecrated to the Virgin Mary, under the title of Our Lady of the Rosary, We earnestly exhort the faithful to perform the exercises of this month with, if possible, even more piety and constancy than heretofore. We know that there is sure help in the maternal goodness of the Virgin, and We are very certain that We shall never vainly place Our trust in her. If, on innumerable occasions, she has displayed her power in aid of the Christian world, why should We doubt that she will now renew the assistance of her power and favour, if humble and constant prayers are offered up on all sides to her? Nay, We rather believe that her intervention will be the more marvellous as she has permitted Us to pray to her, for so long a time, with special appeals.
But then, once more anticipating Fatima, he directed the faithful also towards St Joseph:
But We entertain another object, which, according to your wont, Venerable Brethren, you will advance with fervour. That God may be more favourable to Our prayers, and that He may come with bounty and promptitude to the aid of His Church, We judge it of deep utility for the Christian people, continually to invoke with great piety and trust, together with the Virgin-Mother of God, her chaste Spouse, the Blessed Joseph; and We regard it as most certain that this will be most pleasing to the Virgin herself.
He further explained:
The divine house which Joseph ruled with the authority of a father, contained within its limits the scarce-born Church. From the same fact that the most holy Virgin is the mother of Jesus Christ is she the mother of all Christians whom she bore on Mount Calvary amid the supreme throes of the Redemption; Jesus Christ is, in a manner, the first-born of Christians, who by the adoption and Redemption are his brothers. And for such reasons the Blessed Patriarch looks upon the multitude of Christians who make up the Church as confided specially to his trust – this limitless family spread over the earth, over which, because he is the spouse of Mary and the Father of Jesus Christ he holds, as it were, a paternal authority. It is, then, natural and worthy that as the Blessed Joseph ministered to all the needs of the family at Nazareth and girt it about with his protection, he should now cover with the cloak of his heavenly patronage and defend the Church of Jesus Christ.
Therefore the Holy Father instituted a new prayer to said after the Holy Rosary throughout the month of October. He intended this prayer to be said, not just in October 1889, but in October every year. As we prepare for the centenary of the Miracle of Sun, let us learn the lesson of St Joseph's apparition at Fatima, and turn to him for help and protection.
St Joseph, terror of demons, pray for us!
Kindness is for fools. They want them to be treated with oil, soap, and caresses but they ought to be beaten with fists! In a duel you don't count or measure the blows, you strike as you can. War is not made with charity, it is a struggle, a duel. If Our Lord were not terrible he would not have given an example in this too. See how he treated the Philistines, the sowers of error, the wolves in sheep's clothing, the traitors in the temple. He scourged them with whips!
St. Pius X, how Modernists should be treated
Extraordinary! Pope Fracis' chief advisor and head of the C9 club, Cardinal Andrés Rodriguez Maradiaga, characterizes McCarrick's perversion and abuse as a matter of "private order" and an "administrative affair." What is even worse, he characterizes Archbishop Carlo Maria Viganò revelation of this "administrative affair" as a "sin against the Holy Spirit." 
Maradiaga is not just another member of the HomoLobby, he is the Chief Executive under the CEO Francis.  This has been the HomoLobby's modus operandi for years, cover-up the crime and move the perpetrator to a fresh field of operation where he can continue his abuse of Catholic boys.  This homosexual infestation of the Catholic Church will only end when God Himself cleanses His House.  Until then, their crimes must by exposed whenever possible as a warning to others. 
Cardinal Maradiaga rebukes papal critics: McCarrick abuse scandal 'of a private order'
<![if !vml]>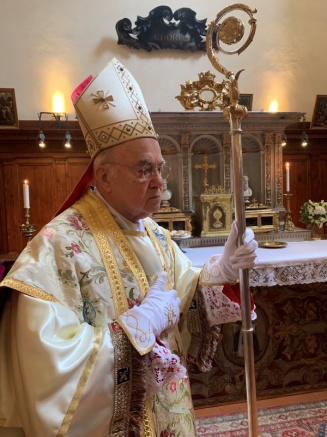 <![endif]>LifeSiteNews | September 14, 2018– The scandal of ex-Cardinal McCarrick's homosexual abuse of young priests and seminarians and Pope Francis' alleged cover-up are "of a private order," and a merely "administrative affair," according to one of the Pope's top advisers, Cardinal Andrés Rodriguez Maradiaga. He made these remarks in a recent interview in one of the most revealing statements to date on the Viganò testimony.
In an interview published on Wednesday evening by Religion Digital, the religious portal of the Spanish-language news site Periodista Digital, Maradiaga once again strongly criticized Archbishop Carlo Maria Viganò for having gone public about McCarrick's sexual predations and the protection the Cardinal received from the highest spheres in the Vatican, especially since Pope Francis was elected to the See of Peter and trusted the American prelate to help him choose new cardinals for the Church in the USA.
Asked to comment about Viganò's call on the Pope to resign, Maradiaga answered:
It does not seem correct to me to transform something that is of the private order into bombshell headlines exploding all over the world and whose shrapnel is hurting the faith of many. I think this case of an administrative nature should have been made public in accordance with more serene and objective criteria, not with the negative charge of deeply bitter expressions.
<![if !vml]>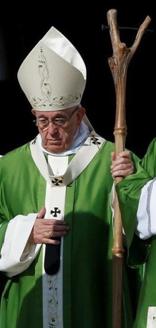 <![endif]>Coming from Maradiaga, the head of the "C9" Council of Cardinals commissioned to help reform the Church and also a close friend of Francis, as Religion Digital takes care to underscore, it is a statement in which every word counts. If homosexual activity on the part of a top member of the Church's hierarchy such as McCarrick is a purely private matter that only needs to be managed at the administrative level, than it surely cannot be as bad as traditional believers are making out.
Misconduct of a private order – note that Maradiaga does not use the word "sin," nor does he speak of priests' grave obligation to live chastely as celibates – is something that should be taken care of outside the public eye, with at best confession and absolution and perhaps a private reprimand. Troubling the public order is what happens when crimes and lesser offences break criminal law as such. Only then do public authorities and representatives of the judiciary intervene to have the offender punished in the name of the public good.
The logic is quite clear: sexual abuse on minors, or at least adolescents who because of their age are not capable of agreeing to consensual relations is one thing, but having sexual relationships of whatever nature with adults is another, private matter. It is wrong, no doubt, but should not be made a fuss of and belongs to the internal forum. Where there is no penal crime, why should the Church see a transgression with dire consequences for its own Body?
Maradiaga's minimizing of sexual misconduct, and of the perverting of seminarians and priests by a predator who is in a position of authority over them, is another sign that homosexual acts between consenting adults are in some circles no longer being regarded as a great evil that sullies the Church but as, at most, unfortunate falls comparable to other ordinary and widespread sins – disorders that a bit of paperwork will set right. It is another way of demanding silence.
Cardinal Maradiaga once more expressed his support for Francis, saying that he did not personally know what the Pope had done or not to take care of the situation, but insisting: "I believe that the Pope is a man of God always acts with faith and wisdom."
In the same interview, Maradiaga was asked whether there is a "gay lobby" in the Vatican. His response was dismissive: "I get the impression that the notion of a gay lobby in the Vatican is out of proportion. It is something that exists much more in the ink of the newspapers than in reality. It's obvious to me that the objective of all these poison-laded expressions and smears is to hurt the Holy Father. But if there is no faith, the actors of this media circus will not renounce their slandering."
Asked whether adult homosexuals should be allowed to become priests, he went on to say that all the Bishops Conferences in the world are "very clear about the absolute and apodictic principles of the Church, those for instance that have been established in the Ratio Fundamentalis Institutionis Sacerdotalis" about the formation of priests. In its revised version in 2016, the Ratio Fundamentalis states that men with deep-rooted homosexual tendencies should not be accepted into the priesthood, but Maradiaga did not clarify this.
When asked who was "behind Viganò," Maradiaga answered: "I do not know what or who, a person or persons can be behind Mons. Viganò, but it should be – as with every servant of Christ and of the Church – the charity of the Gospel, the love of the truth and the Holy Spirit."
He also said that he was "greatly surprised" at having been quoted as a protector of McCarrick: "I consider that to be a gratuitous accusation. My best response is the facts, which is why I'm not concerned with defending myself as to what Mons. Carlo Maria Viganò has said."
Religion Digital is the news source in which Maradiaga already already attacked Edward Pentin at the end of August for having spread the Viganò testimony, calling himself "the victim of a hitman who practices media harrassment," a laughable accusation to all those who know EWTN's Vaticanist. He also said that Viganò had committed a "sin against the Holy Spirit."
The Hispanic news source is also well known for its liberal standpoints and its eagerness to discredit conservative Catholics: the director of the religious platform of Religion Digital, Jose Manue Vidal, is a former priest who at the time of Cardinal Ratzinger's election as Pope Benedict complained about his being guilty of "destroying the idea of a more popular Church that would be faithful to the Gospel of the poor." At that time, he also denounced Ratzinger's work as a "Cerberus of the faith" who had helped the "Catholic right to set aside a whole innovative current in the pastoral, theological, catechetical and social areas," in particular the tenets of Liberation Theology.
In September 2016, a conservative priest who up to then wrote a blog for Religion Digital – which prides itself on being the most widely read Spanish-speaking website on Catholic affairs – decided to step down, proclaiming that "Religion Digital was the website that had inflicted the most harm on the Catholic Church." Father Jose Antonio Fortea, explaining that he had only stayed in order to reach out to people who need the chance to be in contact with something different from the site's standpoints, decided to leave when José Manuel Vidal violently attacked the conservative Spanish bishop Munilla. He added that Religion Digital makes a big show of being faithful to the Pope while attacking the faith.
This is the argument made by every criminal to cover his crime.  It has been the modus operandi for the HomoLobby since Vatican II.  It is Satan who "counsels" and "commands" "silence" so that the homosexual perverts may continue "partaking" and "concealing" the sins of Sodomy to which they have given their "consent" by claiming, "Who am I to judge." These are nine ways of being an accessory to another's sin and this is a sin that "cries to heaven for vengeance":